Nonito Donaire and Brandon Rios Both Win by KO Here at Home Depot Center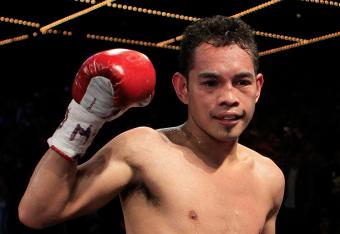 Saturday night will have one of the most meaningful fights in the sport of boxing with the main event of IBF/WBO Super Bantamweight champion Nonito Donaire vs former WBC Super Bantamweight Toshiaki Nishioka taking place at the Home Depot Center in Carson Calif.
Many media publications view Nishioka as the number one super bantamweight in the world, beating top elite champions such as Rafael Marquez and even Jhonny Gonzalez by an early knock out.
Donaire is one of the top pound-for-pound fighters in the world and has been pressured into being one of the next big stars of boxing.
Nonito is also the first and only fighter to undergo year round VADA drug testing, with the hopes of setting the example for all other fighters, and to take a stand to clean up the sport of boxing once and for all.
So far both Donaire and Nishioka have appeared respectful and decent of one another—but at the same time confident in their own victory.
In the co-main event is the highly hyped 140lbs undefeated war of Mike Alvarado vs Brandon Rios. In what many are saying will be the most exciting, all action fight we will see in several years.
Weigh-In
On Friday's weigh-in all main event fighters make weight on their first try.
Donaire weighs in at 121.6lbs vs Nishioka weighs in at 121.8lbs.
Both seem respectful of one another with even smiles and Nishioka putting on a towel right away to stay warm during the stare down.
Alvarado weighs in 139.8lbs vs Rios weighs in at 140lbs at the limit.
Rios is used to having bad blood and tension during his weigh-in stare downs, but not this time he and Alvarado were both respectful and smiling the whole time?
Out of the these two Alvarado looks fit and cut, where Rios still looks drained as if he starved himself again?
The weigh-in crowd were all excited and cheering for their favorites.
The Home Depot Center should be on fire tomorrow night.
Fight fans, check back here to this live blog as I will be updating it from the Home Depot Center in Carson, Calif.
Also be sure to be following me on Twitter for additional live updates and live photos from the fights.
Follow on Twitter: @KingJ323
The press email indicated that there will be no press conference tonight for the media.
Most of the fans have already cleared out of the Home Depot Center.
They announced that there will be one more fight tonight here probably not televised on HBO though obviously.
Donaire getting love from the crowd still here during his post fight interview in the ring with Max Kellerman.
Nishioka upset and shaking his head as he waves to his fans and to the Japanese crowd.
Crowd starts clearing out already. Perhaps the majority of the people came for Rios vs Alvarado? Or maybe they are trying to beat the traffic?
1:54 of round 9 Referee stops it.
Filipino Flash still champion crowd finally cheers for him loud!
Nishioka's corner stops the fight as the crowds screams OHHHHHHH!!!!
Donaire vs Nishioka Round 9
Nishioka throws and Nonito spins around and falls but the referee rules it a slip. Crowd goes OOOOHH!
Nonito lands upstairs and then counters Nishioka coming in.
Nishioka opens up and lands on Nonito against the ropes.
Nonito waits and counters and Nishioka falls down.
Nishioka gets up and gets ready to fight on but his corner throws in the towel!
Donaire vs Nishioka Round 8
Nonito to the head and its partially blocked.
Nishioka stalking Nonito but not opening up?
Nishioka going to the body but Nonito pushes him downward.
Nishioka following Nonito around the ring.
Nishioka lands his biggest shot on the cheek of Nonito but Nonito seems like its nothing.
Nishioka sneaks a big left over the guard of Nonito twice at the end.
Nishioka's best round by far but still close.
We'll give it to Nishioka.
Donaire vs Nishioka Round 7
Donaire opens with a big right hand and Nishioka still comes forward.
They are now respecting each other's power and back to sizing up and calculating.
Nonito to the body as Nishioka backs up.
Nonito lands upstairs and tries to counter with big right but misses. Crowd goes OOOH!
Nishioka comes forward to attack Donaire they clash heads and take a pause.
Nonito jabbing numerous times most are not landing clean.
Nishioka lands a jab and Nonito comes forward toward the body. Nishioka lands a hook partially blocked to the side of Nonito's head.
Nonito doing the far more work and activity still there for his round.
Donaire vs Nishioka Round 6
They trade shots both land.
Nishioka starting to open up with his left.
Donaire fires a jab lands.
Left hook upper cut hybrid shot for Donaire lands and Nishioka is down and the crowd just woke up.
Donaire smells blood and gets tagged back in the exchange!
Nishioka as if to say F it! opens up and lands hard back on Donaire.
Donaire trying to end it again and then the bell rings.
Crowds finally cheers and stops booing for the first time tonight.
Donaire 10-8 round
Donaire vs Nishioka Round 5
Nonito throws a combo but misses.
Nishioka goes to the body lands clean.
Nonito goes to the body three times last one lands clean.
Nishioka counters with his own body shot crowd goes oooh.
Nonito goes upstairs partially landed as Nishioka turns away.
Nishioka lands a jab but nothing follows up.
The two collide with head buts and they take a pause and touch gloves.
Bell rings and crowd is booing hard!
Nonito far busier and active.
Donaire vs Nishioka Round 4
Nishioka lands a partially blocked upper cut to Donaire.
Nonito fires back with a straight right.
Nonito fires flurries but most are blocked.
Crowd is booing non stop.
Nonito throws 1-2's mostly block though.
Crowd boos as the bell rings.
Nishioka landed the cleaner shots despite lack of activity close round lets give it to the Japanese fighter.
Donaire vs Nishioka Round 3
More of the previous rounds. Nishioka lands a straight to Nonito's face but Nonito's acts like it was nothing. Nonito the far busier of the two and probably won the round.
Donaire vs Nishioka Round 2
Nonito jabs and opens up flurries but they are mostly blocked.
Crowd reacts to the blocked flurries with excitement for the lack there of trading.
Nishioka finally goes for the body but misses by about foot.
Donaire spins around looks like he was fouled?
Nishioka throws a wide punch Nonito counters with a hybrid punch looks like it landed and he takes it well.
Crowd is booing hard again as the bell rings.
Donaire's round
Donaire vs Nishioka Round 1
Donaire opens first tries to go to the body. Nishioka seems to be waiting and calculating?
Donaire to the head partially blocked.
Nonito jabbing and measuring.
Crowd is booing here actually.
Nonito's round.
Nishioka didn't even open up at all?
Nishioka announced first and is getting some love here.
Donaire obviously the crowd favorite though.
Michael Buffer doing the intros and the crowd who ran to the bathroom and get refills are now running back to their seats.
Both Nishioka and Donaire are in the ring all of a sudden? Are we pressed for time here?
They are playing the old school song FINAL COUNTDOWN WTF? Lol then it goes into a remix like hip hop version?
Japanese flags being waved around the ring now. DJ's playing old school US3
It's 7:49 here in Carson, Calif. It's cold and we are outside but the energy from the fight fans is bringing some heat.
It seems like Max is stalling for some reason? As he's asking the referee about the stoppage the fans are booing for some reason here?
Perhaps they disapproved of the stoppage?
Max brings up fighting the winner of Pacquiao/Marquez 4
RIos says you saw what happened to Alvarado and thanks Julio Cesar Chavez for showing him to go to the body. Crowd is in love with Rios here as he asks the fans if they want it.
Crowd screams: YEAH!
Crowd screams as Rios tells Max Kellerman, "Hell NO! I'm a warrior in the post fight interview in the ring.
Crowd is on their feet here
1:57 Round 7 and still undefeated from Oxnard, California Brandon Rios Crowd is showing their appreciation here. EVERYONE is on their feet here except me cause I'm typing this for all of you at home!
Brandon "Bam Bam" Rios just stopped Mike Alvarado in round 7! It was a brutal war and Rios won by sheer aggression despite eating MANY and I say MANY powershots numerous upper cuts, etc.
WOW! ENTERTAINING
Who says boxing is boring??????????
Rios vs Alvarado Round 7
Rios is stalking but Mikes countering looking for openings and then Rios opens up with a big rally and Mike's against the ropes its all over TKO the ref stops it!!!!!!!
This article is
What is the duplicate article?
Why is this article offensive?
Where is this article plagiarized from?
Why is this article poorly edited?