Ranking Manchester United's Top 10 Youth Team Prospects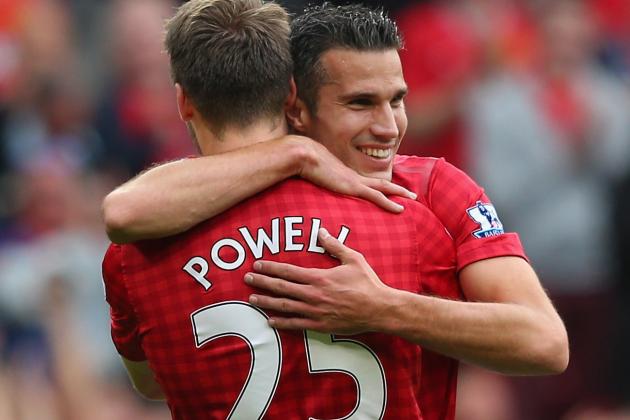 Alex Livesey/Getty Images
Nick Powell
Not since the class of 1992 have Manchester United had so many youth prospects coming through. That includes both Academy graduates and those still to come.
Not surprising, really, considering it is now more than 10 years since Rene Meulensteen was appointed technical skills coach. He is now First Team coach, of course, and he can see the fruits of the seeds that were sown all those years ago.
One of the major influences was to equip these young talents to play in almost any role. So if you arrived with a defensive bent, you were taught to attack and vice versa.
A good example is Tom Cleverley. At 15 he was a budding left back, but he was played in midfield, and started scoring goals. The rest is history.
Sixty years ago, Sir Matt Busby, expected to spend money to build a title winning team, decided to give 16 and 17 year olds their chance. So emerged the first Busby Babes.
Forty years later Fergie's Fledglings arrived. It has been part of the Manchester United culture since Busby to produce home-grown youth. Hence the Academy.
Sir Alex Ferguson's passion for young players is no less than his mentor. That is one of the main reasons why he had the imprimatur of his predecessor when appointed in 1986. Good habits have pervaded Manchester United at every level since.
Part of the Academy way, which will probably be applied at the FA's new St. George's facility, is the importance of being able to play together rather than being preoccupied with winning.
So it is at Manchester United in the Academy. It is about developing an array of technical skills, learning good habits, including the cult of the team, and being comfortable playing and passing at pace.
Take a player like Ryan Tunnicliffe. He has pace, is excellent defensively, can craft a pass or score a goal. In short, he's comfortable all over the pitch. Who knows, one day he could emulate Roy Keane.
And those good habits have been inculcated into the senior players, also. Wayne Rooney didn't arrive from Everton able to tackle and defend. He came as a raw talent that Ferguson knew could be moulded into one of the finest players United have ever had.
So Valencia was taught to defend; Rafael and Fabio Da Silva, also. They may have been talented wing backs but ball-winning wasn't their main skill.
Look at Daniel Welbeck as a good example. He is good at tracking back and winning the ball. Michael Carrick arrived as a "Rolls Royce" Trequartista and Ferguson turned him into a Regista because that was the role he needed him to play.
There is no way of knowing which of the current crop will make it long term at Manchester United until they've been given a meaningful run in the team.
Nevertheless there are some gems that stand out.
Before giving you an insight into the players to watch out for in the future, we need some definitions. Manchester United have several levels of team, but those listed on the website are: First Team; Under 21s; and Under 18s.
The latter are included within the official "Academy" umbrella. While members don't play league football until they are well into their teens, we can for simplicity sake define a further level of Under 16s. These are regarded as "children" and matches are not allowed to be televised.
That does not mean that some talented younger players cannot get a chance in the Under 18s, but it gives us a basis to work from.
In the past, there have been several articles about the prospects of the likes of Robert Brady, Tunnicliffe, Davide Petrucci and Scott Wootton. So, for the purposes of this article we will only consider those youth players who would have qualified on age to play at international level for an Under 18 team.
This way you get to know some new names as well as some that may be familiar. As is common, we shall also rank these in ascending order. For those with a wider interest, the final slide lists those players from the Under 21s who we believe Manchester United should retain for the longer term.
So we offer you a selection of the gems and the rough-hewn stones that could be around in another 10 years' time. Nobody is promising another Paul Scholes, Rio Ferdinand or Welbeck, but hey ho, who knows?
Share which young prospects you think have what it takes to emulate the class of '92.
Begin Slideshow

»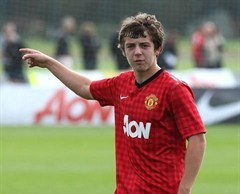 Ben Pearson (ManUtd.Com)
"The standout player at U18 club level this season surely has to be Ben Pearson of Manchester United, who has put in several sterling performances."
So says England Football Blog, previewing the squad for the forthcoming England Under 18 match against Italy.
Local lad Pearson was born in Oldham and joined United's Academy when he was just 9. He has been likened to Paul Scholes in style and the role of the "Ginger prince" played when he first emerged into the First Team from 1995.
He looks to have a bright future for England, having broken through last season. He also had a good game in the FA Youth Cup semi-final against Chelsea last season, despite being only 16.
Glandular fever held him back last year, but he still managed 14 starts for United's Under 18s. He scored then and has already scored this season, also. His creative and link-up play, together with his tenacity in the tackle mark him out for the future.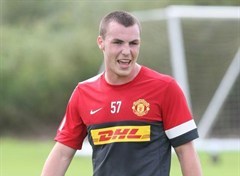 Luke McCullough (manutd.com)
Luke McCullough has some rebuilding to do after his reputation at Old Trafford was shattered by media coverage of a "lewd encounter" last month.
A great pity, because this is a talented defender. He captained the Academy team last year and was short-listed for Young Player of the Year.
Luke is an uncompromising central defender who is following in the footsteps of his Northern Irish compatriot, Jonny Evans.
He will face plenty of competition because United have at least 10 prospective young central defenders vying to succeed the likes of Rio Ferdinand and Nemanja Vidic in due course.
Having had a long injury lay-off in 2010-11, he recovered sufficiently to make 25 starts last season, with a couple of matches for the Reserves.
Whether he gets a place in United's First Team squad, he is surely a future Northern Ireland international, having already played for the Under 17s.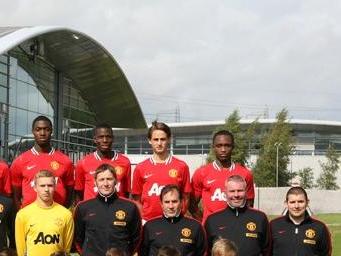 Charni Ekangemene (manutd.com)
Belgian born Charni Ekangamene is one of several young players who have arrived from Manchester United's feeder club, Royal Antwerp.
He is a tenacious tackler in the Cheick Tiote mould, who made his debut for the Reserves when only 16. He has also played for his country at U16 and U17 levels.
With a total of 20 appearances in his final Academy year, he will be hoping to have a similar impact in the Reserves this year.
He could be competition for Ryan Tunnicliffe in the near future.
Keep an eye on Tom Lawrence. An undemonstrative player who goes about his business in a thoroughly professional way, he will make and score goals at every level in his future career.
Such as the stunner against Crewe.
Still only 18, he has already represented Wales at U17 and U19 levels. He was also part of the 2011 Manchester United FA Youth Cup-winning side.
A versatile player, he is at his best in the "No.10" position, playing just behind the main striker. This may give him more chances going forward, with the intense competition in the lead position.
He also has been badly affected by injuries, but he finished last season with seven goals from eight games. Warren Joyce almost promoted him to the Reserves on the strength of that, but he's now in the U21 squad anyhow.
For all of you who have seen Will Keane and rate him as a certainty for Manchester United and England in the future, feast your eyes on young James Wilson.
In this early season match, United thrashed Newcastle Academy 7-1 with James scoring five of the goals.
The things that stand out are his composure and his clinical finishing.
He scored on his U18 debut while still only 15 and is still months away from his 17th birthday. He was also only 16 when he debuted for the Reserves last season.
He has been somewhat precocious throughout his career. United first scouted him when he was just 7 and he has been an under-age player for England up to Schoolboy level.
Also able to play on the wing, he scored six in 10 starts last season and is definitely one to watch.
Tyler Blackett made his first big breakthrough for Manchester United by being included in the preseason tour to South Africa and the Far East.
He played most of the game against Ajax Cape Town. It may well be that Ferguson was blase about losing Zeki Fryers because Blackett was pushing him from below.
The Manchester born defender is barely 18 but is already a fixture in the U21s. While he can play at centre back, he is at his best at left back.
The tour showed that he is still raw in some respects, although he stood out for his pace, dribbling skill, strength and crossing. He has a thunderbolt of a shot and is often used for set pieces.
He still has some maturing to do and needs to understand as Welbeck did that his time will come. Whether he is a tad demotivated now, having had a taste of the First Team, only time will tell.
He has a Premier League squad number and while Brady has also been tried at left back, Blackett is presumed currently to stand third in line behind Patrice Evra and Alex Buttner.
He must remain patient for the time being. He was partly at fault for two of the goals that United conceded against Southampton U21s on Monday night, when he failed to get off the ground for crosses.
He has been an England regular at "Under Age" levels, i.e. U16, U17 and U19 and has the potential to star for both United and England in the future.
Take special notice of this young man. Still only 16, he scored a goal of real maturity for United against Southampton in the Academy team last week. It could have been Sergio Aguero or Diego Maradona and came out of nothing.
There was a great deal of interest from Premier League clubs when he was signed from PSV Eindhoven as a 15 year old.
Born in Brazil, he is a naturalised Belgian, which is why United were able to secure his registration.
He has been compared to a young Scholes, but has everything.
He is a creative midfield player who can run rings round defenders, has an eye for a pass and both a subtle and a bullet shot when needed. He is particularly good on set pieces.
Although Paul McGuinness and Warren Joyce will want to carefully nurture his precocious talent, you can expect him to be featuring for the Under 21s some time this season, despite him still being only 16.
The experience will tell Ferguson a great deal about the potential of this lad but don't be surprised if he's knocking on the First Team door before he's 18.
Adnan Januzaj is a Kosovo born teenage sensation with Belgian nationality. What is it with all these stunning young Belgian talents coming through?
When Manchester United signed him in early 2011 as a 16 year old, he immediately became the highest paid Academy starlet on £120,000 a year for a four-and-a-half year contract. He has already been compared to David Beckham.
There is no doubt Ferguson is grooming this lad for a fast track to the First Team. While he is still listed in the Under 18s, he has already had his first team debut in the preseason match against Aberdeen. What's more, he didn't look out of place!
He was first spotted doing tricks at halftime during PSV First Team matches. United are believed to have paid £600,000 for his contract.
Injury finished his season last year, but he is bound to catch someone's eye this time around and may even feature in one of the Cup teams.
You can also see a video of him scoring on YouTube.
Jack Barmby is still only 17 but judging by his performances in the video above and his appearance for United's Under 21s this week, he must be on the verge of an accelerated programme towards the First Team.
He is the son of Nick Barmby, former England international, now managing Hull City. Sad for dad, the son looks an even better prospect.
Nick's dilemma will also be Manchester United's, because he has been played on the wing and in midfield in the past but is looking like a highly capable striker.
Surely he will be taking his place alongside Will Keane for England at the 2016 European Championships.
Jack is now a fixture in the England U19 team, which in itself sums up how highly he is regarded, as his 18th birthday isn't until December.
It is worth looking out for him on MUTV if you can, or at the very least looking at the other videos of him on YouTube, starting with Manchester United's 4-0 win over Torquay, where he scored twice. (Tom Lawrence also scored a cracker of a first goal).
Our No. 1 choice is Mats Daehli. He is a hugely precocious talent, who is barely 17.
Last season, he won the Academy Player of the Year award at Manchester United and this season he is captain.
He is Norwegian and joined from Lynn Oslo a year ago. He has incredible ball skill, great vision and has already both scored and assisted this season. Watch the James Wilson video again to see the best of Daehli.
He debuted for the United Reserve team last season at just 16. If Ole Gunnar Solskjaer doesn't steal him, he has a stellar future for United.
His style of play and ball skill as technically excellent as any player in United's First Team make him ideally suited to United's new, fast-paced, close-passing fluid attacking game.
Don't be surprised if he displaces Nani in a couple of years if the Portuguese winger is still around.
It's because of the players listed here that Ryan Giggs and Scholes will be able to retire gracefully sometime soon, knowing the future is in good hands.
We have previously raved about the 19 to 22 year olds who are on the fringes of the First Team, some of whom may not even get the chance to establish themselves before this new younger breed breaks through.
Although Angelo Henriquez and Nick Powell are still only 18, we have excluded them on the grounds that they are already members of the First Team squad and will surely make their own breakthrough this season. Similarly Michael Keane and Scott Wootton.
We also haven't included players such as Reese Brown, who is better than his brother Wes at the same age and currently on loan. Or John Cofie, the striker who is getting rave reviews at Sheffield United and is probably better and stronger than Josh King. What?!
So here are a few near-misses, including the scorer of the wonder goal against Wolves in the video above:
Pierluigi Gollini, 17 was signed from Fiorentina despite a delay in registering him due to a broken leg. He made his first start for the Under 21s on Monday.
Luke Hendrie has a number of representative caps for England. He is the son of John Hendrie (Bradford City and Scotland) and can play at right back or midfield.
James Rothwell is making headlines among a group of talented attacking players in the Academy that includes our selections, James Wilson and Ben Pearson.
Gyliano Van Velzen is a Dutch youth international who plays mainly on the left wing but can also play through the middle or as second striker. He is now in the U21 squad and this will be a big season for him.
Jonny Sutherland is a goalkeeper signed from Crewe Alexandra who has already been called up like Sam Johnstone before him for the England Under 19s. Daunting when you consider they have Jack Butland and Joe Hart ahead of them!
Finally, the established Under 21s who should be retained for the future include: Henriquez, Nick Powell, Wootton, John Cofie, Frederic Veseli, Wes Brown, Petrucci, Brady, Michele Fornasier, Johnstone, Will Keane, Michael Keane, Tunnicliffe, Tom Thorpe and Jesse Lingard.
If you have any other names to suggest, please post them in the comments below.