Liverpool's season has been an unmitigated disaster thus far, but if the Reds are truly committed to building for the future, they won't give up on their pursuit of Danish starlet Christian Eriksen.
According to a report from Metro Sport, the Reds have been incredibly interested in bringing in the talented 20-year-old midfielder to serve as the heir apparent to aging superstar Steven Gerrard, but Eriksen has told reporters that he prefers to remain at Ajax for the time being.
Per Metro's report:
Ajax had to fend off a host of enquiries in the summer transfer window and look set to have another fight on their hands in January, but Eriksen says a switch is not on his mind at the present time.

'It is great that such big clubs are interested,' he said.

'It is very special for me but I am not contemplating various transfer scenarios in any way at the moment.'
While Eriksen seems happy with his Dutch club at the moment, the fact of the matter is that Liverpool cannot afford to give up their pursuit of the young playmaker. The 20-year-old is capable of filling the stat sheet in ways few midfielders can, with his sublime playmaking abilities.
He's incredibly adept with the ball at his feet, capable of finding passing lanes and creating chances for players in ways only a select few players can. But he's not simply a facilitator—he scored seven goals last season and has already found the back of the net three times for the Dutch side this year.
In other words, he's the perfect candidate to eventually replace the talismanic Gerrard on the pitch at Anfield.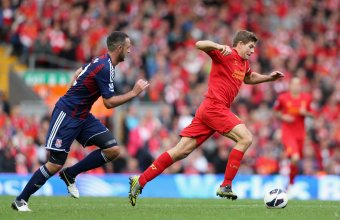 Clive Brunskill/Getty Images
At the moment, Liverpool's squad seems to be a bit of a mess. Their attack remains potent, having scored nine goals, but they still lack width on the attack and defensive fortitude, particularly in their midfield.
While he's a central midfielder, Eriksen is capable of fixing both of those issues. He's a fairly skilled defensive player (although he's much more renowned for his offense), and his passing and ball-handling expand the pitch on attack, providing wings with plenty of chances to make runs down the sideline, thereby giving the attack the width it so desperately needs.
Picturing his fantastic passes hitting a streaking Raheem Sterling in stride down the wing at Anfield surely has the Kop faithful drooling at the thought of him joining the Reds.
On top of that, unlike fellow young midfield talent Jordan Henderson, whom the Reds signed to a massive deal before last season, Eriksen isn't a project or a long-term recruit. Despite being just 20 years old, the Danish youngster is already a polished, mature midfielder with the kind of intelligence and vision typically found in players 10 years his senior.
Should Liverpool chase Christian Eriksen?
Odds are good that
Eriksen
won't come cheap. Ajax love him, and he seems happy to play at the Dutch club for the time being, at the very least. But for Liverpool, who seem unlikely to contend for Europe in the immediate future, the Danish starlet is the kind of talent who can give fans hope for the future while helping them to contend now.
If the Reds are looking to make a splash in the transfer market, landing one of the best young midfielders in the sport is a great way to do it.
He's the kind of player the Reds believed they were getting in both Henderson and Charlie Adam, and with his talent and clear skill, he'd shine brightly in manager Brendan Rodgers' system. While he may not want to come to Anfield quite yet, the Reds can't quit pursuing him and convincing him. He's too skilled of a player for them to let someone else snatch him up.