Ohio State Basketball: 7 Reasons the Buckeyes Will Win the Big Ten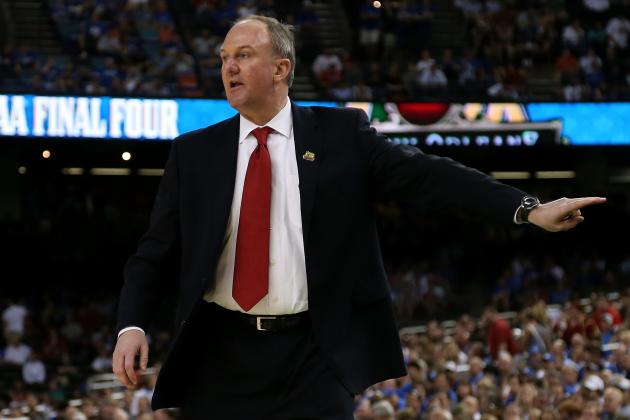 Chris Graythen/Getty Images

In a normal college basketball offseason, it wouldn't really raise any eyebrows to say that the team that has won the past three conference championships and five of the past seven will win the Big Ten again this year.
But it's not quite that simple heading into the 2012-13 season.
Ohio State has been propelled recently by superstar and two-time All-American Jared Sullinger, as well as solid contributor William Buford. However, both players have departed and the roster is filled with young, unproven players that will be asked to step up.
As if that wasn't enough, the Big Ten will arguably be the most difficult conference in the nation this year and has national title contenders Indiana and Michigan vying for top billing with the Buckeyes.
Nevertheless, Thad Matta and company will find a way to defend their past three conference crowns.
Read on to see seven reasons why.
Begin Slideshow

»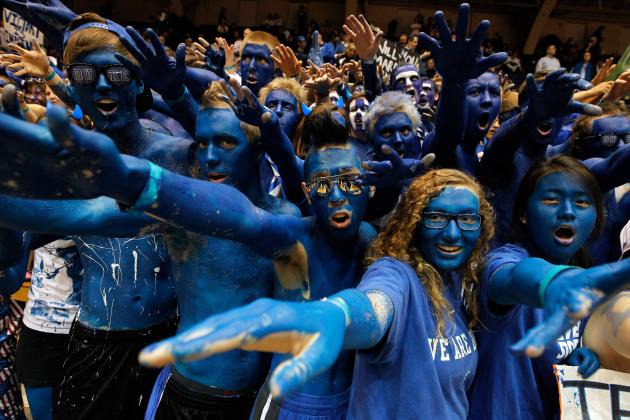 Streeter Lecka/Getty Images

The nonconference games on the schedule don't count one iota in terms of the conference standings. That doesn't mean they won't be significant for the Buckeyes.
Ohio State starts the season with a game against Marquette, will battle Kansas in December, has tricky games against Long Beach State and Washington or Seton Hall and makes a trip to the always intimidating Cameron Indoor Stadium at Duke.
An early schedule like that means the Scarlet and Gray will be plenty tested by the time conference play rolls around. Furthermore, with that many NCAA tournament-quality opponents, Thad Matta will be exposed to a variety of styles of play that his team and coaching staff will have to adjust to, meaning they will be ready for them later in the year.
Moreover, a trip to Cameron means that no Big Ten venue should really frighten the young players on the roster. That's not to say Cameron is necessarily that much more difficult to play in than Assembly Hall or the Breslin Center, but a victory at Duke would instill a considerable level of confidence in the Buckeyes before future road tests.
Andy Lyons/Getty Images

Let's work under the assumption that games against Indiana, Michigan and Michigan State are the ones that are truly daunting for the Buckeyes in terms of conference play.
That's not to say they will not lose to anyone else (after all, Wisconsin has been a house of horrors for Thad Matta and company), but Ohio State should have more talent than the rest of its opponents.
The Buckeyes play Michigan on Jan. 13, at Michigan State Jan. 19, at Michigan Feb. 5, Indiana Feb. 10, Michigan State Feb. 24 and at Indiana March 5.
While some of those games are back-to-back, there isn't a gauntlet of a stretch where Ohio State will be playing those teams three games in a row or three out of four. That means that the Buckeyes will have long stretches of contests that they should win, meaning they can string together some momentum.
In fact, five of the first seven conference games are against Nebraska, Purdue, Iowa, Illinois and Penn State, all of which have significantly less talent than the Bucks.
A solid start, combined with long stretches of games where Ohio State won't see the Hoosiers or either Michigan team, means there will be plenty of conference wins on the table for Matta's squad.
And the team will have confidence and winning streaks in its back pocket when it faces its most difficult challenges.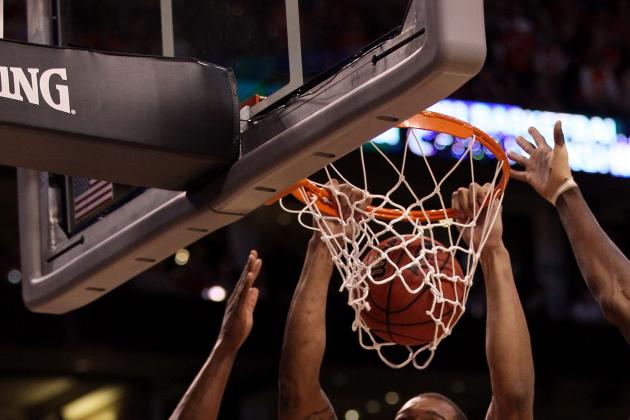 Elsa/Getty Images

One of the primary reasons that expectations are somewhat tempered for this basketball season among some members of Buckeye Nation, is the departure of two-time All-American Jared Sullinger.
However, the cupboard is not bare for Thad Matta in terms of players to insert into the starting center position.
Amir Williams is a former McDonald's All-American out of high school who probably would have found significant playing time at almost any school in the country last year. However, the combination of Sullinger and Matta's reluctance to use his bench meant that Williams didn't see as much action as his talent warranted.
But it will be because of Williams living up to his potential in the 2012-13 season that the fall off from Sullinger will not be as drastic as assumed.
Williams is more athletic than Sullinger, is a better shot blocker and will allow the Buckeyes to play at a quicker pace than they could when Sullinger was taking up space down low.
Williams will be a pleasant surprise for the Buckeye faithful this year, and he will sneak up on opponents who take him lightly.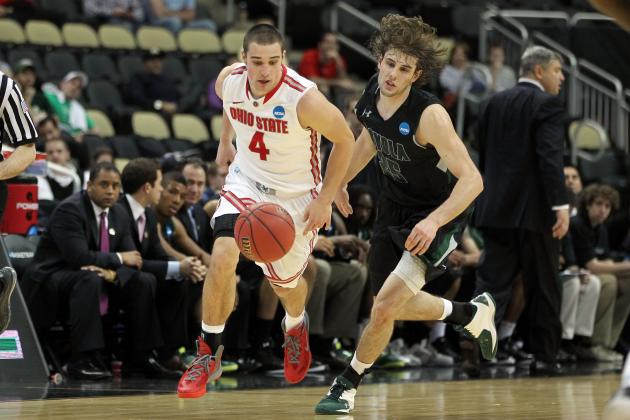 Gregory Shamus/Getty Images

If the fact that Amir Williams will allow Ohio State to play at a faster pace is assumed to be an advantage (which it is by this writer), then the Buckeye roster offers Thad Matta an intriguing number of options from which to experiment.
In the slow and somewhat monotonous Big Ten, it will work to Matta's advantage to throw out lineup combinations that will pick up the pace of play for periods of time. We saw it in the NCAA tournament last year when he put Aaron Craft and Shannon Scott together in the backcourt, and it was fairly successful.
A small lineup of Craft, Scott, LaQuinton Ross, Sam Thompson and Deshaun Thomas will be more athletic than just about anything the Buckeyes will face in the Big Ten. Even if Williams is included, the level of athleticism and speed is enticing.
Just think of the "speed lineup" as an interesting ace up Matta's sleeve that can be utilized whenever a momentum change or boost is needed.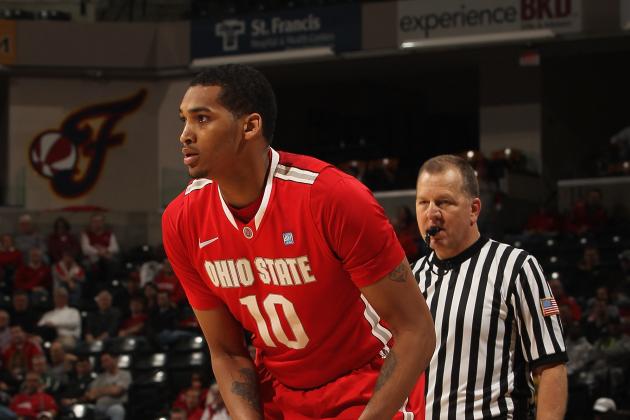 Jonathan Daniel/Getty Images

LaQuinton Ross and Amir Williams are in very similar situations heading into the 2012-13 season.
Both were highly-regarded recruits coming out of high school who saw limited action a year ago. While Williams didn't see much of the court because of the presence of Jared Sullinger, Ross rode the bench because of an early academic suspension that basically put him in Thad Matta's doghouse for much of the year.
However, there is a real possibility that Ross will find himself in the starting lineup come opening day.
Ross stands at 6'8" and can post up smaller defenders, drive around slower ones or drain three-point shots from almost anywhere on the floor. Throw in the fact that he has elite athleticism that will help on the defensive side (along with his length), and Ross has the potential to be a major contributor for the Buckeyes this season.
He just has to tap into that potential and make sure he stays on the court.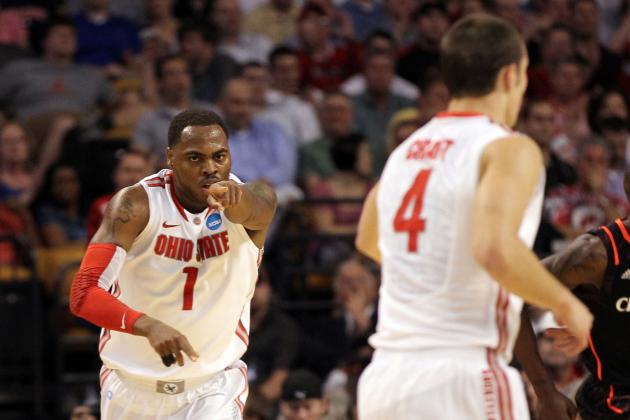 Jim Rogash/Getty Images

If you follow Ohio State basketball (or even Big Ten basketball) at all, then you had to guess Aaron Craft and Deshaun Thomas were going to be the two primary reasons why the Buckeyes can win the conference this year.
It is well-established how important and talented these two players are, so I am not going to spend a lot of words telling you what you already know. However, it is important to point out that Craft is the third most coveted player in all of college basketball by coaches who were polled by CBS Sports.
And who knows more about college basketball than the coaches across the country?
What makes Thomas and Craft such a formidable one-two punch is the fact that Craft is so tenacious on defense and Thomas is basically un-guardable when he has the ball in his hands on offense.
With Craft penetrating and LaQuinton Ross hitting three-pointers from the outside, the floor should be spread for Thomas to score plenty of points this year. Moreover, with Amir Williams as a shot-blocking presence down low, the pesky Craft can take more chances on defense than ever before, which will result in more steals and fast breaks.
Both of these players have been on the brink of All-American status so far at Ohio State. Now that they are finally upperclassmen, the rest of the Big Ten is officially on notice.