Can the Cleveland Browns' Josh Gordon Ever Be the Best Receiver in the NFL?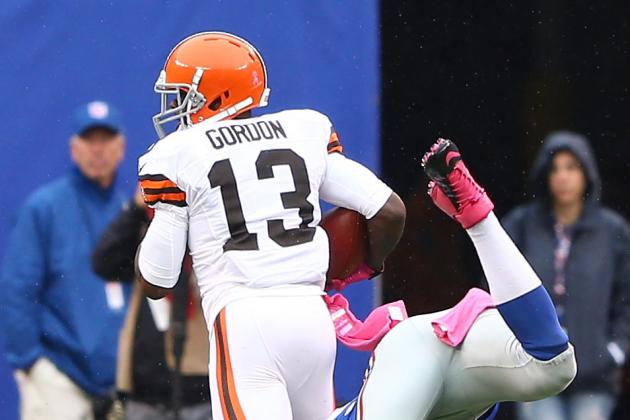 Al Bello/Getty Images
Josh Gordon's secures one of two TD catches vs Giants in Week 5.
After so many disappointments during the first four weeks of the 2012 season in regards to wideouts catching the football, Browns supporters finally had something to get excited about during this past Sunday's eventual loss to the New York Giants.
Enter Josh Gordon—the next top receiver in the National Football League.
Gordon is a "project" picked up in the second round of this year's supplemental draft and a receiver who has not played in the college ranks for nearly two seasons because of various off-field troubles. He is a player with special gifts, rare athletic abilities and all the potential in the world.
Sound familiar? Is the above not a nearly identical description of Greg Little's arrival in 2011?
Begin Slideshow

»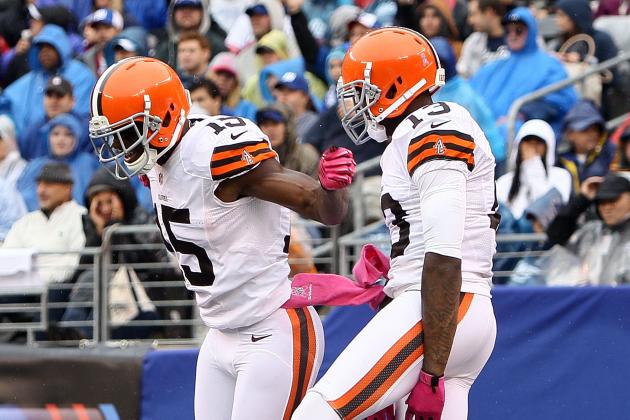 Alex Trautwig/Getty Images
Greg Little (left) and Josh Gordon (right) celebrate following a touchdown last Sunday
Let's compare. Both Little and Gordon are 6'3"and over 200 lbs, making them an ideal fit for head coach Pat Shurmur's West Coast offense.
The similarities stop there. Little has been a complete and total disaster as his severe case of the drops has no end in sight.
Little leads the entire National Football League in dropped passes, an ailment plaguing him still from his rookie campaign.
How many times can Little be coached, practiced with and counted on as a primary target to do the one thing that someone at his position is supposed to do...catch the football?
The Durham, North Carolina native has killed numerous drives and directly cost Cleveland the game in Baltimore, all the while showing zero signs of improvement.
Josh Gordon on the other hand, has been nurtured and brought along slowly because of his long absence from the gridiron. At times during the preseason and first couple of games, he has looked sluggish, confused and out of his element.
However, unlike his counterpart Little, Gordon has been humble, receptive to criticism and displays consistent improvement.
ESPN's Cleveland Browns Daily radio show host Vic Carucci has commented numerous times about Gordon's assets that the club's braintrust hopes will make him a breakout star. Carucci said:
His abnormally long fingers that are tailor made for being an effective receiver, a unique blend of size and speed, as well as being able to catch the ball in stride all the while possessing the physicality to out muscle pesky cornerbacks.
However, the major difference between Josh Gordon and current elite NFL wide receivers is his attitude.
The Baylor alumni is not an outspoken egomaniac like so many before him but is openly thankful for the opportunity Cleveland has given him.
This is why No. 13 will be the next great one.
Gordon had been written off by 31 other teams as not being worth the trouble despite his immense skill set, and it was the Browns who stepped up to select him.
No one has more to prove than Gordon who has stated in several interviews that he will be forever grateful to the Browns and the city of Cleveland for giving him his shot at the big time.
A focused man with a chip on his shoulder and endless motivation makes for a dangerous weapon.
Having the creative mind of Brad Childress as offensive coordinator to allow Gordon to take the necessary baby steps that led to his stellar Week 5 performance is a key factor often overlooked.
Look at Gordon's standout game versus the Giants.
His two receptions for a total of 82 yards both went for touchdowns and came at clutch moments, showing he has a nose for the end zone. Most important statistic was he had no dropped passes.
Cleveland's game plan gave Gordon simple routes to run and was meant to not overwhelm the 21-year-old. The fact that he followed direction and executed with such grace and style is extremely encouraging.
The great ones always make it look easy.
A gradually increasing set of responsibilities with resulting successes builds confidence, which Gordon will certainly need when called upon more often this Sunday as injuries to fellow receivers Mohamed Massaquoi, Travis Benjamin and Jordan Norwood add up.
Highlight-reel receptions will certainly have Week 6 division rival, the Cincinnati Bengals, putting a direct spotlight on Gordon.
His progression has been deliberate and well planned, and there is no reason to believe that Gordon will not rise to the occasion as a reliable No. 1 target for Brandon Weeden.
Gordon combines the best of Randy Moss and Terrell Owens with his own twist of talent. In the not too distant future he will stand alongside the league's best as analysts ask the question: "What first-year wideout will be the next Josh Gordon?"
Football fans take note. The best wide receiver in the NFL is emerging right before your eyes.