If you listen to Jon Fitch, none of his current misfortunes are his fault.
Everything from office politics to the economy is holding down the hard-nosed, "blue chip" wrestling star, as a string of bad luck has threatened to drag him out of the title picture.
But you take a good look at the whole picture, Jon Fitch has no one to blame but himself.
For a long time, I've defended Fitch against people who hate watching his fights. Where nearby bar patrons call him a boring blanket, I've argued that it's masterful ground control. Every time someone argued against him being on the main card, I've pointed to the long line of welterweights he's beaten to stay there.
But I'm done defending Jon Fitch.
Even though I've tried to ignore it, the simple fact is that it's tough to cheer for a guy who constantly blames everyone and everything else for his problems. Take this excerpt from MMA Junkie for example, where Fitch laments his current financial problems:
"The economy itself is slow. It's a lot harder to make money outside the UFC now, as far as sponsors and stuff go. The sponsors have kinda dried up. The appearances have almost dried up."

Fitch said he's "very careful with my money," but he also has the strain of two mortgages. He bought a condo before the real-estate market got real bad, and the property is steadily losing value, and he also bought a larger house for his family after he got married.
In just a few words, Fitch blames the economy, the UFC, sponsors, and even the rising costs of living for him being broke.
Should Fitch complain about money?
But the American Kickboxing Academy ace should blame himself. Not anyone else.
Here's the problem. Fitch is still referring to himself as if he's still that dangerous pound-for-pound wrestling machine who was riding a 5-0 winning streak in 2010.
But the reality is far different.
In 2012, Jon Fitch is now another also-ran title contender in an evolving welterweight division. He's also coming off a loss with a 1-1-1 record in his last three fights, one of those being a majority draw against a blown-up lightweight.
Not only is Fitch overestimating his worth, he's also remained frustratingly ignorant to why he's not making more money.
There's a reason why fighters like Nate Diaz, Joe Lauzon, Donald Cerrone, Michael Bisping, and even Josh Koscheck are constantly pushed by the UFC and heavily backed by loyal sponsors. Fans simply want to see them in action.
Win or lose, those fighters go full broke, constantly working to finish their opponents.
No one can say that about Jon Fitch.
And let's not forget that Fitch—a seven-year Zuffa employee—is still paid rather handsomely by the UFC, especially in comparison to most other fighters. Even with training costs, taxes, and the related costs of being an elite mixed martial artist, there's plenty of ways to be more financially secure.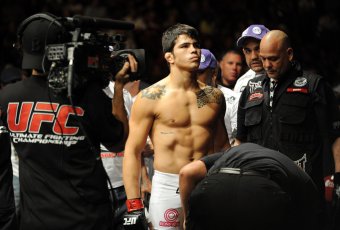 Steve Mitchell-US PRESSWIRE
Jon Fitch has lost just twice in his UFC career. His friend Josh Koscheck has lost five times in roughy the same amount of years on the job. So, what's the difference between them?
Fans care about Josh Koscheck. Love him or hate him, they pay attention when he fights. Koscheck knows this, and willingly plays up the villainous side of his personality when he needs to. Jon Fitch, by comparison, has the personality of a wet blanket.
(Plus, Koscheck has the business savvy to own a successful clothing line.)
So you'll have to forgive me if I'm not exactly heartbroken that Fitch could lose his condo. Maybe Koscheck can fly his friend's family somewhere for winter break in his personal plane.
Maybe Fightlinker sums it up best:
"... Move the [expletive] out of California. I'm planning on leaving myself and I'm poor as [expletive]. This [expletive] bought a condo and then another house for him and his boring [expletive] baby. He could move practically anywhere in the country, he could move [to] the MMA mecca Las Vegas for super cheap since they are practically giving away houses there. Move back to bum [expletive] Indiana where it all began. You have opportunities and flexibility unlike many Americans."
Jon Fitch made $120,000 in 2011 with a loss and a draw. He made $108,000 on UFC 111 alone, and that was just one fight with a win bonus.
In an economy where people are struggling just to make ends meet, Fitch somehow finds a way to complain about being one of MMA's most well-paid, six-figure salary fighters. Even worse, that casts a huge shadow over MMA athletes on the bottom rung of the UFC and struggling in regional promotions—the ones who really have money problems.
So, that's it. I'm officially done defending Jon Fitch.
Maybe losing to Erick Silva will give him a cold, fresh dose of reality. Maybe if Jon Fitch faces some real, actual hardship, he'll realize that getting a paltry $500 to meet some of his fans at a small-time event isn't such a bad deal.
[McKinley Noble is an MMA conspiracy theorist and FightFans Radio writer. His work has appeared in GamePro, Macworld and PC World. Talk with him on Twitter.]