Ranking the 4 Best Managers in La Liga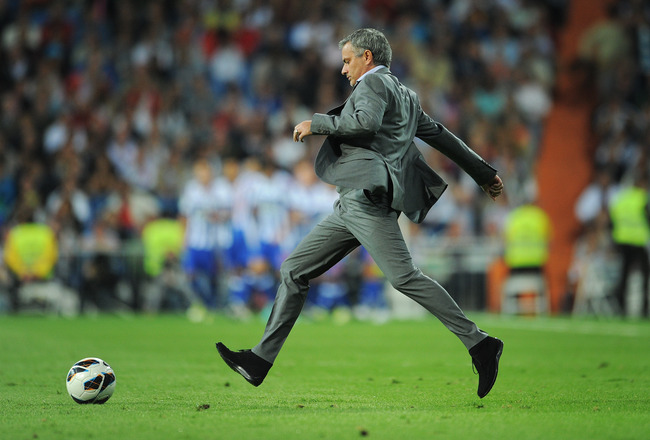 Jasper Juinen/Getty Images
Over the last half decade, many of Europe's top coaches have been at the helm of Spanish teams.
In terms of trophies and tangible success, the dominant manager of recent history was Pep Guardiola, the man who left Barcelona just last season.
There is also Jose Mourinho who is widely regarded as the best manager in football and last season was on the verge of taking Real Madrid back to the pinnacle of the sport.
But when rating and deciding who the "best" managers are, we have to look beyond the number of trophies.
We have to look at what tactical knowledge a manager brings. We need to measure success while considering the talent and wealth at each manager's disposal.
When we do that, we realize that the managers who have earned the most success for their teams were not necessarily the ones who have the most trophies to show.
History may measure coaches by how much silverware they win, but contemporary analysts can look beyond that and appreciate what other managers bring to the league on and off the pitch.
What follows is a list of the three best managers in La Liga. The list is ranked according to results and actions only in Spain.
I repeat, only time spent in charge of Spanish teams is taken into account here, not anything these coaches did at other teams in other leagues.
After reading, I encourage you to comment and let us all know who you think are the best bosses in La Liga and why.
4. Diego Simeone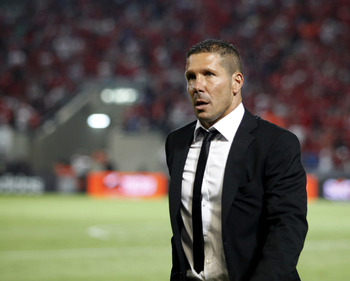 EuroFootball/Getty Images
Just imagine if he had been in control of Atletico from the start of last season instead of taking over a struggling club in the middle of the season.
Los Rojiblancos could very well be in the Champions League right now. The likes of Arda Turan and Radamel Falcao would be shining on Europe's biggest stage instead of going rather unrecognized by casual fans.
Since taking over Los Rojiblancos last year, Diego Simeone has turned the capital club into one of the best and most competitive in Europe.
October 11, 2012 will actually mark six months since Atleti's last defeat in any competition. That defeat came at the hands of Real Madrid in Cristiano Ronaldo's best performance of the season.
The Argentinian led Atletico to their second Europa League title in three seasons and has had his team tied with Barcelona on points in first place through October.
A players' manager
The 42-year-old has an incredible ability to relate to his players and give them the confidence to beat any team in the world.
Simeone's presence and leadership inspired Madrid to dominate the reigning European champions in the UEFA Super Cup.
Blues fans can make any excuse about how the team didn't care, but the honest observer knows that Chelsea gave their all and tried their best, but were just out-played by a quality side on the night.
Simeone is very humble and easy to relate to; he is a man who people want to play for and who knows how to get the best out of his players.
Beyond results
The Buenos Aires-born boss has a keen tactical mind that is able to match up his player's strengths with the weaknesses of his opponents and is never afraid to take a strategic gamble.
This season alone, we have seen Simeone use various formations that have created an overloaded midfield, three-man defenses and different attacking fronts to utilize his players' strengths.
If the South American is successful enough to stay in Madrid for a long time, he has a chance to establish himself as one of the premier coaches not just in Spain, but in all of Europe.
3. Jose Mourinho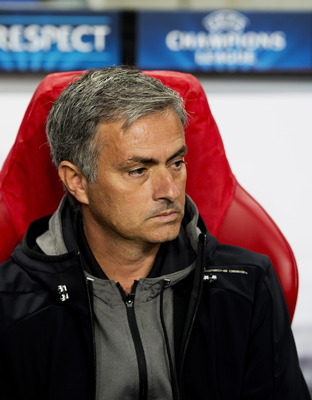 EuroFootball/Getty Images
If we look at accomplishments throughout his entire managerial career, the "Only One" would be near the top of the list.
When looking at coaching abilities and results in La Liga, however, Mourinho is overshadowed by his peers.
Just as Diego Simeone is handicapped compared to others by only being in Spain for one season, Mourinho is at a disadvantage by only having two seasons under his belt.
At Real Madrid, the Portuguese boss has already accomplished great things in La Liga, but if we keep history at the ready and results in context, the results a are a bit less impressive.
Domestic success
The greatest thing Mourinho has done to date is to finally end the reign of Pep Guardiola's Barcelona over La Liga.
In his second season at the helm, the "Special One" not only led his team over their greatest rival, he did it in record-setting fashion, breaking the league's single-season point record and countless offensive records.
Now, in his third season at the club, Mourinho hopes to add the bigger trophy to Real's cabinet for the third time in a row after winning the Copa del Rey and then the league title in consecutive seasons.
A different perspective
But like I said before, we have to keep Mourinho's success in context. Has he really been that great a success at Real Madrid?
First, look at the numbers. He has managed one of the richest clubs in the world with one of the most expensive sides ever assembled to three trophies now—very impressive.
But let's remember that he broke the team's point record just two years after it was set and he did it in a season that was the most unbalanced and the least competitive in history when speaking of the title race.
He also led a team that someone else assembled. Of the 13 players with the most appearances in Real's record-setting season, 9 of them were already at the club and none were developed by Mourinho himself.
This leads us to ask a great question: Is Real Madrid so good right now because of Jose Mourinho, or because of the talent the club has assembled over the years?
Legacy
Another important question—as is the case with any manager—is this: What has Mourinho brought to Spain? In other words, what has he brought to the league?
When we look back at his time at Real Madrid, what will we remember most?
A manager who finally overthrew Pep Guardiola when Barcelona were decimated by injuries? A manager who changed the personality of the club to being overly aggressive and often immature?
Will we remember a manager who broke the all-time league record for points and goals scored, or a manager who out-performed his predecessors only because he was given more time and patience?
Inconclusive
Right now, it is hard to say what his legacy will be, but again, we have to remember that he has only spent two years in Spain.
If he leads Real Madrid to their elusive 10th Champions League title, any issues with man-management or media controversies will be forgotten.
What fans will remember then is a man who helped further established Madrid's claim as the greatest team in the history of European football.
2. Joaquin Caparros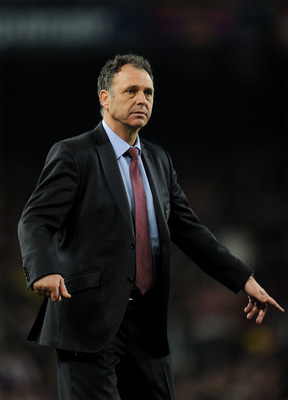 Jasper Juinen/Getty Images
Many fans who are either new to La Liga or only follow the big two of Barcelona and Real Madrid might see Caparros ahead of someone like Jose Mourinho and scratch their heads.
If you are one of those people, just ask a long-time Athletic Bilbao fan how great the Spaniard is.
Ask a Sevilla fan about the manager who was responsible for the greatest period of the team's modern history.
Ask Mallorca about the man who took them from the relegation zone to being a Europa League contender.
Sevilla
At Sevilla, Caparros helped build arguably the greatest team in the club's history.
Just take a look at some of the names the 56-year-old turned into class players, some world-beaters: Dani Alves, Sergio Ramos, Jesus Navas, Julio Baptista, Jose Antonio Reyes, Renato and Barcelona's Adriano.
If these players were all reunited now, many of them in their prime, they could challenge for a league title.
Caparros does not always get credit for Sevilla's European and domestic success of the mid-2000s because he was not the coach then.
But make no mistake, nearly all of that unprecedented success—and the trophies the club now has in its cabinet—are a result of the seeds sown by the brilliant Andalusian coach.
Athletic Bilbao
After moving to Basque Country, Caparros took over a club that had very little direction and almost no footballing philosophy.
The Spaniard slowly began building a team capable of battling the top teams in Spain after rebuilding almost the entire team from scratch—a talent he has proven to be habitual since then.
In his first season with the club, the Spanish coach took Los Leones to their first Copa del Rey final in two-and-a-half decades while also guaranteeing safety for the first time in years.
As with Sevilla, Caparros nurtured many of Bilbao's great players from the last 10 years, many of whom are now considered some of the best players in the league.
Guys like Fernando Llorente, Javi Martinez, Iker Muniain, Markel Susaeta, Oscar de Marcos and Jon Aurtenetxe are where they are today because of the trust and coaching given by the great coach.
Real Mallorca
Fast-forward to today and we might be witnessing the crowning achievement in Joaquin Caparros' incredible career.
When he moved to Mallorca in 2011, he took over a club that was just one point away from relegation the year before. In just one season, he put the team one win away from playing in the Europa League.
For those who may think it was just down to luck, look at what he has already done this season.
After losing every key player in his squad last summer—namely Gonzalo "Chori" Castro, Sergio Tejera, Jose Manuel "Chico" Flores, Fernando Tissone, Pau Cendros, Marti Crespi and captain Ivan Ramis—Caparros now has Mallorca in the thick of the Europa League hunt.
It is not at all shocking that the club is desperate to sign him to a long-term contract.
Legacy
Many people will look at someone like Jose Mourinho and rightly praise him for all the success he has had.
But when you look at the squads Mourinho has had to work with and the money at his disposal over his last three postings, we have to wonder if a master like Joaquin Caparros could have found similar success.
We can also look at the other side of the coin. If Mourinho or Guardiola were given the teams that Caparros had been given, teams that had no right even getting above mid-table, can we honestly say they could have had such a drastic impact at all of these clubs?
1. Manuel Pellegrini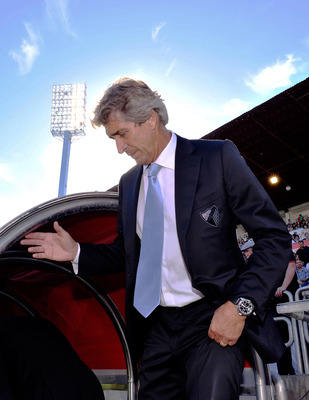 Gonzalo Arroyo Moreno/Getty Images
Over the last decade of Spanish football, there has not been a better, more successful manager in La Liga than Manuel Pellegrini when taking into account finances, expectations and squad talent.
Unfairly overshadowed
Pep Guardiola and Jose Mourinho sell all the papers and win all the fans, but could either coach have been anywhere near as successful without having world-class players at their disposal—very few of which were the responsibility of those two?
Could Jose Mourinho have taken a poor, lightly talented team like Villarreal to second place in La Liga?
Could Pep Guardiola have taken that same team to the semifinals of the Champions League after allowing only a single goal to an Arsenal team that some regard as the greatest in team history?
Could either of them have lost their best striker and midfielder in one summer, be threatened with firing and even relegation and then have their team fighting for the Champions League?
In other words, if Mourinho lost Cristiano Ronaldo and Mesut Ozil, or if Guardiola lost Xavi and Lionel Messi—without any replacements—can anyone honestly expect that they'd be doing better than they were last season?
We can speculate all we want about whether or not those two could have done these things, but Manuel Pellegrini has already shown that he can do it.
The Real boss
A lot of people like to look at the failure of Pellegrini's time at Real Madrid and use it as proof that Mourinho has surpassed him.
One of the first points Mourinho fans bring up is the fact that the Portuguese boss led Los Merengues to the highest point total in league history in his second season.
Impressive, no doubt. But maybe those fans seem to forget that Pellegrini did something similar in his first season.
Many fail to remember that when Pellegrini first took over Real Madrid, he led the team to its highest point total in history.
The problem was that Barcelona—arguably the greatest club side in history—beat them by three points.
Still, the Chilean took a team that was reassembled with an entirely new midfield and attack and still managed to get them without one win of La Liga's all-time highest point total.
His failure in other competitions that season cost him—namely the Alcorcon disaster—but if the club had shown Pellegrini the same patience they've given Mourinho, who knows what he would have achieved later on?
The master of Spanish football
We could talk all day about the genius of Pellegrini's tactical mind and about how he has built a reputation for creating beautiful-footballing sides.
We could talk all day about how he took Villarreal, one of the poorest and youngest teams in Spain, to within one goal of the Champions League and helped them finish 10 points ahead of Barcelona to finish second.
We can talk about how he revolutionized Malaga and has helped them through the most difficult period in team history to once again give fans faith and hope in these hard times.
But perhaps the most telling facts are the numbers themselves and the record he has set at every club he has managed in Spain.
With Malaga's record finish last season, Manuel Pellegrini has now led three clubs—one being the biggest and most storied in the country—to their highest league finish in history.
He took two of those clubs to their best-ever finish in Europe.
It is a fair assumption to say that no other coach in La Liga could have done any of those things. For that reason, Manuel Pellegrini needs to be recognized as the great manager in Spain.
Keep Reading

Real Madrid: Like this team?