Seattle Seahawks: 4 Reasons Pete Carroll Takes Team Back to the Playoffs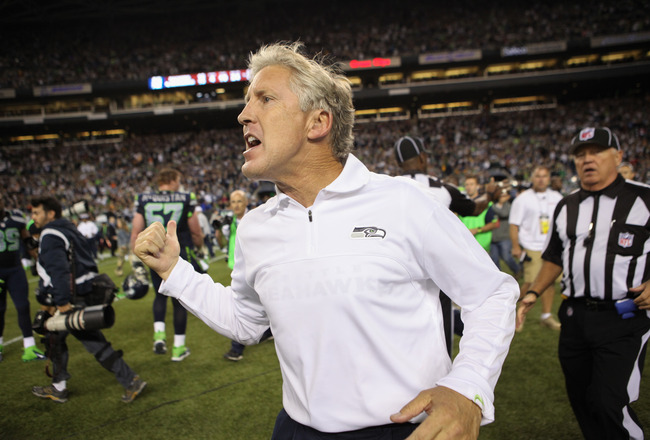 Pete Carroll is a friendly, but fiery man.
Otto Greule Jr/Getty Images
Pete Carroll—one of the most youthfully exuberant sideline generals in the NFL—also incorporates an old-school, no-nonsense blueprint in game plans for his Seattle Seahawks.
The old adage that pounding the rock and stopping the run equates to playoff success radiates through the pores of this football team.
Add in a ferocious pass rush against vulnerable opposing quarterbacks and you've got yourself some good ol'-fashioned hit-you-in-the-mouth-type football.
But will all of this foster a playoff run by the 2012 Seahawks?
Only time will tell. Yet, as it stands, Seattle sits at 3-2 and is within striking distance of the division-leading Cardinals and 49ers.
One way or another, the next three games for Carroll's Seahawks will decide their longevity in this year's campaign. New England at home and the 49ers and Lions on the road would make the grade as a season-ending murderer's row for any NFL franchise.
Follow along as we take the positive road and discuss why Carroll will traverse that difficult path en route to the 2012 playoffs.
Draft-Pick Shocker...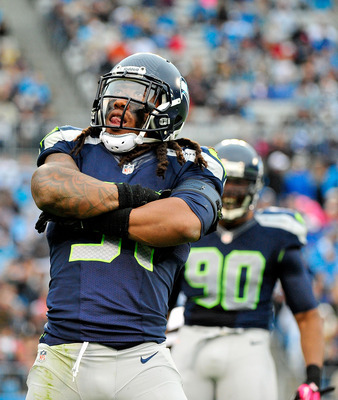 Irvin not so humbly basks in his on-field accomplishment.
Grant Halverson/Getty Images
When Roger Goodell announced the No. 15 pick of the 2012 NFL draft, the NFL world threw up an incredulous eyebrow. Pete Carroll, meanwhile, suppressed a satisfied grin.
First-round selection Bruce Irvin ranks fifth-among 4-3 defensive ends with 4.5 sacks. He is an absolute pass-rushing machine coming off the edge and making relative mincemeat of more physically-imposing offensive linemen.
Veteran holdover Chris Clemons has been just as dominant with 5.5 sacks and a forced fumble. Together these two embody the pass-rushing identity of a Seahawks team that has tallied the league's third-most sacks.
Carroll further instills his penchant for defense-first football from his NCAA days at USC in the 'Hawks' linebacker corps and secondary.
Rookie inside backer Bobby Wagner has outperformed expectations with his productivity against the run and in pass rush. And second-year man K.J. Wright has been a tackling force through the first five games of the season.
In the secondary, top-ranked cornerbacks Brandon Browner and Richard Sherman have continually executed the head coach's demands in all responsibilities required of them.
The same goes for shutdown safeties Kam Chancellor and Earl Thomas.
At this point in the season, the Seahawks are one of the most fearsome bunches, which is reflected in their No. 1 ranking in total defense.
Call it a product of existing personnel, newly infused talent and a head coach that pushes all the right buttons.
…Coated with Skittles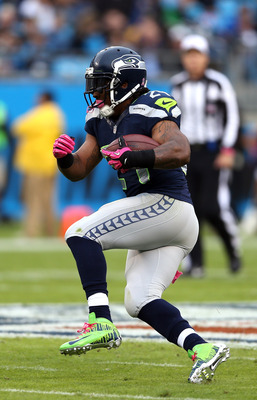 Beast Mode in action against the Panthers.
Streeter Lecka/Getty Images
And what complements a suffocating defense on the other side of the ball?
An equally punishing run game, that's what.
Marshawn Lynch comes in at No. 3 in the NFL with 508 yards rushing and two touchdowns. The Skittles fanatic's effectiveness on the ground shines through his 101.6 yards per game and league-leading 332 yards after contact.
Lynch is a veritable pile driver of a running back that grinds out minimal gains into SportsCenter Top 10 plays.
Carroll's leading man has been so effective that the coach hasn't had to utilize fourth-round draftee Robert Turbin. The Utah State product has a 4.2-yard average, but on limited action thus far. He'll be a weapon in waiting if the need ever arises.
A complementary—and dominant—defense and rushing attack is what any coach would desire out of his football team. This is especially true come playoff time.
Carroll seems to have those critical components on lock.
Instilling Steadfast Belief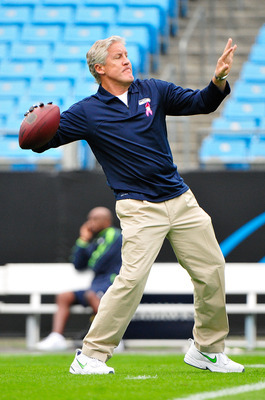 Pete Carroll is a man amongst the players.
Grant Halverson/Getty Images
Remember when Cam Newton rolled out to his right and missed a wide-open tight end for the go-ahead fourth-quarter score?
Remember when Pete Carroll jumped up and down in such jubilation that insinuated he had willed his team to make that errant throw happen all along?
That instance on the sideline was purely emblematic of what ol' Pete does for this Seattle team.
He thoroughly believes in a supreme capability from his team, and his players believe that their coach will put them in the best position to have it materialize.
Whether or not this mutual unadulterated belief system will last until Week 16 remains to be seen. For the time being, though, the Seahawks will combine their across-the-board talent with this intangible force until one or the other proves ineffective.
If they take down the Patriots in Week 6, expect a playoff destiny in the cards for the Pacific Northwest's favorite child.
Understanding a Mathematical Expression of a Quarterback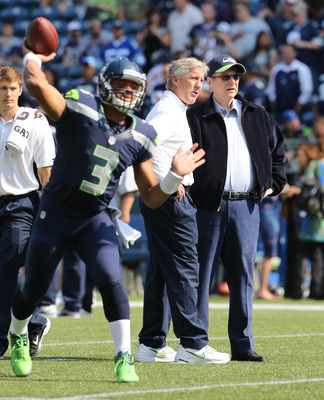 Carroll immediately knew what he had in Russell Wilson.
Otto Greule Jr/Getty Images
Pete Carroll understood the following:
Russell Wilson > Matt Flynn (and that $10 million commitment).
Before anyone wields a trident against this seeming hyperbole, just think about what constitutes Russell Wilson as a player, and as a person.
For his first two years at NC State, he was a wildly productive, but not always winning quarterback. He then succeeded in both those categories during his junior year, capping it off with a Champs Sports Bowl victory over West Virginia, 23-7.
Instead of furthering his football career, he pursued his passion for baseball. He played A-ball from 2010-11, before realizing that his rightful path ran through the quarterback position on the gridiron.
To make a long story short, he transferred into a pro-style system at Wisconsin, mastered the playbook and within weeks was elected the team's captain. Thirty-three touchdowns, 11 wins and a Big Ten title later, Wilson found himself being selected 75th overall by the Seattle Seahawks.
This is the stuff extraordinary people do—people that turn into quarterbacks that beat out $10 million men for starting jobs in the NFL.
While Wilson's 5:6 touchdown to interception ratio belies the aforementioned praise, the way in which his fellow Seahawks follow him in NFL battle does not.
Carroll's decision to nominate Russell Wilson as the starting QB will prove influential toward the Seahawks' run to January football.
Follow me on Twitter @jlevitt16
Keep Reading

Seattle Seahawks: Like this team?