5 Things for the Chicago Bears to Improve on During Bye Week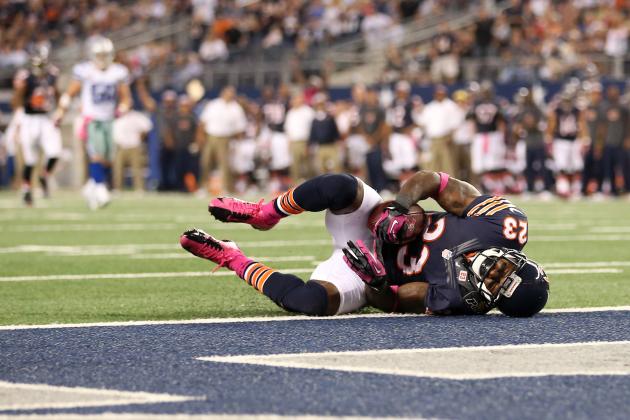 Ronald Martinez/Getty Images

The Chicago Bears are 4-1 after their first five games this season, and share a lead of first place in the NFC North. They have played above and beyond expectations in certain areas so far, and have blown out opponents in their last two games entering the bye week.
The Bears haven't had the easiest schedule so far, but they most certainly haven't had the hardest as well. The Bears well definitely have a harder schedule when they get back from their bye week, facing opponents such as San Francisco, Houston, two games against Minnesota, and a grudge match against Green Bay (the team that handed the Bears their only loss so far).
Yes, Chicago looks like a top-tier NFL team so far this season, and they certainly have had their elite moments.
However, there is always room for improvement, and there are five key things the Chicago Bears must do during their bye week to get better as a team and become more threatening to other teams going down the stretch.
Begin Slideshow

»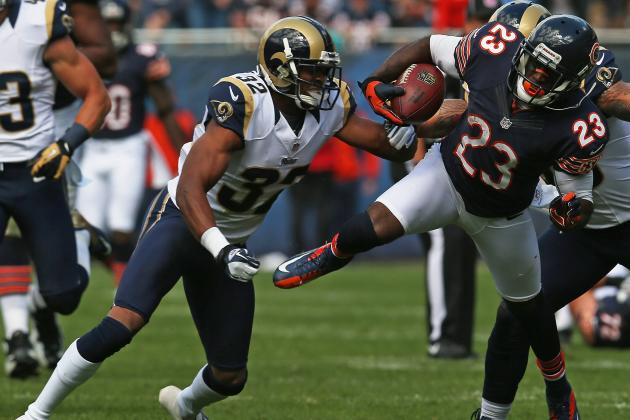 Jonathan Daniel/Getty Images

Devin Hester doesn't look like he used to, no matter what position he is at.
At receiver, Hester looks better than ever, already having three catches of over 20 yards, and one touchdown.
As a returner, however, Hester doesn't look so good. He is averaging just 7.8 yards per return this season on 11 returns, numbers he hasn't seen so low since the 2009 season.
Hester has come under a lot of fire this season for running side to side more often than he does forward. Last week against Jacksonville, he averaged just two yards per return on four opportunities.
The blame for the below-average play of the special teams, however, doesn't rest solely on Hester.
The blocking just hasn't been there for Hester this season, which is why he has been running side to side. Yes, he would get more yards just going forward, but he's just looking for a hole to run through.
Besides the blocking, there have been quite a few penalties on returns this season as well. It doesn't matter how far Hester goes if the return will just get called back every time.
Heading into the bye week, the Bears must improve their special teams game to give their offense more of an opportunity to score against opponents such as Houston and San Francisco who have some of the top defenses in the NFL.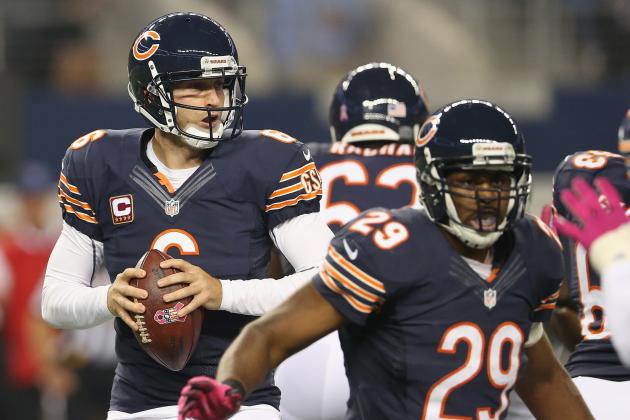 Ronald Martinez/Getty Images

The offense has been good so far this season, but they face some touch challenges the rest of the season.
First of all, the Bears will be without rookie standout Alshon Jeffery for quite some time, with news coming that he has a fractured hand and will be out for 4-6 weeks. This news comes on top of Earl Bennett already being out as well, suddenly shrinking the depth the Bears have at wide receiver.
There has been some debate as to whether the Bears should sing a veteran for the remainder of the season, such as Paxico Burress, but it doesn't seem like Phil Emery wants to head in that direction just yet.
When asked about Burress possibly being added to the team, Emery said:
"I would say to answer more specifically to that question (about whether he'd be interested in Burress): We feel very good about our wide receiver depth. We added a player to our practice squad (Kamar Aiken) to make sure we were in a good competitive situation for practice. We continue to improve. That's where we are with that group."
The Bears have a solid offense right now, but they will need to step up and pick up slack for injured players in the coming games.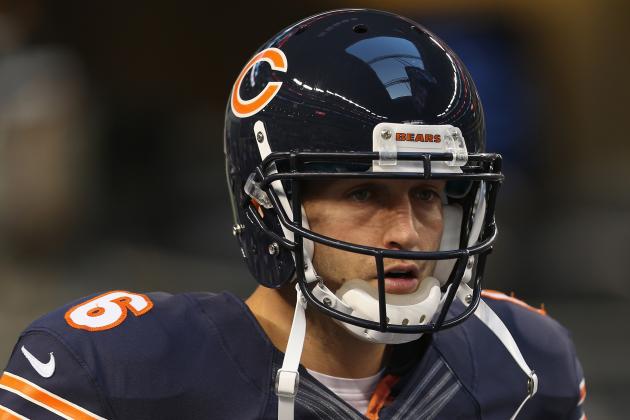 Ronald Martinez/Getty Images

The Bears have had no trouble putting up points lately in the second half. The first half, however, has been a whole different story.
Against Jacksonville, the Bears waited until the 4th quarter to put up 28 of their 41 overall points, only scoring three points in the first half. Three points! Against a defense in Jacksonville that had practically been non-existent this season.
When the Bears play teams like the 49ers who have one of the best offenses in the league, they won't be so patient and wait for the Bears to get going. Yes, it is better to have a win, no matter how you get it. They may not end up getting it, however, if their opponents capitalize on their first half mistakes.
The Bears have an offense this season that has more potential and power than they have had in quite a long time, and it would be a shame to see it get blown because they wait too long to get connected with each other in a game.
The Bears will need to get better in the first half if they want to stay in first place in the NFC North and have a shot at the division title.
Jonathan Daniel/Getty Images

The Chicago Bears are ailing right now, and this week off needs to be used to rest and heal for players on the team.
Brian Urlacher could use some downtime to rest up that knee of his that he had repaired this offseason,
Earl Bennett will have missed four games with a hand injury before hopefully being back against the Detroit Lions,
Alshon Jeffery will be out 4-6 weeks with a fractured hand, and last but not least Julius Peppers is still having trouble with his foot.
These certainly aren't the only injuries on the team, however it shows just how ailing the team is right now. Peppers started off the season strong, but since has been struggling with his plantar fasciitis, which he refers to as "general soreness."
It will help the Bears quite a bit to have a week off and recover from certain injuries, or even just rest up and get ready for their Monday night showdown on ESPN when they get back against the Lions.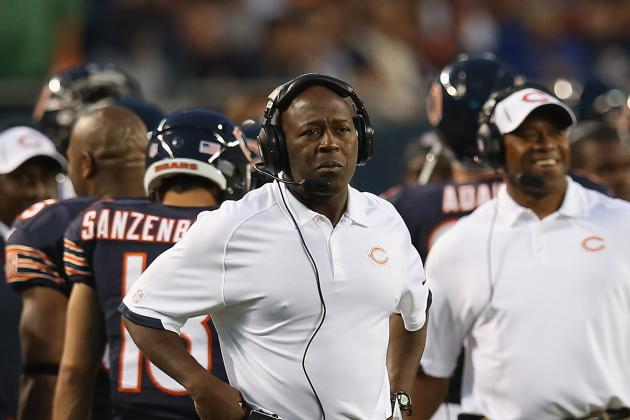 Jonathan Daniel/Getty Images

The Chicago Bears do not have big personality or attitude problems on their team right now. They do not play dirty, and are winning games cleanly and fairly.
There is one thing that they must do better, however, and that is not committing penalties.
The Bears are averaging 7.4 penalties per game, which puts them at 24th worst in the league. They haven't had to pay too much for penalties yet, but at some point all those penalties can come back to bite them.
We've already mentioned that the Bears have quite a few penalties on special teams, however, there have been penalties in other areas, such as false starts.
It isn't a problem unless it becomes a habit for the Bears, and the bye week would be a perfect opportunity for the Bears to address the penalties, and just tighten up a bit and really crack down on unnecessary mistakes. If they address this and get it taken care of, it should really help the team down the stretch.