Philadelphia Flyers: Ranking the Flyers' Top Scoring Threats in 2012-13
Paul Bereswill/Getty Images

The Philadelphia Flyers had absolutely no trouble scoring goals last season.
All told, Philly's 264 regular-season strikes were not only good for third best in the Eastern Conference a year ago, but third best among all 30 NHL clubs.
The Flyers produced 11 double-digit goal scorers last season, while four different skaters managed 20 or more tallies.
And even though Philadelphia's offense underwent some changes in the offseason (Jaromir Jagr and James van Riemsdyk are both gone), the bulk of the Flyers' offensive juggernaut remains.
Uncertainty continues to swirl around the current NHL campaign, but should the year ever be salvaged, here's a breakdown of Philly's top scoring threats for the coming season.
Begin Slideshow

»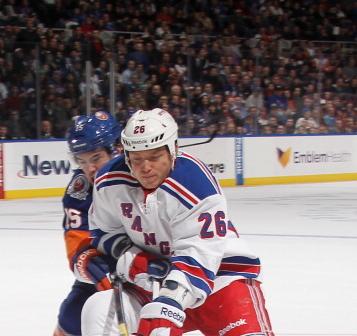 Bruce Bennett/Getty Images

In his 12th season of NHL service, Fedotenko won't be one of Philadelphia's featured scorers, but he should provide some nice offensive depth for the Orange and Black.
In 73 games with the New York Rangers last season, Fedotenko notched just 20 points—the lowest point total of his career. Still, it marked the 11th straight season in which the Kiev native has produced at least 20 points in a single season.
At 6'2", 195 pounds, Fedotenko is a sturdy presence with excellent puck possession skills. And while his day of pouring in 15 goals and 40 points are likely behind him, Fedotenko's strong play along the walls and veteran leadership on the ice should have an impact on the Flyers' offensive attack.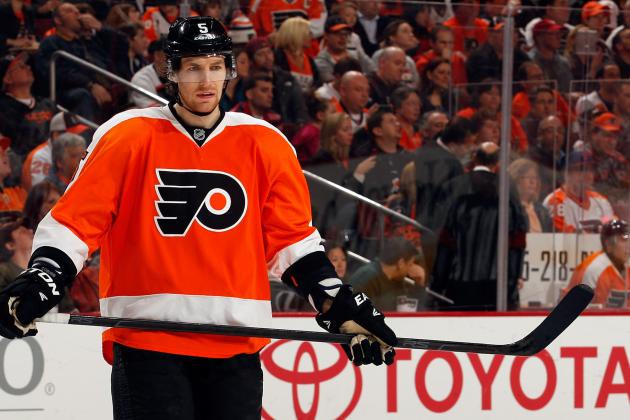 Rob Carr/Getty Images

Coburn has never been much of an offensive force on the back end, but with as thin as Philadelphia's defensive corps appears to be, he could be in a position to put up some of the biggest numbers of his career.
The 27-year-old Coburn managed 24 points last season and eclipsed the 20-point plateau for the first time in the last three years. With as much as Coburn is relied upon for his steady defensive play, it's unlikely he'll ever surpass his career-high 36 points posted during the 2007-08 campaign.
That said, the Flyers lost Matt Carle to free agency, and Andrej Meszaros is expected to miss most, if not all, of the coming year recovering from Achilles surgery. That will give a host of scoring opportunities from the blue line to Coburn.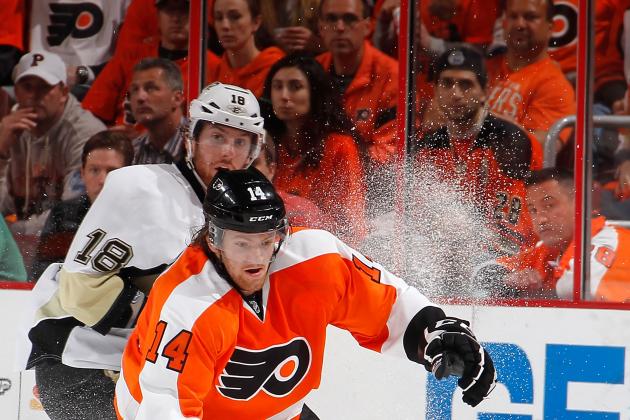 Paul Bereswill/Getty Images

Couturier put together an awfully impressive rookie campaign last season.
At just 19 years old, the eighth overall selection in the 2011 NHL draft produced 13 goals, 14 assists and 27 points in 77 games during his first professional season. Couturier showed solid hockey sense coupled with a nose for the net and has already displayed the kind of work ethic that will continue to produce points at the highest level.
Most importantly, he showed a willingness and ability to play in all situations. He possesses the skill to be a part of the Flyers' power play and is already seeing critical minutes as part of Philly's penalty killing efforts thanks to his tenacious defensive efforts.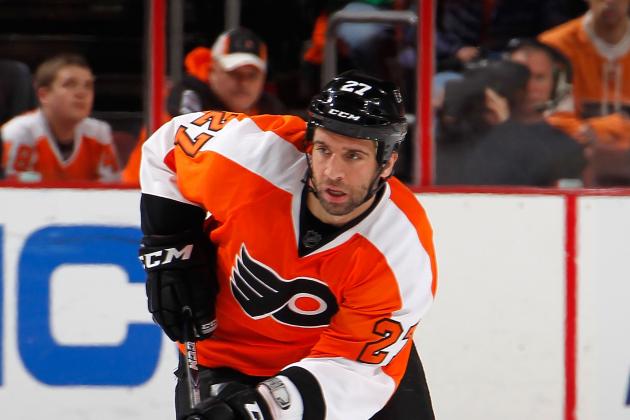 Paul Bereswill/Getty Images

Talbot put together a career year in his first season in Philadelphia.
A seven-year NHL vet, Talbot produced career highs in goals (19), assists (15) and points (34) last season. What's most impressive with those numbers is that hardly any of it came via the special teams.
In fact, Talbot recorded more points shorthanded (3) than he did on the power play (2). In other words, Talbot was a regular even-strength contributor and will likely continue to see regular third-line minutes with occasional opportunities to chip in on the power play and penalty kill.
The Flyers don't have a tremendous number of veteran offensive contributors, so Talbot will be relied upon for his regular, steady production.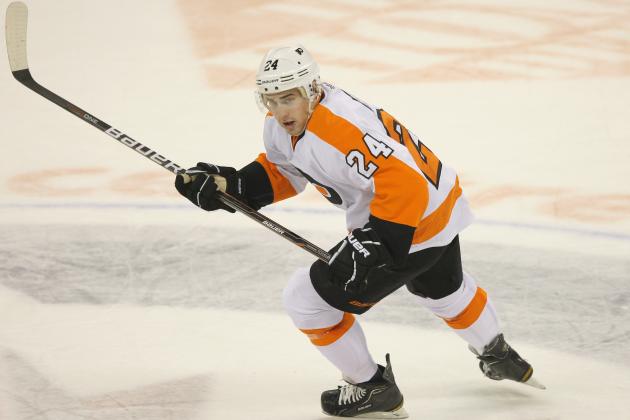 Tom Szczerbowski/Getty Images

Speaking of impressive first seasons in Philly.
No Flyer provided more unexpected offensive support last season than the 26-year-old rookie Read. In his first NHL campaign, Read finished fourth among all Philadelphia skaters in goals (24) and seventh on the team in overall scoring (47).
Because of his early-season, goal-scoring touch, Read was given power-play time and contributed with four goals and 11 points on the man advantage.
It's hard to imagine the relatively unknown Read continuing to produce at such a high level, but it would have been hard to believe the former Bemidji State forward would have cracked 20 goals in his first NHL season.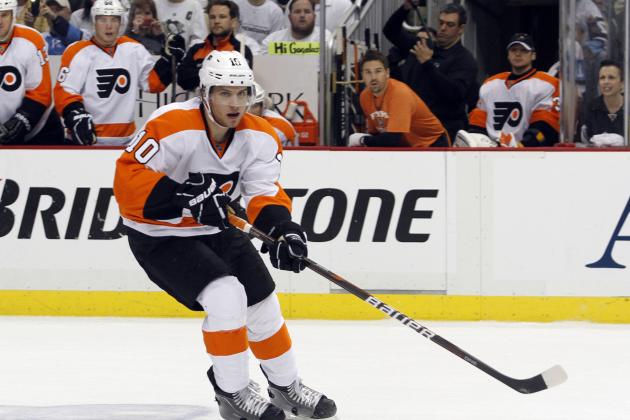 Justin K. Aller/Getty Images

After producing just 12 goals and 18 points in 54 games in his first season in Philadelphia, much more will be expected of Schenn in year two. And all signs point to the Saskatoon native meeting those expectations.
Schenn finished the regular season strong with six points in his final seven games and carried that momentum into the postseason where he notched nine points in 11 playoff tilts.
The fifth overall selection in the 2009 NHL draft, Schenn clearly possesses the offensive tools to be successful at the NHL level. His hockey sense coupled with his goal-scoring determination will make him a force for many years to come.
This season, Schenn should see occasional ice time among Philly's top-six forwards and will likely see regular power-play minutes, which should only serve to spike his overall point production.
Rob Carr/Getty Images

While the centerpiece of the Mike Richards-to-Los Angeles trade two summers ago was the aforementioned Schenn, it was Simmonds who provided the immediate return.
Simmonds burst onto the scene in Philly last year and produced career highs in both goals (28) and points (49). Those totals put Simmonds in a tie with Claude Giroux for second on the team in goal scoring and alone as the team's third-leading scorer.
He was a force on the power play, recording 11 goals and 16 man-advantage points. His sturdy, 6'2" frame will likely be parked atop opposing goal creases again this season.
Simmonds won't score a plethora of pretty goals this season (or any season for that matter), but his size and hustle will produce plenty of offense to keep him among Philadelphia's top-six forwards.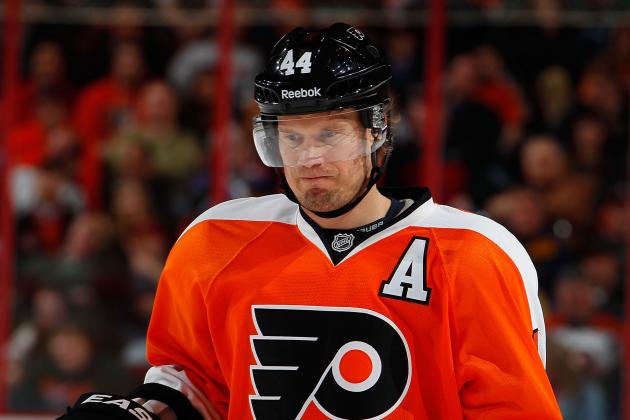 Paul Bereswill/Getty Images

Timonen has never been a very flashy offensive contributor, but he sure has been a steady one.
Timonen only finished eighth on the roster last season with 43 points, but it marked the eighth time in his 13 years of NHL service that the Finnish blueliner has produced 40 or more points. He has tremendous vision and is Philly's key to breaking the puck out of the defensive zone and transitioning the Orange and Black over to offense.
With Carle gone via free agency, Timonen is the obvious choice to quarterback the Flyers' top power-play unit next season, and arguably no one will see more ice when all is said and done than No. 44.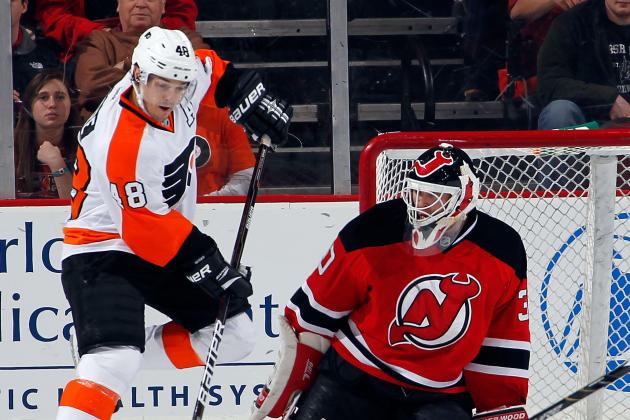 Paul Bereswill/Getty Images

The Flyers' No. 2 center, Briere should continue to produce at the level he has through his first five seasons in Philadelphia.
In 70 games last season, Briere notched 16 goals and 49 points, finishing tied for fourth on the team in overall scoring. It certainly wasn't Briere's most productive season ever, but it was another consistent season from one of the game's more reliable scorers.
Briere's days of producing 70-plus points are behind him, but with the offensive depth surrounding Briere and his uncanny ability to score amidst bigger and stronger players, it shouldn't come as a surprise to anyone if Briere finds himself once again among the team's top scorers.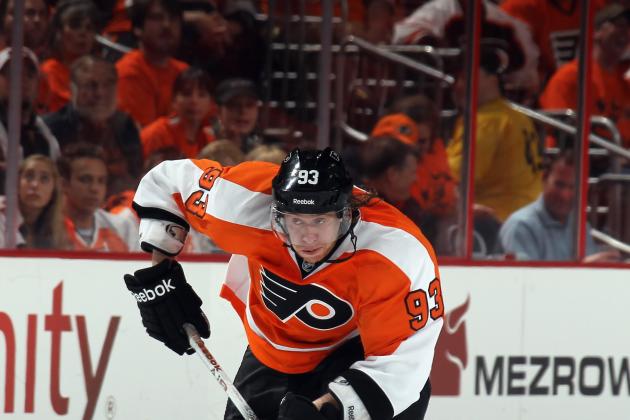 Bruce Bennett/Getty Images

Like Briere, Voracek finished last season with 49 points.
Unlike Briere, Voracek should see a boatload of time on Philly's top line when the season resumes.
With Jagr lost to the Dallas Stars via free agency, the Flyers need to fill his spot on the team's top line, and that role appears likely to be filled by Voracek.
In 78 games last season, Voracek managed the second-highest point total of his career and showed a grit and goal-scoring savvy late in the year that made the Flyers' decision to re-sign him a rather easy one.
Voracek isn't the pure sniper that Jagr is, but he'll have every opportunity this season to contribute like Jagr did.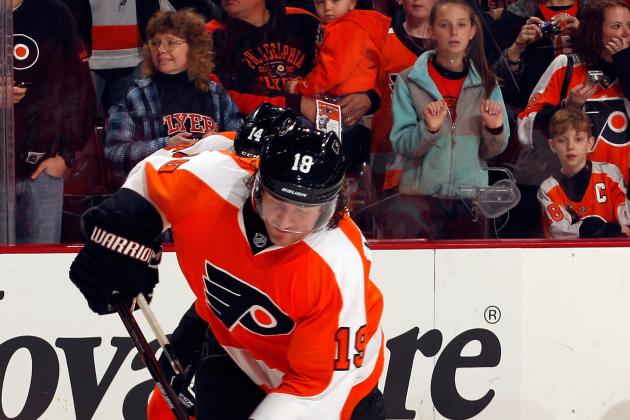 Rob Carr/Getty Images

The team's leading goal scorer from a season ago, Hartnell will be heavily relied upon to contribute to Philly's offensive attack once again.
It's hard to imagine he'll be able to eclipse the career-high 37 goals tallied last season, but Hartnell will certainly have the opportunities to produce those kinds of robust numbers again.
Hartnell plays alongside one of the game's truly elite playmakers (Giroux) and receives regular minutes on the team's top power play. He's among the first players over the boards in almost every key situation. He has shown to be one of the team's most reliable goal scorers, having notched at least 24 goals in four of his five seasons in Philly.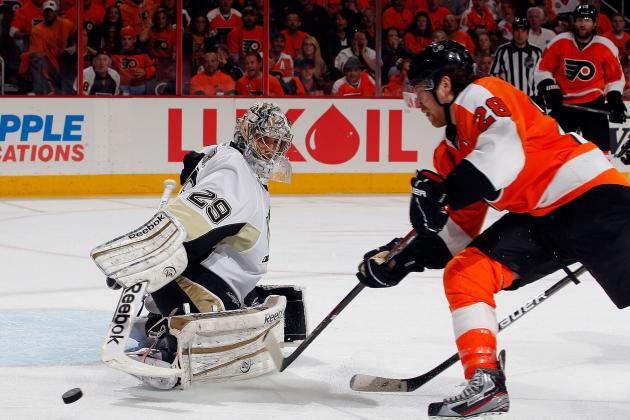 Paul Bereswill/Getty Images

The prime source of offense for the Flyers, Giroux is an obvious choice to top this list.
The entirety of Philly's offense flows through him, and over the last two years, Giroux has established himself as one of the league's truly elite offensive talents.
His vision and playmaking abilities are unmatched, and he possesses a cannon of a shot that is absurdly accurate.
Philly's leading scorer each of the last two years, Giroux finished third among all NHLers in scoring last season with 93 points and ended the year second in assists (65).
One day, possibly as early as this season, Giroux will challenge the likes of Sidney Crosby, Evgeni Malkin and Alex Ovechkin for the league's scoring title along with the title of the game's best player.