Duke Basketball: 3 Ways New Recruit Semi Ojeleye Will Help Blue Devils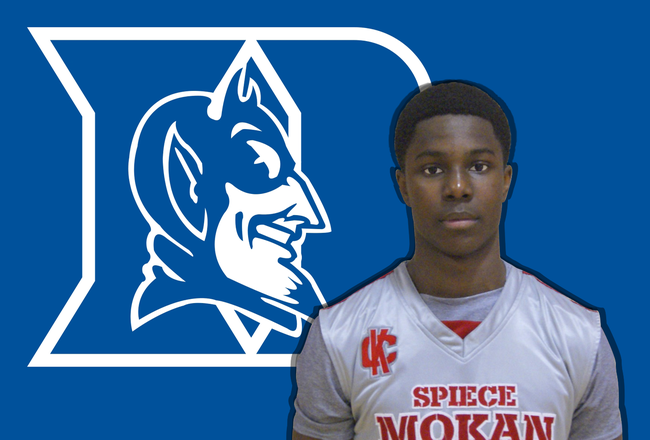 Duke Blue Devils recent ESPN 100 commit, Semi Ojeleye.

Coach Mike Krzyzewski added to the Duke Blue Devils depth in 2013, receiving a commitment from Ottawa, Kansas small forward Semi Ojeleye in early September.
Ojeleye, ranked No. 39 on the ESPN 100, is among the top 10 recruits at the small forward position.
He, like any recruit, is not perfect and has some weaknesses to address. This is especially true on defense, where he can, at times, stop to watch the ball rather than rotating for weak-side help.
Offensively, he could stand to work on ball-handling and developing a post game with his back to the basket.
The report is not all bad, however. Semi is a solid offensive player who should have an immediate impact on the court for the Duke Blue Devils next season.
The strengths that he will be bringing to Durham, North Carolina are his offensive intangibles, three-point shooting and post presence.
Offensive Intangibles

Semi Ojeleye's junior season highlights.

Blue Devil fans may worry that scouting reports and highlight reels neglect to showcase Semi's defensive game, but offensively, there is very little to worry about.
Watching him in action, he demonstrates excellent fundamentals while shooting—whether it's in off-the-dribble, catch-and-shoot or set-shot situations. He always squares up to the basket, leveling his shoulders and shooting with proper arm mechanics.
It is also clear that Ojeleye has a great feel for the game. He has a high IQ and good court vision, often making good decisions with the ball.
As you can see in his highlight film, when he does drive to the basket and is met with a double or triple team by the defense, he has the vision and skill necessary to find the open man.
Additionally, he exhibits great body control.
When forced into taking off-balance shots or contorting his body in the lane to get a layup or short-range jumper off, his upper body always is facing the basket with level shoulders.
With Coach K's tutelage, his fundamentals will only get better.
Three-Point Shooting
At the end of the 2012-13 season, Duke will lose two of its three best three-point shooters—Seth Curry, Ryan Kelly—to graduation.
Last season, behind the shooting of Curry, Kelly, Andre Dawkins and recent NBA draftee Austin Rivers, the Blue Devils shot 37 percent from beyond the arc.
By bringing in Ojeleye, the plan is to replace the three-point production that will be leaving.
As a junior playing for the Ottawa Cyclones, Ojeleye shot 38 percent from deep.
Judging from his highlight film, Semi is a rhythm shooter. Expect Coach Krzyzewski to utilizes off-the-ball screens and baseline picks to free up Ojeleye for open jumpers and get him in a shooting rhythm.
Post Presence

Semi Ojeleye highlights.

He may not be the quickest or most athletic small forward, but at 6'6" and 220-pounds, Ojeleye is physically ready for the college game.
Semi is not afraid of contact and often takes the ball into the post on the attack. He has a great knack for drawing fouls, as he as averaged more than 11 free-throw attempts per game in high school.
He is already an accomplished rebounder as well, averaging seven per contest.
If he starts to develop a back-to-the-basket game, he should be able to take advantage of his size and create mismatches against smaller shooting guards and small forwards.
Assuming Semi continues to grow beyond 6'6", he could flourish at the college level, using his three-point shooting to stretch the floor and his size to create problems for opposing wings on the low block.
Keep Reading

Duke Basketball: Like this team?