Top 20 Best Sports Movies of Your Childhood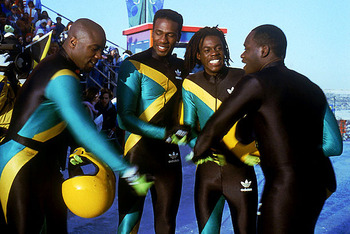 Image via ew.com
While growing up, every kid had their favorite sports movie. With more than just a handful to choose from, you had to decide if you wanted to emulate Daniel LaRusso from "The Karate Kid," be a "cake eater" like Adam Banks in "The Mighty Ducks" or sing-along with the Jamaican bobsled team in "Cool Runnings."
Luckily, just because you've gotten older, it doesn't mean any of these movies have gotten less rad. So anytime you need a good reminder as to why you love sports, just pop in one of these flicks and catch yourself reliving your favorite childhood movie moments.
20. BASEketball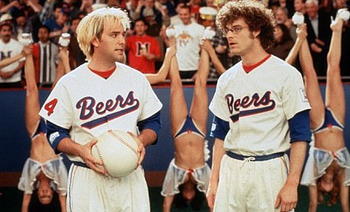 Image via brianvsmovies.blogspot.com
You may not have seen this flick until you were age-appropriate, but we're guessing as soon as you did, you went outside and tried to recreate a similar game, combining two different sports. Ours, specifically, was "baskoccer"—yes, kicking the ball into the hoop.
19. Dodgeball: A True Underdog Story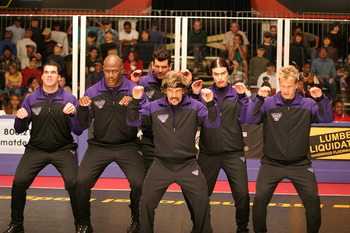 Image via comicvine.com
Another more recent movie, "Dodgeball" picked up on the craze of all these off-the-cuff sports that people were playing in rec leagues. Thanks to Vince Vaughn and yet another wacky Stiller character, we'd say it accomplished what it was supposed to.
18. Ladybugs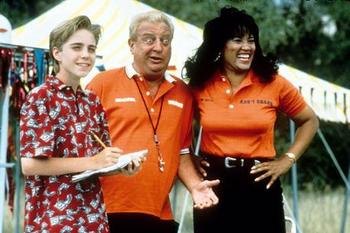 Image via 8daysageek.com
We played soccer growing up, so we always imagined what it would be like to be in Matthew's/Martha's (Jonathan Brandis) position? Would we be able to dominate as he did, or would we be humiliated by girls that were better than us?
17. The Bad News Bears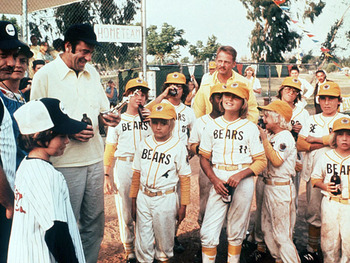 Image via newspaper.li
You can't tell us you didn't relate your Little League team to these raucous bunch of ball players. You had the stud pitcher, the aloof infielder and the coach who couldn't get his players to do what he wanted. A perfect plot for any young T-baller indeed.
16. Kicking & Screaming
Image via bleacherreport.com
Will Ferrell is his typical self: funny because he's a little inappropriate, loud and clearly out of his element, but the little Asian kid is what makes this flick funny. We're not saying we could watch it over and over like some of these other ones, but if it's on during a Tuesday night, why the hell not?
15. Caddyshack
Image via reellifewisdom.com
This is just a classic. If you haven't seen it, go rent it, watch it and find yourself quoting it for the rest of your life. That's how impactful it will be on your life. Bet you'll start greeting people with, "Ahoy, polloi!"
14. Space Jam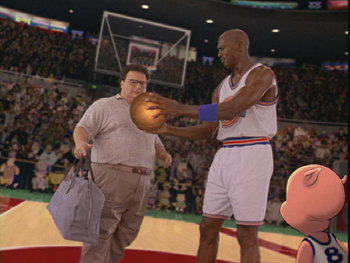 Image via fanpop.com
When you take the greatest basketball player to ever walk the planet, team him up with one of the most iconic cartoon characters ever created, add in a few other NBA superstars (Charles Barkley, Patrick Ewing, etc.) and mix them with comedians Wayne Knight and Bull Murray... well, you get pure gold.
13. Happy Gilmore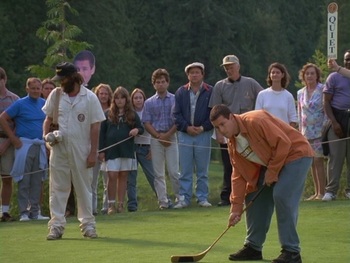 Image via fanpop.com
Our personal favorite, we promise you you wouldn't want to watch this movie with us for fear that our quoting the entire movie would get annoying pretty fast. How much do people love this movie? My roommate and I went dressed as Happy and his caddy for Halloween last year and won a damn costume contest. The movie's been out since 1996, so it's left an effect on people.
12. The Karate Kid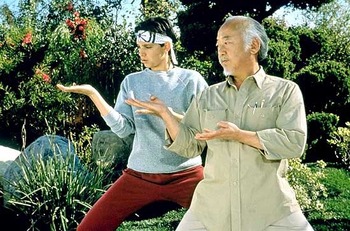 Image via orangejuicesnobbery.blogspot.com
11. The Mighty Ducks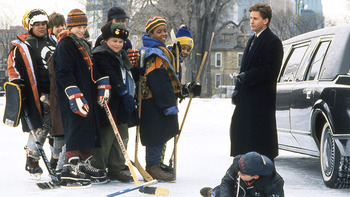 Image via 20somethingawesome.com
How many times do you think you watched this growing up? Fifty, 100 times? Everyone wanted a coach like Gordon Bombay, and every kid dreamt of being Charlie Conway, minus that weird haircut anyway.
10. Little Big League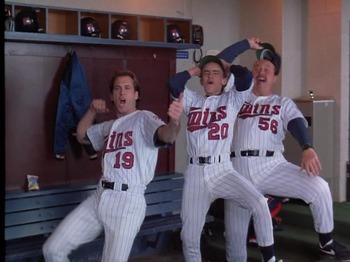 Image via scottgpatterson.tvheaven.com
A dream come true for any sports fan, when a grandfather leaves millions of dollars in assets to your name in the form of a major league baseball team, it probably doesn't get much better. Best scene is the water balloon's from the hotel, which caused hundreds of parents fear of duplicating on all traveling-league sports teams.
9. A League of Their Own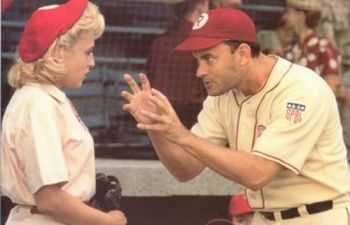 Image via hark.com
Not too many people remember how good of a flick this is. Not only does it paint the history of the women's national baseball league, but it gave us lines like, "There's no crying in baseball," and "That was some good peein'."
8. Angels in the Outfield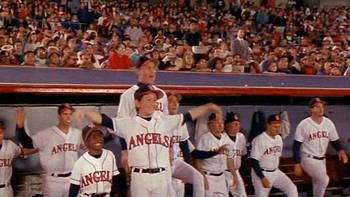 Image via miserableretailslave.com
We mentioned it as one of the moments that will make you cry, but this entire plot is a feel-good story. You can't help but cheer for Roger and J.P., as they befriend Angels manager George Knox (Danny Glover), and become the team's lucky charms in hopes of a pennant.
7. Little Giants
Image via takingbadschotz.com
If there was one kid in the neighborhood you didn't want to mess with, it was Icebox. She also just so happened to be a girl, so it made her that much more of a badass. Add in her nerdy Dad's (Rick Moranis) sibling rivalry with his older, athletic brother (Ed O'Neill), and it was pretty much like every older brother versus younger brother growing up.
6. Remember the Titans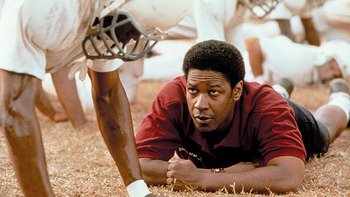 Image via crossingbroad.com
Personally one of our favorite movies of all time, it teaches that teamwork, adversity and belief can bring people together. You'll laugh, cry, and can't help but to think "Strong side!" anytime someone says the words "left side." Denzel just kills it.
5. Rookie of the Year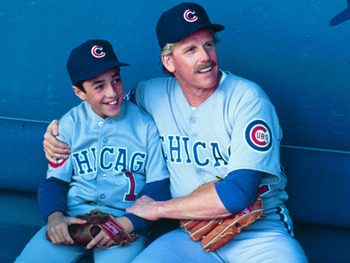 Image via wilsontennis.wordpress.com
Henry Rowengartner was an uncoordinated, goofy kid before his luck turned by slipping on a baseball at school. He gets discovered after throwing a rope from centerfield to home at a Cubs game and scores a major league deal, leaving the rest of us to pitching in our laundry room. If only every kid could be so lucky?
4. Cool Runnings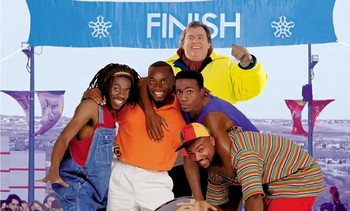 Image via greendestinations.blogspot.com
Over the years, anytime this movie comes on TV, we're watching. It taught us that fire can run on ice, and that Jamaica's more than just Usain Bolt, before Bolt was even around. But we're pretty sure he'd kill it in a sled just as much as he does on the track.
3. Rudy
Image via dustinmaherfitness.com
No matter how old you are, most people can remember the first time they saw this movie. It gives up to all the undersized, down-and-out kids who have a bigger heart than they do height. The end scene is still one that you find your lips quivering a little more than you want to admit.
2. Sandlot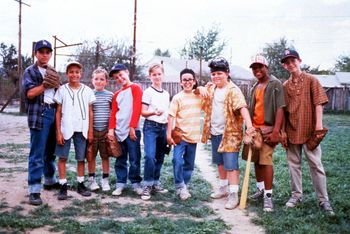 Image via thewiseguise.com
The best thing about these neighborhood baseball kids is that they were so much like your neighborhood baseball team. You ran to the park to play ball, hung around the pool and got into some mischief while learning the game that you love. It was also probably how you scored your first kiss.
1. D2: The Mighty Ducks
Image via soundonsight.org
Why does it tops on our list? Because the Bash Brothers owned. Because you still think the knucklepuck is an actual shot. Because Gordon Bombay went from Minnesota Miracle Man, to international junior league coaching icon. And mostly because, "Ducks fly together!"
Keep Reading