LSU Tigers Football: 5 Keys to the Game vs. South Carolina Gamecocks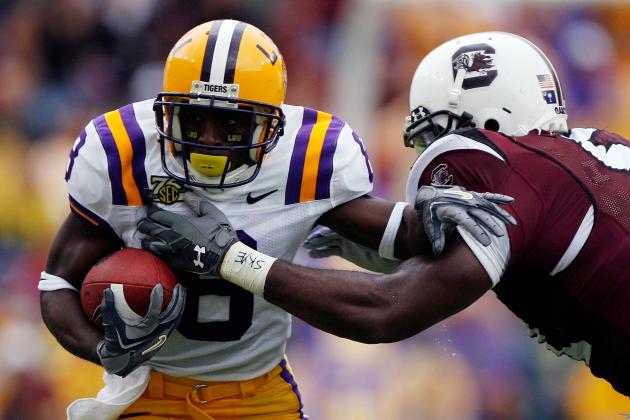 Chris Graythen/Getty Images

LSU versus South Carolina—this is SEC football at its best.
The ninth-ranked Tigers will host the Gamecocks on Saturday evening in what promises to be an entertaining football game between two of the top programs in the country.
After a 14-6 loss to Florida last week, this game is a must-win for Les Miles' LSU team if the Tigers are going to stay in the National Championship picture.
For South Carolina, this is a chance to prove they are among the best, not only in the SEC but throughout the nation. A win here could ultimately propel the Gamecocks to the top-ranked team in the country.
Will LSU be able to get that dominant run game back on track here?
Let's find out and go ahead and break down five keys to LSU's SEC showdown against South Carolina.
Begin Slideshow

»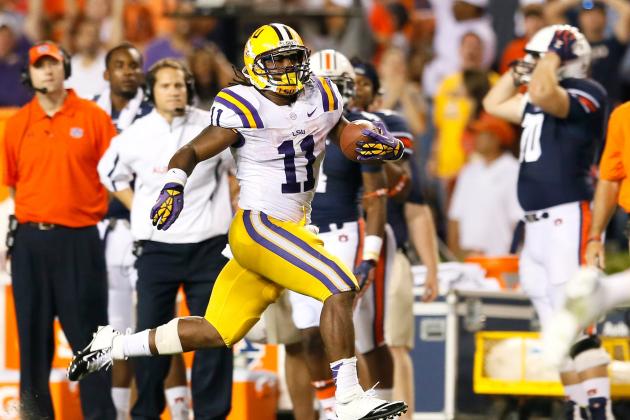 Kevin C. Cox/Getty Images

LSU has been dominant in the run game this season, but the Tigers got away from it last week against Florida, and it cost them in a big way.
With Alfred Blue out for several more weeks—if not the remainder of the season—the Les Miles offense will have to rely on guys like Spencer Ware, Michael Ford and Kenny Hilliard to carry this offense.
Ware and Ford were the top rushers on this team last year, but both have been near invisible thus far, rushing for a combined 423 yards and just two touchdowns through six games. Those would be average numbers for one running back, let alone two returning starters combined.
On the other hand, Hilliard has been solid this season, outside of last week. Through six games, he has compiled 382 yards and six touchdowns, averaging nearly seven yards per carry this season.
If LSU is going to win this game, they have to get all three of these guys involved.
If LSU runs the ball successfully, they should win this football game.
It's as simple as that.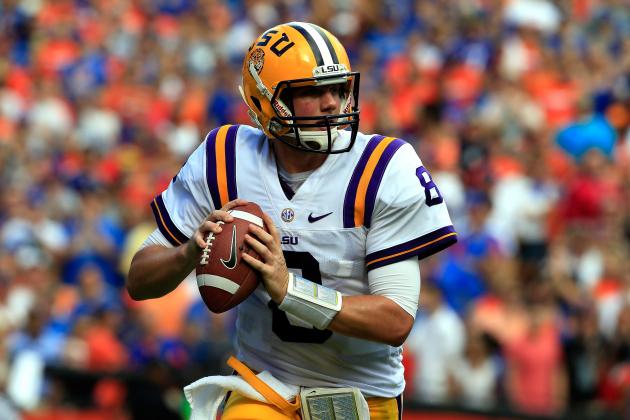 Sam Greenwood/Getty Images

There is no doubt in anyone's mind that Zach Mettenberger is talented and that he has all the necessary tools to succeed as an SEC starting quarterback.
But remember that this is Mettenberger's first year as a starting quarterback for LSU.
He is still learning. And with his limited time behind center at LSU, he has gotten thrown right into the SEC gauntlet without a lot of chance to adjust.
Therefore, in order to win this game, LSU needs to make things as simple as possible for Mettenberger.
He needs to manage the game and stop turning the ball over. With simple reads and running the ball, those turnovers should not be an issue. It's times when Mettenberger tries to do too much that puts himself and his team into trouble.
Slowing things down and giving Mettenberger a simple, precise game plan—at least early on in the contest—should help this LSU team win this SEC football game.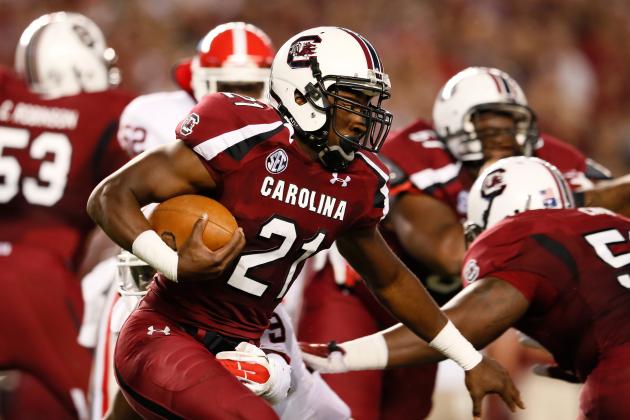 Kevin C. Cox/Getty Images

As good as this LSU defense is, the Tigers aren't going to stop All-American running back Marcus Lattimore.
But they can contain him, which is what they need to focus on doing.
Through five games this season, Lattimore has already rushed for a combined 549 yards and nine touchdowns. He has also added 18 catches for 133 yards as well, making him a dual-threat in both the pass and run games.
He is the engine that makes South Carolina go.
But if LSU is going to win this game, they have to contain Lattimore. In fact, if Lattimore doesn't top the 100-yard mark and fails to get into the end zone, it's hard for me to see any way that LSU doesn't win this football game.
Stop Marcus Lattimore—it's much easier said than done.
Chris Graythen/Getty Images

This is a position to watch closely in this football game.
How will LSU's offensive line perform after a bevy of injuries last weekend and now having the task of stopping arguably the top defensive end in the nation in South Carolina's Jadeveon Clowney?
LSU could be forced to start two freshmen on the offensive line this weekend because of injuries.
Junior guard Josh Williford suffered a head injury against Florida last weekend, while junior left tackle Chris Faulk is out for the remainder of the season with a knee injury.
As mentioned, having to go up against a pass-rushing freak like Clowney won't help this unit's cause.
How LSU's offensive line performs will be a huge determining factor in the Tigers' hopes to win their Saturday SEC showdown with South Carolina at home.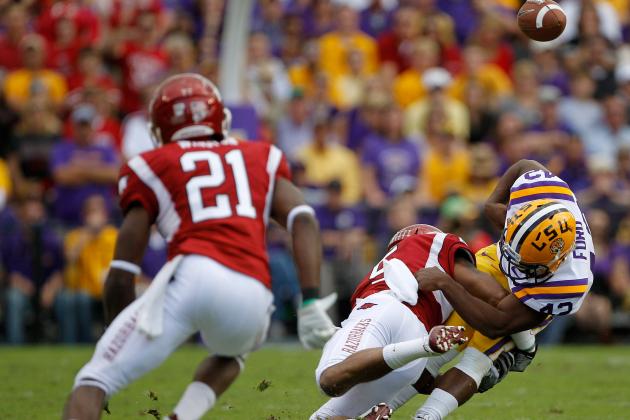 Chris Graythen/Getty Images

As simple and obvious as this may sound, LSU needs to hold onto the football in order to win this game.
The Tigers have already coughed up the pigskin 11 times through six games this season. That is not a formula for success, regardless of how dominant your defense is.
Zach Mettenberger has been the man to blame in the turnover department, already notching seven fumbles and six interceptions thrown.
That won't work against a good team like South Carolina.