4 New York Rangers Prospects Who Will Get a Shot in 2012-13
Bruce Bennett/Getty Images

Youth can be a powerful weapon.
"These kids don't know they're supposed to lose" is a common cliche when a young underdog puts in a better-than-expected fight against an older juggernaut.
Chris Kreider showed us in the playoffs that the innocence of youth can translate into confidence and results. Young prospects are accustomed to dominating their competition, and until they experience an NHL reality check, they will continue playing with the confidence of a perpetual winner.
The NHL season is still days (realistically, weeks) of negotiation away from starting, so these kids will continue developing and gaining confidence against weaker competition.
Whenever the season does start, here are four players in the system who look to have the best chance of joining the Rangers:
Begin Slideshow

»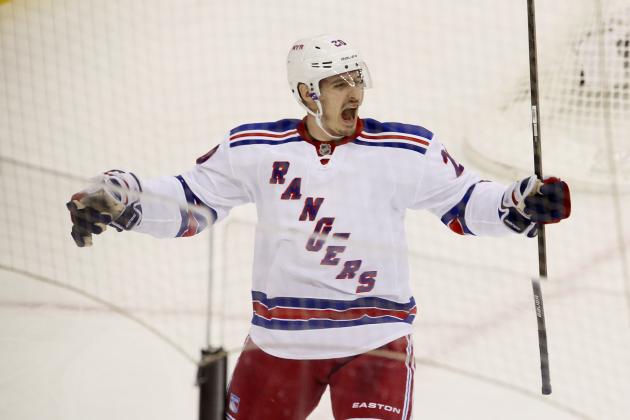 Jim McIsaac/Getty Images

Drafted in in the first round in 2009, 19th overall
No doubt Kreider was brimming with confidence when he joined the Rangers for the playoffs after winning a national championship with Boston College days before.
Kreider made an instant impact on the Rangers with his speed and shot accuracy. Kreider scored five goals for the Rangers over 18 playoff games (he didn't join the team until Game 3 against Ottawa), tied for second most on the team. Two of his five goals were game-winners, also second most on the team.
Kreider just looks like he belongs in the NHL. He still has a lot to learn about playing defense under John Tortorella, but it would be hard to imagine the Rangers not giving such an exciting and proven talent a shot from Day 1.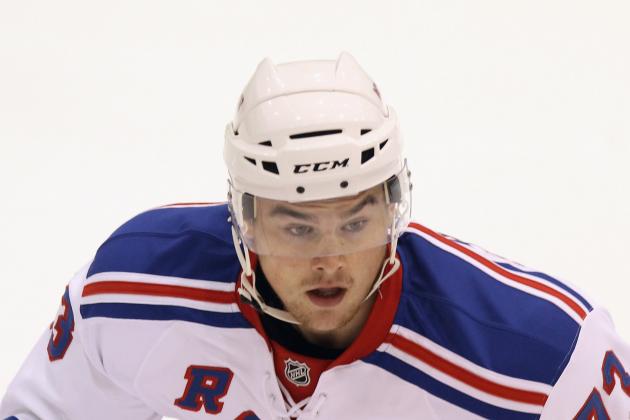 Bruce Bennett/Getty Images

Drafted in the first round in 2010, 10th overall
Physical aspects of hockey will not hold back this 6'5", 215-pound defenseman. McIlrath is a big hitter and doesn't back down. He protects his teammates and works hard on offense and defense.
He needs to improve his offensive skills and also his consistency while on the ice.
McIlrath is only 20 though, so he shouldn't be in any rush but could easily get called up this season.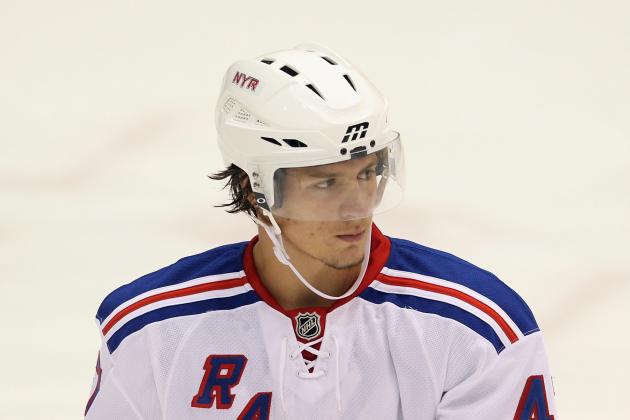 Bruce Bennett/Getty Images

Drafted in the first round in 2011, 15th overall
At only 19 years old, J.T. Miller doesn't seem to understand that he's still a year or two away from being ready for the NHL.
His size is average or slightly below (6'1", 200 lbs), but he has the skill, the confidence and the work ethic to get noticed. Miller has been described as a "Tortorella-type player," and that's a very good indication for his chances to skate with the Rangers at some point during the season.
If I had to pick a current Ranger to describe as a "Tortorella-type," I would say Ryan Callahan. Miller is obviously not Callahan yet, but they both approach the game with the same tenacity and Miller is listed as two inches taller.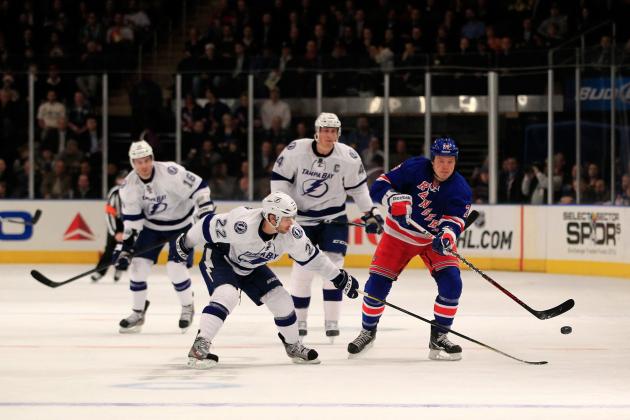 Chris Trotman/Getty Images

Drafted by Phoenix in the seventh round in 2004, 199th overall. Traded by Phoenix to Columbus and then from Columbus to the Rangers in November 2010.
The 5'11", 185-pound forward played in four games for the Rangers in the 2010-11 season, contributing an assist. Kolarik had a decent chance to make the team at the start of last season but badly hurt his knee in training camp and missed the entire campaign.
Kolarik hasn't played against live competition in nearly 18 months, so he must ease himself back into the game, but he is excited and ready to show that the time away hasn't affected his skills or motor.
At 26, Kolarik missed many important months of his development, but he has the chance to pick up where he left off and skate for the Rangers in 2012 or 2013.