When Jurgen Klinsmann took over the head coaching vacancy for the U.S. national team 14 months ago, he wanted to establish a playing style that would use style over substance.
The philosophy has brought highlights, including wins at Italy and Mexico, but it has been criticized by many due to poor results. The United States have lost six matches under the former German coach, and the media roundly criticized each of these losses.
After his sixth loss, Klinsmann found himself in trouble, for the Yanks were now in a must-win situation after a 2-1 loss in Kingston to Jamaica. Tactically, the Americans were out-maned in the midfield and Jamaica was able to control the flow of the game, which forced the Yanks to play a defensive style.
That loss to Jamaica caused Klinsmann to guarantee a win in the second match between the CONCACAF foes in five days. Though the U.S. attacked well, they were only able to secure a 1-0 win on a free kick by Herculez Gomez.
Winning against Jamaica on Sept. 11 turned out to be critical, for the race in CONCACAF is tight.
With two matches remaining, only Antigua and Barbuda is eliminated from reaching the final qualifying stage. Guatemala, Jamaica and the US all have realistic shots of reaching the final group in CONCACAF, but one will not qualify.
Over the next five days, the Yanks future will be written for this 2014 cycle. If the Americans fail to earn qualification, Klinsmann could lose his job.
Klinsmann has certainly made some moves that deserve criticism. He failed to secure right back Timmy Chandler to become cup-tied to the national team last May.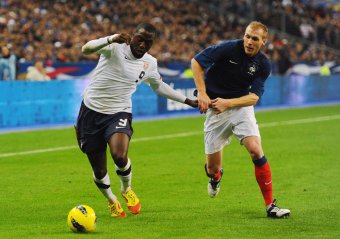 Mike Hewitt/Getty Images
There are also the friendlies that have mainly taken place in Europe, which Klinsmann has supported but have failed to prepare the national team for their North American opponents.
But Klinsmann's latest questionable move, dropping Jozy Altidore for uncapped Alan Gordon and Eddie Johnson (who has not scored for the Yanks since 2008), could prove costly.
Though he has only played in nine matches for AZ Alkmaar this season, Jozy has already scored nine goals, tied for first in the Eredivisie. Last season, he scored 19 times for them in 50 games.
Altidore has contributed 50 percent of Alkmaar's goals, the highest total in the Dutch league.
Alongside the news about Altidore, Landon Donovan will also miss this qualifier, though it will be due to injury.
Granted, Donovan is not the same player as he was just two years ago, but he still is an important contributor for the team. Losing his experience in what are two elimination games hurts the Yanks.
The loss of Donovan hurts, but it is not Klinsmann's fault that he will not play. However, the exact opposite pertains to Altidore.
In what will be two of the most important qualifying matches in American soccer history, leaving a player off a squad who is one of the hottest players in his league makes no sense.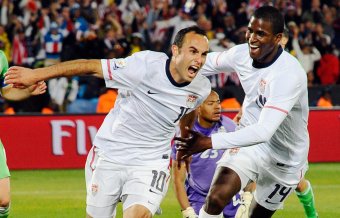 Kevork Djansezian/Getty Images
Klinsmann may have a point in saying that he didn't like Jozy's performances with the team over the past several months, but leaving him off the squad for these two matches is a mistake. Especially when you consider Gordon and Johnson are both on the squad and share just one call-up combined in the past two years.
The choice to omit Jozy is further questionable considering Klinsmann's squads have scored 1.17 goals per game since he took over, half a goal less than the team averaged under Bob Bradley.
Although Clint Dempsey, Michael Bradley and others will play in these two matches, the lack of two key offensive players will hurt the United States.
The Yanks will need two exceptional performances out of their midfield in both fixtures. The midfield must limit space and make smart advancements. Furthermore, the Yanks will need to maintain their great shot percentage against these two sides intact.
In 11 matches this season, the United States have taken 129 shots, with 47 shots (or 36 percent) on goal. Against Antigua and Barbuda, the United States took 19 shots, with 11 of those on target. When they faced Guatemala several days later, the Yanks took 11 shots, with three of the opportunities on the goal.
Altogether, the Yanks have a shooting percentage of 47 percent against Antigua and Barbuda and Guatemala heading into these two qualifiers.
If the Yanks replicate that offensive effort against these two opponents, they should advance.
Assuming that the Americans will win both matches, they will not need to worry about the results of both Jamaica and Guatemala.
That would prove to be a solid closing to the year before the next round of qualifying begins next year.