Why Next May Is Time for Sir Alex Ferguson to Pass the Manchester United Torch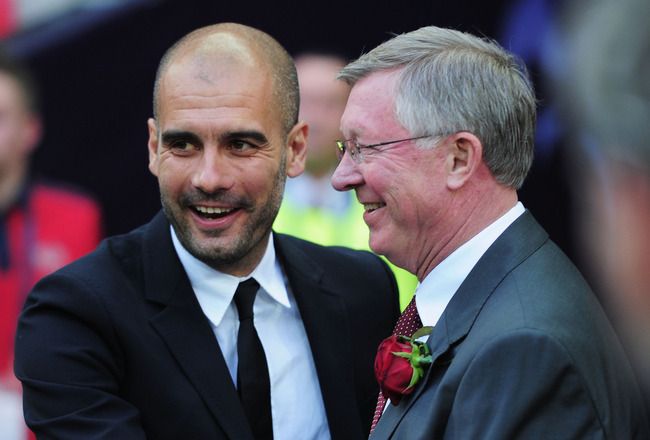 Pep Guardiola, Sir Alex Ferguson
Shaun Botterill/Getty Images
What right has anyone to suggest that at the end of the season Sir Alex Ferguson might pass the Manchester United legacy to another manager?
The Scottish Knight has always been assumed to control his own destiny.
David Gill (presumably with the approval of the Glazers) has implied that Sir Alex would decide when to retire and part of that would take account of his possible successors.
But United had already started to prepare for Sir Alex's departure in 2010. So why is the end of this season the right time to go and who should succeed him?
It has seemed clear for some time that while he will have a significant say about his successor, the final decision will be taken by a small "appointments committee." While making his own recommendations, Sir Alex is not likely to be on that committee.
It is fairly certain that David Gill and Sir Bobby Charlton will be.
Manchester United would have no shortage of candidates, despite some probably discounting themselves because of the scale of the challenge of succeeding the greatest football manager of the modern era, possibly even all-time.
The financial package and duration of the contract will not be an issue. With players on more than £10 million a year, why would United skimp on the terms for the right man?
Sir Alex will have presided over almost 27 years of unparalleled success by next May, during which he has sculpted the Premier League and rewritten English football history. He has also moulded several footballing legends, some of whom are counted amongst the greatest players ever.
So let's be clear.
This article is not about saying it is time for Sir Alex to go, nor is it a knee-jerk to recent results or prospects.
It simply recognises that one day he will retire, reads the runes about when that might be and discusses possible reasons why the end of this season could be the time.
The Signs of Change Are Growing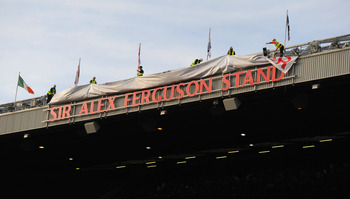 Michael Regan/Getty Images
There are plenty of portents that Sir Alex's reign is moving to an end, apart from the hints dropped by David Gill for the last couple of years.
The two of them have a close, harmonious and mutually trusting partnership.
Thanks to the delegation of the owners, the pair have between them run both a successful football club and a successful corporation.
It is therefore beyond belief that both David Gill and Sir Bobby Charlton don't have some intimation of when Sir Alex plans to go.
There will be no announcement until the day it happens.
Nobody wants to repeat the fiasco of 2001/2 when he prematurely announced his impending retirement. He later admitted that was a mistake and United won nothing at all that season.
Once he had re-established himself they went on to win a further 16 major trophies.
There will, nevertheless, have to be a seamless transition to the new manager.
His appointment will already be in place by then and the new man will be sworn to secrecy. That alone may discount Jose Mourinho.
Signs of retirement
No matter how long Sir Alex would like to go on, a balance has to be struck.
While his decision to continue after season 2001/2 had the full support of his wife, he is a great family man. He may well have another 20 or so years of life remaining.
So what better than to bask in the glory of a mighty achievement and a job well done and spend time with the people who are nearest to him.
One cannot rule out either his being invited to join the United Board. He is a shrewd businessman as well as coach and manager. Sir Matt Busby was available as a mentor for Sir Alex if needed and the latter will want to do the same if asked by his successor.
In any case, his deep connections with all the players at Old Trafford and his global reputation cannot harm the transition, even if his successor wants to be his own man. Players still choose Manchester United because of Sir Alex.
The first big sign of retirement may well have been the re-designation of the North Stand as the "Sir Alex Ferguson Stand" on 5 November 2011.
While this commemorated 25 years of service, it came as a complete surprise to Sir Alex. It is very unusual for memorials to great men to be put in place before their retirement or demise.
In a similar vein, there are already plans in place to erect a nine-foot statue in recognition of Sir Alex outside his newly named stand. Apart from Law, Best and Charlton, the only other such statue is of Sir Matt Busby.
The United team has been in transition for at least a couple of seasons now. Either Sir Alex has to stay for another four or five years to see that through or he should pass on the legacy soon.
Indeed it would be most unfortunate if, having dedicated a statue and a stand to him, his team went into a slump like Liverpool for his last period of tenure.
Going out at the Top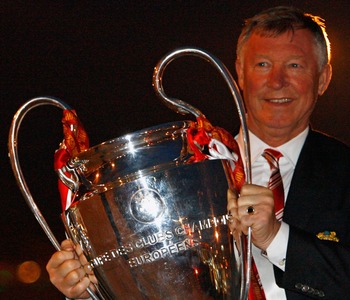 Sir Alex with the Champions League Trophy 2008
Jeff J Mitchell/Getty Images
Hindsight is a wonderful thing. 2008 would have been a great time to go, with United winning the Champions League and Premier League.
However, Sir Alex was determined to knock Liverpool off their perch and United didn't win their 19th title until 2011. The problem is that he would need three more Champions League triumphs to beat their total and that's not going to happen.
So instead, his prime target this season will be to win just one more, together with re-establishing Manchester United ahead of their "noisy neighbours."
The latter could not be more clear after Sir Alex affirmed in an early press conference that losing the title on goal difference "won't happen again."
Just one of those trophies would be a fitting achievement to go out on.
The 20th title looks the more achievable as there is a growing number of European teams that have spent huge sums to try and win the Champions League.
Premier League Competition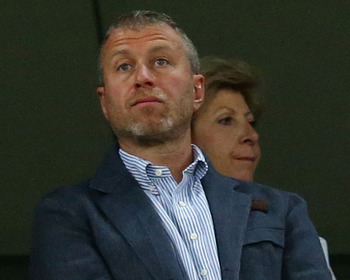 Roman Abramovich
Martin Rose/Getty Images
Chelsea would have missed out on a Champions League place last season if they hadn't won the trophy. It seems entirely possible that Roman Abramovich could have thrown the towel in otherwise, selling to the highest bidder.
Instead, his major ambition having been achieved, he has reinvested in an army of younger players while gradually easing out the old guard.
Despite winning the trophy playing pragmatic football, Chelsea are now playing the attractive, fast-paced stuff that the owner wants to see.
The only blot on the horizon seems to be Financial Fair Play. Abramovich will have that in hand, otherwise why would Manchester City be the only club not supporting the Premier League's initiative to bring FFP in early?
The Premier League isn't getting any easier
Sir Alex Ferguson's love for his job is on view at every press conference; his passion is there in spades every match. He's like the "Duracell Bunny," his batteries never seem to run down.
There is the occasional sign.
He trains with the players every day and last winter there was a beef about the cold weather when he came into the press conference.
The competition is increasing, however. He had a stark example of that on the opening day of the season when Everton took a one-goal win and United couldn't respond.
Then there are the six matches so far where United conceded first. Plus the injury crisis at centre back yet again and the paucity of clean sheets.
There is the never-ending challenge of finding solutions to such problems.
The "diamond" formation used in the last couple of matches is a major departure from United's tradition. "What, no wingers?"
He is clear that Liverpool will struggle to recover and that the top four will be Chelsea, Arsenal, City and United. Everton and Tottenham could go close. The latter also gave him a rude awakening in the last home match.
Having failed to qualify for the Group Stages of the Champions League last season from an "easy" group, he won't make the same mistake this year. But surely he has some sleepless nights about missing the Top Four of the Premier League?
Imagine that and not winning the Champions League in your final season in charge? Unthinkable.
Nevertheless, the bumper new Sky contract will mean that more Premier League clubs could mount a challenge. Newcastle, for example, managed to sell Andy Carroll, not reinvest all the money and still almost qualify for the Champions League last season.
Never has it been more true that there are no easy matches. Southampton for example.
His Health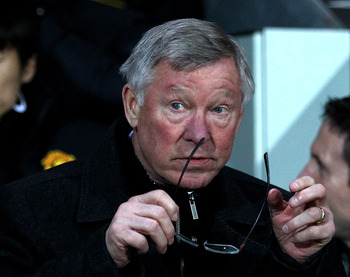 Sir Alex Ferguson
Clive Brunskill/Getty Images
In December, Sir Alex will be 71.
He may have been inspired by Sir Bobby Robson's decision to keep managing Newcastle until he was 71, but Bobby died five years later, having been unable to get another manager's job.
So this is the last for Sir Alex, unless he has one last crack at Scotland on a full-time basis.
He sure isn't going to manage England!
In 2003, just a few weeks short of his 62nd birthday, he had a scare with what was believed to have been tachycardia. This can be brought on by anxiety.
In 2010 he said that his health would dictate his departure. It would be very difficult for the club if he suddenly had to retire mid-season.
On his 70th birthday last year he again said that health was the key concern, while reiterating his commitment for another three years. Of course, he could have been bluffing.
He also had a bit of a health scare in May of this year when he was rushed to hospital after having to pull out of a speaking engagement at the last minute. This was never completely explained.
We can assume that, if at all possible, he would not want to retire suddenly and therefore assuming the problem was not chronic, he may have decided to give it one more year. At 70-plus such incidents can make you think, irrespective of whether they are life-threatening.
Most men would like some golden years after they retire. Sir Alex looks in rude good health and it would be good to get some benefit for himself and his family.
So there are a few pointers to the possibility that this could be his last season.
Time for a New Era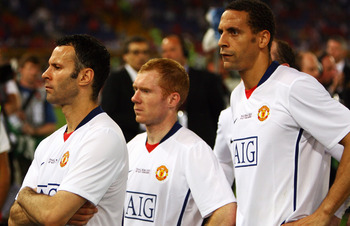 Giggs, Scholes, Ferdinand
Alex Livesey/Getty Images
There is a time to retire and it is always best to go out at the top. Only Sir Alex will know whether the ship is creaking, but the media has a view.
Some people thought that last season's team was the worst in years, despite finishing second on the highest points score ever.
It must have shattered Sir Alex and his senior professionals that, despite having the title within their own grasp, they crumbled at the end. The 6-1 thrashing by City will have been a massive shock, but giving up a 4-2 lead at home to Everton and losing at Wigan were unlike the United of old.
When "something is rotten in the State of Denmark" then it is time to sit up and take note.
It would not be surprising if both Ryan Giggs and Paul Scholes retire at the end of this season. The line-up against Newcastle will have given a glimpse of the future. It will have made Scholes, Giggs and Nani take notice.
Two of his legends retiring could be exactly the right time to hang up Sir Alex's own boots. Rio will stay on and that is good, because with Vidic and Rooney, they can provide the continuity to the next era.
Tactical formations are changing across football. Barcelona have dominated world football with "Tiki Taka" and other coaches have taken notice.
Nobody can exactly emulate them, because it is a way of life for every young Barca academy entrant.
However, Brendan Rodgers, Andre Villas-Boas, Roberto Mancini, Roberto Martinez and Roberto Di Matteo are just some of the Premier League coaches open to new ways of playing.
They say you can't teach an old dog new tricks. Manchester United have a tradition of playing 4-4-2 and open or counter-attacking football. It didn't work against Barcelona in two Champions League finals.
It is also hard to counter the new "flooded" defensive tactics used by even some of the lowliest teams in the Premier League and Cluj for example.
It may have been easier when Carlos Queiroz was around to consult, but he left presumably because he could not foresee his personal ambitions being fulfilled any time soon.
Mike Phelan will not be Sir Alex's successor. That could be as unsuccessful as Wilf McGuinness's brief tenure following Sir Matt Busby.
It will need a strong and determined man to succeed Sir Alex. Whoever it is must have a keen appreciation of and affinity with the great and successful traditions.
That means the field is strictly limited.
Succession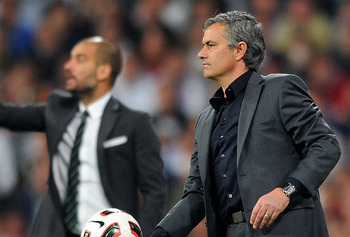 Pep Guardiola, Jose Mourinho
Jasper Juinen/Getty Images
For the favourites to succeed Sir Alex, look no further than these two.
My own choice is Pep Guardiola. Jose Mourinho's choice is himself.
When you look at the contenders that the bookies currently list, some of them can be taken with a pinch of salt.
The shortest prices are for the two above plus David Moyes. Ole Gunnar Solskjaer and Ryan Giggs are the two hottest "internal" candidates. Other British fancies include Martin O'Neill, Gary Neville and Mark Hughes.
Some of those make good sense. Take Gary Neville, for example. He already seems to be second in command to Roy Hodgson for England. He has made a name for himself on Sky, replacing Andy Gray as technical summariser. And Sir Alex rated him highly as a captain and leader of men, his "shop steward".
But most of these names are for making money for the bookmakers.
It would be easy to convince yourself that David Moyes has been saving himself for the "Big One" and Sir Alex may have given him reason to hope, but only as one of a handful of possible names. David has scant European experience. At least Sir Alex had won a European trophy before he left Aberdeen.
The big argument against Mourinho is that he moves clubs too frequently. United will want a coach prepared to stay for the long term, building the next dynasty.
Unless of course part of the succession plan is for Solskjaer, Giggs and/or Neville to be groomed as a number two to succeed the new man in due course? In which case, Mourinho would be a good choice.
The most surprising omission is Jurgen Klopp. He figures at nearly 100/1. Considering what he has achieved at Dortmund, on limited resources in just a few years, that is astonishing. They must be contenders for the Champions League this year.
Nevertheless, the choice must be Pep Guardiola. It all fits.
Pep came through and has been part of creating the dynasty at Barcelona. It's not just the style of football that Rinus Michels and Johann Cruyff originally created. It's the whole way of life from 6,7 or 8 years old until you pop out as Xavi or Iniesta.
After all, why do you think Manchester City have just appointed a senior coaching figure from the Barcelona Academy to mastermind the building of a footballing "University" in the North West.
So Pep would be the perfect choice. He can do, lead or influence everything United must do to build themselves nto the greatest force in world football. Whether or not the Glazers sell, the resources and the commitment will be there.
And finally, Sir Alex and Pep have huge mutual respect. That's why they were seen together in New York recently.
So it may be that Sir Alex was anointing his successor. When you ask yourself why Guardiola took a one year "sabbatical" it must be so that he could move to one of the other great clubs in European football.
OK so the public explanation was that he needed a break and that may be true up to a point. If he is about to embark on perhaps the biggest project and the greatest commitment of his footballing life (and move to Manchester), he would want to spend a year with his family.
It would also give Sir Alex not only one last year to create his swansong, but also to begin to put in place the building blocks of the next dynasty, in consultation with his successor.
Why else would there have been a rumour that Neymar would sign for United at the last minute in August?
Keep Reading

Manchester United: Like this team?