WWE: What You Missed on NXT, Main Event, Superstars and Saturday Morning Slam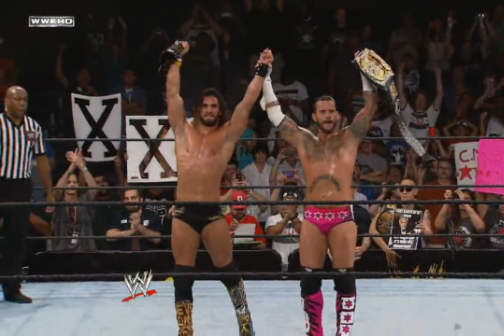 Credit: WWE.com
We're finally inching closer to Hell in a Cell, and tonight's episode of Monday Night Raw will be an important one to watch since we'll find out both the challenger for the WWE Championship and the challengers for the WWE Tag Team Championship.
But if all you're watching are shows like Raw and SmackDown, then you're missing some quality programming. Between Superstars, Main Event, NXT and Saturday Morning Slam, there's an additional three-and-a-half hours of programming you're missing out on.
But let's be honest: Few people can (or even want) to watch seven-and-a-half hours of WWE programming each week, 11 hours if there happens to be a PPV with a pre-show. Don't even get me started on adding TNA or ROH, streaming shows like WWE Vintage or even supporting your local wrestling promotion.
If you don't have time to watch shows like NXT, Superstars, Main Event and Saturday Morning Slam, then you probably don't have time to read lengthy reviews of each show, complete with commentary, predictions and cynical sidetracks. You're probably frustrated that you've already made it to the end of the fourth paragraph of this article and you have yet to read about any results from any show.
My "notes" version of all four shows is below.
If it piques your interest enough to read on, the slideshow breaks down the shows individually, segment by segment, complete with my questions and predictions.
Bonus/note: On the Saturday Morning Slam slide, I ask you the same question that the WWE Superstars were asked during the "3rd Degree" segment. If you're one of the readers that likes to share their opinion as well, I'd be interested to hear yours. Hint: It has to do with your favorite entrance themes!
It should also be noted that I was unable to watch Saturday Morning Slam this week, so I will have to link to another detailed review. I don't personally have cable or TiVo, so I depend on an online stream to catch the show, and it didn't upload this week's episode.
Notes
On NXT, CM Punk made an appearance to check out NXT Champion Seth Rollins, who had his first successful title defense against challenger Mike McGillicutty.
Bo Dallas got a clean victory over Johnny Curtis, while Paige and Audrey Marie got a victory over Kaitlyn and Alicia Fox when Paige rolled up Fox for the pin.
Trent Baretta ran into Jake Carter backstage and set up a match for next week, and Leo Kruger dominated Dante Dash in a quick squash match.
The match between Rollins and McGillicutty alone would make watching the entire episode worth your time, especially since Punk and Ross joined the announcer's booth for the last match.
On Main Event, after another lengthy intro, The Big Show got the clean victory over Randy Orton. Orton did hit the RKO (but Show rolled out of the ring) and sold the injured ribs, so he didn't look bad.
The show ended with the second match, in which Kofi Kingston got a win over Mike McGillicutty. After the match, Main Event co-host The Miz interviewed Kofi, which resulted in a scheduled match for the next week's Main Event, Kofi Kingston vs. The Miz for the Intercontinental Championship.
On Superstars, Wade Barrett got a victory over Tyson Kidd in a rematch from last week's Superstars, and Antonio Cesaro got a clean victory over Justin Gabriel. Both matches were solid.
Those were the only two matches this week. Everything else was filler or a Raw Rebound.
On Saturday Morning Slam, Intercontinental Champion The Miz defeated Justin Gabriel. This week had less filler and more action; they had two matches this week. Sin Cara got a victory over Jinder Mahal.
They focused on entrance theme music this week, as the "3rd Degree" asked the superstars for their all-time favorite themes, and we got an interview with the man behind most of those themes, Jim Johnston.
Now, if you care to read more about any of these happenings, please enjoy the slideshow.
Begin Slideshow

»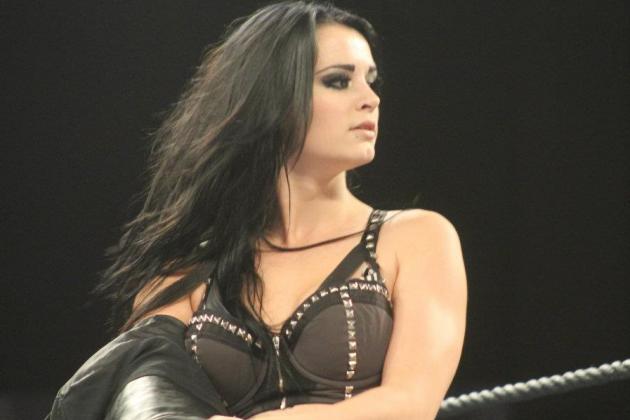 Credit: Saraya-J.com
Last week on NXT, we were told that CM Punk would be making a special appearance, and that NXT Champion Seth Rollins would be defending his championship against Mike McGillicutty.
The show opens with CM Punk backstage, explaining that he is here to watch the NXT Champion defend his title, as he should. There was a lot of talk about respect. Based on the menacing way Punk presented himself in the interview, I'm expecting some physical interaction between the WWE Champion and the NXT Champion.
Byron Saxton and William Regal are at the announce booth as the first match starts. Bo Dallas is introduced first. He's facing Johnny Curtis. Since I've only recently started watching this show on a regular basis, I have no clue who I should expect to win this match.
I can't be completely certain, but it sounded like a portion of the crowd was chanting "Bo's a Diva." Dallas gets the clean win after a spear.
When we return from commercial break, we are preparing for a Divas match, as Kaitlyn and Alicia Fox form a tag team to face Paige and Audrey Marie.
Despite the fact that Kaitlyn is being booked as one of the top WWE Divas right now, Paige and Audrey dominate the beginning of the match, as Kaitlyn struggles to make a tag.
I'll be the first to admit that I don't like Alicia Fox as an in-ring performer. If she continues to develop her on-air personality, she could make a good valet for an up-and-coming superstar. I generally don't like watching her in the ring, and this match was no exception. Nothing horrible, but nothing impressive.
If I didn't know anything about these women before this match, I would have guessed that Paige and Audrey were the WWE regulars and that Kaitlyn and Alicia were the ones still being developed. Paige gets the win for her team after she pushes Alicia into Kaitlyn and then rolls Fox up for the pin.
Backstage, Jake Carter is talking to a woman who walks away from him upset as he smirks. Trent Barretta shows up and announces they'll be having a match next week. Carter doesn't seem too concerned.
We then cut to Briley Pierce backstage for an interview with Seth Rollins. As soon as he says he feels disrespected by Mike McGillicutty, CM Punk interrupts. It was a great visual, seeing them standing face-to-face, holding their respective belts over their shoulders.
It's hard to understand exactly where WWE is going with this, especially if they don't make more sense of it during the main event. Punk says that he knows Rollins earned his belt just like Punk did. But the Second City Saint warns Rollins: Being a champion won't garner respect. For the most part, Rollins just listens silently.
Leo Kruger is making his way to the ring when we return from commercial break, and his opponent, Dante Dash, is already in the ring, obviously about to be dominated. I'm not sure that Kruger's South African poacher gimmick would go over in the big leagues, but it seems to be working for him in NXT.
Kruger gets a fairly quick and clearly one-sided victory in a match in which he pulled out chunks of his own hair. He gets on the mic after the match, speaking in a foreign language before translating. He said something along the lines of "I like to beat my opponents quickly, who will be my next trophy?"
When we return from commercial break, CM Punk and Jim Ross will join the commentators as they call Seth Rollins defending the NXT Championship against Mike McGillicutty. Before we head to that commercial break, McGillicutty cuts a promo backstage with Briley Pierce. He says he doesn't care about "respect" and will take Punk's WWE Championship after taking the NXT Championship from Rollins.
Before the title bout begins, both competitors are introduced and Punk cuts a quick promo to simply say he's watching this match up close because he's "interested." When the bell rings to begin the match, there are 15 minutes of programming and two commercial breaks left before NXT ends.
They are playing up McGillicutty's size and strength advantage every time he has control of the match. They cut to CM Punk semi-regularly, but his face isn't telling much of a story, other than his interest in the match.
William Regal bluntly asks Punk, "Why are you here?" but J.R. interrupts to say that we have to go to a commercial break before Punk can answer. McGillicutty has control of the match as we go to our final interruption of the evening.
The challenger is still in control after the break, and Punk is ready to answer Regal's question. He says he is simply scouting future WWE stars, for which Regal commends him.
With the near-falls, high-impact moves and the general back-and-forth flow of the match, this could have appeared on a WWE PPV. Rollins gets the pinfall victory after an impressive running neckbreaker that included some top rope action. Ross called it a "blockbuster-like maneuver." Rather than getting involved in the match, Punk simply gives Rollins a standing applause as the show goes off the air.
Prediction: When Bo Dallas makes it onto the regular WWE roster, he'll be booked just like Rey Mysterio or Sean Waltman: undersized body, over-sized heart, the ultimate underdog.
Question: How long before WWE replaces overrated Divas like Layla and Alicia Fox with legitimate grapplers like Paige and Audrey?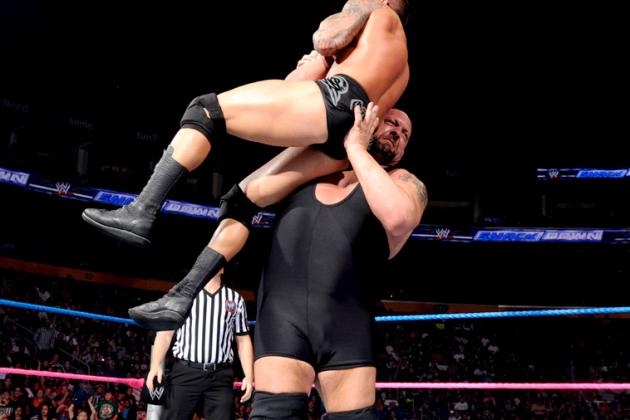 Credit: WWE.com
Once again, I did not write a lengthy review of Main Event. The show is still fresh enough that plenty of other writers on this site have given their own reviews. For example, WWE Main Event Review: Did the Second Show Live Up to the First?
To be honest, writing a review for Main Event wouldn't be difficult, since there are only two matches every week, and they don't seem to be making significant storyline progression. We'll see how they book the Intercontinental Championship match for next week.
Prediction: If WWE gives this show a proper push and continues to book legitimate "main event" matches for the show, Main Event will become for Ion what SmackDown has become for SyFy: a show that doesn't really fit in with the network's theme but is consistently the network's highest-rated program.
Question: Could we actually see a title change on Main Event next week? We certainly wouldn't ever see one on Superstars or Saturday Morning Slam.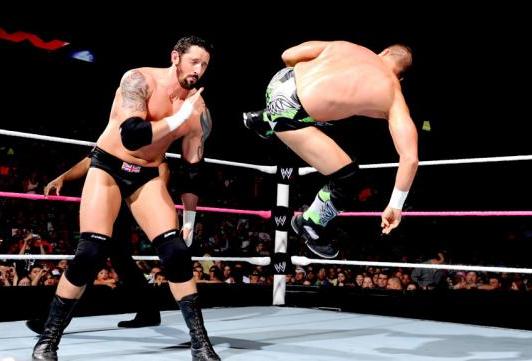 Credit: WWE.com
Scott Stanford and Matt Striker are at the announce table for Superstars, and the program begins with Wade Barrett on his way to the ring for a rematch (from last week's Superstars) against Tyson Kidd. Barrett went over in a really solid match last week; we'll see what happens this week.
I've said this before, but doesn't it seem like WWE programming has a lot of immediate rematches as of late?
In the early stages of the match, Kidd actually has the upper hand, and Barrett is visibly irritated that he can't simply get his hands on Kidd to pound him. Barrett eventually gains control when the action moves outside the ring. Barrett remains in control inside the ring as we go to the first commercial break.
Barrett is still in control when we return from the break, but Kidd fights back with a few moves involving the top ropes and tries to work on Barrett's legs to neutralize the size and strength advantage of his opponent. Outside the ring, it looks like Barrett will take control again, but it only lasts a moment.
Kidd gets Barrett back in the ring and locks in the Sharpshooter, but Barrett powers his way to the ropes. Not long after, Barrett hits the Souvenir to get another win over Kidd. Once again, the match was much longer than it would have been on Raw or SmackDown, and Kidd got plenty of opportunities to control the match, so he didn't come across looking weak.
The first thing we get after the commercial break is a short Raw Rebound, and a promise that we'll see the conclusion to the Punk/McMahon drama in another Raw Rebound later in the show. They announce the next match will be Antonio Cesaro vs. Justin Gabriel and then we head to another commercial break.
After Cesaro set the IWC abuzz by successfully performing the Neutralizer on Brodus Clay, a match against Justin Gabriel will force him to demonstrate a very different skill set.
I'm not sure about the wisdom of putting on two matches in a row for Superstars that feature a heel ground-and-pound grappler against a high-flying face. Luckily, the two matches involve four great workers, so it doesn't feel stale in the second match.
Before the first commercial break, Cesaro (standing outside the ring) catches Gabriel (who launches him out of the ring over the top rope) and uses his momentum against him to land a brutal-looking slam outside the ring.
To quote Striker's post-match comments, this match included "a great ebb and flow" before Cesaro eventually picks up the three-count when he prevents a 450 Splash and nails Gabriel with the Neutralizer.
After we return from the commercial break, I realize that we've seen all of the original programming that this week's episode has to offer. We get the second half of that Raw Rebound, concluding with McMahon's ultimatum for Monday, and that's the end of Superstars for this week.
Prediction: Superstars will continue to be a showcase of some of WWE's best (and most under-used) workers. It will eventually catch on with really dedicated fans and anyone that appreciates old-school wrestling.
Question: Why doesn't WWE do anything to promote this show? Even if you can only watch it online, couldn't they at least make mention of it on Raw and SmackDown, the shows in which people often complain about a lack of actual wrestling?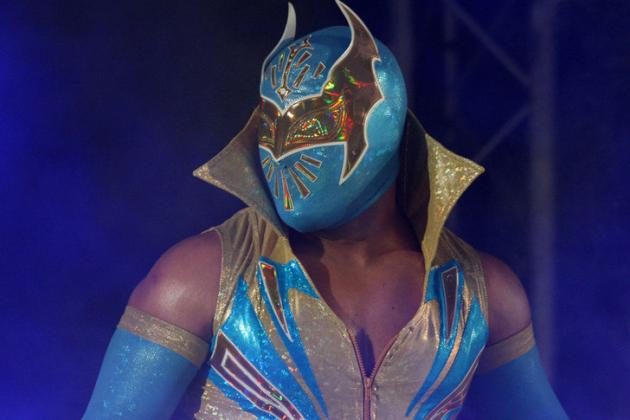 Credit: CageSideSeats.com
As I mentioned in the introduction, I was unable to catch Saturday Morning Slam this week. I don't have a regular cable television service, and the site that I generally stream the show from did not upload this week's episode. And for some reason, WWE doesn't stream SMS on Hulu Plus.
This was the first week (to my knowledge) that they've ever had more than one match. We'll see if that trend continues next week.
I actually could not find any other review of Saturday Morning Slam on the Bleacher Report site, so I'll link you to a review you can find at CageSideSeats.com.
BONUS: Even though I didn't get to watch this week's episode, I do know that the "3rd Degree" segment this week asked several superstars to tell us about their all-time favorite entrance themes. So I pose the same question to you: Who do you think has the best entrance theme of all time?
Hopefully, I'll catch the show next week and be able to write my own review. And since The Miz (currently a part of my personal "Fab Five") is defending the IC Title on Main Event, I guess I'll go ahead and crank out a full review of that show as well.
Also, for next week's review, I plan on ending it with my opinion on whether or not the WWE currently has too much programming, with the recent additions of Saturday Morning Slam and Main Event.
You can follow Dustin on Twitter, check out his blog or listen to his podcast.