Detroit Tigers vs. Oakland Athletics: Team Grades from ALDS Game 4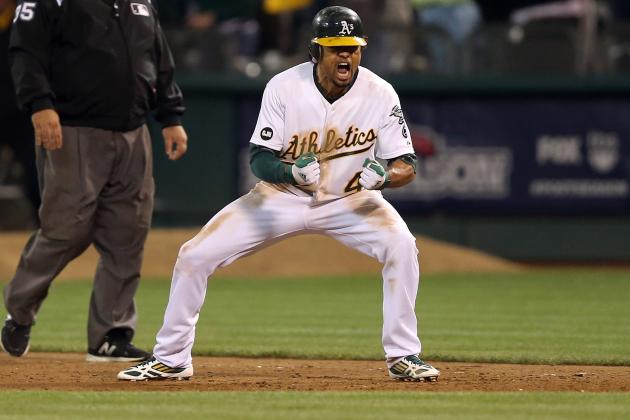 Ezra Shaw/Getty Images

Game 4 of the American League Division Series was an instant classic for the Oakland Athletics, as they rallied from a two-run deficit to defeat the Detroit Tigers 4-3 and force a pivotal Game 5.
After the Tigers earned a 2-0 lead, Oakland earned a run back on an error by Prince Fielder, which ultimately led to a run being scored.
Later on in the eighth inning, Avisail Garcia got a pinch hit one-run single to give the Tigers a two-run cushion.
Jose Valverde came on for the Tigers in the ninth inning and proceeded to give Oakland two quick runs, which would lead to a game-winning single by Coco Crisp.
Here are the grades for each team following a fantastic finish for this young Oakland A's squad and the heartbreaking burnout for the Detroit Tigers.
Begin Slideshow

»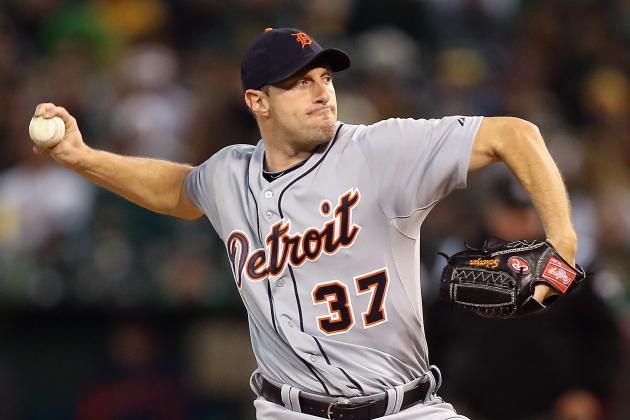 Ezra Shaw/Getty Images

Oakland: B+
A.J. Griffin looked far from a rookie for most of his outing. Whenever he got into jams, he was able to aggressively pitch his way out of them.
Griffin gave up seven hits, two earned runs and only totaled one strikeout. All in all, he did a successful job at giving his team a chance to win.
The Oakland bullpen, which has been one of the most dominant this season, also managed to do its part in keeping the entire game close until the end.
Oakland's bullpen, which consisted of appearances by Jerry Blevins, Sean Doolittle and Ryan Cook, pitched a total of four innings. During that stretch, they gave up only three hits and one earned run. They did a great job giving their team a chance to win.
Detroit: C+
Questions swirled around whether Max Scherzer would be able to pitch effectively after his shoulder injury weeks ago. He answered those questions and then some, this evening with a fine performance.
Scherzer went 5.1 innings while only giving up one unearned run and accumulating an impressive eight strikeouts. However, it was evident near the bottom of the fourth that he was starting to fatigue, as his fastball went from an expeditious 96 mph to a lower 90-91 mph.
In short, Scherzer pitched a gem and put his team in a fantastic position.
Detroit's bullpen appeared in the fifth inning and did an admirable job the rest of the way. While many media pundits, as well as fans, have deemed this bullpen as the Tigers' Achilles' heel, it managed to hold Oakland's offense at bay for most of the game.
The Tigers had appearances from five relief pitchers, including Octavio Dotel, Phil Coke, Al Alburquerque, Joaquin Benoit and Jose Valverde.
Everything was going great until Jose Valverde toed the rubber. He gave up a total of three earned runs on four hits and gave Oakland a huge chance at stealing this series away in Game 5.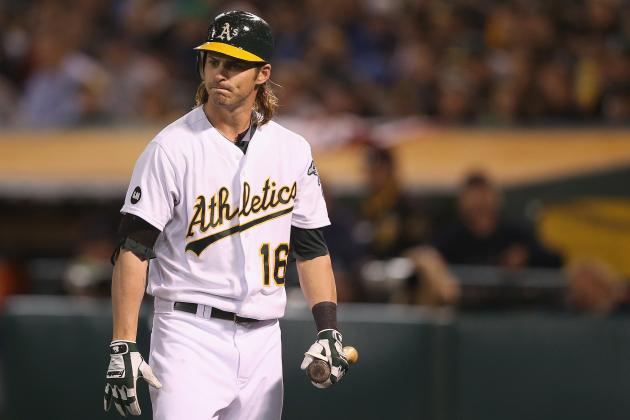 Ezra Shaw/Getty Images

Oakland: B-
While this may seem like a low grade, seeing as how they pulled out an incredible come-from-behind victory in Game 4, the A's lacked offense for much of the game.
They totaled eight hits, with four of them coming during their ninth-inning rally. Oakland struck out a total of 12 times, but they managed to come up with big hits when they needed to the most.
There is never any lead too insurmountable for this A's team, and if they are able to find more offense than they have shown over the past four games, they will be a very scary team to face.
Detroit: C-
Even though Detroit managed to accumulate ten hits, it needed to do a lot more than this.
Quite frankly, this Tigers team should be putting up much better numbers than it has shown up to this point.
While they were able to score some big runs, including Fielder's home run in the fourth inning or Avisail Garcia's run-scoring single in the eighth, the Tigers were unable to cash in with many runners on base.
In order to win Game 5, the Tigers will need to find their bats in a hurry. While Justin Verlander is a very good pitcher, he is an even better pitcher when he is given run support early in games.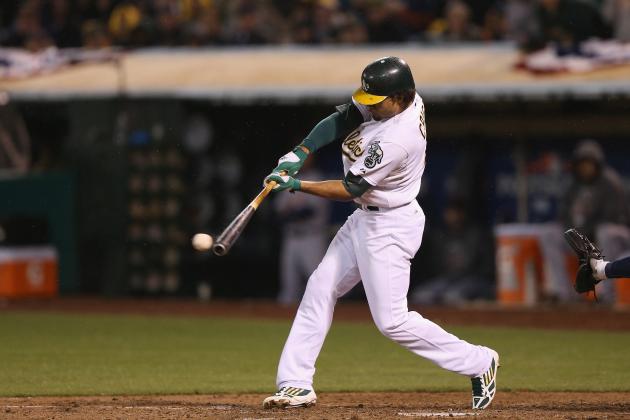 Ezra Shaw/Getty Images

This A's team is exciting to watch.
Even when they were down 2-0 throughout most of the game, the A's never lightened up a bit. When Avisail Garcia was able to knock in a crucial third run in the eighth inning, Oakland never wavered.
They pulled out an impressive win the bottom of the ninth after a single and a double by Josh Reddick and Josh Donaldson. Immediately after those two huge hits was Seth Smith's double, which proceeded to score both men on base.
Once the game was tied, Valverde was able to get two more outs until Coco Crisp entered the batter's box and hit a single to right field, which promptly ended the game.
There is no doubt that this win was a huge injection of confidence for this young Oakland team, which is now poised to take this series back with a win in Game 5.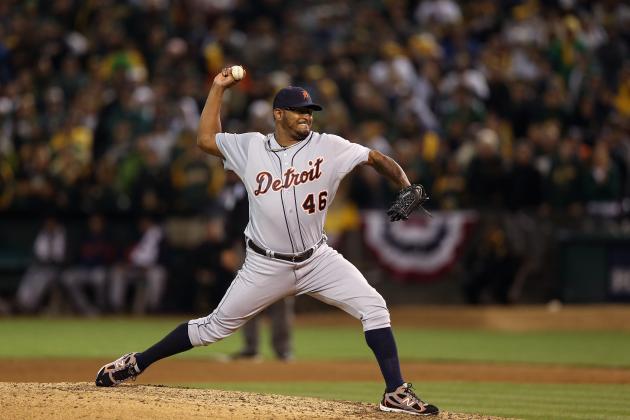 Ezra Shaw/Getty Images

Detroit's pitching did a great job in giving this team a chance to win.
When it came down to it, Jose Valverde was unable to shut the door. While it is hard to pin the blame on one person for this incredibly disappointing loss, there is no doubt that Valverde deserves a lot of it.
Many will say that the Tigers lacked offense, seeing as they only scored three runs; however, they managed ten runs and stranded a total of five runners.
A team should be able to turn to its closer in big games and be confident that he will shut the door. Valverde is no longer able to it. Time and time again, we have seen his inability to get outs and his incredibly ability to allow runners on base in almost every outing.
If Detroit is to win Game 5, it will need to score many more runs than it has for the past four games and allow the rest of the bullpen, if necessary, to bring home the victory.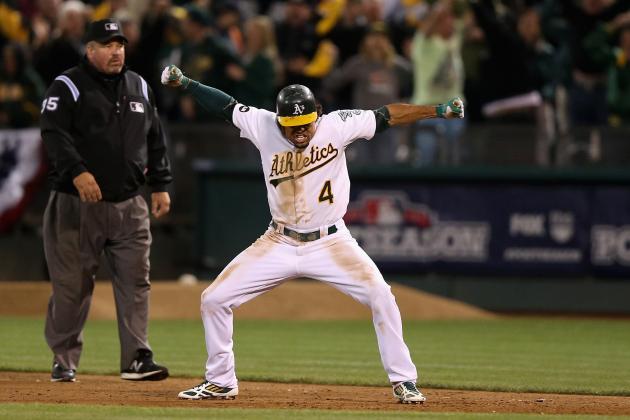 Ezra Shaw/Getty Images

Detroit: B-
The Tigers did just enough to give themselves a chance to win, but they turned in an abysmal ninth inning and allowed the Athletics to steal away the crucial victory.
While their bats came alive a little more on Wednesday evening, they will need to continue to perk up during Game 5 if they are to have an opportunity at moving on to the ALCS.
Key role players such as Jhonny Peralta, Alex Avila, Quintin Berry and Omar Infante will need to do more at the plate.
If an opposing pitcher only has to truly worry about Miguel Cabrera and Fielder, the Tigers will have no hope to win this series.
This tough loss may have ignited a fire inside the soul of the Tigers, which may be enough to get them the win in the final game of the ALDS. However, it could also be the symbolic jab before the knockout uppercut by the Athletics in Game 5.
Oakland: A
Even though it lacked offense at times and struggled on the mound at various points, this team was able to pull out an amazing victory.
The popular saying "it is not how you start; it's how you finish" applies perfectly in this scenario. Regardless of their shortcomings during the game, the A's came together and gave themselves a chance to steal away this series and move on the the American League Championship Series.
This Oakland team is growing more and more impressive with each game, and this win may be enough to catapult it right over a Tigers team that is not performing up to the levels of expectation and potential.
Based on what we saw Wednesday night, Game 5 will be a great one on Thursday night.