West Virginia at Texas Tech: Why This Is a Huge Trap Game for the Mountaineers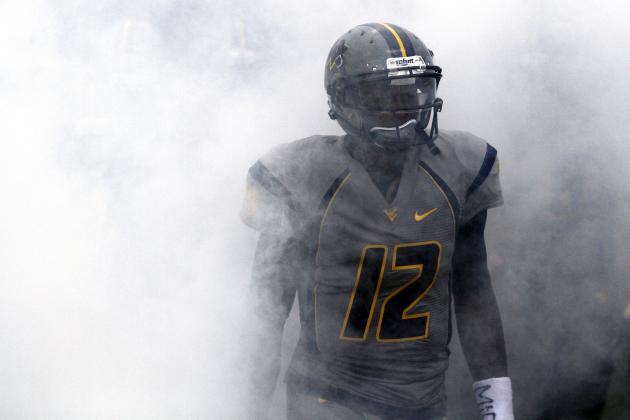 Justin K. Aller/Getty Images

If you haven't heard by now, the West Virginia Mountaineers are rolling over the competition. In their first season in the Big 12, this team has won the first five games of the season, just knocked off the Texas Longhorns and is receiving tons of media attention.
Quarterback Geno Smith is the overwhelming Heisman favorite, the offense is averaging over 50 points per game and the team is simply a joy to watch on the offensive side of the ball. But before we get too carried away, the remainder of the Big 12 schedule is no cakewalk for this former Big East program.
With games against Kansas State, TCU and Oklahoma on the schedule, don't pencil West Virginia in a BCS bowl just yet. Oh, and the Mountaineers also have to play Texas Tech this weekend, a team that will not go down without a fight after the way it was manhandled last weekend.
Here is why West Virginia can't afford to look over the Red Raiders in Week 7 of the college football season.
Begin Slideshow

»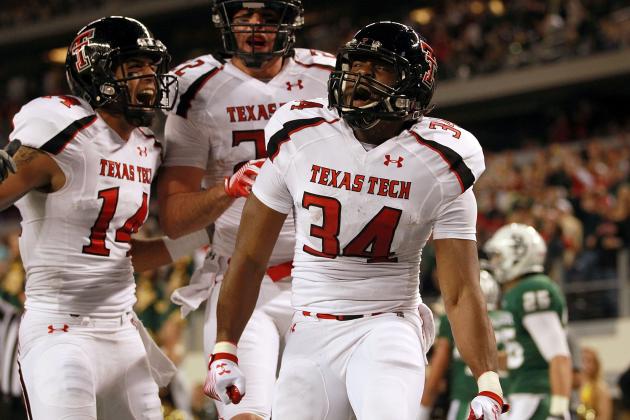 Ronald Martinez/Getty Images

Let's get straight to the point on the first slide and say this is exactly what a trap game is. West Virginia is coming fresh off arguably its toughest game of the year against Texas and will have to play Kansas State, which is a Top 10 team, next week. The game against the Wildcats could really determine who comes out of the Big 12 as the conference winner.
In the middle of those two games is poor little Texas Tech, a team that many have already looked over and still aren't giving enough credit to. Although the Red Raiders have shown they have talent, you would certainly give the edge to the Mountaineers when looking at the rosters.
With such a huge game next week, a matchup that could decide who reaches a BCS bowl, it would be too easy to get caught looking ahead. That's what a trap game is, and when a team is not 100 percent prepared, it is the time that the season crashes and burns.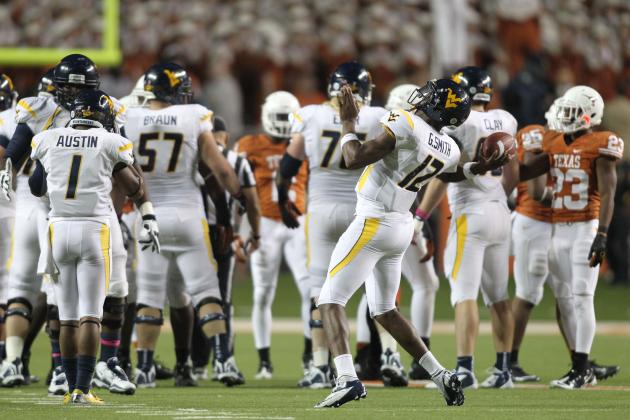 Tim Heitman-US PRESSWIRE

One team is undefeated and has its eyes on a possible national championship berth, while the other is still fighting for respect in its own conference. One team is fresh off of an emotional victory, while the other received a beatdown at home and is out to redeem itself.
It is best to avoid an underdog when it gets angry, especially when you are the one that has to go to its house and fight for a victory.
"In this game we feel like we'll be able to come out a lot faster in the first half so we don't have as many mistakes and we'll be able to perform a lot better," senior safety D.J. Johnson said, according to the AP, via dallasnews.com.
The Red Raiders were off to a hot start before getting slapped in the face last week by the Oklahoma Sooners. This is an upset team that will be looking to pull off the upset this weekend. The Mountaineers have yet to face a team like this in 2012; it will be a learning experience that could come back to bite them if they are not careful.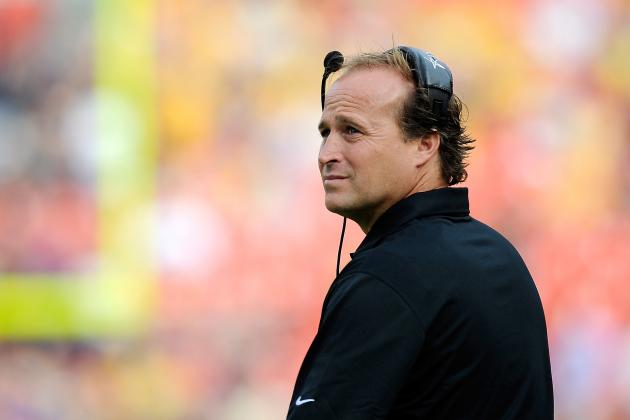 Patrick McDermott/Getty Images

Coaches try their best each and every week to avoid distractions, as it is something that can really affect the game plan and the way a team prepares for that matchup. But West Virginia head coach Dana Holgorsen will have to deal with many questions that will not exactly have to do with this particular contest against the Red Raiders.
The Mountaineers head coach was an assistant under head coach Mike Leach from 2000-2007 for Texas Tech, as he helped run some of the more explosive offenses the game has ever seen. Questions about coming back to Texas Tech, what the game means to him, how he feels about the Red Raiders and everything else in between can really take its toll.
Not to mention, with West Virginia currently in the Top 5 of the AP Poll, you know questions are coming about a possible BCS National Championship, even though we still have half of a season left to play.
Football guys want to focus on the game of football and nothing else. With Holgorsen making a brief return to Lubbock, you can expect things to run a little differently this week.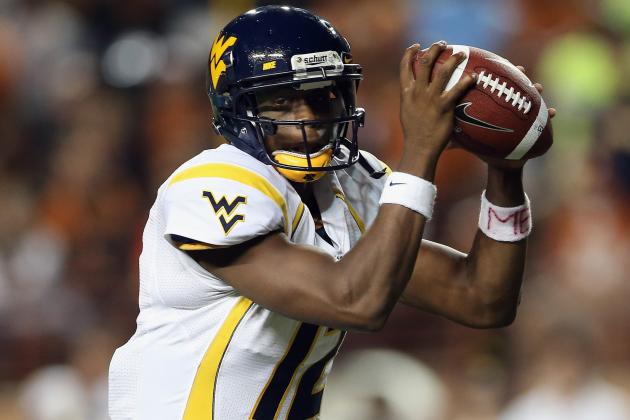 Ronald Martinez/Getty Images

One of the big things that was going to hurt West Virginia when it made the switch from the Big East to the Big 12 was the amount of traveling the team was going to have to do. The Mountaineers aren't exactly anywhere close to any of the other teams in the conference, so playing away games can really make things difficult for the traveling team.
Already traveling to play the Texas Longhorns last week was 1,400 miles one way, and the trip to play Texas Tech will be another 1,500 miles, according to Mapquest.com. It is bad enough playing back-to-back road games, but when you are spending a lot of time on an airplane, it really gives the home team an advantage.
According to Mike Graham of dallasnews.com, Texas Tech head coach Tommy Tuberville talks about the conditioning advantage the Red Raiders will have.
This is a funny game. Tuberville said. We played a team last week that was fresh and this time (West Virginia) has played two close games and they're doing a lot of traveling. You don't count on it, but you've got to understand we're at home, we're fresh, we're not going to do as much conditioning so we'll be fresh. We know we're going to be out there a lot on defense and we know we've just got to go out there and make plays on both sides of the ball.
You have to like the advantage the home team has in this situation.
Michael C. Johnson-US PRESSWIRE

In the middle of Alabama and LSU is Texas Tech for the second-best defense in the country. The Red Raiders are only allowing 210 yards on defense a game, as three of the five teams played haven't even been able to produce those numbers.
The team simply gets after it on the defensive side of the ball in both the passing and running defense and has only allowed six plays of over 20 yards, which is the fewest in the nation.
West Virginia head coach Dana Holgorsen knows that his offense is in for a battle this weekend, according to Jenn Menendez of the Pittsburgh Post-Gazette.
Defensively, they're one of the top teams in the country. They have given up 200 yards per game, so people haven't moved the ball on them. We were in here 16 hours yesterday trying to figure out creative ways to get first downs. They do a good job against the run, they do a good job against the pass and they create turnovers, and we're going to have to play as good as we have all year offensively. Holgorsen said.
But while the Red Raiders are the best team in the Big 12 defensively, the team can also score the football, as they are averaging over 500 yards of total offense. Quarterback Seth Doege is completing 69 percent of his passes, while the running game is averaging more than 4.5 yards per touch.
You can say that this is a trap game for West Virginia because some of the other reasons, but when it all comes down to it, Texas Tech is simply a good football team that is still searching for that key victory.
West Virginia could end up providing the Red Raiders with just that this weekend.