Boxing: Which of These 7 Fighters Could Be Mexico's Next Great Champion?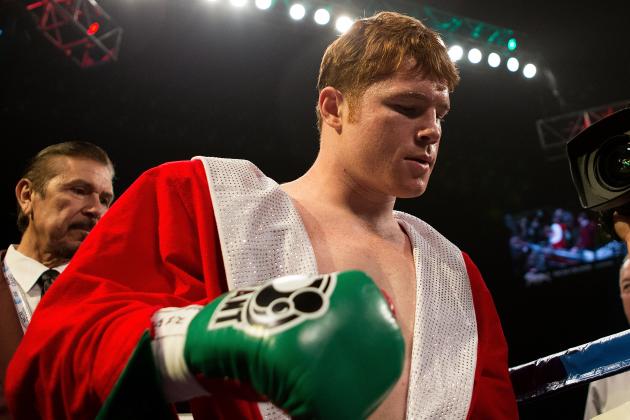 Josh Hedges/Getty Images
Is Canelo Alvarez the next great Mexican champion?
Mexico has a proud fighting tradition.
When you think of Mexican fighting, you think names like Julio Cesar Chavez and Salvador Sanchez.
The current generation also features several men who have honorably carried the torch including Juan Manuel Marquez, Erik Morales and Marco Antonio Barrera.
But those men are now beginning to fade form the scene. Barrera is virtually retired, and Marquez and Morales could be if they each lose tough bouts later this year.
So the question now becomes, who's next?
Who will be the next fighter to seize the torch and become Mexico's best?
Disclaimer: This is not to imply that any of these fighters will reach the status of the men listed above. All of them are either in or will be in the Hall of Fame. This doesn't mean I feel all or even any of the fighters will reach that status, just that they have a chance.
Begin Slideshow

»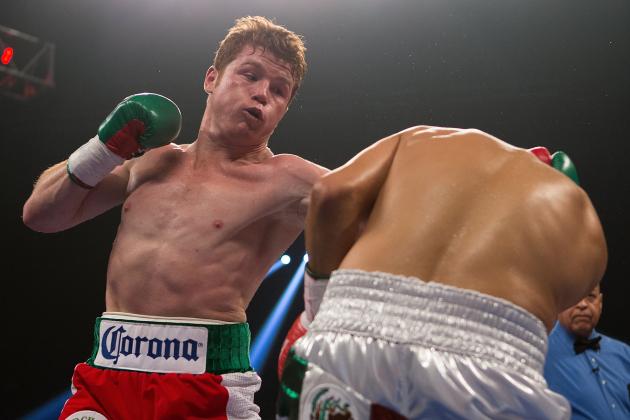 Josh Hedges/Getty Images

Saul "Canelo" Alvarez is certainly at the top of this list.
He is undefeated, 41-0-1 with 30 knockouts, and is the WBC junior middleweight champion.
Canelo can do it all in the ring.
He can box you, he can fight you and he has good power in both hands. Even though he is only 22-years-old he has become a superstar in the sport with impressive wins over solid, but mostly faded fighters, including Shane Mosley, Kermit Cintron and Alfonso Gomez.
Alvarez has taken a fair amount of criticism of late for his recent victory over blown-up junior welterweight Josesito Lopez.
Most of this criticism is unfair.
He was originally scheduled to face a slew of better fighters.
Paul Williams pulled out due to a motorcycle accident that left him paralyzed, James Kirkland didn't like the money offered and Victor Ortiz was stopped by Lopez.
You can't really blame Canelo, he tried to make a more compelling fight on short notice but was left with few options.
This kid is the total package, and while he's still young, and really a prospect, he has the best chance to become the next Mexican great.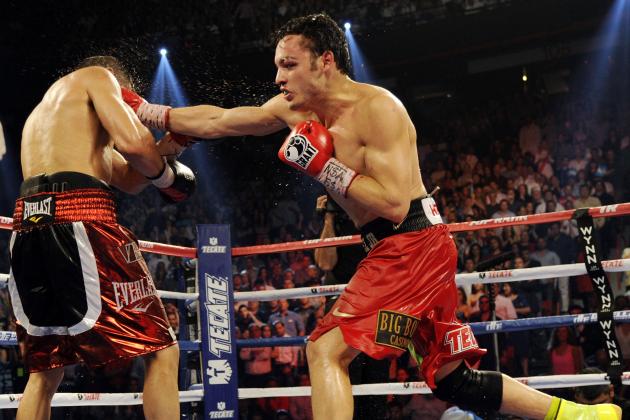 Jeff Bottari/Getty Images

Julio Cesar Chavez Jr. should know a lot about what it takes to become a Mexican legend, after all his father is the greatest of them all.
Chavez Jr. has seen his stock drop precipitously since his decision loss to Sergio Martinez in September.
And much of this has been deserved.
Chavez reportedly didn't take the fight seriously in training camp, was erratic in his behavior and tested positive for marijuana, something he blames on prescription eye-drops, after the fight.
Oh, and with the exception of the final 90 seconds, which were dramatic for sure, he was absolutely dominated by Sergio Martinez.
So why does he make this list? Simple, his last name.
The name Chavez will always be associated with Mexican greatness, and those who are willing to count this kid out are fooling themselves. He will never be his father, that much is for sure.
But who is? He can still have a very successful career, if, and that's big if, he fully commits to the sport.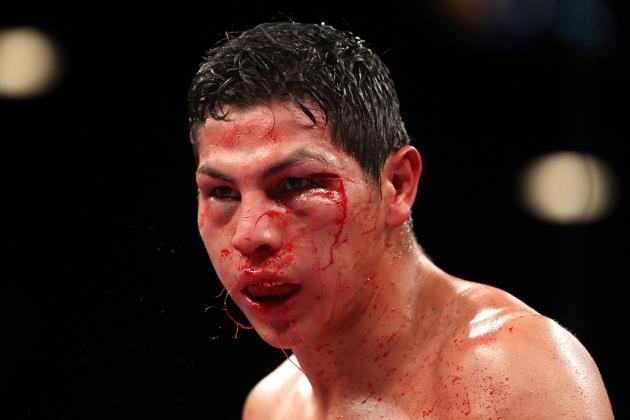 Al Bello/Getty Images
Now that's the face of a warrior.
Pablo Cesar Cano is one of those guys that not many people are talking about right now, but they will be.
At 23 he's definitely a prospect to watch.
His first fight in the United States was against Mexican legend Erik Morales on the undercard of Mayweather-Ortiz. Cano was an unknown fighter at the time, with an undefeated record and supposedly great punching power.
He came into the fight as a last-minute replacement and while he was defeated, he gave a good account of himself. He never stopped coming forward despite being beaten, bruised and bloodied up.
This kid has punching power and he has heart, otherwise known as the recipe for success in Mexican prize fighting.
He will get a second crack at a world title at the end of October when he challenges Paulie Malignaggi for the WBA welterweight championship at the Barclays Center in Brooklyn, New York.
Look for him to cash it in.
Gilberto Ramirez Sanchez is another one of those fighters most have probably never heard of before.
And once again, wait a bit, you will.
Sanchez is undefeated, with 19 of his 22 victories coming by way of knockout.
He has tremendous punching power and is currently the WBC youth middleweight champion.
He has thus far fought his entire career in Mexico where he had a standout amateur career, winning the National Amateur Championship on three occasions.
Expect the 21-year-old to hit America soon, as he has stated a desire to pursue bigger fights in this country and is currently promoted by Canelo Promotions, owned by, you guessed it, Saul Alvarez.
He is widely considered the top prospect in Mexico.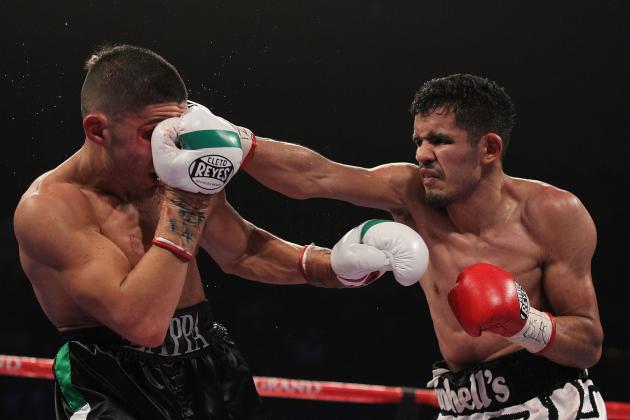 Al Bello/Getty Images

Mexico has produced their share of great lightweight fighters and Miguel Vazquez might be the next in that line.
If Vazquez has a name that slightly rings a bell, besides for it being common, it might be because he's twice fought, and lost to, Saul Alvarez.
The two men met as junior welterweights back in Vazquez 2006 debut, with Canelo winning a split decision. They would rematch two years later as junior middleweights, with Canelo again winning a decision.
But Vazquez, 25, is much more comfortable around lightweight/junior welterweight and is currently the IBF lightweight champion. He will defend the belt later in October against power-punching Marvin Quintero.
Vazquez lacks a real signature win at this point, unless you consider his win over then undefeated Amir Khan-conqueror Brendis Prescott in 2009. He'll have a chance to correct that soon as the 135-pound division is loaded with talent.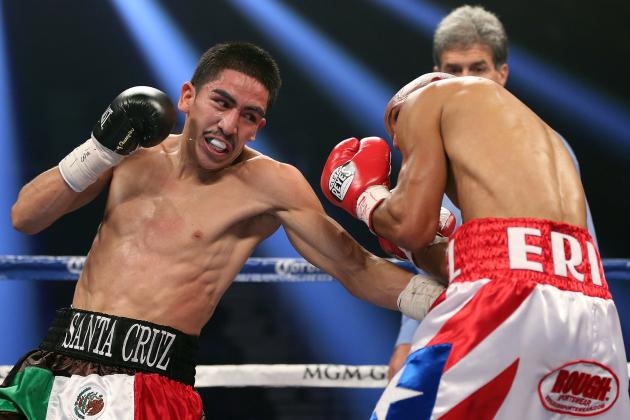 Josh Hedges/Getty Images

Leo Santa Cruz has a lot going for him. He's undefeated, hits hard to the body, and competes at bantamweight, one of the glamor divisions in Mexico.
Santa Cruz, 24, had a bit of a breakout performance in his last fight on the Alvarez-Lopez undercard, blasting faded, but still game, former champion Eric Morel in five rounds.
He will waste no time in returning to the ring this November on the undercard of Abner Mares and Anselmo Moreno's clash for the super-bantamweight championship.
If victorious, Santa Cruz could move up in weight to face the winner of that fight.
In addition to Mares and Moreno, you also have potential big fights with Nonito Donaire and Guillermo Rigondeaz at super-bantam. It's about to heat up and Santa Cruz is right in the middle of it.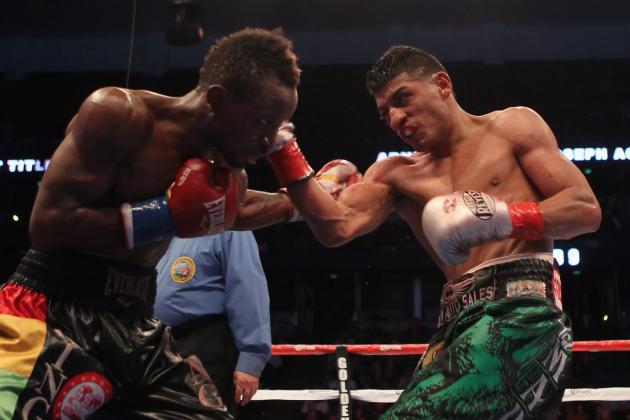 Jeff Gross/Getty Images

Abner Mares doesn't believe in anything but big fights, or so you could conclude from his recent resume which is a virtual who's-who of the lower weight classes.
In his last four fights he's defeated Eric Morel, Joseph Agbeko (twice) and Vic Darchinyan. And in his next fight he will take on reigning bantamweight champion Anselmo Moreno who will be moving up to challenge for Mares super-bantamweight crown.
Mares is everything you look for in a Mexican fighter.
He's tough, he leaves it all in the ring and most of his fights are absolute wars.
Look for nothing different when he faces Moreno in November. A win there would position him for even bigger fights down the line.
This would hopefully include what can only be described as the biggest super-bantamweight fight in ages with Nonito Donaire.