Oregon Football: What to Work on During the Bye Week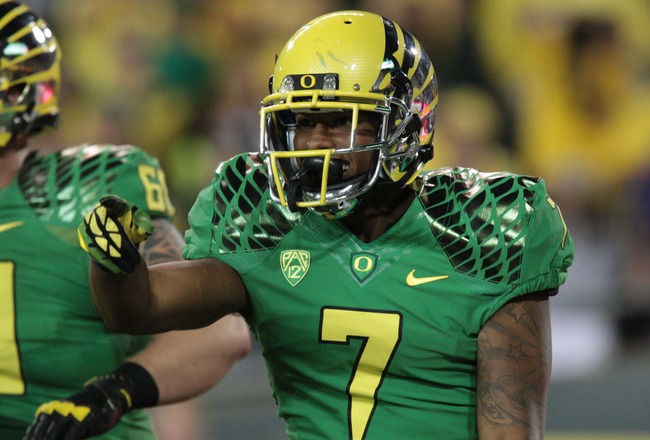 Scott Olmos-US PRESSWIRE
It's tempting to say about the Oregon Ducks that there is nothing to work on during this break in the action.
They are, after all, 6-0 (3-0 Pac-12 Conference), averaging over 52 points per game, with a defense that seems possessed with some rabid beast DNA.
What's left to work on?
Not much, but there are a few items that need tending to during this very timely bye week.
Kicking Game
Craig Mitchelldyer/Getty Images
As far-fetched as it may seem, someday a Ducks victory might depend on a Rob Beard field goal; like maybe in the Arizona State game.
Beard was 1-for-2 last weekend against the Huskies, missing a 41-yard attempt and nailing a 28-yarder that split the uprights. He is 4-for-7 attempts on the year, for a 57.1 percentage. Wouldn't you like to see a higher percentage of makes?
This may be a little severe, but I wouldn't let Beard leave practice every day between now and Oct. 18 until he had made 50 field goals in a row. No dinner for you, Rob. It's not like he needs to practice PAT's, after all; Beard is 40-for-40 on extra points.
Same drill for backup Alejandro Maldonado, because you just never know whose leg it might come down to.
Jackson Rice is one of the finest punters in the nation. But—you knew there was a "but," didn't you?—he shanked one ugly kick against Washington.
When you don't get many opportunities to ply your craft, as Beard and Rice don't, it's likely easy to get rusty. They need to imagine, however, that the game is on the line, and that a 38-yard field goal, or a high, deep punt will seal the W.
Because, someday, that just might be a real scenario. This would also be a good week to work on fake punts and field goal "trickeration."
Penalties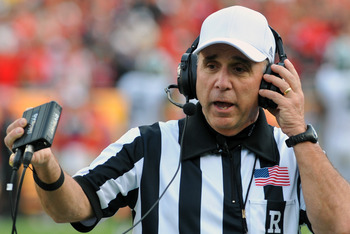 Al Messerschmidt/Getty Images
All college football fans want their team to be aggressive. But there is a difference between controlled aggression and stupidity.
In six games, the Ducks have 49 penalties for 442 yards. That works out to 8.2 penalties per game, and 73.7 wasted yards per game.
That's too many.
Let's hope that there is lots of film viewing going on during this bye week, and the culprits being taught why and how they screwed up. And, more importantly, how to not let it happen again.
The coaching staff cleaned up the fumbling issues from the earlier games; they can clean up the penalties, too.
Better Production out of the 2's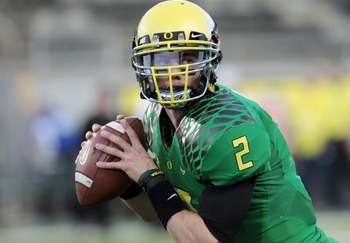 Scott Olmos-US PRESSWIRE
By "2's" I don't just mean Bryan Bennett; all of the backups need to play like the "1's" when they step on the field. The talent and depth on this Oregon team is real, and there should be no drop off when the starters need a breather.
Except for the defensive substitutions in the first couple of games, the 2's and even the 3's and 4's have done their job. And some players—notably freshman running back Byron Marshall—have been outstanding.
This lengthy break in the schedule is a good time for the coaching staff to spend a little one-on-one time working with the backup guys. It's a long season and bad stuff happens. One of the current subs might end up being a hero. This is a good week to get him ready for his starring role.
Side note to Bryan Bennett: if former Beavers QB Ryan Katz had sucked it up and stuck with Oregon State, he'd be the starting QB for the No. 10 team in the country this week. You just never know.
Healing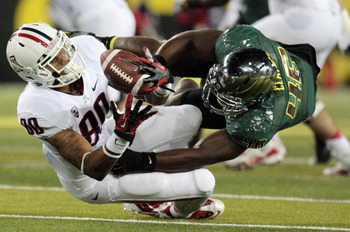 Scott Olmos-US PRESSWIRE
Because of Chip Kelly's policy of never discussing injuries, we really don't know how banged up some key players like Michael Clay and Ryan Clanton are.
Let's hope that the bye week is coming at a good time for the players nursing injuries, and that they can be ready to go by Oct. 18.
But, if not, this break is a good time to be working with their possible replacements and ensuring that they are game-ready.
Special Teams Refinement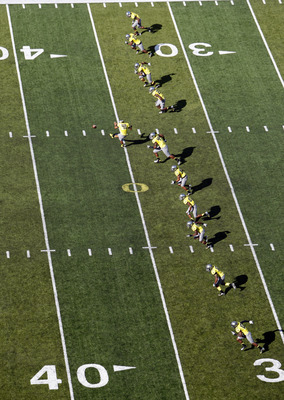 Kevin Casey/Getty Images
It's not that the Ducks' special teams are horrible—they're not.
But it does seem that Oregon's special teams' results are average. And, this is not an average team.
Let's hope the Ducks spend some quality time this week on kickoff coverages and fielding punts once De'Anthony Thomas is done for the night.
Speaking of "DAT," let's work on creating some lanes on his punt and kickoff returns. Thomas has zero touchdowns on 16 combined returns so far this year. That's just wrong.
Special teams doesn't need a complete revamp; just some tightening up and polishing.
And Then...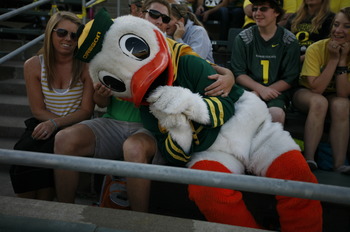 Kevin Casey/Getty Images
Bottom line is that the Ducks' bye week is coming at a good time in the season. It's a welcome break to work on some of these things that aren't perfect, and refine some of the rough edges.
I figure it oughta take until about Friday. Then y'all should kick back a little, have a BBQ and a group movie night or two.
After all, a 6-0 team should get a couple of perks.
Keep Reading

Oregon Ducks Football: Like this team?