WVU Football: Players Who Must Step Up for WVU to Win Big vs. Texas Tech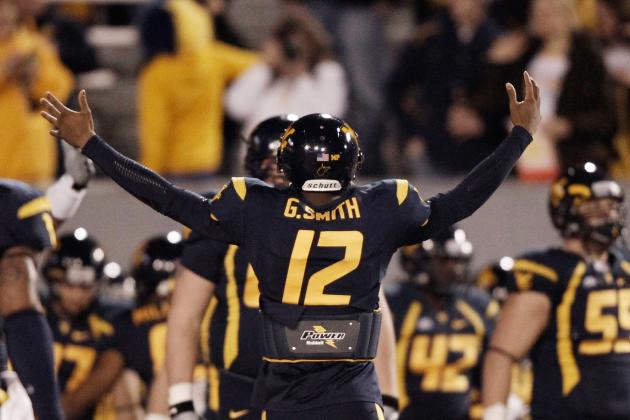 Jared Wickerham/Getty Images
The Conductor of this Orchestra
The conductor of the orchestra that is the WVU football team is without a doubt Geno Smith. His play is always at the highest level. An off day for Geno would be better than a good day for most quarterbacks.
The leading candidate for the Heisman Trophy has completed 81 percent of his passes for 1,996 yards and 24 touchdowns in five games with no interceptions.
Geno is a given. He will get his numbers as long as he plays on Saturdays. I'm not worried about Tavon Austin, who has caught 58 passes for 662 yards and eight touchdowns.
I'm also not concerned about Stedman Bailey, with 49 catches for 710 yards and 13 touchdowns. They will all three create havoc for any defense.
I'm talking about the other players, the ones that must also play at a high level for the Mountaineers to win big.
Let's go over them and see how their level of play can make a difference in the scoreboard: .
Begin Slideshow

»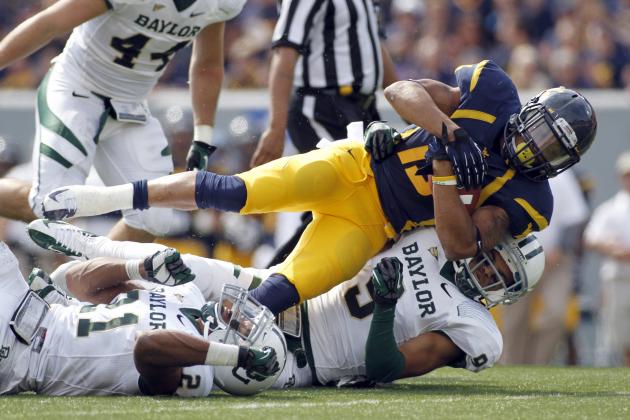 Justin K. Aller/Getty Images
Buie fighting for extra yards
The first of the other players needed to keep Smith's orchestra playing smoothly is the running back.
Andrew Buie is averaging over five yards per carry in 83 attempts and has scored five touchdowns.
After an unremarkable first four games, Buie broke loose for 207 yards on 31 attempts and two touchdowns against the Longhorns in their own corral.
WVU needs a strong game out of Buie. At least 100 yards rushing and a touchdown or two would suffice.
Remember, this is a team effort and Buie doesn't have to be a hero, just play up to his capabilities.
As of Monday's press conference, Coach Holgorsen said it depended on Alston's response to treatment and his performance in practice to determine if he plays.
That has become a Holgorsen euphemism for "He's not playing this week." That makes Buie's performance even more vital.
The running back has to carry the ball, block and catch passes with high efficiency to keep the WVU offense running smoothly.
A successful running game is very important against the Red Raiders. They have a strong, fundamentally sound defense, allowing an average of 17 points per game.
In order for Buie to have a good game, he needs help from the next player. The orchestra is taking their places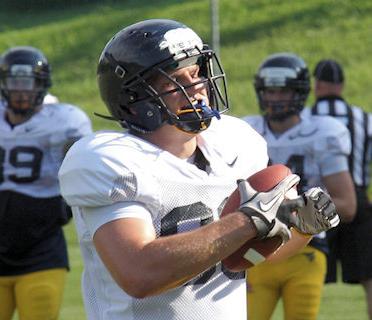 Photo Credit: BlueGoldNews.com
Cody Clay plays both inside receiver and "B" back. Clay has become an excellent blocker over the last five games.
The 6'5", 250-lb bruiser has not made a catch or taken a handoff yet this year.
What Clay has done is become a personal bodyguard for the quarterback and a crushing lead blocker on running plays.
If No. 88 is on his game, things are much easier for both Buie and Smith.
Clay offers the advantage of changing the lineup from having an inside receiver to using a "B" back without leaving the field..
For WVU to win big, he must play both positions well. If he has a bad game either way, the music isn't good.
To play his best, Clay needs help from the next players,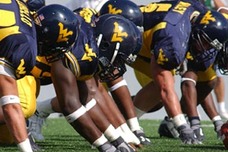 Photo credit: WVSportsFans.com
With the exception of the Maryland game, the offensive line has improved as a group every game this year.
Quinton Spain, Josh Jenkins, Joe Madsen, Jeff Braun and Pat Eger have to protect Smith and provide a surge for the running game.
The fourth quarter touchdown drive against Texas showed what these five and their backups are capable of.
Joe Madsen is a given. The outstanding center has played well even when the others have had off games.
When all five play well together, this offense is nearly unstoppable. A good game from the offensive line in addition to those listed previously make Smith and company even more dangerous.
But a defense that rarely blitzes such as Texas Tech can still concentrate on covering Bailey, Austin and Buie.
That's where the next player comes in. I hear music.
Justin K. Aller/Getty Images
He doesn't have to make this catch every time
I called J.D. Woods the third Amigo after his outstanding performance in the Baylor game.
Woods's 13 receptions for 113 yards and a touchdown was J.D. at his best.
The Baylor game included the amazing catch and run in the above photo.
In the Texas game Woods had a tough day, dropping a couple of catches within his grasp. One was a certain touchdown.
The pass was a little behind him, but Woods is capable of making that catch. Woods caught only two passes for 24 yards and no scores against the Longhorns.
WVU can win without a good game from Woods, but to win big, Woods must play well.
I'm not sure any team's defensive backs can cover Austin, Bailey, Woods plus Buie out of the backfield on the same play.
If every player I've mentioned so far has a quality game, the Mountaineers are capable of scoring over 50 points. Nothing against Texas Tech, it wouldn't matter who the team was.
A scenario much like this is what happened to a pretty good Clemson team in the Orange Bowl when WVU scored 70 points. That covers the offense. The music is good.
Now the defense: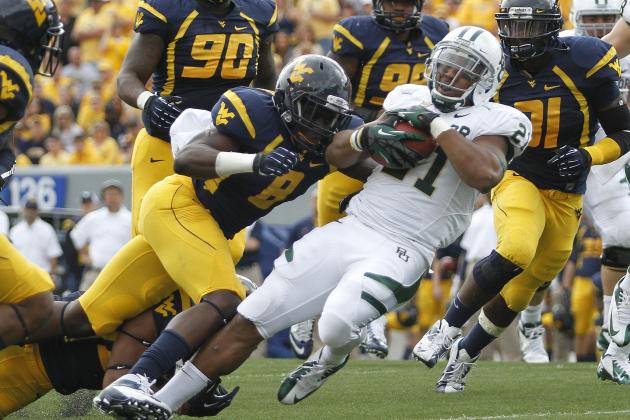 Justin K. Aller/Getty Images
Defensive swarm
The starting defensive line of Will Clarke, Jorge Wright and Tyler Anderson is responsible for pressuring the quarterback as well as stopping the run
As a unit, they've done an adequate job most of this year. But adequate is not going to be good enough.
At least one of the defensive linemen has to step up with a big game, spending time in the offensive backfield for WVU to win. Texas Tech quarterback Seth Doege can shred a defense if given protection.
To get three and outs, all the defensive linemen must have a good game. If that happens, Texas Tech will not score many points. WVU will blitz and do it often, keeping Doege on the run.
These are the guys that make the blitz work by tying up the offensive linemen.The linebackers have advanced into a consistently solid unit that can be depended on much like the Three Amigos.
When the defensive line is doing well, the linebackers are very effective. The music is getting sweeter.
So let's go to the defensive backs...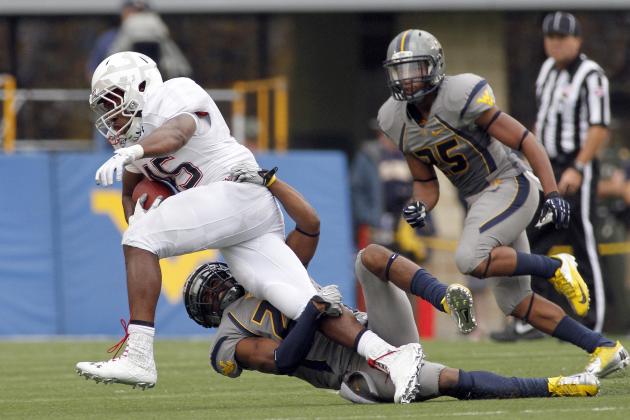 Justin K. Aller/Getty Images
Cut down on this
All season long, the defensive backs as a group have been inadequate to say the least.
Their soft coverage, slow reaction and arm tackling have given up huge numbers to the opponents.
The defensive backs kept Baylor in the game. If WVU has an Achille's heel, this is it.
This group alone can not only prevent WVU from winning big, they can cause the Mountaineers to lose the game.
For much of the Texas game it was the same story. Texas made more third downs than they missed. The WVU offense would build a lead, but the defense couldn't maintain it.
During the fourth quarter, it was like flipping a switch. The cornerbacks crowded and faced up receivers. The defensive backs challenged every pass.
Pat Miller went from goat to hero, breaking up passes and recovering a fumble. The others, including, Karl Joseph, Brodrick Jenkins and Darwin Cook, started making plays together, smothering the Texas receivers.
That decided the game. If the Mountaineers are to win, this group must have a decent game. In order to win big, every defensive back has to bring his A game.
Now a big problem: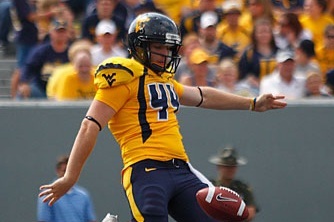 Photo credit: WVUSports.com
Special teams has been anything but special so far this year.
Too many kickoffs have been short or out of bounds.
At least none have been blocked so far!
WVU has too many blocked or shanked punts and missed or blocked field goals to keep winning.
Tyler Bitancurt has kicked 3 of 5 field goals and is one of two beyond 40 yards.
At least one field goal was blocked that was kicked way too low.
Michael Molinari and Corey Smith are listed as kickers but it seems like they've all tried punting.
Smith has averaged 42.6 yards on 10 punts. Molinari punted once for 31 yards and had another one blocked.
Coverage on short kickoffs has been weak and too many punts are getting big returns. The biggest problem has been hang time and placement of both punts and kickoffs.
All kickoffs and punts are planned to confine a returner to a certain area of the field. If the punt team is told a punt is going to go to the right side of the field, that's where they run to.
If the punt goes left, there is a problem. Tackling on punts and kickoffs is weak. I don't have the answer, you work with the players you have.
Someone has to step up and just kick deep into the end zone on kickoffs. Someone also has to quickly master the art of getting a punt off quickly with good hang time in the direction it was designed to go.
The point I'm making is, if the players in the skill positions excel and the others just give an average effort, the Mountaineers will suffer their first loss to the Red Raiders.
This is not the Big East and Texas Tech is not just an average team. Especially at home.
If everyone mentioned plays well WVU will win. If everyone I singled out executes properly for the entire game, it won't be close.
Comments welcomed and encouraged.