Everton FC: 5 Reasons Marouane Fellaini Can Keep His Form All Season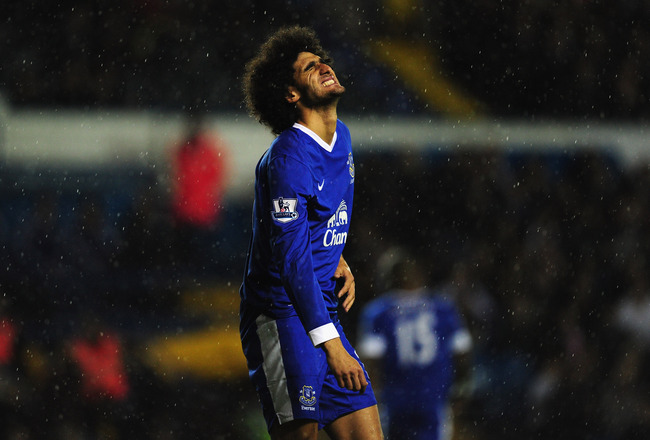 Stu Forster/Getty Images
Almost a quarter of the way through the season and Everton are maintaining their surge on the Premier League's top four, in no small part down to the form of Marouane Fellaini.
The Belgian international has been central to the Toffees' success so far in this term, contributing massively in the offensive, defensive and creative areas of play.
However, too many times has a player begun a campaign in superlative fashion only to simmer off the boil and ultimately fade into obscurity.
Great players are measured not just on their ability to display great talent, but the ability to do so on a consistent basis.
Fellaini has shown his talent on a short-term basis and in this, his fifth season playing in the English top flight, will maintain that standard of play throughout the entire 2012-13 campaign.
Little Distractions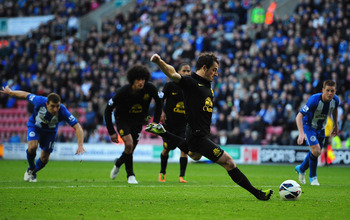 Stu Forster/Getty Images
Although the club would undoubtedly rather be involved, it also works in Everton's favour that the Merseysiders aren't competing in a European tournament this season.
It may seem like a subtle difference, but the lack of a dozen other fixtures or so bodes well for Marouane Fellaini, who may otherwise suffer with the extra matches in his calendar.
Although the midfielder still has to contend with the Premier League, Capital One Cup and FA Cup games, Fellaini's form will flourish as long as he isn't overworked, something that's not as big of a risk in this non-European 2012-13 season.
Youth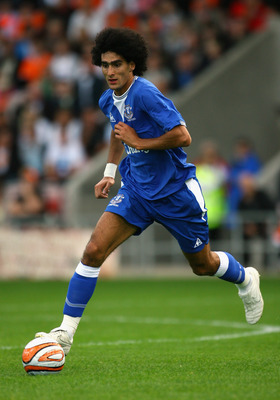 Alex Livesey/Getty Images
As is the case in just about any professional sport, age is usually a detriment to any player and with youth comes good health and fitness.
Marouane Fellaini is only 24 years old and is far from a fossil, meaning that injuries are less likely to interrupt the fine form that the midfielder has been enjoying thus far.
Though he is several years away from reaching his playing prime, the Everton talisman is still in good enough physical shape to make physical impairment an unlikely obstacle.
One Tough Cookie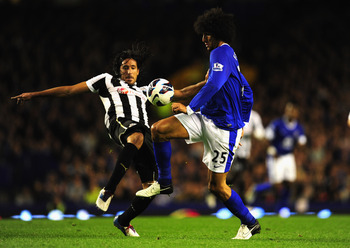 Stu Forster/Getty Images
Never one to shy away from a crunching tackle, it's no wonder that Fellaini has suffered several long-term injuries in his Everton career thus far.
However, the 6'5" midfielder has come back stronger than before each time, showing that he's certainly of the stubborn variety.
Fellaini's last setback was a malleolar injury in February of 2011 that saw him ruled out for around six months. So, as long as the former Standard Liege starlet can stave away any more tackles of the Sotirios Kyrgiakos kind, he can retain his spot as Everton's midfield enforcer.
Prominent Toffee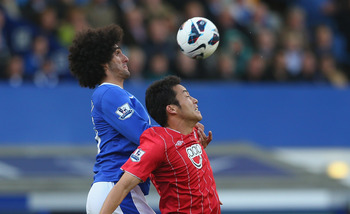 Alex Livesey/Getty Images
It would seem that the longer Fellaini plays at Goodison Park, the further he evolves as a player and, in turn, ascends throughout the Everton hierarchy.
The versatile anchorman come playmaker is now one of the premier players under David Moyes and it's likely that as long as the tactics are catered to facilitate his game, Fellaini will continue to thrive.
So far this campaign, Fellaini has regularly been pushed into a more advanced role to help out the striker and has since seen the Everton tactics revolve around his superb first-touch and sensational link-up play.
As long as that continues to be the case, Fellaini stands a chance of keeping his current vein of form.
Wants a Big Move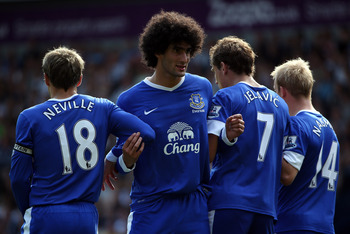 Ross Kinnaird/Getty Images
It was announced in September of this year that despite an emphatic start to the campaign, the Belgian was considering a departure from Everton.
Het Nieuwsblad (h/t Liverpool Echo) reported that Fellaini had "seen everything" at Goodison Park and that the current season would be one of his last with the side.
If the creator wants to bag that big move that has been mooted in the press in recent months, he will need to continue showing the great standard of football that has earned those plaudits in the first place.
Every player has a target that they want to reach in their career, and although speculation may have fallen away in recent weeks, it's very possible that Everton isn't where the star saw his career ending up.
If he wants to complete the move to the surroundings he desires, that powerful play will be key in making the next big step.
Keep Reading

Everton: Like this team?