Florida vs. Vanderbilt: Complete Game Preview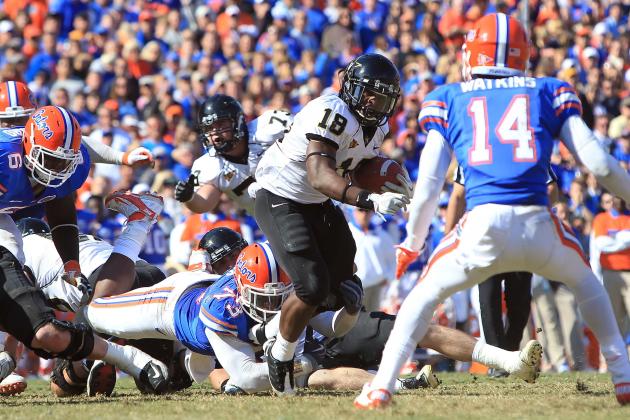 Kim Klement-US PRESSWIRE

The Florida Gators and Vanderbilt Commodores will square off in Nashville, Tennessee this weekend. Both teams are coming off of conference wins last week and should be confident heading into the matchup.
Florida is coming off of a hard-fought win against LSU. The Gators were able to impose their will on the ground and wore down the LSU defense as the game went on.
Vanderbilt got its first conference win last week in a 19-15 win against Missouri. The Commodores were able to secure the win despite struggling on offense early in the game.
With games against South Carolina and Georgia upcoming, will the Gators be able to remained focused and avoid a letdown against Vanderbilt? James Franklin has turned the Vanderbilt football program around, but will it be able to upset a team it hasn't beaten since 1988?
Let's take a look at how these teams stack up and cover everything you need to know for the game on Saturday.
Begin Slideshow

»
Don McPeak-US PRESSWIRE

Who: Florida at Vanderbilt
When: Saturday, Oct. 13, 6 p.m. EST
Where: Nashville, Tennessee
Stadium: Dudley Field (40,550)
TV: ESPNU
Radio: WRUF 850 AM (Gainesville), WLAC-AM 510 (Nashville)
Internet Stream: Watch ESPN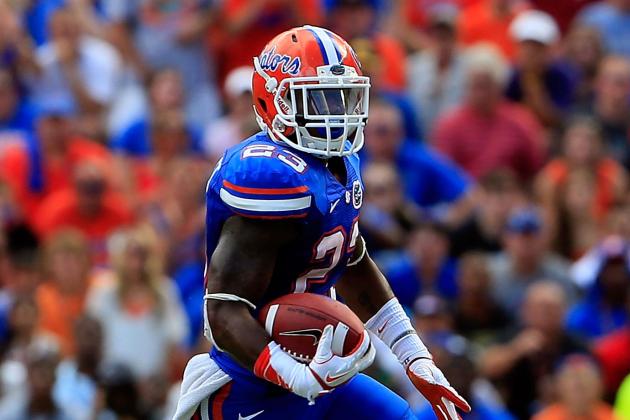 Sam Greenwood/Getty Images

Offense
QB: Jeff Driskel, Jacoby Brissett
RB: Mike Gillislee, Mack Brown or Matt Jones
FB: Hunter Joyer, Trey Burton
TE: Jordan Reed, Clay Burton
F: Trey Burton, Omarius Hines
WR (X): Frankie Hammond, Jr., Latroy Pittman
WR (Z): Quinton Dunbar, Solomon Patton
LT: Xavier Nixon, D.J. Humphries
LG: James Wilson, Ian Silberman
C: Jonotthan Harrison, Sam Robey
RG: Jon Halapio, Jessamen Dunker
RT: Kyle Koehne, Chaz Green
Defense
DE: Dominique Easley, Earl Okine
DT: Sharrif Floyd, Damien Jacobs
NT: Omar Hunter, Leon Orr
Buck: Lerentee McCray, Dante Fowler
Will LB: Jelani Jenkins, Antonio Morrison
Mike LB: Jon Bostic, Michael Taylor
Sam LB: Neiron Ball, Darrin Kitchens
CB: Marcus Roberson, Jeremy Brown
CB: Jaylen Watkins, Loucheiz Purifoy
S: Matt Elam, De'Ante Saunders
S: Josh Evans, Brian Poole
Nickel CB: Jaylen Watkins, De'Ante Saunders
Dime CB: Matt Elam, Brian Poole
Special Teams
K: Caleb Sturgis, Brad Phillips
P: Kyle Christy, Todd Fennell
KR: Andre Debose, Solomon Patton
PR: De'Ante Saunders, Andre Debose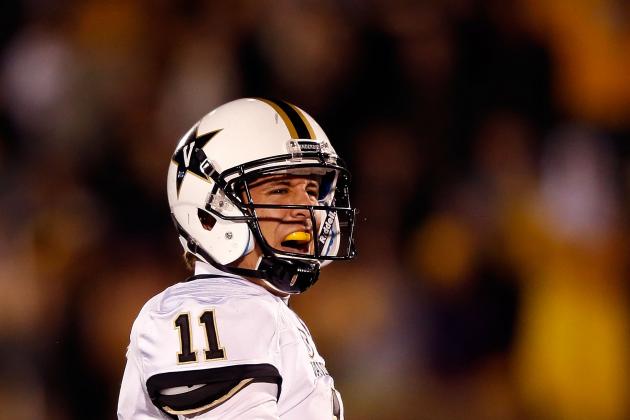 Jamie Squire/Getty Images

Offense
QB: Jordan Rogers, Austyn Carta-Samuels
RB: Zac Stacy, Wesley Tate
FB: Fitz Lassing, Marc Panu
WR (X): Chris Boyd
WR (Z): Jordan Matthews, Jonathan Krause
TE: Steven Scheu, Kris Kentera
LT: Andrew Bridges, Chase White
LG: Josh Jelesky, Jake Bernstein
C: Joe Townsend, Spencer Pulley
RG: Ryan Seymour, Adam Butler
RT: Wesley Johnson, Andrew Jelks
Defense
DE: Johnell Thomas, Caleb Azubike
DE: Walker May, Kyle Woestmann
DT: Colt Nichter, Barron Dixon
DT: Rob Lohr, Jared Morse
Will LB: Karl Butler, Larry Franklin
Mike LB: Archibald Barnes, Darreon Herring
Sam LB: Chase Garnham, Kellen Williams
CB: Andre Hal, Steven Clarke
CB: Trey Wilson, Eddie Foster
S: Kenny Ladler, Andrew Williamson
S: Javon Marshall, Eric Samuels
Nickel CB: Karl Butler, Eric Samuels
Special Teams
K: Carey Spear, Ryan Fowler
P: Richard Kent, Ryan Fowler
KR: Andre Hal, Brian Kimbrow
PR: Zac Stacy, Jonathan Krause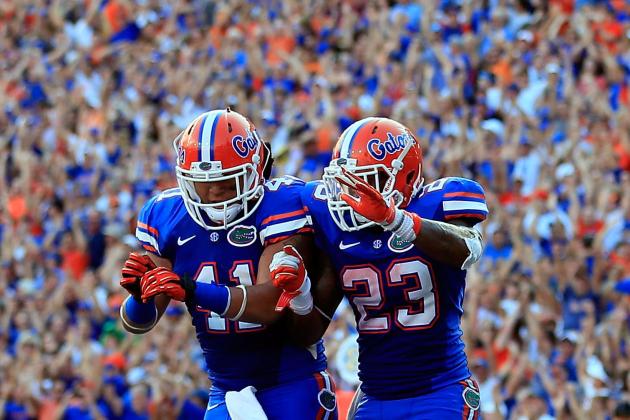 Sam Greenwood/Getty Images

Will Muschamp earned a signature win, as Florida was able to outlast LSU last week to earn its biggest win of the season, 14-6.
The offensive line had their best game of the season by far. Florida was able to to rush for 176 yards against a defense that was giving up just 83 yards a game coming in. Mike Gillislee earned SEC Player of the Week honors for his 34-carry, 146-yard, two-touchdown day.
Matt Elam also earned SEC honors this week. Elam was named SEC Co-Defensive Player of the Week. Elam brought a level of intensity we haven't seen from a Gator defender in a long time.
The win has the Gators ranked in the Top Five of the AP poll for the first time since 2010.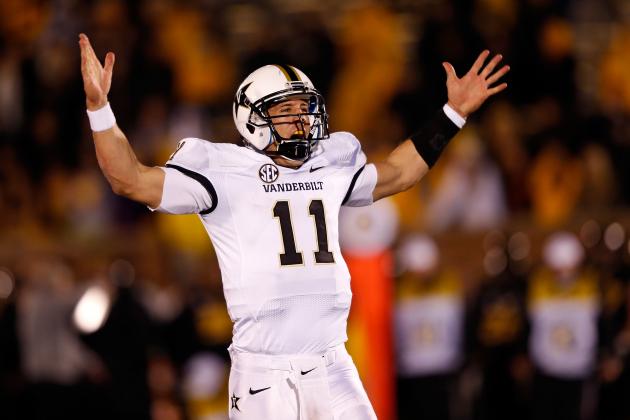 Jamie Squire/Getty Images

Vanderbilt earned its first conference win last week against SEC newcomer Missouri.
Missouri lost its quarterback, James Franklin, early on in he first quarter, and his replacement completed just 9-of-20 passes for the game. The Tigers were also without five players, including Dorial Green-Beckham, after they were arrested for possession earlier in the week.
Despite struggling offensively, Vanderbilt's defense was able to keep the team in the game and the offense was able to take advantage of some Mizzou miscues.
Zac Stay rushed 29 times for 72 yards and two scores. Stacy scored both of the Commodores touchdowns.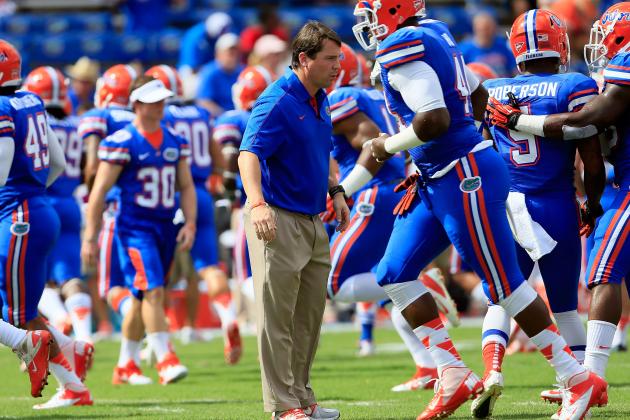 Sam Greenwood/Getty Images

Both teams should be coming into this matchup as confident as they have been all season.
Florida's win over LSU was a display of dominant running and physicality. The offensive line had their best game of the season by far and should carry that confidence into this week's game.
Although it played a shaky game, Vanderbilt was able to celebrate a conference win last week. Vandy played Florida tough the last season, so it won't be intimidated when the Gators show up in Nashville this weekend.
Sam Greenwood/Getty Images

Mike Gillislee will once again be the focal point of the offense and the key player for the Gators.
Gillislee is coming off of his second-highest rushing total of the season against by far the best rush defense the Gators have faced all season.
Vanderbilt is giving up 179 rushing yards a game, including 205 to South Carolina and 302 to Georgia.
If the offensive line can play as physical as they did last week, Gillislee should be able to run all over the Commodore defense.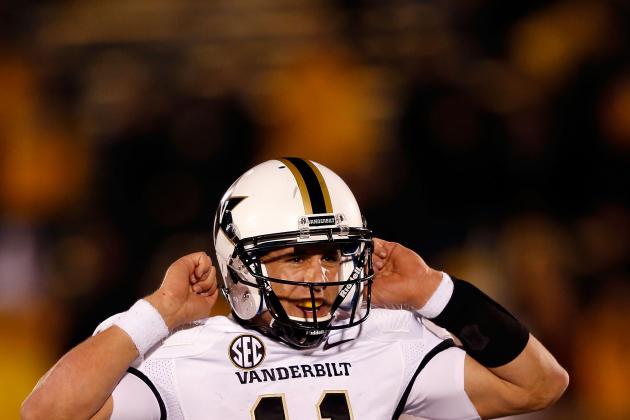 Jamie Squire/Getty Images

Jordan Rogers has had a pedestrian season so far this year. Rogers is completing just 55.3 percent of his passes with two touchdowns and two interceptions.
However, Rogers was impressive last season against the Gators. Rogers threw for 297 yards, ran for 20 and scored three touchdowns. He was able to keep the 'Dores in the game deep into the fourth quarter.
For Vandy to win this game, Rogers will need to put up those type of numbers, or better, again this season.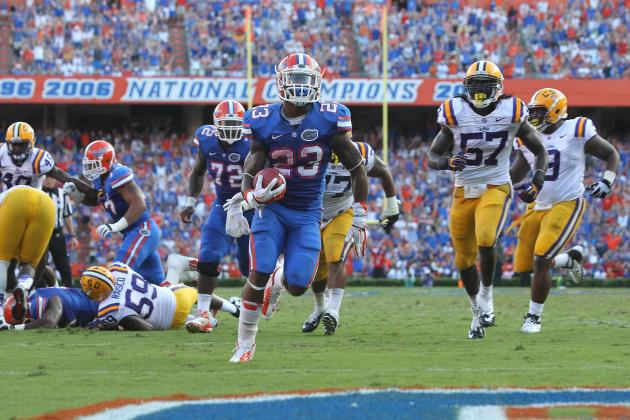 Kim Klement-US PRESSWIRE

It doesn't look past Vandy and plays its game.
Florida hasn't lost to Vanderbilt since 1988. That means almost all of Florida's players were not even alive the last time Florida lost a game in this series. With games against South Carolina and Georgia coming up after the trip to Vanderbilt, it would be easy for the Gators to look past their opponent this week.
Vanderbilt has the 11th-ranked rush defense in the SEC, allowing 179 yards a game on the ground. That plays right into what the Gators want to do on offense. Florida will look to run the ball early and often, and if it can do it successfully, it should come away with a victory.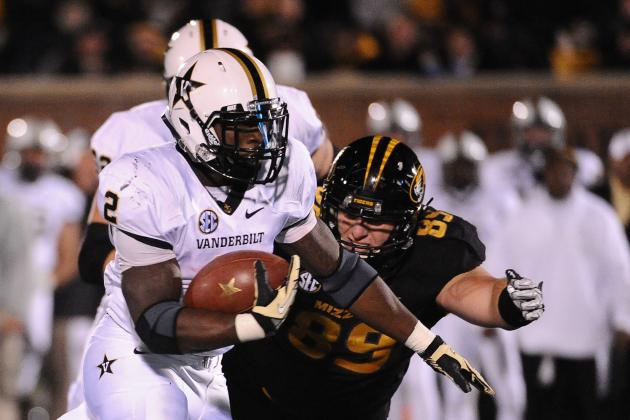 Dak Dillon-US PRESSWIRE

It wins the turnover battle, controls the clock and stops the run.
That may be easier said than done, but James Franklin's team won't be intimated by the Gators.
If Vandy can slow down the Gators rushing attack, it has the SEC's third-ranked pass defense and could give Jeff Driskel trouble if he is forced to throw to win the game.
Zac Stacy is a big physical back who is averaging over five yards per carry this year. Vandy will need to be able to run the ball effectively and win the time of possession battle to win this game.
Florida is a much more talented team than Vanderbilt, so the 'Dores will need to get some breaks. Creating turnovers and capitalizing on any Gators miscues will be key for the 'Dores on Saturday.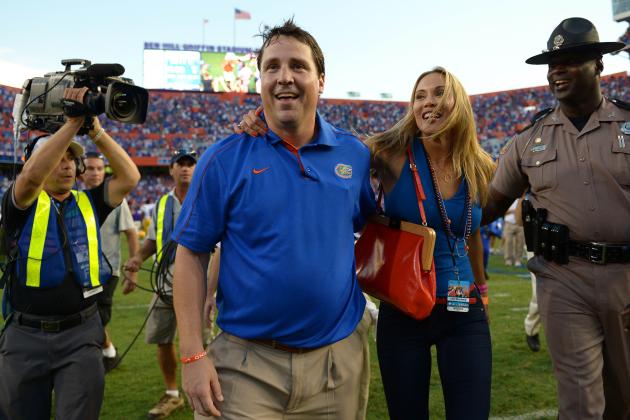 Jake Roth-US PRESSWIRE

Vanderbilt's deficiencies on defense play right into Florida's strengths.
Florida is averaging 214.8 yards per game on the ground, and the offensive line is coming off of their best performance of the season. If the offensive line has turned the corner and can continue to play like they did against LSU, Florida will end up with the best rushing offense in the SEC.
The Gators struggled to contain Jordan Rogers last season, like they struggled against every mobile quarterback in 2011, but Florida has been much better in that aspect in 2012. Florida has faced just one true dual-threat quarterback this season, Johnny Manziel. Manziel played well in the first half, but Florida was able to make halftime adjustments and held Manziel to just 44 total yards in the second half.
Florida is more experienced and disciplined this season than it was a year ago. The team has bought into Will Muschamp's system, and the head coach will make sure his team is focused on this week's game.
Prediction
Florida 27 Vanderbilt 10