Rutgers Football: What to Watch for vs. Syracuse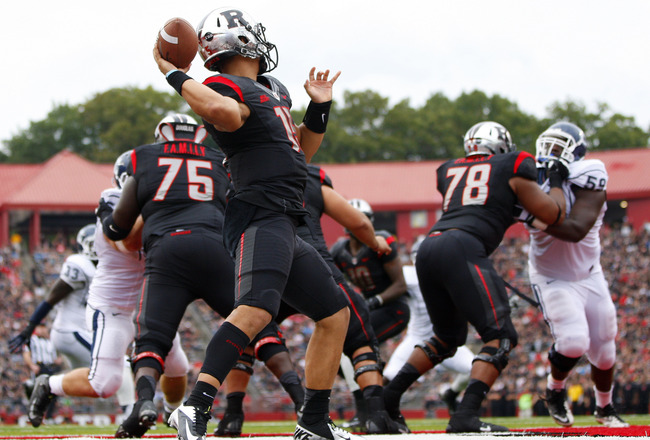 Rich Schultz/Getty Images
Syracuse (2-3, 1-0 Big East) will travel to Piscataway to face No. 20 Rutgers (5-0, 2-0 Big East) on Saturday as the teams are set to face off for the last time as Big East rivals.
Will the Scarlet Knights improve to 6-0 or will Syracuse spoil Rutgers' party once again?
Syracuse won their first Big East game of the year last week when they defeated Pittsburgh in the Carrier Dome. It was SU's first win against an FBS opponent since they upset West Virginia last season.
Meanwhile, Rutgers is 5-0 for the first time since 2006. They are coming off of a 19-3 win over UConn in a game that was not as close as the score might indicate.
The last time Rutgers cracked the AP's Top 25 was in 2009. One week after they stormed into the poll with a 7-2 record, they lost to the Orange in the Carrier Dome.
First year head coach Kyle Flood will look to keep history from repeating itself as Rutgers attempts to give Syracuse a fond farewell from the Big East conference.
Will Gary Nova Take Another Step Forward?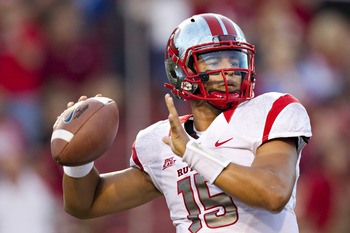 Wesley Hitt/Getty Images
Sophomore quarterback Gary Nova has impressed for the Scarlet Knights in his first season as the team's undisputed starter.
Nova has improved each week of the season. His best moment so far came at the end of last month when he led Rutgers to an unlikely road victory over Arkansas.
In that game, Nova threw for 397 yards and five touchdowns. His numbers went down a bit last week against UConn, but the sophomore from Elmwood Park, NJ still looked poised. He finished with a completion percentage above 65 percent for the second straight week. Last week's game was also Nova's third straight without throwing an interception.
Nova owes a lot of his success to his excellent group of wide receivers. Redshirt sophomore WR Brandon Coleman has come into his own this year with 278 receiving yards and five touchdowns. Seniors Mark Harrison and Tim Wright have also been reliable targets for Nova. Overall, the group has helped the young quarterback average more than 12 yards per completion.
Nova will be facing a tough Syracuse secondary that has allowed less than 200 receiving yards per game to this point. They've given up nine touchdown passes, but six of them came in the game against USC.
Gary Nova will try to exploit those numbers on Saturday afternoon.
Will Syracuse Be Able to Throw the Ball Against Rutgers?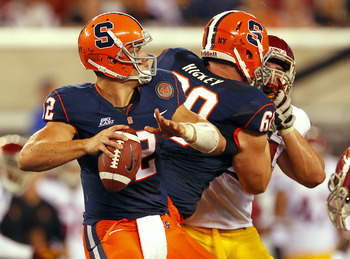 Rich Schultz/Getty Images
As streaky as Syracuse has looked this season, their passing attack is actually ranked 17th in the nation.
SU's senior quarterback Ryan Nassib has thrown for 1,552 yards and 10 touchdowns through five games.
Nassib showed in the first two weeks of the season that he is capable of getting into a shootout. He nearly brought his team back from 22 points down against Northwestern in the season opener. The following week, he hung in with No. 2 ranked USC until the end.
The Orange have a pair of wide receivers who will look to give the Scarlet Knights trouble on Saturday.
Marcus Sales is averaging 13.5 yards per completion and already has five touchdown receptions. Alec Lemon is one of Nassib's most trusted targets.
The Scarlet Knights should take note of Nassib's six interceptions through the first five games. If Rutgers can force a few turnovers, High Point Solutions Stadium will have an electric atmosphere that will be tough for the Orange to work through.
Will Jawan Jamison Continue His Impressive Campaign?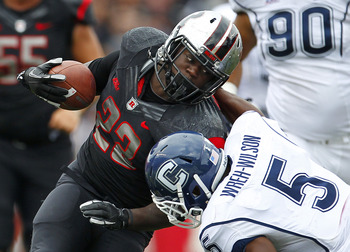 Rich Schultz/Getty Images
Jawan Jamison has been dominant running the football for Rutgers this year. He has shown shiftiness and bursts of speed but is also not afraid to put his head down and run through would-be tacklers.
Jamison has broken 100 yards rushing in each of Rutgers' first five games, averaging 120 rushing yards per game and about five yards per carry. He has broken a run for at least 20 yards in each game.
He's also displayed an ability to catch the ball out of the backfield. He's averaging just under 15 yards per reception.
Last week, Syracuse held Ray Graham (Pittsburgh's best player) to 57 yards on 24 carries. On the season, however, SU has given up an average of 146 rushing yards per game.
Jamison should be able to find daylight against this defense and potentially bust the game wide open.
Will Rutgers' Defense Remain Dominant Against the Run?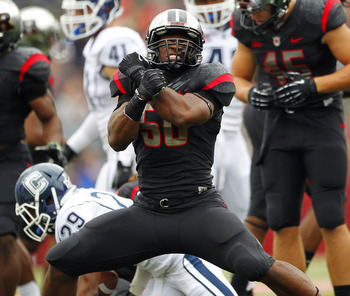 Rich Schultz/Getty Images
As good as Rutgers' offense has looked through the first half of the season, their defense may be the greatest attraction on the field this Saturday.
The Scarlet Knights allow 10 points per game, which is good for fifth in the nation, and anyone will tell you that success on defense begins and ends with stopping the run.
And stopping the run is what Rutgers does best.
Seniors Khaseem Greene and Scott Vallone lead a Rutgers unit that is allowing a measly 60 rushing yards per game. It has been near impossible to run the ball inside or out on Rutgers because of their great speed at every position.
SU's Junior running backs Prince-Tyson Gulley and Jerome Smith have split carries for the Orange this season. Although they have improved over the course of the season, neither has shown enough to suggest that they'll be able to do any significant damage against Rutgers' defense.
If Rutgers shuts down the Syracuse ground attack, the game has the potential to turn ugly for the Orange.
Is Rutgers in for an Upset?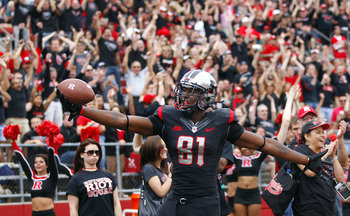 Rich Schultz/Getty Images
All of the numbers seem to point in Rutgers' favor on Saturday, but could they be walking into an ambush?
Rutgers is undefeated and ranked, a status that comes with a bull's eye. As long as Rutgers continues to win, opposing teams will put in that extra effort to beat them.
The Scarlet Knights will have to work to take Syracuse out of the game early. The longer they allow Nassib and the Orange to stick around, the more hope SU will have for the upset.
If Rutgers can put a few early touchdowns on the board and effectively shut down the 'Cuse running attack, they shouldn't have too much trouble putting the Orange away.
Follow me on Twitter for more Rutgers stories and other stuff too.
Keep Reading

Rutgers Football: Like this team?