WWE Power Rankings: Breaking Down WWE's Top 25 Superstars for Week of Oct. 7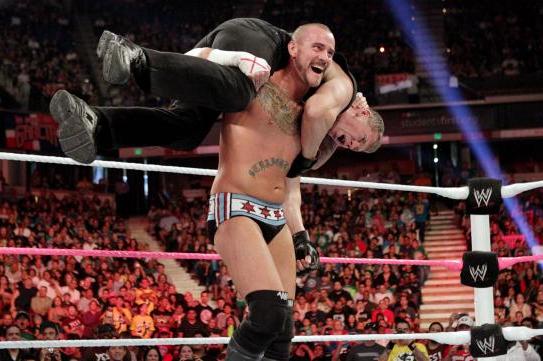 Photo courtesy of WWE.com
After a fairly lackluster week that caused RAW's ratings to drop even further, the WWE knew that it needed to do something big this week. Enter WWE Chairman Vince McMahon as he made his on-screen return to deliver a state of the WWE address, but not surprisingly he was interrupted by WWE Champion CM Punk.
That led to an old-fashioned fight between the two of them later in the night, with Ryback and John Cena both getting involved as well. It has been said that the WWE is always better when a McMahon is in the thick of things, and I believe that Vince really helped to elevate some of his top stars on Monday.
Some work still needs to be done with regards to the mid-card, but I'm much more optimistic regarding Hell in a Cell's prospects now than I was a week ago. That doesn't change the fact that WWE's roster depth appears to be quite thin right now, but I found myself much more entertained this Monday than last.
Here are my power rankings of the top 25 superstars in the WWE based purely on entertainment value and not kayfabe factors such as wins and losses.
Begin Slideshow

»
Previous Week's Ranking: NR
Primo and Epico have been used sparingly since dropping the Tag Team Championships, but they are a very entertaining team. I'm glad they got some time on RAW, even if it was in a losing effort to Ryback. I enjoy watching their teamwork and honestly wish that they would be pushed as one of the top heel teams rather than The Prime Time Players.
The fact they made the rankings despite losing a squash match does tell you how thin the WWE's roster is right now, though. Whatever the case, I hope that Primo and Epico are a key cog in the tag division moving forward.
Previous Week's Ranking: 24
I'm fairly tired of Santino Marella's shtick, but I can't deny he's still massively over with the crowd. His tag team with Zack Ryder has been fairly entertaining, but based on what happened on Monday when they lost in the semifinals of the tag-team tournament, I'm guessing that their partnership is pretty much over.
Santino was attacked by Encore for the second consecutive week, meaning a rivalry between him and the jobber group seems likely. I'm not really sure where it is leading, but I can't say that I'm particularly interested in it.
Previous Week's Ranking: 22
Oh, how the mighty have fallen. Just a few months ago, Brodus Clay was squashing everything that moved and seemed well on his way to a mid-card title run at the very least. Last week, he was beaten cleanly by Antonio Cesaro, though, and this week he was supposed to face R-Truth, but they all decided to dance around instead.
I still enjoy the Funkasaurus character and believe it has a place in the current product, but I wish that he would be allowed to show his aggressive side a little more often so that he can be a legitimate threat in a mid-card scene that is light on quality faces.
Previous Week's Ranking: 21
As expected, The Prime Time Players were eliminated in the semifinals of the tag-team tournament on Monday as they were defeated by Rey Mysterio and Sin Cara. Darren Young and Titus O'Neil aren't really championship material right now, but not every team can hold the gold, and they can play an important role as depth within the division.
The Prime Time Players were definitely much more entertaining with A.W. in tow, but both Young and O'Neil have some personality and I see them being contenders for a very long time to come—even if they never reach the top of the mountain.
Previous Week's Ranking: 23
Tensai is a guy who can be an excellent monster heel in the upper mid-card at the very least, but he has been used absolutely terribly over the past several months. He was rarely seen on television for a long period of time, but thankfully he has at least been appearing regularly as of late. He even managed to score a disqualification win over Big Show on SmackDown thanks to interference from Sheamus.
Tensai returned the favor by attacking Sheamus during his match with Wade Barrett on Monday. I'm not sure if this is leading to something, but I hope it does because I have thoroughly enjoyed Tensai's encounters with Sheamus. I don't think Tensai should be a world champion or anything of that magnitude, but he could still be very valuable as a no-nonsense heel.
Previous Week's Ranking: 19
As somebody who used to despise Heath Slater, I have to admit he has grown on me because of his entertaining in-ring antics. With that said, I don't see him ever being more than a mid-carder and I'm guessing the WWE feels the same way. His partnership with Drew McIntyre and Jinder Mahal seems random and I can't imagine it will lead to anything.
With that said, though, I'm glad that Slater is at least getting some television time and being given a platform to showcase his skills. i can't help but think that he would be better off on his own than with a couple anchors that are weighing him down, however.
Previous Week's Ranking: 20
It's pretty sad to see what Zack Ryder has been relegated to, especially considering how over he is with the fans. The signs and chants aren't as prevalent as they were several months ago, but that is entirely the fault of the WWE as Ryder went from United States Champion to jobber essentially overnight for no apparent reason.
Ryder can still get the fans fired up and they enjoy his act, so I don't understand why he is so underutilized. The mid-card face roster is absolutely barren and Ryder could be a great contender for the United States or Intercontinental Championship if given the opportunity, but the company just seems reluctant to pull the trigger.
Previous Week's Ranking: 17
Sin Cara has essentially become exclusively a tag-team wrestler as he has been paired with Rey Mysterio for the past month, but I will continue to rank them separately due to the lack of other options. Sin Cara has done very well as Mysterio's teammate, but I don't think that there is any doubt that Mysterio is the true star of the team in terms of in-ring work and popularity.
That isn't a knock on Sin Cara, though, because he has been much more enjoyable in his current role. He was a bit sloppy in the win over The Prime Time Players on Monday, but I feel like he and Mysterio have great chemistry together and it is only a matter of time before they become Tag Team Champions.
Previous Week's Ranking: 14
If there is one wrestler in WWE who I'm more tired of than any other right now, it would have to be Alberto Del Rio. His long, boring, drawn-out feud with Sheamus really damaged his credibility in my eyes, and he hasn't done anything to repair it.
A feud with Randy Orton seems obvious since Del Rio attacked him a couple weeks ago, but he has no momentum as he continues to lose tag-team matches.
Throughout Del Rio's first year or so with the company, I was a huge fan of his and felt like he had the "it" factor. His character is now unbelievably repetitive, though, and he needs something to kick start his career, whether it be a new feud or a new gimmick.
Previous Week's Ranking: 15
After losing the Intercontinental Championship, Cody Rhodes went through a bit of a rough patch and he didn't really have a direction. His partnership with Damien Sandow, though, has been very positive thus far.
I still believe Rhodes has a ton of potential as a singles star and that he can be a world champion one day, but he is much better off as a part of the company's top heel team for the time being.
Rhodes' biggest problem is he hasn't had an actual gimmick since ditching the mask, and I feel like that has damaged him. Being around Sandow has caused him to become more arrogant and entertaining, so I believe this tag-team stint will bode well for him in his single career.
Previous Week's Ranking: 13
Prior to his injury and suspension, I was pretty much done with Rey Mysterio as he just wasn't impressing me anymore. I was admittedly never a big fan of his, but I felt like he had gotten repetitive in the ring and had nothing left to offer.
Since forging a partnership with Sin Cara, though, I believe Mysterio has done great work and has elevated both himself and Sin Cara in the process.
If the plan with regards to this team is to help get Sin Cara over and to a level close to Mysterio's, then this was a great idea by creative. I anticipate Mysterio and Sin Cara losing to Rhodes Scholars, but I feel like the luchadors are the tag champions in waiting whenever Kane and Daniel Bryan split up.
Previous Week's Ranking: 16
While with R-Truth, Kofi Kingston was being held back as they were going nowhere fast as a tag team, but now it seems as though their partnership has come to an end amicably.
Kofi made his first big move as a newly-minted singles competitor on Monday as he interrupted a segment between Larry King and Intercontinental Champion The Miz.
Miz got fresh with King's wife and received a mug of water in the face for his troubles Then Kofi went on the offensive. This would seem to indicate that Kingston is next in line for a title shot, and that is fine with me.
Kofi has regularly been a contender for the mid-card titles, and I believe he's the perfect choice to take on Miz next.
Previous Week's Ranking: 12
Randy Orton has been out of action since being attacked by Alberto Del Rio after SmackDown a couple weeks ago, but he is set to make his return this week as he faces Big Show on Main Event. The Viper also said that he would be at SmackDown, so that means that we are likely to see the progression of his feud with Del Rio as Hell in a Cell draws closer.
Orton's character has really bored me over the past year and he hasn't been in the main-event scene for over a year either, so I'm hoping that he shakes things up in the near future. That doesn't necessarily mean a heel turn, but his persona is stale and even though he usually turns in solid in-ring performances, the fans need something more to grasp onto.
Previous Week's Ranking: 18
The United States Champion Antonio Cesaro didn't do much of anything between SummerSlam and Night of Champions, but since defending his title against Zack Ryder, he has really begun to get a major push. Cesaro defended his title yet again against Santino Marella, dumped Aksana and has scored wins over Brodus Clay and Tyson Kidd respectively over the past couple weeks. He even seemed to drop the annoying five languages gimmick on Monday.
Cesaro has endless potential as an in-ring competitor and has proven to be capable on the mic in the past as well, so I'm glad to see that there finally seems to be a plan for him. He still doesn't have anyone to feud with and wrestle at Hell in a Cell, but at least there appears to finally be a direction for him.
Previous Week's Ranking: 6
I have really enjoyed Damien Sandow and Cody Rhodes as a team thus far, but I would tend to say that the partnership has helped Rhodes more than Sandow. While Sandow didn't have an obvious feud taking place when the team was formed, he was doing just fine on his own and would have thrived regardless. teaming with Rhodes has stifled him to some degree when it comes to cutting promos and getting heat with the fans.
With that said, Sandow continues to impress me with his character and his in-ring ability, so I'm fine with Rhodes Scholars for the time being. Whenever that team dissolves, however, Sandow will be poised to become a legitimate star.
Previous Week's Ranking: 11
I have been waiting since his return for something of note to happen to Wade Barrett and it finally did on RAW as he took on World Heavyweight Champion Sheamus. Barrett lost the match via disqualification due to interference from Tensai, but he looked like Sheamus' equal throughout and they really put on a good contest. This could very well be a one-off thing, but I hope it leads to a feud eventually.
Barrett has all the potential in the world as he has great size, a unique look, good wrestling ability and top-notch mic skills, but he has been relegated to mostly squash matches over the past several weeks. Barrett is ready to take that next step and Monday's match was further proof of that.
Previous Week's Ranking: 8
I'm not overly thrilled with Big Show serving as Sheamus' hold-over feud, but I suppose there were worse choices. My biggest issue is the way that Big Show has been booked.
He looked very strong in defeating Randy Orton, but he looked like little more than a big goofball in the debate last week. Then, on this week's episode of RAW, he pushed Sheamus out of the ring, but that was about it.
In order to look like a credible threat to Sheamus at Hell in a Cell, Big Show should be made into a seemingly unstoppable force. Despite his size and demeanor, I don't believe that anyone thinks he can truly beat Sheamus, though. At least he isn't Alberto Del Rio, though.
Previous Week's Ranking: 10
The Miz hasn't been put in many high-profile situations as of late, but he continues to impress me each and every week. On this week's edition of RAW, he joined famed talk show host Larry King for an impromptu interview, and he truly shined. Miz played the role of the slimy heel well as he insulted King and hit on his wife, and he just seemed like he belonged in that venue.
The Intercontinental Champion was interrupted and attacked by Kofi Kingston, and all signs point to them facing off at Hell in a Cell. Miz hasn't had an actual feud since becoming Intercontinental Champion a few months ago, so I was encouraged to see that and hope that Miz picks up another pay-per-view win.
Previous Week's Ranking: 9
Sheamus' run as World Heavyweight Champion hasn't been particularly captivating thus far, but I'm willing to give him a pass. I don't necessarily blame Sheamus because he was stuck in a dead-end feud with Alberto Del Rio for a few months and there was nothing he could do to make it interesting. Now that he is out of it, though, he can truly start to make some headway.
I'm not exactly in love with Sheamus' smiley character and whimsical promos, but I believe that he has been great in the ring as of late with top-shelf matches against Damien Sandow and Wade Barrett on RAW over the past two weeks.
Great matches can only take Sheamus so far, though, and I believe he needs a truly interesting feud against someone like Barrett, The Miz or even Randy Orton become an entertaining champion.
Previous Week's Ranking: 7
It has been a few weeks since John Cena last wrestled a match, but he moves up one spot in the rankings this week for his mere presence. The RAW ratings reached a low point last week and I feel like that had a lot to do with Cena's absence.
He came back this week and even though he cut an awful promo and got the better of CM Punk with one arm again, the fact that he was on the show made it seem much more important than last week.
I'm not a Cena fan by any means, but I'm interested to see things are going with regards to him and Punk. I have little doubt that Punk will choose to face Cena rather than Ryback at Hell in a Cell, but it is unclear when Cena will be able to step back in the ring. Regardless of that, the Cena vs. Punk feud is still the most important thing in the company by far.
Previous Week's Ranking: 5
Another week, another couple losses for Dolph Ziggler, but that doesn't change the fact that he is still one of the best things going in WWE. Ziggler is an absolute workhorse who routinely wrestles on each of the WWE's top shows every week and he constantly puts on fantastic matches, but he's rarely rewarded with wins.
He lost to WWE Champion CM Punk on SmackDown, which is fine, but he proceeded to take the pinfall in a loss to Team Hell No along with Alberto Del Rio on RAW as well.
It seems like the WWE just doesn't know how to book a Money in the Bank holder. Ziggler is going to be the World Heavyweight Champion at some point in the next nine months, but he isn't being built up to look like a credible one. I fear that the writers won't rectify that before he cashes in, but I still can't wait to see the Show Off with championship gold.
Previous Week's Ranking: 3
The exposure of Team Hell No has been scaled back to some degree over the past couple weeks, but Kane and Daniel Bryan continue to please the crowd as the Tag Team Champions.
Kane and Bryan put on yet another solid match this week on RAW as they defeated Dolph Ziggler and Alberto Del Rio and their dysfunctional ways have really added a lot of intrigue to the tag division.
Kane is an absolute marvel as he recently celebrated his 15-year anniversary in the WWE, not counting the Isaac Yankem and Fake Diesel characters. In terms of doing work for the company, Kane may be the most valuable superstar the WWE has ever had.
He has barely taken time off over the past 15 years and he is a staple on the house-show circuit, RAW, SmackDown and wherever else he is needed. He has a great character, is good on the mic, underrated in the ring, and he continues to be an integral part of WWE programming even today.
Previous Week's Ranking: 2
Whether it involves in-ring work, cutting promos or whatever else, I simply can't get enough Daniel Bryan these days. He became better and better as his World Heavyweight Championship reign went along, but he has simply exploded since teaming with Kane.
Not only does Bryan continue to be one of the best pure wrestlers in WWE and even in the world, but he has a fantastic personality and he has played his role as a tweener perfectly.
I particularly like Bryan in his backstage segment on Monday with Larry King and his wife. It was simple, but he just seems to have a really good comedic delivery that wasn't apparent early in his WWE tenure.
Bryan is going to be one of the WWE's top singles competitors for a very long time, but having him and Kane resurrect the tag-team division was a great idea, and I believe it will pay dividends for the company over the long term.
Previous Week's Ranking: 4
He may be limited and he may be dangerous in the ring, but Ryback is unquestionably one of the hottest things going in the WWE right now. Even when he was simply squashing jobbers on a weekly basis, Ryback was getting a great reaction from the crowd and that was only increased as of late.
Ryback has come to the aid of Mick Foley, Jim Ross and Vince McMahon against CM Punk in each of the past three weeks and he suddenly seems like a potential main-event guy.
I am very eager to see where his feud with Punk leads, though, because I have to believe that Punk and John Cena will be doing battle at Hell in a Cell. That leaves Ryback without any true rivalry or direction.
My guess is that his mini program with Punk has been for the purpose of seeing how the crowd reacts and seeing if he is ready to take the next step. I believe that he is, so the WWE should give Ryback something meaningful to do and see if he continues to thrive.
Previous Week's Ranking: 1
WWE Champion CM Punk has been saying for the past few months that he should be the most important person in the company, and that continued to be the case on Monday.
Punk engaged in a street fight with Vince McMahon in a scene that probably reminded many of the battles that Vince and "Stone Cold" Steve Austin had once upon a time. Punk gained the upper hand, but Ryback and John Cena spoiled his plans, so he escaped through the crowd.
Punk was given an ultimatum by Vince as he will have to choose to face either Ryback or Cena at Hell in a Cell, but the real story developed when Punk punched a fan in the crowd. The fans were touching and pushing Punk and there was little security in sight, so he decided to take matters into his own hands.
Punk was wrong and may have cost the WWE a lot of money with his actions, but it helped further his heel persona even more and ensured that people would continue to talk about him.
Follow @MikeChiari on Twitter and listen to him on Ring Rust Radio.