Cardinals vs. Nationals: 3 Reasons St. Louis Will Win the Series in Washington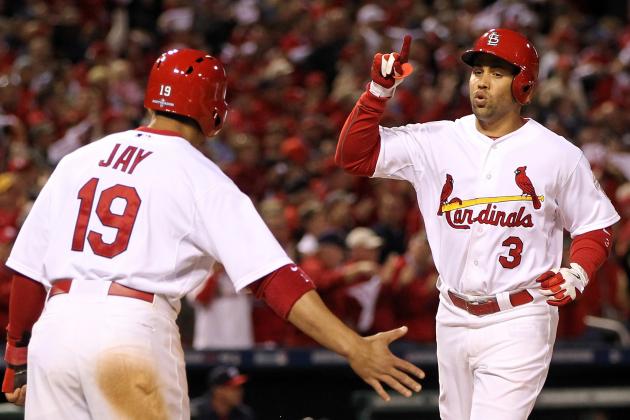 Jamie Squire/Getty Images
Jon Jay and Carlos Beltran had 6 RBIs combined in Game 2.
The St. Louis Cardinals were predictably unpredictable during the 2012 regular season.
With a maddeningly inefficient offense, the Cards struggled in one-run contests with a record of 21-26, while finding comfort in crushing opponents by five or more runs (31-17).
And in splitting the first two games of the NLDS with the Washington Nationals, the Cards were true to form.
After letting the Nats off the hook in a 3-2 Game 1 loss, the Cardinals flexed their muscles Monday night, battering Jordan Zimmerman and six Washington relievers in a 12-4 laugher.
The Nationals leave the Gateway City with a two-game split and probably feel fortunate to do so.
For the Cardinals, it means they were one game-breaking hit away from a commanding 2-0 lead in the best-of-five series.
But as the postseason comes to the Washington, D.C. area for the first time since 1933, the Cardinals have the Nats right where they want them.
Here are three reasons why.
Begin Slideshow

»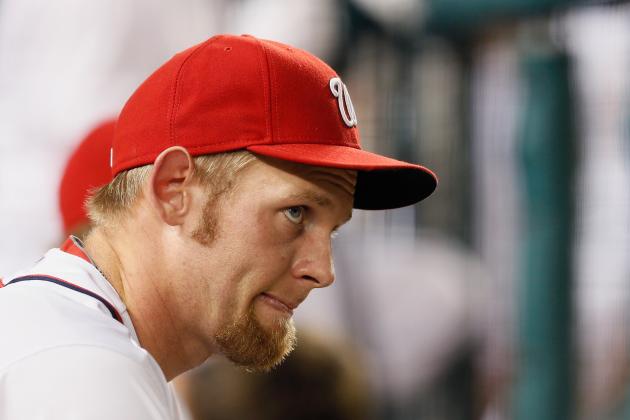 Rob Carr/Getty Images
Stephen Strasburg looks a little helpless watching his team play on.
As a baseball fan, I questioned the Washington Nationals' decision to shut down Stephen Strasburg for the year, halting his workload at 159.1 innings and preserving his surgically-repaired elbow for the Nats' 2013 campaign.
As a baseball fan, my inner GM screamed, "The Nats will be in the playoffs! Put Strasburg in the bullpen for a month! Let him throw batting practice!"
Yet now, as a Cardinal fan, I simply want to send Nationals general manager Mike Rizzo a dozen roses and a box of chocolates for removing the Nats' best hurler from the postseason.
Looking at Strasburg's peripheral stats, it's somewhat amazing the league reached him for a 3.16 ERA, though the 15 home runs allowed is probably the main culprit.
Regardless, with Strasburg removed from the equation, the Cardinals have the upper hand in at least two of the final three remaining pitching matchups in this LDS.
Chris Carpenter is a heavy favorite over the erratic Edwin Jackson. Kyle Lohse's veteran savvy will have the advantage against young Ross Detwiler. And Adam Wainwright and his tight curve ball doesn't appear totally outgunned against Cy Young favorite Gio Gonzalez, who walked seven batters in five innings in Game 1.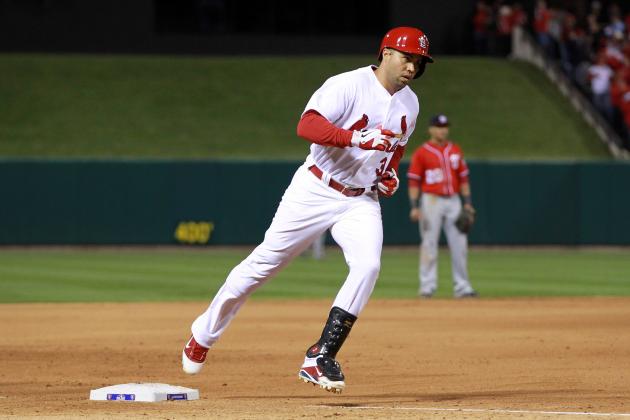 Dilip Vishwanat/Getty Images
Carlos Beltran launched two home runs in Game 2.
The Cardinals have had a Moneyball-style offensive philosophy for a number of years now.
Batting averages can slump. Power may come and go. But the slow and constant burn of walks are like coal in the belly of a steam engine. And once that locomotive starts rolling downhill, it can be impossible to stop.
Despite an up-and-down season, the Cards led the majors in on-base percentage as a team at .338 and have already worked 12 walks in three postseason games.
During the second half of the regular season, the Redbirds had to rely too heavily on Yadier Molina and Allen Craig as they appeared to be the only two slump-proof bats in the lineup.
Carlos Beltran's paltry second-half average of .236 went a long way toward raising the average blood pressure of the St. Louis metro area during the dog days of summer.
Matt Holliday's mediocre .271 post All-Star mark felt even more vacuous since he was struggling in the pivotal third slot in the batting order.
While Holliday (playing through various aches and pains) hit just .226 in September, Beltran was finally starting to warm up after three icy months, batting .280 with a healthy .386 on-base percentage.
The dynamic duo now seem poised to lead the Cardinal offense in the postseason.
Holliday is getting on base at a .429 clip, mitigating a .200 playoff batting average, and Carlos Beltran has once again transformed into a postseason Paul Bunyan, crushing two long home runs in Game 2 of the LDS.
With the high-priced All-Star cornerstones again producing at an elite rate, Molina, Craig, and David Freese can all focus on staying within themselves, each bringing their .300 average, 20-home run production to round out the elite St. Louis offense rather than carry it.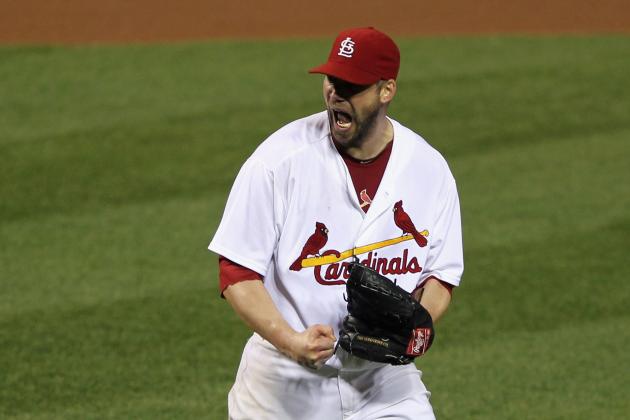 Jamie Squire/Getty Images
Chris Carpenter is back where he belongs—in the postseason.
Go ahead.
Tell Cardinal fans they don't see a red cape hanging off Chris Carpenter's shoulders, flapping in the October breeze as he stands atop the pitcher's mound in hostile territory.
His 9-2 career postseason record speaks for itself. And as the stakes climb, the Cards' staff ace only rises to the occasion, demonstrated by his sterling 3-0 World Series record.
Today's baseball metrics analyze all aspects of a player's performance on the baseball diamond, from fielding independent ERA to determining the best baserunner at going from first to third on doubles to right field during day games on Tuesdays.
But one thing that can't be measured is postseason success, and the Redbirds bring more of it to the table than any team in baseball over the past decade with three World Series trips in the past eight years, including two miraculous titles.
The Cardinals' pitching staff finished a respectable eighth in the majors with a 3.71 ERA, all while getting just 17 innings from Carpenter in three starts.
Interestingly, Carpenter's ERA in his three appearances is an identical 3.71.
An eerie coincidence as we approach Halloween, or undeniable evidence that Carpenter has been guiding them the entire season?
As Carpenter faces off with ex-mate Edwin Jackson in a pivotal Game 3, the 37-year-old warrior is probably the last man they want to face, even if the precocious Nats don't even know it yet.
Odds are they will when it's all said and done.