When the Carolina Panthers drafted Luke Kuechly ninth overall in last April's draft, many fans were left scratching their heads.
Why draft a linebacker when there were holes to address on the defensive line and the secondary?
It seems the Panthers' front office knew something we didn't, or they were looking for insurance given the injuries that plagued the linebacking unit the past three seasons.
To most fans it didn't really make sense to draft a linebacker, especially a middle linebacker, when you had a proven veteran like Jon Beason in place. However, in 2011, Beason went down in the first game and missed the rest of the season.
The defense seemingly fell apart.
Drafting Kuechly seemed to be the ideal solution. It allowed Carolina to not only add depth but have a gifted, young defensive player taking snaps with the first team and learning from Beason and Thomas Davis. Kuechly had proven in college to be versatile enough to play on the inside or the outside. He had a reputation for being where the ball is and getting involved in plays.
After much debate and speculation about where Kuechly and Beason would line up when the season started, Ron Rivera and Sean McDermott decided to have Kuechly start on the outside. He played the position through the first four games and while he wasn't spectacular, he performed well enough for the coaching staff to start him in place of the injured Beason at middle linebacker against Seattle.
Kuechly finished with 11 tackles and an interception. Not bad for a guy making his debut on the inside.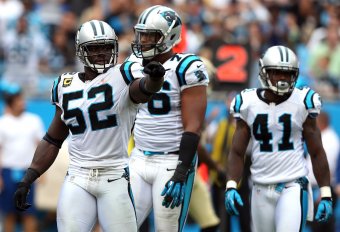 Streeter Lecka/Getty Images
Of course, when Beason returns from his injury he will go back to his spot at middle linebacker and Kuechly will assume his role on the outside.
However, let's consider some things first.
Even before Beason's injury, the defense was terrible. The Panthers are presently ranked 19th in the league against the run, allowing opponents to average almost 250 rushing yards per game against them. Those aren't the kind of numbers you would expect with a player of Beason's caliber in the lineup each week.
Through the first four games with Beason starting in the middle, Carolina allowed 130 yards to Tampa Bay, 163 yards to New Orleans, 125 yards to the New York Giants and 121 yards to Atlanta. Two of those teams have running backs who aren't exactly lighting it up every week nor have a reputation as an elite or emerging talent at running back.
Against Seattle and with Kuechly starting up the middle, the Panthers yielded 98 rushing yards and kept Marshawn Lynch limited to 85 yards on 24 carries.
While it's not a significant improvement, the fact that the Kuechly-led defense limited a dangerous running back like Lynch and a mobile quarterback like Russell Wilson to just 98 yards is very telling. Perhaps the first move to turning around the team starts on defense.
Carolina needs to start Kuechly at middle linebacker and have Beason go to the outside.
The Panthers are 1-4 and have nowhere to go but up. They are all but eliminated from playoff contention, so a move like this is only logical.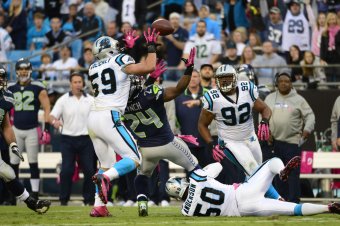 US PRESSWIRE
Kuechly not only put up the numbers and showed the awareness necessary to play the position and make the plays, but he did an admirable job of position his teammates before the snap and displayed a lot of the leadership necessary to hold a defense together.
Such a position swap between Kuechly and Beason should not be out of the question.
Beason was thrown into the mix his rookie year after Dan Morgan went down with an injury. Beason has not looked back since. He may be hampered from his injury – a torn Achilles – but he still has the desire to be a starter on this team.
It might be in the best interest of the team to shake things up a bit.
Another reason why it makes sense is because Kuechly had his best game of the year, and he seems really comfortable at the position. Beason is on pace to finish well below his normal numbers in tackles this year and that was before he missed the Seattle game.
Yes, such a move may stir up controversy, but it will allow Carolina to keep the original linebacker corps intact. With a season already headed for disappointment, how would such move hurt?
The Panthers owe it to themselves and their fans to see what happens.