NBA Preseason Indiana Pacers Player Power Rankings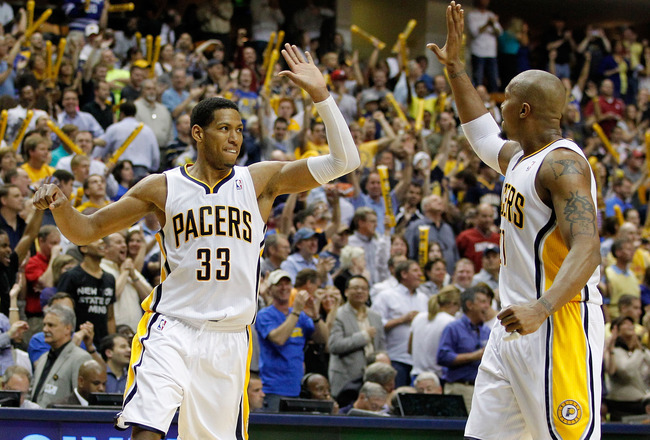 Gregory Shamus/Getty Images
The Indiana Pacers have a highly skilled roster and the preseason is a fitting time to assess their player power rankings.
The Pacers enter this season with high hopes. After battling the Miami Heat to six games in last year's playoffs, they have their sights on taking the next steps this season. These next steps could potentially include a trip to the NBA Finals.
With Derrick Rose currently sidelined, the Pacers are the frontrunners to win the Eastern Conference's Central Division. Their roster is continually developing and their core has established a quality reputation league-wide.
They also have some talented players on the bench, and it's now time to situate where everyone ranks on their roster.
Here are the pre-season player power rankings for the fast-rising Pacers.
Numbers 13-15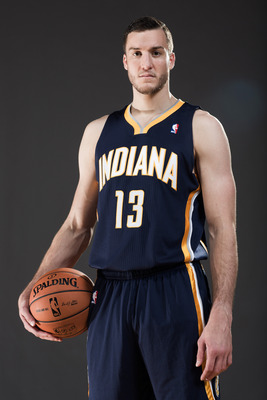 Nick Laham/Getty Images
15. Orlando Johnson
Orlando Johnson was selected in the second round of the 2012 draft by the Sacramento Kings and was then dealt to the Pacers for cash. He comes from UC Santa Barbara and gives the Pacers bench a potential scoring weapon, due to his long-range shooting ability (shot 40 percent from downtown his last two collegiate seasons). It's unlikely that he'll log any minutes, but his scoring capabilities are worth probing for the future.
14. Jeff Pendergraph
Jeff Pendergraph is tough rebounder and that's about it. His offensive skills are limited and he's essentially just a "garbage man" in the paint. Don't expect him to garner significant minutes this season.
13. Miles Plumlee
First round pick Miles Plumlee comes to the Pacers after a quality career at Duke. With his background under Coach Mike Krzyzewski, he's undoubtedly well-coached. However, his offensive skills are questionable and it's hard to know if he was worth selecting in the first round. Plus, he's already 24 years old, making him a rather old rookie.
12. Sundiata Gaines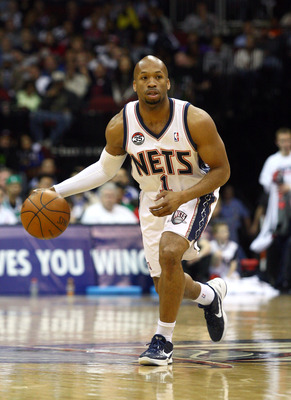 Chris Chambers/Getty Images
Sundiata Gaines possesses a very unique playing style. He struggles shooting the rock but is largely effective on the defensive end, with a specific knack for netting steals.
He particularly has value pestering point guards in full court press scenarios, and such value could earn Gaines some crucial minutes at various points in games.
What's more, he also rebounds exceptionally well for a guard and gets to the line frequently on offense.
Gaines has proven himself the past few seasons and he should continue to see court time in Indiana. However, his minutes may be rather limited since George Hill and D.J. Augustin will likely command the majority of minutes at the point.
Although, neither Hill nor Augustin are anywhere near being elite floor generals, so if Gaines rattles off some impressive early season performances, perhaps he will challenge them for playing time.
11. Sam Young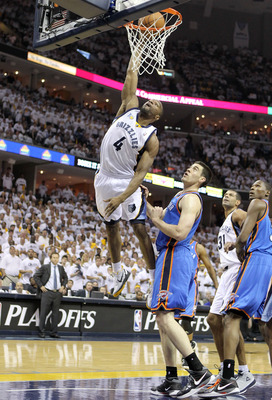 Andy Lyons/Getty Images
Sam Young's game is centered upon playing one-on-one basketball, and he isn't especially effective at this.
Last season, he shot 35.4 percent from the floor and did not appear like a player who should consistently have the opportunity for isolations.
With that said, he is strong and does have offensive potency when he finds a rhythm. He is also a decent defender.
Unfortunately, he'll likely struggle to find minutes with the Pacers as he should find himself behind not only Danny Granger and Paul George, but also Gerald Green and Lance Stephenson.
This spells trouble for Young, because he is a rhythm player who needs repetitions. If this doesn't come and his confidence spirals, don't be surprised if he's soon playing elsewhere (potentially overseas).
10. Lance Stephenson
Jonathan Daniel/Getty Images
Lance Stephenson is just 22 years old, so there is still plenty of time for him to develop. He's shown flashes of potential in his young career, but he's also shown questionable decision-making and shot selection.
He's best termed as a "prospect" who the Pacers hope will continually blossom. Because of this, he should find himself in the rotation, but some nights his minutes will likely be rather limited.
He's a quality athlete but he desperately needs to develop maturity, both in regards to his play and his character. If this happens, he could become a stellar weapon on Indiana's bench.
But if maturity doesn't ensue, don't be surprised if he's soon buried on the bench and Sam Young begins to snag his minutes.
9. Ian Mahinmi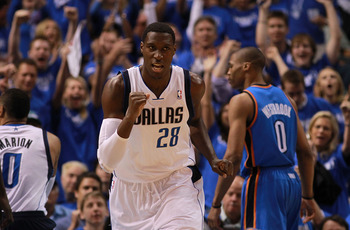 Ronald Martinez/Getty Images
Ian Mahinmi is a typical reserve big man—a big body who takes up space and has limited skills.
He is an effective rebounder and gets to the foul line at a very high rate. He is also agile defensively.
However, he commits an excessive number of fouls (averaged a foul every 6.5 minutes last season) and is largely inept when playing away from the basket.
Mahinmi should only see around 10-15 minutes a game. He'll only log more if Roy Hibbert is in foul trouble.
Overall, don't consider Mahinmi a long-term prospect, because he is slightly uncoordinated and it's doubtful that he'll make major progressions.
His value is primarily seen in his ability to crash the boards and accumulate garbage buckets. Players like this aren't anything to write home about, but they can play an "X-factor" role in random games. This is exactly how Mahinmi figures to contribute for the Pacers this season.
8. D.J. Augustin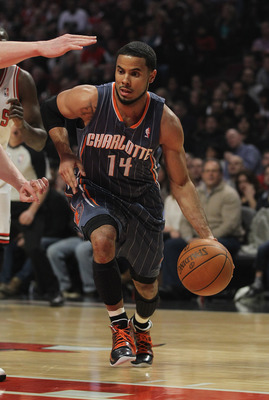 Jonathan Daniel/Getty Images
Newcomer D.J. Augustin has showed promise in his young career as a point guard. He has particularly shown this promise in his ability to distribute.
But Augustin, like Tyler Hansbrough, has some clear downsides. He isn't an efficient scorer, as he shot a dismal 37.6 percent from the field last season with the Charlotte Bobcats.
He also struggle defensively, where he easily gets posted up (he is just 6'0'') and simply cannot contain the league's elite guards.
He has what it takes to be a backup, but is he the best backup on the roster? He is being paid like he is, as he's making $3.5 million this season.
However, Sundiata Gaines brings more defensive tenacity and could be a more viable weapon against an elite point guard like Rajon Rondo or Deron Williams.
Augustin will definitely receive his chances to prove his worth, but he is small and simply doesn't bring much versatility. As a result, he may quickly slide down the player power rankings come mid-season.
7. Tyler Hansbrough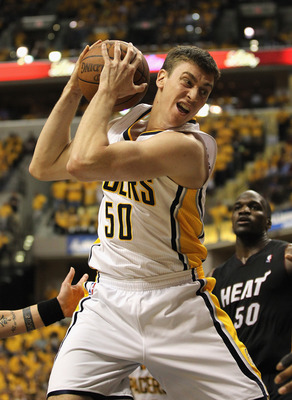 Jonathan Daniel/Getty Images
Tyler Hansbrough's basketball career has always featured hustle, strength and pure determination. While lacking in athleticism, these attributes are always constant, and that doesn't figure to change anytime soon.
There are also some blatant negatives to "Psycho T's" game. He struggles with his mid-range jumper, but continually attempts it. He also lacks sufficient size and doesn't block shots at a high rate.
Despite his flaws, he should receive decent minutes off the bench to spell veteran David West. However, if he doesn't meet expectations, it could only be a matter of time before Jeff Pendergraph begins to steal some of his playing time.
Hansbrough's game is centered upon toughness and this has carried him throughout his decorated college days and his NBA career with the Pacers. It warrants him minutes off the bench, but it isn't enough to garner him more than that.
Therefore, the Pacers hope his grit remains an integral part of their bench, especially since they have their sights on winning the Eastern Conference's Central Division.
6. Gerald Green
Gerald Green is the definition of a "high-flyer" on the basketball floor (Don't believe me? Watch the above video). This has always been known about him, but he had struggled in other areas of his game up until last year.
Playing with New Jersey last season, Green had a very impressive end of the year, averaging 15.1 points per game during the month of April.
He specifically revealed an ability to hit the long ball, connecting on 39.1 percent of his treys last season. Add this to his already incredibly athletic style of play and there is suddenly a great deal of value in this 26-year-old.
The question is if last year was a fluke, or if it was the trajectory Green's career is going. He was playing for the lowly Nets, so perhaps his numbers were a bit inflated.
However, he also dominated the D-league early last season before joining the Nets, so it appears like he's on a mission.
That mission netted him a three-year deal with Indiana, and he figures to be a core contributor off the bench, deserving of a sixth man role.
As a result, the Pacers are even more loaded with athleticism on the wing. Paul George, Danny Granger and Green give Indiana quite an array of versatility to guard top-notch opponents, namely, the Miami Heat.
5. George Hill
Jonathan Daniel/Getty Images
George Hill cashed in on a huge contract in the offseason (5 years, $40 million). He did help the Pacers immensely down the stretch last year, but they are clearly expecting some even bigger things from him in the coming years.
Hill's effectiveness is seen in ways that are not typical of a point guard. He's a combo guard and can score off slashes through the lane, and he is capable of guarding point guards or shooting guards.
He is also a quality spot-up shooter and a versatile defender. His long arms wreak havoc for opposing floor generals.
Therefore, he is clearly a serviceable point guard and deserving of a starting spot. However, he is not anywhere near being elite because he lacks the ability to create and distribute.
He has never averaged a high mark on assists, and he doesn't attack the rim off the dribble with much firepower.
Because of this, it's easy to wonder if he's worth the hefty contract he received, but perhaps this points to the style of play the Pacers are looking to play. They are founded on defense and will slow things down on offense with big Roy Hibbert in the middle.
Hill is ideal to direct such an offense, because his game isn't suited to lead the fastbreak or constantly create for others.
4. David West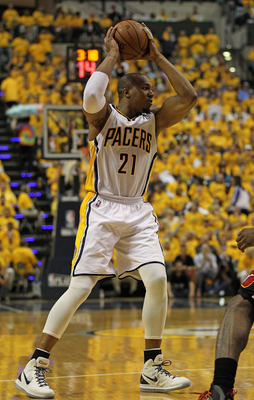 Jonathan Daniel/Getty Images
David West is one of the more underrated big men in the game. He was a crucial addition to the Pacers last season and it showed in their success. He helped take them from the 8th playoff seed in the East in 2011 to the 3rd seed last spring.
West is distinctly valuable on the offensive end, where he is a proven mid-range threat and has an adept post game. He's also fiery and attacks the rim with aggression.
Defensively, West is average but he at least accumulates his fair share of rebounds.
It's unlikely that he'll ever become an All-Star in Indy, but he is an above-average power forward who often gets overlooked. Teams now focus on Hibbert when they play the Pacers, but West can easily end up being the difference-maker.
He's a quality veteran and is playing in a contract season. He should continue to show his value in Indiana and remain a pivotal reason for their steady victories.
3. Danny Granger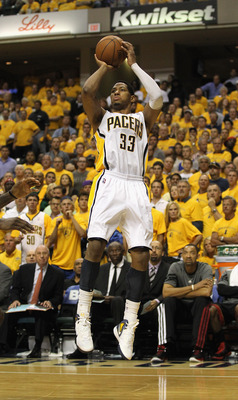 Jonathan Daniel/Getty Images
In Danny Granger's mind, the Pacers are likely his team, and in many ways he is still their leader.
However, the development of Hibbert and George has been drastic, and while it may make Granger's job easier, he is no longer the main threat on the roster.
He did average 18.7 points per game last season while also supplying quality defense with his size and length.
With that said, his shooting percentage was subpar (41.6 percent) and he is a bit trigger-happy.
He will need to learn to defer to Hibbert and George more, as they are budding superstars who are deserving of more shots.
It would honestly be wise of Granger to take less shots and concede to drop his average to closer to 15. In this, his shooting percentage could go up because he's taking wiser shots while helping the Pacers reach their ceiling.
This is the approach Granger should take for this season, but it might be difficult for him to establish this style of play since he's been the Pacers focal point for many years (and he's being paid over $13 million this season).
He's still a highly skilled player with a great basketball body, but his role needs to be reassessed as the Pacers are seeking to become true contenders.
2. Paul George
Jonathan Daniel/Getty Images
Paul George is on the rise toward superstardom. Fans have been in awe of his potential the past couple seasons, and this needs to be his breakout year.
He's fully capable of this. He can score off penetration and plays above the rim exceptionally well. He also has the length and quickness to become one of the best perimeter defenders in the league.
His own battle will be with himself. Is he ready to be more assertive and develop a prominent role on this team? Can he play effectively for a full game or just in spurts?
If he can mature in these ways, he could find himself on the All-Star roster come mid-season.
George earns the No. 2 position here because we should expect to see these steps made in the coming months. If his aggression is constant, there's no reason why George can't become one of the most potent wings in the league.
The bottom line is that he has all the tools to become a superstar, and this is the season when he needs to show his realized potential. If he does, the Pacers will not only win the Central Division, but they could even find themselves shocking the NBA world by reaching the Finals.
1. Roy Hibbert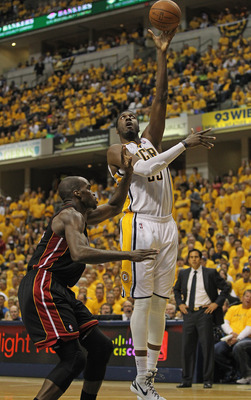 Jonathan Daniel/Getty Images
Roy Hibbert made his first All-Star appearance last season and it helped him notch a long-term extension in the offseason.
His numbers were stellar across the board: 12.8 PPG, 8.8 rebounds per game and 2.0 blocks per game.
However, there is still plenty of room for improvement. Last year, center Andrew Bynum averaged 18.7 PPG, 11.8 RPG and 1.9 BPG, and while it may be drastic to suggest that Hibbert can match such numbers, it isn't outlandish.
If Hibbert is to prove his All-Star worth, he needs to at least up his average to around 15 and snag double figure rebounds. He's poised to make this happen if he can stay healthy.
Hibbert is what makes the Pacers unique and that's why he's No. 1 on their rankings. He plays the center position how it used to be played, with his back to the basket. His playing style has raised eyebrows and the Pacers now seek to run much of their offense through him.
Therefore, he is the most important piece to the way they function. If he can provide substantial production in the middle, he will enhance the rest of what Indiana does. He will open up things all over the floor, and the Pacers many weapons will all feed off their 7'2'' beast.
Keep Reading

Indiana Pacers: Like this team?