United States vs. Antigua and Barbuda: Individual Battles That Will Decide Match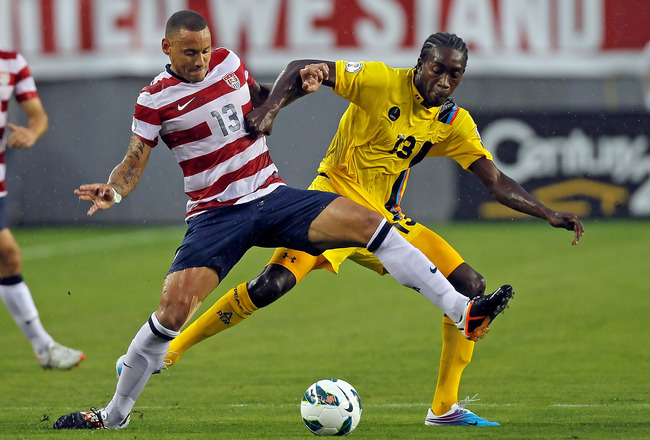 J. Meric/Getty Images
It's the last pair of matches in the third round of CONCACAF World Cup qualifying, and it's as down to the wire as it can get.
The United States, thanks to a demoralizing 2-1 loss to Jamaica last month, earned just seven points in their first four matches—drawing them equal with Jamaica and Guatemala for the lead in Group 1.
With just two matches to go, the Americans have their destiny in their own hands. A victory and a draw will advance them into the final round of qualifying.
Antigua and Barbuda sits as their first opponent, and the Benna Boys are no lightweight, especially at home. They've drawn against Jamaica and lost by the score of 1-0 against Guatemala. If the United States expects to march into Sir Vivian Richards Stadium and dominate Antigua and Barbuda, they'd better think again.
On paper, the squads are unevenly matched, with the Americans playing club football against better competition and Antigua and Barbuda playing largely against fellow Caribbean players. But it's individuals matched up against each other who will decide this match.
Who are they and what battles will be key on Saturday night?
Join me as I present the players and their respective opponents who will clinch the group for the United States, or give Antigua and Barbuda a story to tell for decades to come.
Clint Dempsey vs. Marc Joseph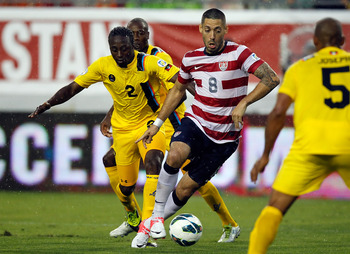 J. Meric/Getty Images
Marc Joseph has carved out quite a career for himself in professional soccer.
The oldest player on Antigua and Barbuda's roster, the centre-back has played defense for 10 different clubs in his 17-year career, earning nearly 500 appearances at the club level since 1995.
Anytime Clint Dempsey made it near Antigua and Barbuda's box in the previous matchup, he always had to contend with the wily veteran.
Joseph is walking in the twilight of his career, but he makes life difficult whenever the Americans made an advancement toward their box. The Benna Boys may have lost 3-1 last time around, but that was away from home, and anyone who saw the match would say the visiting side matched up pretty well for the majority of the match.
This is Joseph's last go at glory, and you better believe he's going to try his darndest to get in Dempsey's way. If Dempsey plays as well as he has with Tottenham for the last few weeks, it will make little difference how well Joseph plays—the American will sneak one between the posts.
Michael Bradley vs. Peter Byers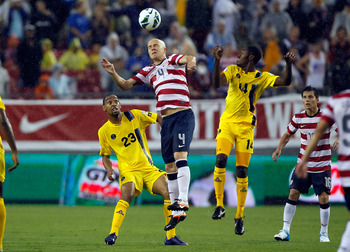 J. Meric/Getty Images
Only five defenders were named to the 24-man roster that will face Antigua and Barbuda, so I have to imagine that Klinsmann has more of a defensive role in mind for deep-lying midfielder Michael Bradley.
And that's quite alright with me.
Oguchi Onyewu showed a lack of awareness and athleticism against Antigua and Barbuda when the two teams first met, and it cost the United States some pride. Substitute Peter Byers was able to cut inside when Onyewu took a horrible angle to support right-back Clarence Goodson.
I suspect that when Byers is called off the bench to provide an offensive spark that Bradley will play a few yards deeper and look to stop Byers from even getting in the final third of the pitch.
Landon Donovan vs. Quentin Griffith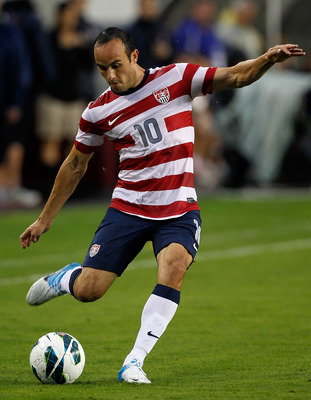 J. Meric/Getty Images
The Los Angeles Times is reporting that Landon Donovan's status "is in doubt" after the Los Angeles Galaxy's captain was "carried off the field on a stretcher with a knee injury."
This would be a huge shame after manager Jurgen Klinsmann finally got Michael Bradley and Clint Dempsey to commit to come to training.
If Donovan can play, however, it'd be interesting to see how he does against a player in Quentin Griffith whom he had beat for most of the previous match. Donovan would've scored against Griffith if not taken down for a blatant foul near the box that probably should've warranted a red card.
With Bradley playing the deep-lying midfielder and Dempsey working in tandem, Donovan should have an easy go at outpacing and outplaying Griffith, who isn't bad, but just doesn't have the quality to match up with America's offense.
Herculez Gomez vs. Molvin James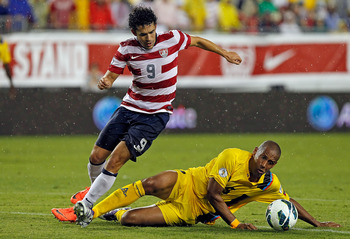 J. Meric/Getty Images
Antigua and Barbuda's goalkeeper, Molvin James, has been one of the most exciting players to watch in all of CONCACAF play. He had a superb match against the United States in their first meeting and was unlucky that his defense let him down.
It might be hard to believe, but I think the match on Saturday in Antigua and Barbuda is going to be closer than the one in Tampa—both on the pitch and on the scoreline.
James is as athletic a goalkeeper as there is in the Caribbean, but United States striker Herculez Gomez has earned his place back on the roster following a disappointing run in 2011 when he didn't even make the roster that came in second-place to Mexico during the Gold Cup.
He scored his first goal in a competitive match against Antigua and Barbuda in June and with defenders overwhelmed with thoughts of Donovan and Dempsey, Gomez should find some space to the left of the offensive formation.
Keep Reading

United States (National Football): Like this team?