Oakland Athletics: 5 Biggest Matchups in ALDS Game 3 vs. Detroit Tigers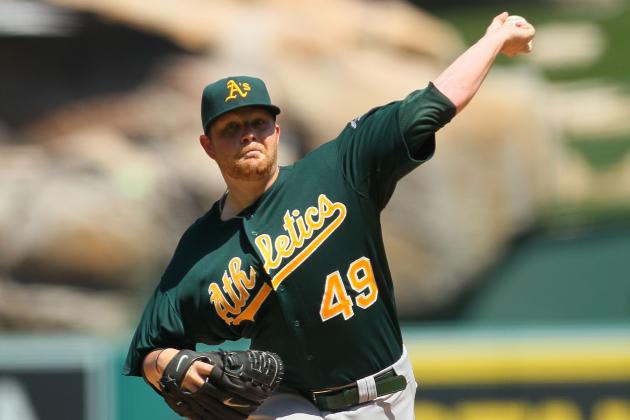 Victor Decolongon/Getty Images
The A's will need a great outing from Anderson to stay alive
After a pair of frustrating games in Detroit, the A's return to Oakland facing elimination in Game 3.
While the team is down, they are certainly not out. The format of the American League Division Series (2-3 road/home) has not been very popular, but it provides the A's the chance to do what home field is designed for: hold serve at home and advance.
To do so, they are going to have to win Game 3. According to Susan Slusser of the San Francisco Chronicle, Brett Anderson is slated to get the ball for Tuesday's game. He could provide a big boost for Oakland, but his presence alone will not be the tonic needed to extend the series against the Tigers.
Here are the five biggest matchups for the A's against Detroit in Game 3.
Begin Slideshow

»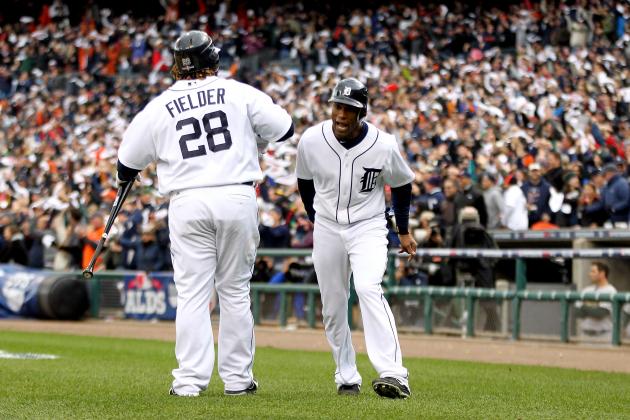 Leon Halip/Getty Images
The A's have to keep Jackson off the bases in front of Detroit's power
A problem that the A's have faced in the first two games is that they have often been unable to pitch around Detroit's biggest threats, Miguel Cabrera and Prince Fielder.
Austin Jackson and Omar Infante are very good at setting the table for the big bats behind them. Case in point occurred in Game 2.
Jackson and Infante went 3-for-10 at the top of Detroit's lineup. More damaging, they would up scoring three runs, including the game-winning run in the bottom of the ninth inning.
For Anderson, it is critical to keep these two (assuming Infante's going to start against a left-hander) off the bases in front of Cabrera and Fielder.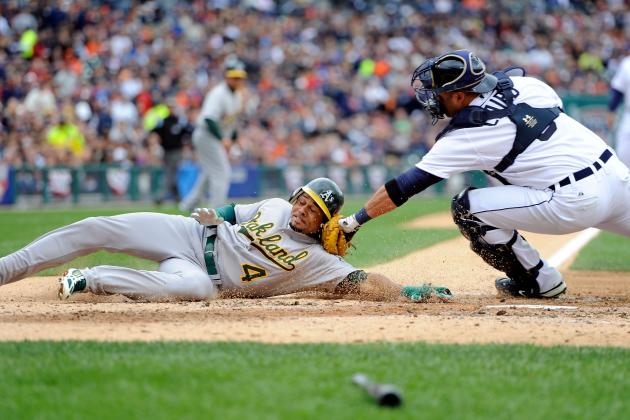 Jason Miller/Getty Images
Crisp needs to continue to get on base and be aggressive
Right now, some A's fans still see Coco Crisp wearing goat horns after his error in the seventh inning of Game 2. The two runs that scored as a result gave Detroit a 3-2 lead.
But, of course, that was not the end of the game by any stretch. Oakland responded to score twice in the eighth inning, but could not hold the lead. The point is, there were still opportunities to win that game.
For Crisp, bouncing back is a must. Oakland is simply a more dangerous offensive team when their catalyst is getting on base. Based on the first two games, it is even more apparent that the A's can't play station-to-station baseball.
That means Crisp must be aggressive. That means getting on base any way he can and doing damage against Detroit starter Anibal Sanchez. The A's beat Sanchez in Detroit despite leadoff hitter Stephen Drew going 0-for-5 with two strikeouts in Crisp's absence.
I don't think that's a good formula to win in the postseason.
Crisp has to jump-start this offense.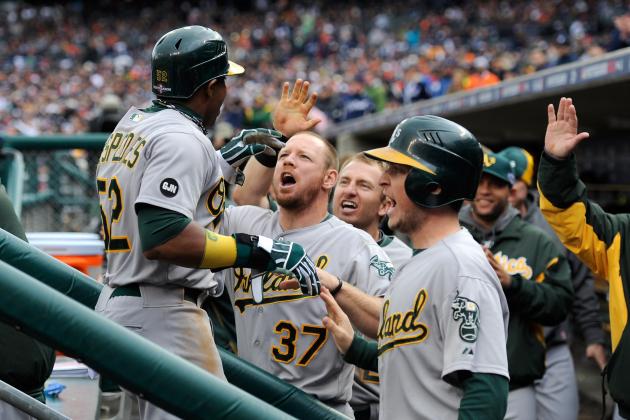 Jason Miller/Getty Images
Cespedes literally ran the A's into a tie game with his baserunning in Game 2
In Games 1 and 2, the A's left 15 men on base.
Because Justin Verlander was mostly dominant in Game 1, the number of men stranded was not so egregious. But in Game 2, Oakland did more to damage its own cause than Detroit pitching did to get the A's out.
Playoff baseball is different because results are much more immediate. In short, missed opportunities and converted opportunities carry much more weight in the postseason.
Oakland has had chances to play small ball and manufacture a run but have chosen not to do so. While I understand this has been a power-hitting squad (especially in the second half of the regular season), when you're facing starters as effective as Verlander and Doug Fister, playing long ball may not be the prudent approach.
As such, the simplest thing to do is to run. And run. And run some more.
The one time Oakland played small ball, it worked to perfection. In the seventh inning of Game 2, Seth Smith walked. He was sacrificed over to second by George Kottaras and Cliff Pennington promptly singled Smith home to tie the score.
It was the fourth time in five innings the A's had managed to get the leadoff hitter on base. But it was the first time the runner was moved over to second base. The A's would be better off doing that more often, particularly if they can get an early lead.
But once they are on base, it is also a good idea to try running.
Because the A's aren't always adept at bunting, the next best thing is to run. Yoenis Cespedes' job of generating the tying run in the eighth inning of the second game was a thing of beauty. He stole second, then stole third and scored on a wild pitch, completely taking the pressure off of the scuffling Josh Reddick.
Reddick then promptly smashed a go-ahead home run.
Oakland has four guys (Crisp, Cespedes, Reddick and Pennington) capable of stealing a base. They should all be running.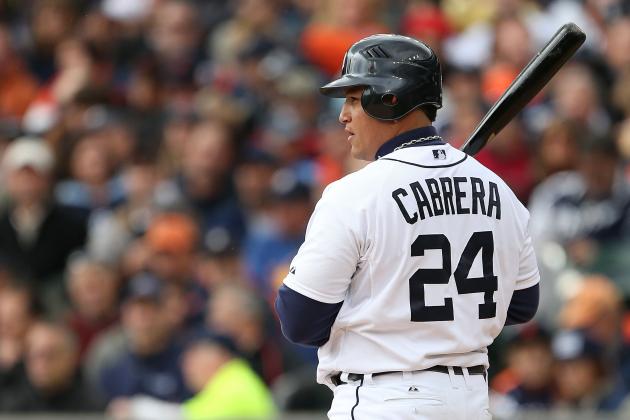 Leon Halip/Getty Images
Once again, the A's cannot let the likely MVP beat them
In two games, Miguel Cabrera is hitting .375 (3 for 8) with no home runs and no RBI. Yet the Tigers are up two games to none.
The biggest danger now is that the A's might believe they have figured out a way of containing Cabrera. If they relax at all against the premier hitter in baseball, they risk getting beaten.
Having said that, Oakland's formula for pitching Cabrera must remain the same.
Of course, keeping runners off the basepaths ahead of him allows Oakland pitchers to pitch more selectively to Cabrera. Whether it's Brett Anderson or the bullpen, keeping Cabrera hitting with the bases empty is a must. Even though he hasn't driven in any runs, Cabrera set up a pair of runs with hits in Game 2.
For Brett Anderson, who has allowed three hits in seven at-bats against Cabrera, success comes with having the chance to pitch around Cabrera, especially since a lefty-on-lefty matchup against Prince Fielder is much more favorable.
Winning this game and keeping their season alive hinges on the A's forcing Detroit's other guys to beat them at the plate.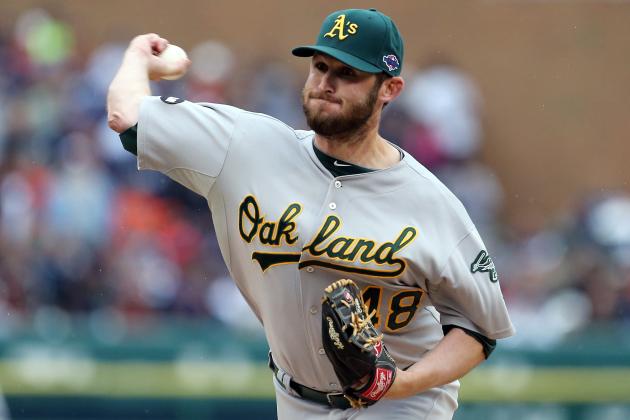 Leon Halip/Getty Images
Cook and the bullpen have to bounce back
For me, the biggest matchup will be whether or not Oakland's bullpen will be able to respond better at home. Expecting a deep outing from Brett Anderson may not be realistic, and it may be incumbent on A's relievers to get at least nine outs, if not more.
Simply put, they will have to be better than in Game 2. Give Detroit credit, its offense bounced back. But Oakland's normally rock-solid bullpen did not get the job done. Sean Doolittle, Ryan Cook and Grant Balfour all gave up runs, ultimately costing the A's the chance to tie the series.
To win and stay alive, Oakland's bullpen will most likely have to limit the Tigers to no more than one run. I expect Anderson to go no more than six innings, which will probably present Oakland with the same scenario as in the second game.
No need for much analysis. If the A's win, it will be because their relievers do a better job in Game 3 than they did in the last game.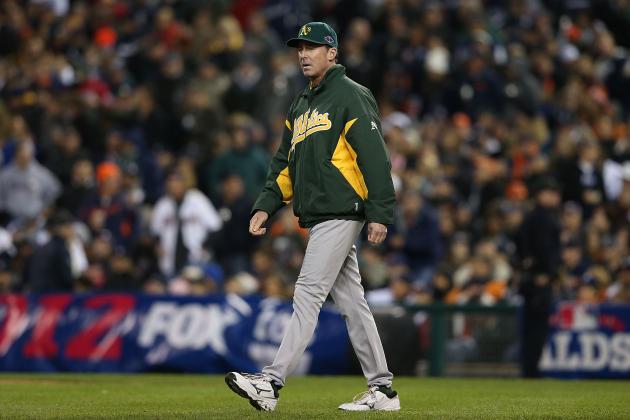 Leon Halip/Getty Images
Melvin hopes the A's live to fight until Wednesday at least
Games 1 and 2 in Detroit were tight affairs which come down to one team blinking.
The A's are a much better team at home than on the road, despite their home/road records. More telling, Detroit was a pedestrian 38-43 away from home during the regular season.
What that says to me is that if Oakland lives to fight for a Game 4, the dynamic of this series could change. It would be in the Tigers best interest (obviously) to put Oakland away immediately.
If they don't, they could have more than a fight on their hands. Expect the A's to pull out all the stops to get their first win of the series. Whether they actually get it is a matter of whether they manage to stop beating themselves long enough to finish all nine innings.