Nationals vs. Cardinals: Team Grades from NLDS Game 2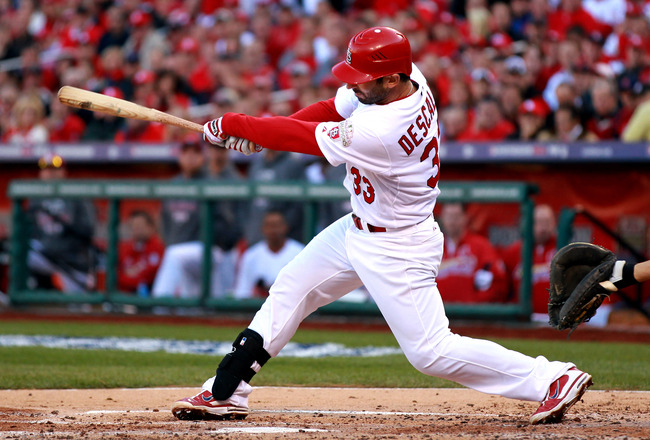 Dilip Vishwanat/Getty Images
The Washington Nationals and St. Louis Cardinals are heading back to St. Louis with the National League Division Series knotted up at one apiece.
Game 2 could have been a nice momentum-building game for Washington, but a poor performance by starter Jordan Zimmermann put the team in an early hole that they could not come emerge from.
Add in poor defense and relief pitching, and the Nationals were at a clear disadvantage throughout the entire game.
The Cardinals played aggressively from the onset, establishing a tone that the Nationals could not match.
The series is clearly just getting underway, but the Nationals may be at a disadvantage at this point. The Cardinals are playing very well and, quite frankly, the Nationals were a bit lucky in their Game 1 victory.
The Nats will need stronger pitching in Games 3 and 4. If Edwin Jackson and Ross Detwiler can't come up big, Washington will be sent packing.
Before we get too far ahead of ourselves, let's sum up Game 2.
Pitching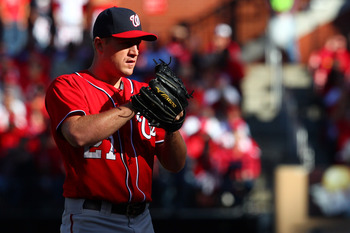 Dilip Vishwanat/Getty Images
Washington
Jordan Zimmermann (RHP)
Stats: 3.0 IP, 7 H, 5 R, 1 HR, 2 K
Grade: F
Zimmermann earned no better than an "F" in his first career postseason start. Much was made of the absence of Stephen Strasburg in the postseason, and Zimmermann's performance in Game 2 didn't do much to help the criticism.
A home run from Allen Craig was pretty much the nail in the coffin, as Zimmermann exited the game after getting the next out to complete the third inning.
If the Nationals advance, he'll have to pitch much better.
St. Louis
Jaime Garcia (RHP)
Stats: 2.0 IP, 2 H, 1 R, 3 BB, 3 SO
Grade: C-
Garcia was pulled after just two innings in Game 2, as problems with finding the strike zone led to a very tough two innings of work. He threw 41 pitches before being pinch-hit for by Skip Schumacher in the bottom of the second. Lance Lynn came into the game and provided solid relief.
All in all, Garcia did decent. He only allowed one of five baserunners to score, but his control will be an issue moving forward. If he gets another start, he'll have to go at least five innings and not make manager Mike Matheny nervous.
Offense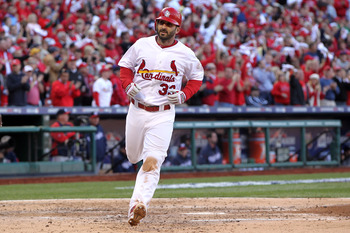 Jamie Squire/Getty Images
Washington Lineup
Jayson Werth, RF (1-4, 2 K)
Bryce Harper, CF (1-5, 4 K, 2B)
Ryan Zimmerman, 3B (2-4, 1 K, 1 HR, 2 RBI)
Adam LaRoche, 1B (1-4, 1 K 1 HR, 1 RBI)
Michael Morse, LF (2-4)
Ian Desmond, SS (1-4, 1 K)
Danny Espinosa, 2B (1-3)
Kurt Suzuki, C (0-4, 2 K)
Zimmermann, P (0 at-bats)
Grade: C
The Nationals tallied 10 hits in the contest, but they struck out an inexcusable 11 times. Putting the ball in play is essential in any game, and striking out a good number of at-bats is not good for production.
Zimmerman and LaRoche provided the big blasts, while starting pitcher Jordan Zimmermann drove in a run himself.
This production can win games when their pitcher is dealing, but four runs generally isn't a good recipe for success in the postseason.
St. Louis Lineup
Jon Jay, CF (2-5, 1 K, 3 RBI)
Carlos Beltran, RF (2-4, 2 HR, 3 RBI)
Matt Holliday, LF (0-4, 1 K)
Allen Craig, 1B (3-5, 1 HR, 1 RBI, 1 K)
Yadier Molina, C (2-4)
David Freese, 3B (1-3, 1 2B, 1 RBI)
Daniel Descalso, 2B (2-4, 2 RBI, 1 HR)
Pete Kozma, SS (1-3, 2 K)
Jaime Garcia, P (0 at-bats)
Grade: A
The Cardinals' offense was fantastic Monday night. They swatted four home runs, and seven of the eight starters recorded hits. Beltran started 0-for-2, but home runs in his final two at-bats provided the finishing blows for the team.
Craig and Descalso provided home runs of their own. They received production from everywhere in the lineup and are very deserving of their "A" grade.
Nationals' Determining Factor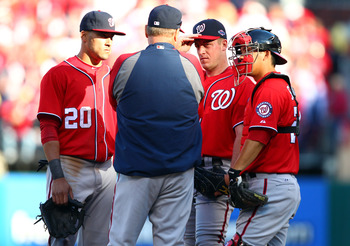 Dilip Vishwanat/Getty Images
Jordan Zimmermann put the Nationals in a hole from the beginning that was just too difficult for the team to overcome—both from a physical standpoint and a mental standpoint.
The big hole hurt the Nationals' morale. The performance had an effect on the rest of the game.
The bullpen proceeded to pitch poorly, and the defense did not play particularly well behind any of the pitchers that came into the game.
Also, the Nationals were caught napping at two points in the fourth inning—a direct result of their lack of focus.
Lance Lynn squared up to bunt with Pete Kozma on first. The sacrifice was successful, and Kozma ran hard out of the gate. He made it all the way to third, and the throw wasn't even close.
Then, with Jon Jay on second, reliever Craig Stammen delivered a pitch to catcher Kurt Suzuki. Stammen was very deliberate in his delivery, and Jay ended up safely on second base. Suzuki's throw was strong, but Jay got a great jump off of Stammen's slow delivery.
Zimmermann alone was enough to put the Nationals out of the running from the beginning. He allowed seven baserunners through three innings, a formula that generally doesn't lead to much success.
Cardinals' Determining Factor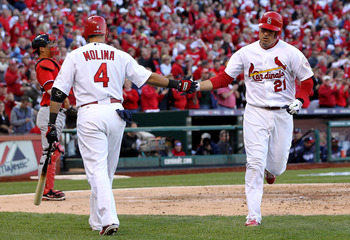 Jamie Squire/Getty Images
The Cardinals' offense was just too much for Washington in Game 2.
Balls were flying all over the park, as Allen Craig, Daniel Descalso and Carlos Beltran (twice) went deep in the win. David Freese also doubled off of Zimmermann in the first.
While the Cardinals do have a strong pitching staff, the offense is what will carry them throughout the postseason. Hitting like they did in Game 2 will likely lead to a well-fought series against the Nationals.
Washington pitchers just could not get comfortable on the mound. Maybe it can be blamed on whiplash from constantly turning to watch hits spray all over the park, but there's no doubt that the Cardinals were quite comfortable in the box.
Nearly everybody was productive in the game, but one man was held without a hit. It's scary to think what can happen when Matt Holliday contributes in the same way.
Talk about a deep lineup.
Final Team Grades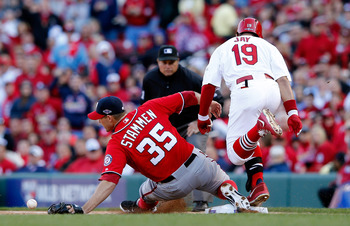 Jamie Squire/Getty Images
Washington: D
The Nationals did not pitch well, or hit particularly well, in Game 2.
Jordan Zimmermann's poor pitching and the offense's inconsistency are to blame for the tough loss. Home runs from Ryan Zimmerman and Adam LaRoche were the lone bright spots, and the team struck out a total of 11 times.
Luckily for them, the series is still tied at one. It's anybody's series with three still to play in Washington.
St. Louis: B+
The only thing holding St. Louis back from an "A" was Jaime Garcia's short performance on the mound. The Cardinals will need at least five or six innings from their starters, and Garcia obviously failed to provide that in this game.
The bullpen did pitch well after he departed, and the offense was firing on all cylinders. Lance Lynn was huge in this game. Coming on after the starter went just two innings is no easy task, and he was able to provide several strong innings of relief.
The Cardinals carry all the momentum heading into Game 3.
Keep Reading

Washington Nationals: Like this team?