Top 3 Reasons the Vancouver Canucks Are Lucky They Didn't Get Shane Doan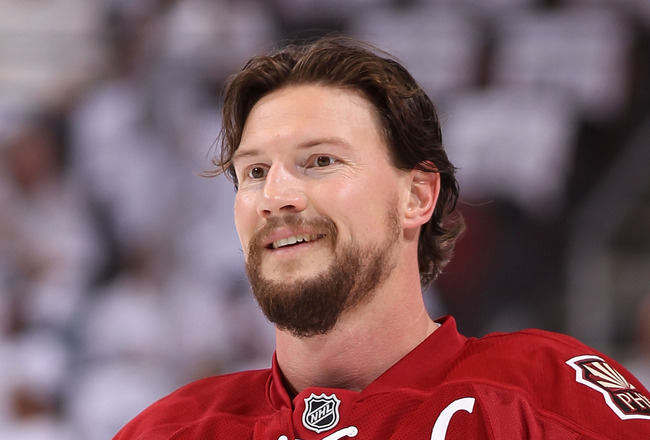 Christian Petersen/Getty Images
The Vancouver Canucks did not make many significant player acquisitions during the offseason. They signed free-agent defenseman Jason Garrison, but they swung and missed on Justin Schultz and Shane Doan.
Though the Phoenix Coyotes' ownership situation still remains up in the air, Doan signed a new four-year deal with the team just before the start of the lockout, with an average cap hit of $5.3 million per season (per capgeek.com).
The Canucks pulled out all the stops to court Doan, including taking him to dinner in Vancouver in late July (from Ben Kuzma of The Province).
While the Canucks can certainly use more grit up front, they dodged a bullet when Doan chose to stick with the only franchise he has ever known.
Here are three reasons why Vancouver fans should be grateful that Doan is still a Desert Dog.
1. Canucks Need to Get Younger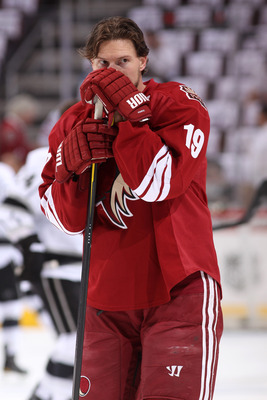 Christian Petersen/Getty Images
Shane Doan turns 36 on October 10.
Yes he keeps himself in great shape, but it is rare to see an athlete perform at a top level until he's nearly 40.
Mark Messier was 36 when he signed with the Canucks back in 1997. Mats Sundin was 37 when he laced up for Vancouver in 2009. Both are Hall of Fame players who enjoyed long, fruitful careers but who did not live up to expectations in Vancouver.
While Doan has been durable for most of his career, injuries tend to take more of a toll with age. Doan has also enjoyed long summer vacations to train and recuperate—last season was his first playing past Round 1 of the playoffs.
Furthermore, older players have not bounced back well from lockouts in the past.
Jeremy Roenick was a similar player to Doan, with better offensive numbers. He was 35 when the 2005 lockout ended. He played four more seasons in the NHL, but he never suited up for more than 70 games and only broke the 30-point plateau once.
Players in their late thirties like Vincent Damphousse, Shayne Corson and Mike Keane all retired due to the lockout.
The Canucks are young enough to win, but the Sedins, Burrows and Bieksa are now in their thirties.
They'd be much better served by adding younger grit to their forward lines.
2. Money Would Be Better Spent Elsewhere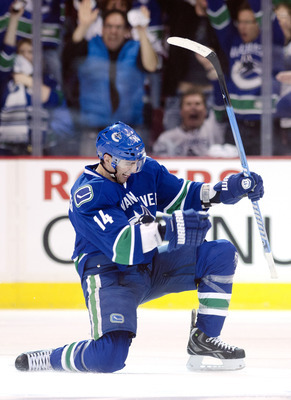 Rich Lam/Getty Images
Hours before the announcement of Doan's new contract with the Coyotes on September 14, the Canucks announced that they had signed Alex Burrows to a four-year, $18 million contract extension.
Burrows has been the Sedins' most dependable winger of their careers and has a penchant for scoring timely goals—none more so than his overtime winner in Game 7 against Chicago in 2010-11. He has also been a bargain, with one year still remaining at $2 million before his new deal kicks in.
With the Canucks always bumping up against the salary cap ceiling, a Shane Doan deal might have jeopardized the team's chances of re-signing an important player like Burrows.
Even if both were in the fold, would Doan really deserve to make more over the next four seasons as an aging, grinding winger?
3. Doan Has Limited Playoff Experience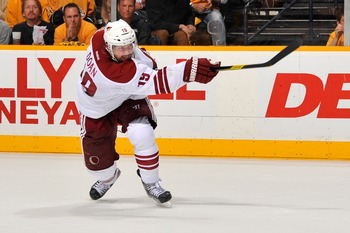 Frederick Breedon/Getty Images
The bright lights of Shane Doan's postseasons were his Memorial Cup wins with the junior Kamloops Blazers back in 1994 and 1995.
In his 16 NHL seasons, Doan has played a total of 55 playoff games and put up just 28 points. By comparison, Henrik Sedin, who's four years younger, has 71 points in 95 playoff games—and was often criticized for his postseason performances, especially in the earlier years.
Certainly, the Coyotes were a revelation when they made it to the Western Conference Finals last season, but the biggest reasons for their success were a tight defensive system and lights-out goaltending by Mike Smith.
Doan was a warrior, but one strong playoff performance should not beget a $21 million deal, especially when there's no evidence how his body and spirit will hold up over repeated long playoff runs and short summers.
The very fact that Doan chose to re-sign in Phoenix is an indication that he cares more about lifestyle and stability than he does about winning a Stanley Cup before he retires.
He'll continue to be a good captain for the Coyotes, but for the money he was commanding, Doan would not have been a good fit with the Vancouver Canucks.
Thanks for reading. Follow me on Twitter:
Keep Reading

Vancouver Canucks: Like this team?