Rugby Championship Review: Team Report Cards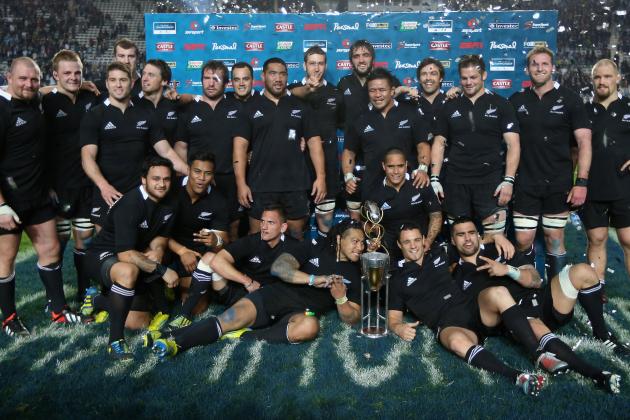 David Rogers/Getty Images

The inaugural Rugby Championship has come to a conclusion with the All Blacks claiming the spoils to cement their place as best team on the planet. They were to go unbeaten and but for a brutal encounter against the Springboks in Dunedin, were never really challenged.
Australia, South Africa and Argentina all showed glimpses of brilliance, but all were too inconsistent and whilst remaining competitive with each other, none threatened the All Blacks for the title.
But as the championship comes to a conclusion, it is now time to look back and rate each team. What they did well, what they didn't do so well and how consistent they were in what they were doing were all looked at when coming judging each.
Begin Slideshow

»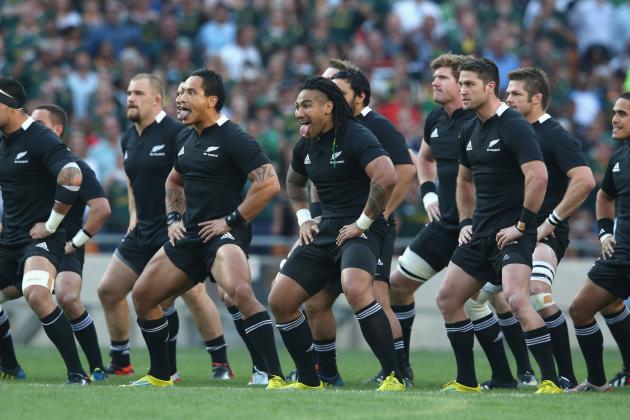 David Rogers/Getty Images

Attack: B+
They were always going to be dangerous with a back line possessing more threats than the other three teams put together. And the endeavour was always there to use them.
By the final two games they were operating as smoothly as ever, running rings around their opponents in the way they were expected to. But early on, they were disjointed and made too many mistakes. Had they been better, they would have put away an average Wallaby outfit by 40 points. They came right in the end, and that's got to be a good thing if your an All Black supporter.
Defence: A
When their attack was messy, it was their strong defence that kept them in front. Time and time again they defended their line with desperation, not letting their opponents through. They were always well organised and brought a physicality to their game that prevented the opposition from gaining too much momentum. In six games they conceded just six tries, enough said.
Backs: B+
The backs were disjointed at times, but came together well at the end of the Championship and showed themselves to be clearly the best back line in the world. They played a game of fast, running rugby and weren't afraid to be creative.
Defensively they were rock solid, never putting a foot wrong in this department. Would have got an A had they consistently played the way they did later in the season. Even so, they remain a class outfit and will undoubtedly show that they are worthy of a higher mark on their end of year tour.
Forwards: A-
Strong as always, matching their opponents for physicality and easily the fittest pack in the competition. They provided an excellent platform for the backs to work off and got forward momentum. In the loose, they excelled, particularly Richie McCaw and Kieran Read who both showed themselves to be hard as nails on defence whilst both adept ball runners. The set piece was good without being dominant.
Overall: A-
They may have performed below where everyone had expected them to early on, but the facts remain that they were undefeated against four of the best teams in the world and that shouldn't be underestimated.
There were few areas of the game where they weren't the best team in and showed by the end of the championship what a great side they are. Fitness-wise, they continue to be in a class of their own and it was this as much as anything that saw them gain two resounding wins in La Plata and Soweto.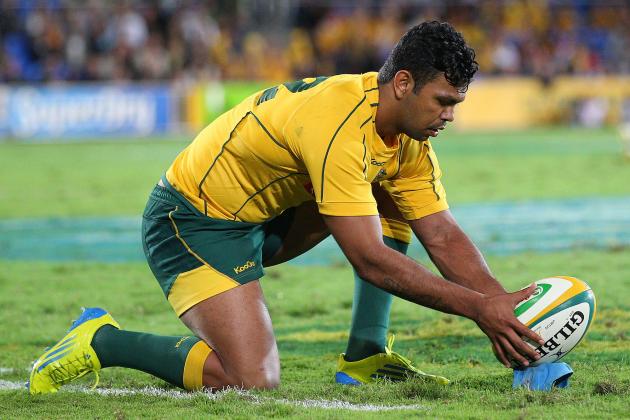 Chris Hyde/Getty Images

Attack: C
There was generally an endeavour to attack from the Wallabies, they just lacked spark. With Will Genia injured, they no longer possessed the dynamite threat from the base whilst Kurtley Beale had little outside him to work with. The midfield never struck fear into their opponents, whilst the outside backs rarely got a chance in space.
And let's not even mention Quade Cooper, proving once again that he can be either brilliant or awful. On this occasion, he was latter. Their biggest black mark comes in that they were unable to score a single point against the All Blacks in Auckland.
Defence: C+
The defence held the All Blacks to three tries over two games, which isn't done easily. Although much of this could be put down to the All Blacks mistakes, the Wallabies deserve some credit here. They were shown up in Pretoria, however, as Bryan Habana and the Springboks ran rampant through them, notching up 32 points far too easily.
Backs: C
Really did little to inspire anyone. They struggled to get anything going on attack which ultimately cost them, but did prove reasonably solid on defence. Never really settled on a starting back line either, which made it hard to get any continuity going.
Forwards: C
Similar to the backs, the forwards never really instilled fear into their opponents. Whilst their defensive record held up OK, they never brought the physicality of the other three teams and didn't give their backs a good platform to work from. Losing James Horwill and David Pocock were huge blows, both of whom would have made an enormous difference.
Overall: C
Injuries set them back severely this year. James Horwill, David Pocock, James O'Connor and Will Genia all saw little or no in the Championship and would have all made big differences, being four of the side's top players. A 50 percent winning record sees them get a pass mark, but really they are capable of so much more and need to find some spark that's going to bring it.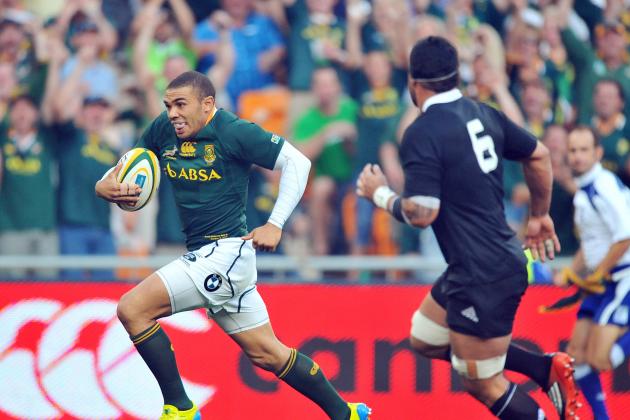 Gallo Images/Getty Images

Attack: D
It was this that really let the Springboks down this year. They were physical and their forwards always set a good platform for them, but they simply didn't seem to have a clue what to do on attack for the majority of the competition. With Morne Steyn at first five-eighth, they kicked far too much quality attacking ball away and prevented themselves from getting anything going.
With Johan Goosen in the No. 10 jumper, they looked far better running and put on a good show of attacking rugby in Pretoria. But this was too little too late and their inability to take chances was in the end the difference between a third place finish and what could have been a close run-in with the All Blacks.
Defence: C+
Their defence wasn't horrible but it wasn't as strong as we all know a Springbok defence can be. They were extremely physical and their encounters were often brutal, particularly those against the All Blacks. However, their inability to score points meant defensively they had to be that much better, something they couldn't achieve, leaking too many points.
Backs: D+
The backs weren't a strong point for the Springboks this year. It wasn't as though they didn't have a good back line, they just didn't use it very well. The kick and chase game plan that they have relied on for so long was once again brought to the fore, but was executed poorly and resulted in too much ball being kicked back to the opposition. Bryan Habana was a shining light, back to his best and showing himself to be the best winger in the world, despite what was happening inside of him.
Forwards: B+
The main positive to come from the past couple of months for the Springboks was their forward play, particularly in the second half of the competition. In this area they were rarely bettered and other than the second half in Soweto, had the better of the All Blacks.
They were brutal, throwing themselves at their opponents and getting good go-forward. The only blemish comes in their fitness, which seemed to struggle in Soweto as the All Blacks pack gained the upper hand in the second half after the South Africans completely dominated forward play for the first 40.
Overall: C-
It wasn't a happy year for Springbok rugby. A nation that prides itself on the strength of its rugby team was forced to watch as they managed just two wins and a draw in six games. They began to look better as the competition progressed however, and when they learn to use their attacking weapons and start making their kicks at goal, they will be a tough match for anyone. It must be remembered too that this is a relatively new team featuring a lot of young players that will only get better.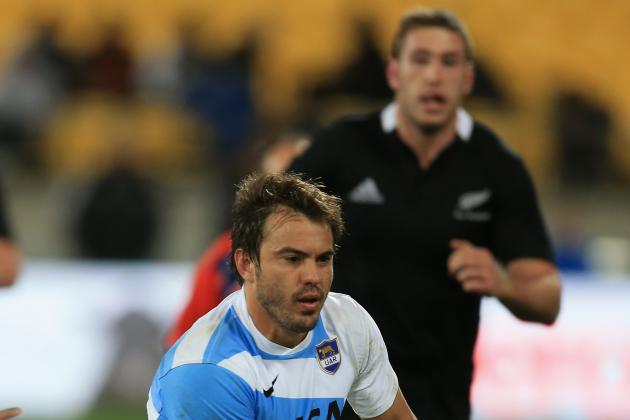 Phil Walter/Getty Images

Attack: D
In a similar fashion to the Springboks, Argentina really didn't have a clue on attack. They looked alright when they kept it in close and looked to out-muscle their opponents. But when they tried to move it wide they made far too many errors to be threatening. On the occasions where they did put something together, they looked brilliant, but unfortunately these were far and few between and didn't make up for the countless chances squandered.
Defence: C+
The Argentine side defended well in five of their six games, with the obvious black mark being the 54-15 hiding they took from the All Blacks where they leaked seven tries. Other than this, they held up well, proving particularly strong in close where they were physical and drove teams back.
It was this that enabled them to stay competitive with the All Blacks in diabolical conditions in Wellington and was also the main catalyst behind a 16-all draw with the Springboks. However, when they were forced to defend wider they struggled, falling off tackles and in the case of the All Blacks game, leaking seven tries.
Backs: D+
The back line showed glimpses of brilliance, looking dangerous at times, and showed their worth with their first try against the All Blacks in La Plata. But they didn't show it enough to warrant a higher grade, and like South Africa, really need to be operating on a much more consistent basis to make the most of a good forward pack. They simply made too many mistakes which need to be stamped out of their game sooner rather than later.
Forwards: B
Forward play has been the traditional strength of Argentinian rugby, and so it was again in 2012. Their big pack proved physical and committed as they tried to work their backs into positions to score from. They were strong at set piece time, tackled fiercely and competed well at ruck time. Not much else you could ask from your forward pack. Like the Springboks though, their fitness could be better, as it was evident the pace of the game caught up to them in La Plata.
Overall: C-
For their first year in the competition, they didn't perform badly. No one was expecting them to be an overnight success, and that they remained competitive in five of their six games. This shows that they indeed deserve to be there.
The highlight was undoubtedly the draw against the Springboks, a game that they could have easily won. Whilst they will look back on their game in Australia as the one that got away, looking ahead they will need to continue to adapt to the pace of the international game and continue to develop their back play, both of which will come with more experience.
Give them a couple of years and they could very well be competing for the title.