Chipper Jones: Notable Moments of His Final Season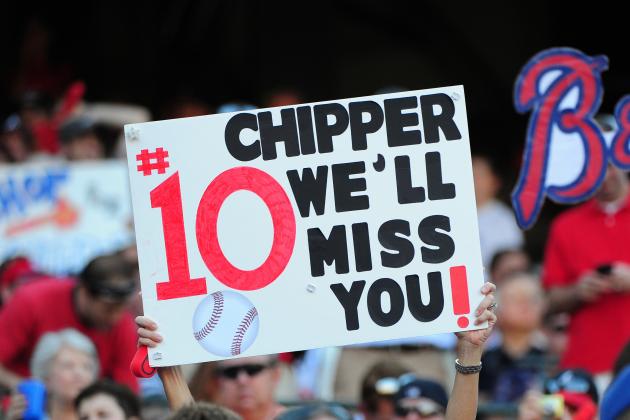 Scott Cunningham/Getty Images

The crazy train is off the rails and Chipper Jones' 19-year major league career is over. Though Jones and Braves fans had hoped his career would've extended longer into the postseason, his final season had plenty of highs. He ended the year at .287/.377/.455, belted 14 home runs and hit 62 RBI.
He is most definitely headed to the Hall of Fame in 2017. Let's take a look at the final year of Chipper.
Begin Slideshow

»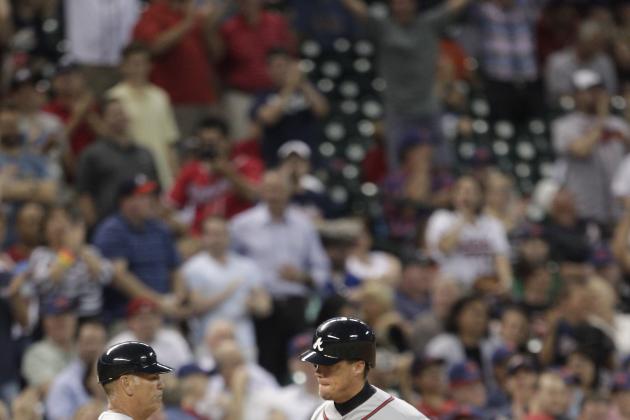 Bob Levey/Getty Images

On April 10th, Chipper played his first game of the season. The Braves were in Houston and he hit a home run while his parents, Lynne and Larry Sr., looked on.
In fact, the homer brought his dad out of his seat. Chipper would later say that his parents never stood for his home runs, so he knew that was a big deal.
Chipper was 2-for-4 for the night with two RBI.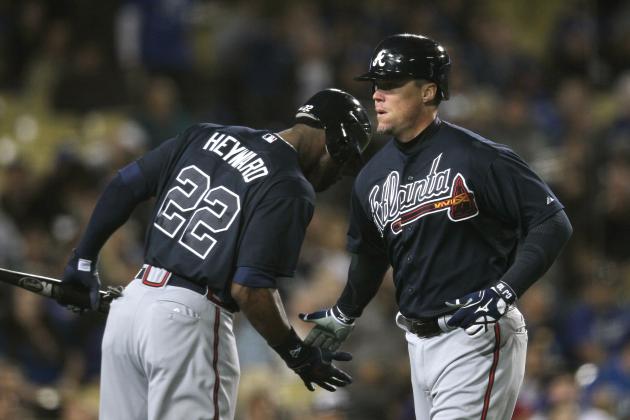 Stephen Dunn/Getty Images

On April 24th, Chipper connected for the third home run of the season while facing Dodgers pitcher Aaron Harang in Los Angeles.
Chipper has homered on his birthday four times in his big league career—at 24, twice at 29 and at 36.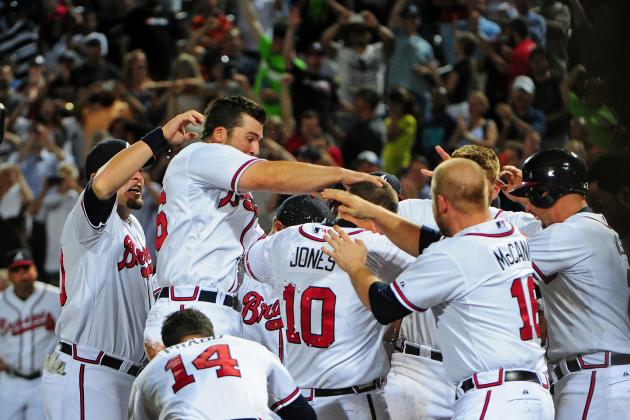 Scott Cunningham/Getty Images

Can you see a theme here? The Phillies were in town on May 2nd to face the Braves when the game went into extra innings.
Chipper was 3-for-5 when he came up to the plate. Proving he can still come through in clutch situations, Chipper hit his fourth home run of the year in the 11th inning. The Braves came through, topping the Phillies 15-13.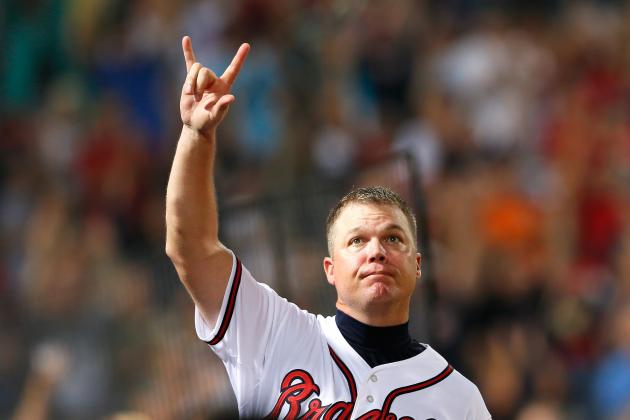 Kevin C. Cox/Getty Images

In what Chipper called the best night of his career, he not only went 5-for-5 at the plate, but he made a great defensive play.
The Cubs were in town for this July 3rd game and Chipper had his own fireworks, with four RBI and a stolen base. In the eighth, he fielded a ball behind third in foul territory and was able to throw out Darwin Barney at first.
This was the third time Chipper had gone 5-for-5, but the first in a decade.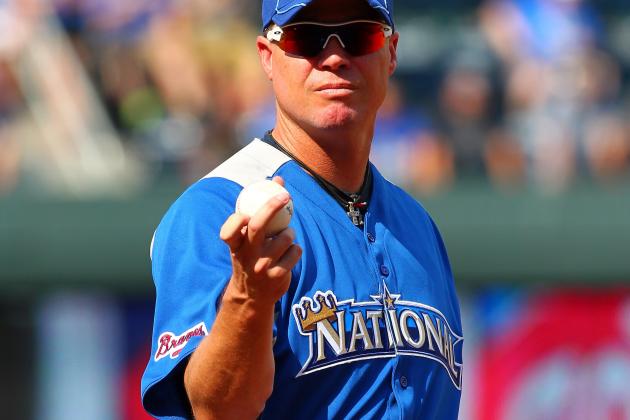 Dilip Vishwanat/Getty Images

After being named as a replacement for Matt Kemp, Chipper played in his eighth All-Star game. He brought his kids and parents with him to savor his last appearance.
In his only at-bat of the game, he hit a single.
At the break, Chipper had six home runs, 33 RBI and was batting .318.
theautobox.wordpress.com
August 16th was Chipper Jones Bobblehead Night, as 20,000 fans held a doll of his likeness and Chipper gave them a night to remember: The "Battleaxe" went yard twice in the Braves 6-0 victory.
At the time, he was hitting .356/.600 with seven home runs and 27 RBI.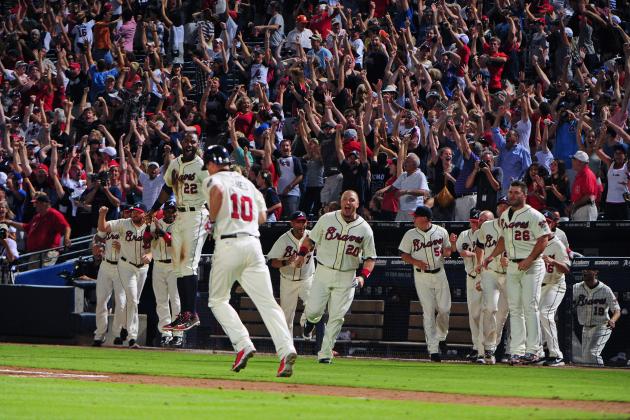 Scott Cunningham/Getty Images

Brian McCann isn't the only Brave who likes homering off the Phillies.
On September 2nd, Chipper came through in the clutch yet again. With two on and two out in the ninth, Chipper hit a walk-off homer against Jonathan Papelbon. The Braves won 8-7.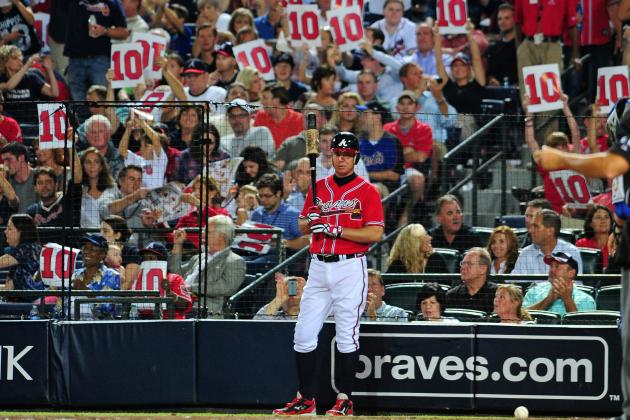 Scott Cunningham/Getty Images

Though he went 0-for-4, Chipper Jones Tribute Night was one of the highlights of the season.
Current Braves, former Braves, Atlanta's mayor, and Bud Selig were among those who honored Chipper on September 28th. Before the game, he was given gifts and had many kind words spoken about him. He also addressed the fans and the special guests.
Between innings, video messages from former Braves and athletes in other sports were shown. Every time he came to bat, he received a standing ovation along with thunderous chanting. That kind of palpable emotion would make it hard for anyone to focus.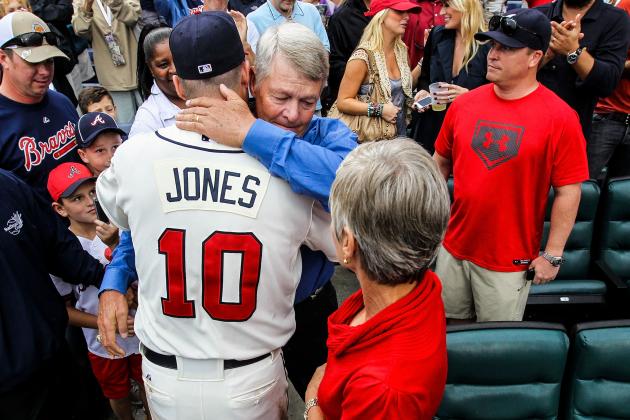 Daniel Shirey/Getty Images

In his final regular season game at home, Chipper went 1-for-2, with a single.
In Chipper's final regular-season game, he came in as a pinch-hitter. Once again, he hit a single.
And in Chipper's final game of his career, he hit a broken-bat single in the ninth inning.