Yankees vs. Orioles: Game 1 Win Shows These Yankees Are for Real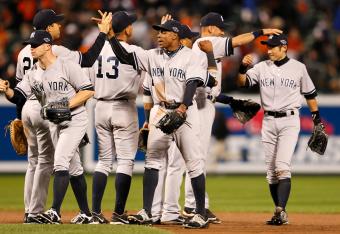 The Yankees answered a lot of questions on Sunday night.
Rob Carr/Getty Images
It must be October, for the New York Yankees looked suspiciously like the New York Yankees on Sunday night. The team that many love and many more fear and hate has showed up.
Specifically, it showed up in the ninth inning. In the eight innings before then, it looked as if the Orioles were destined to score yet another oh-so-typical Orioles victory, and that the Bronx Bombers were doomed to fall prey to all the question marks that plagued them during the regular season.
Nope. The Yankees broke open a 2-2 game with a five-run rally in the top of the ninth against star Orioles closer Jim Johnson, and CC Sabathia and David Robertson were able to finish things off to give the Yankees a hard-fought 7-2 victory.
And those question marks that plagued the Yankees during the regular season? They're pretty much gone now, banished forthwith by the Yankees' convincing victory in Game 1 of the American League Division Series.
Questions? What do you mean questions? What kind of questions?
Oh, you know. Questions like...
"Yeah, the Yankees are pretty good, but is Sabathia really still an ace?"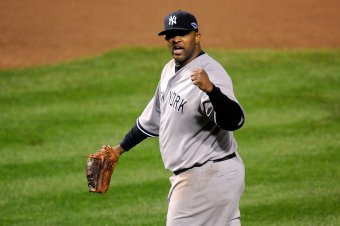 Patrick McDermott/Getty Images
This one may seem silly now, but you should be able to recall that it looked like Sabathia wasn't one of the league's premiere aces for much of the regular season. He spent two stints on the disabled list, and he was less than dominant when he was able to take the bump.
But Sabathia started to gather some steam in his final three starts of the regular season, pitching eight innings in each of them while allowing only four earned runs and striking out 28. He went into the postseason pitching better than he had been all season.
Whatever doubt was still lingering over Sabathia's head at the start of the day on Sunday was quickly brushed aside. He was masterful against the O's, pitching eight-and-two-thirds brilliant innings with seven strikeouts.
The only inning in which Sabathia wasn't in total control was the third inning, when he gave up two runs. Outside of that inning, he had little trouble toying with an Orioles lineup that conjured only eight hits and one walk.
Alas, it looked for a while there like Sabathia was going to walk away from Game 1 without a win, a victim of poor run support. This didn't happen because the Yankees' offense wiped away a question that had been hanging over it throughout most of the regular season.
"Yeah, the Yankees' offense is pretty good, but is the long ball the only weapon it has?"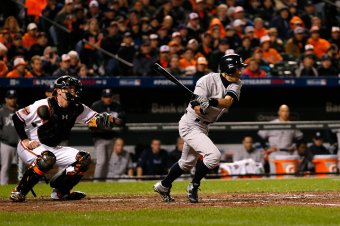 Rob Carr/Getty Images
The Yankees finished second to the Texas Rangers in runs scored this season with 804, but who knows where they would have finished if they hadn't hit an MLB-high 245 home runs?
After all, they only hit .256 with runners in scoring position, a petty figure for a vaunted team like the Yankees.
In Game 1, the Yankees hit a cool .375 with runners in scoring position, collecting three hits in eight at-bats. Mark Teixeira drove in a run with a double high off the right field wall in the fourth inning, and the Yankees got hits with runners in scoring position in the ninth inning from Ichiro Suzuki and Robinson Cano.
Though it technically wasn't a hit with a runner in scoring position, Ichiro got the scoring started in the first inning when he doubled Derek Jeter in from first with nobody out and many fans still settling into their seats.
The only home run the Yankees hit on Sunday night was a clutch one, as it was a go-ahead dinger off the bat of Russell Martin in the ninth inning. He took Johnson deep to give the Bombers a 3-2 lead, and the wheels pretty much fell off for the Orioles after that.
In bringing Johnson into the game, Buck Showalter was trying to put his team in a position to win the kind of game that they won so many times during the regular season. The Yanks didn't let them, and in doing so, they proved something else.
"Yeah, the Yankees are pretty good, but can they beat the Orioles at their own game?"
Perhaps by some sorcery, the Orioles were practically unbeatable in close games during the regular season. They went 29-9 in one-run games, and their relievers racked up more wins and fewer losses than any other team in the American League. When Showalter went to his pen with a lead or the game tied, odds were the Orioles were going to win it.
It looked for a while as if this pattern was going to hold, as Darren O'Day and Brian Matusz turned in clutch performances in the seventh and eighth innings, respectively. Then came Johnson, which typically means "game over" seeing as how the O's were 63-8 in games in which Johnson appeared during the regular season.
The home run Johnson gave up to Martin to lead off the ninth was the first homer against him since early June. He ended up recording only one out in the inning, and four more earned runs were tacked on to his pitching line before the inning came to a close.
From the looks on their faces, all the O's fans in the stands were having a hard time comprehending the script that had been so suddenly and so cruelly flipped. Things were happening that didn't usually happen in the regular season.
The failure of Baltimore's bullpen wasn't the only strange thing to happen to the O's in the late innings. Another thing they grew accustomed to during the regular season was coming up with big hits when they needed them, and it looked as if they were going to get one in the bottom of the eighth inning when J.J. Hardy led off with a double.
But Sabathia would have none of it. He struck out Adam Jones, got Matt Wieters on an easy foul pop to first base, and then got Mark Reynolds to end the inning with a ground ball to short.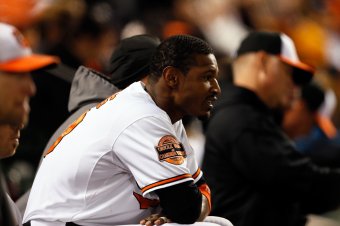 Rob Carr/Getty Images
After that came the Yankees' five-run rally in the ninth inning, and that was that. A lot of people left Oriole Park at Camden Yards feeling as if they had just been punched in the gut.
And for good reason. The O's had their chances to win Game 1, and you can rest assured that not a soul at Oriole Park was all that worried when it looked like the game was ticketed for extra innings. The Orioles didn't have the lead, but they seemed to have the Yankees right where they wanted them.
Had Sunday night's contest been a regular-season game, the Orioles probably would have had the Yankees right where they wanted them. But this is October, and the Yankees reminded everyone on Sunday night that they live for October.
You may be sitting there wondering if that was ever really in doubt.
Yeah, I think so.
Though the Yankees won the AL East and finished with the American League's best record, I had them pegged as a wild card in these playoffs. With worries over Sabathia, the club's offense, the club's fortitude and other such concerns looming large over the Yankees, it behooved one to look at them as a club with much to prove rather than a legitimate World Series contender.
After Sunday night's victory, I'd say I'm sold. Sabathia looked every bit like the kind of ace the Yankees figure is worth $23 million per year, and it bodes very well for the Bombers that only one of their seven runs came courtesy of the long ball.
How long will this series last?
Mind you, the Orioles aren't done yet. They were one of the most resilient teams in baseball during the regular season, and they can at least walk away from Game 1 knowing that they were right there with the Yankees for eight innings. Against one of the toughest pitchers in baseball and the most battle-hardened team left in these playoffs, the Orioles held their own.
As well as the Orioles showed, though, there were times when it was a little too easy to remember that they're out of their element these days. It's going to take more than one game for playoff baseball to be Baltimore's forte once again.
The Yankees, on the other hand, look very much like they're in their element once again. I'd be lying big-time if I said I never had any doubts about them, but something became clear on Sunday night that wasn't always clear during the regular season.
The Yankees have their sights set on No. 28, and they're not about to be denied by any upstarts if they can help it.
Note: Stats courtesy of Baseball-Reference.com unless otherwise noted.

If you want to talk baseball, hit me up on Twitter.
This article is
What is the duplicate article?
Why is this article offensive?
Where is this article plagiarized from?
Why is this article poorly edited?