Bears vs. Jaguars: 6 Lessons Learned from Chicago's 41-3 Win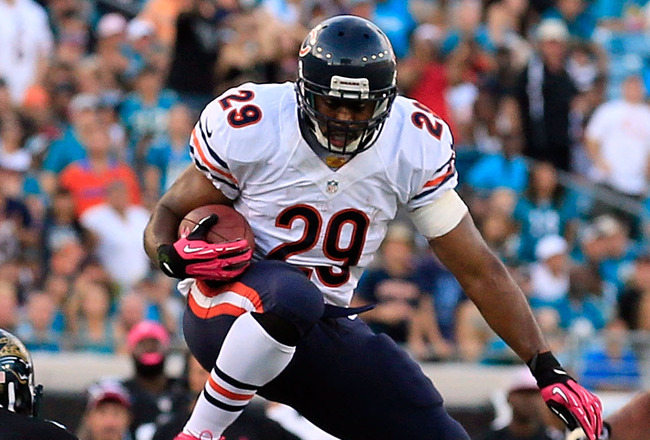 Sam Greenwood/Getty Images
It was a tale of two games on Sunday in Jacksonville. In the first half, there were two teams with equally bad offenses playing to a 3-3 tie in a game that looked to be a real snooze-fest.
But in the second half, Chicago exploded in historic fashion, scoring 38 unanswered points in one of the most dominant performances in team history.
When the smoke cleared, the Bears stood victorious and tied atop the NFC North division with the surprising Minnesota Vikings at 4-1.
Meanwhile, the Green Bay Packers' loss to the Colts put some distance between the two bitter foes, and at least for one afternoon, all was well in Bearsdom.
So, just what happened in this wild and crazy game? Join me as I break down six key lessons from hot and humid Jacksonville.
The Defense Is Better at Offense Than the Offense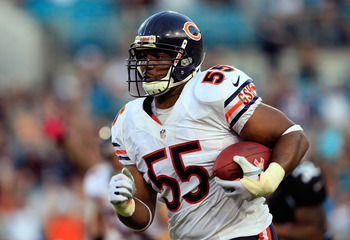 Sam Greenwood/Getty Images
If that slide title doesn't confuse you, then you're a better man than I. But what I'm trying to say is that the way the Bears defense scores points, sometimes I wonder if it wouldn't be better to let the "D" play the entire game while the "O" sits and watches.
That's crazy talk, of course, but it does illustrate a point, albeit in an exaggerated way. The Bears may not be given credit for having the best defense in the NFL, but I dare you to find one that scores more touchdowns.
Chicago's defense has now scored five touchdowns in the past three games, with the next-best team having scored just two.
While Jay Cutler and the Bears offense struggled in the first half, the defense kept it close enough for the Bears to still be right in the thick of the game. Then, when the second half started, the defense really exploded and led the Bears to an easy victory.
Lance Briggs continued his outstanding play, and Charles Tillman also took an interception to the house, each scoring touchdowns for the second consecutive week.
The Bears game-planned for Maurice Jones-Drew, and that strategy worked, as they held the star running back to 56 yards on 12 carries, with the majority of his yards coming in big runs late in the game.
With his TD, Tillman became the Bears' all-time leader in defensive touchdowns, with eight.
Lovie Smith Delivered the Right Message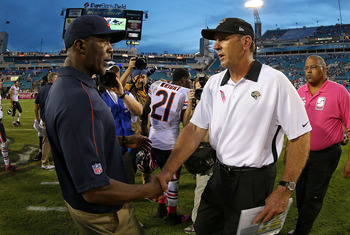 Mike Ehrmann/Getty Images
He may be quiet, and he may not cuss, but the soft-spoken and mild-mannered Bears head coach apparently has a stern side, too. That was evident to his players at halftime, and it lit a much-needed fire in the Bears' rear ends on Sunday.
As reported in the game recap on ESPN.com, Lovie Smith made it known that he was not pleased with his team's first-half performance.
"He basically cursed us out without cursing," Tillman said. "He raised his voice and gave us that mean, surly, stern look and we responded to that. He put a little spark in our rear end. We started getting to the quarterback in the second half. We were a little flat in the first half and came out with a sense of urgency."
The Bears had 309 yards of offense in the second half and did not allow another point to the Jags, while scoring an incredible 38 unanswered points of their own, and the rout was on.
Say what you will about Smith, but his players seem to play hard for the man, and the second-half performance was a spirited, inspirational turnaround that almost defies explanation.
Unless, of course, you buy into the whole Smith-as-motivator thing. I find it hard not to after watching the game with my own eyes on Sunday.
He may not be "Da Coach," spewing fire and brimstone, but apparently Lovie has his own way of getting his message across, and it is just as effective.
Cutler Was Locked Onto Brandon Marshall...Perhaps Too Much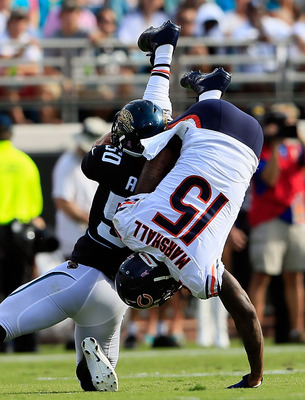 Sam Greenwood/Getty Images
Not to take anything away from an outstanding performance from wide receiver Brandon Marshall, who caught 12 passes for 144 yards and a touchdown, but at times it seemed like QB Jay Cutler wasn't aware that there were other wideouts lined up on the field.
It worked out well for Chicago on Sunday, of course, but what happens when Marshall isn't open? Oops, wait, we've already seen that situation unfold on a Thursday night in Green Bay, and the results weren't pretty.
Marshall was targeted 17 times, and with Earl Bennett once again sidelined, Cutler had reduced weaponry against the Jags. Still, it seems that as Marshall goes, so goes the Bears offense, and I thought we were going to be more diverse than that this year.
I understand that Marshall's presence makes Cutler comfortable, and we all know what happens when Cutler isn't comfortable. When he is rushed due to poor offensive line play, or, for example, when he gets a bad snap, we know the outcome isn't good.
Add to that fact the undeniable chemistry between the two, and it's fairly easy to see why Cutler targets Marshall so often. Still, I'd like to see a few more plays go to the tight ends.
Kellen Davis was targeted four times, catching just two passes. Kyle Adams had one ball thrown in his vicinity, but I'd love to see more of that.
For this afternoon, everything worked out perfectly, especially in the second half. I would just caution that even when a team scores 41 points, as the Bears did on Sunday, there is room for improvement.
Let's Hope Alshon Jeffery Doesn't Have a Broken Hand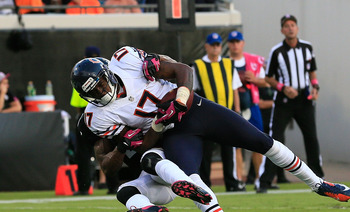 Sam Greenwood/Getty Images
Rookie wideout Alshon Jeffrey left Sunday's game very early in the fourth quarter after scoring a touchdown and apparently injuring his hand. According to Brad Biggs of The Chicago Tribune, Jeffery "will undergo an X-ray on his swollen right hand Monday."
While the Bears have some depth at wide receiver, losing Jeffrey would hurt a group that has, at times, looked like the Brandon Marshall show, as my previous slide indicated. Having Jeffery gives Cutler another tall target.
For his part, Jeffery didn't feel the injury was that bad, as Biggs reported in the same article: "I could have kept playing," he said. "I'm confident it's not serious."
Second-year wideout Dane Sanzenbacher replaced Jeffery and caught one pass for seven yards.
Meanwhile, Devin Hester appeared to get banged up in the game with what looked to be a head injury, although he did come back and play.
If Jeffery is out and Hester is limited while Bennett continues to remain sidelined, my call for more throws to the tight ends might be even more pressing during the next game. At least the Bears have the bye week coming up now, so they'll have extra time to recover.
With Defense and Running Game Doing So Well, Cutler Has Less Pressure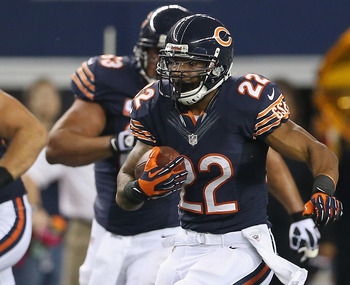 Ronald Martinez/Getty Images
Every week, it seems that Cutler has an enormous amount of pressure on his shoulders because of something he did or said, or just because people love to hate the Bears QB.
But with the defense scoring points, perhaps Cutler can become more relaxed on the field, and that seems to be the key to having him perform well week in and week out.
Whenever Cutler gets pressured, he either throws the ball to the opposition or he makes poor decisions. No one can blame him if he's become a bit gun-shy after all the sacks he's taken as a Bear, but Cutler, more than the average QB, seemingly needs to be in control of his emotions for success.
So he can take solace not only in the fact that the defense is playing so well, but the running game is doing quite nicely, thank you. And while that may not be news to most Bears fans, to see it actually come to fruition is very pleasing.
On Sunday, Matt Forte quietly ran for 107 yards on 22 carries, for a 4.9 yard average. He only caught two passes, but otherwise had his usual fine performance.
The addition of Michael Bush gives the Bears the best one-two punch they have had under Cutler. Bush carried the ball just four times, but averaged 6.5 yards per carry. And, in late mop-up duty, even Armando Allen got into the act.
Allen took the rock five times for 59 yards, the majority of which he accumulated on a 46-yard play in the fourth quarter. That, my friends, was good for an 11.8 average.
Add in Cutler's two scrambles for 22 yards, and the Bears averaged a stout 6.5 yards-per-carry average on the day. Not too shabby, and it helps take the pressure off of Cutler.
What's Wrong with Gabe Caimi?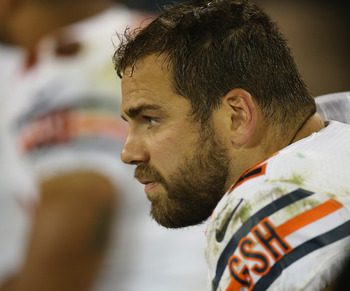 Jonathan Daniel/Getty Images
I hate to rain on an otherwise sunny parade, but right tackle Gabe Carimi is not playing very well thus far, and on Sunday he started making noticeable mistakes that could have been costly on another day.
Carimi was flagged for consecutive penalties for jumping offsides on Sunday, but it wasn't just the penalties that cause me to write this slide. He hasn't been playing well overall, and that is disturbing.
Many Bears writers and fans, myself included, have railed for a long time about the need to improve at left tackle, but perhaps it's the right side that is in need of an upgrade.
There has to be another option there if Carimi keeps playing poorly, even if it's just a wake-up call for the Bears' second-year tackle.
I'm not ready to give up on Carimi, and neither should you. But with his injuries and suspect play, the whispers about Carimi being a potential bust are starting to get louder.
Personally, I won't go that far. But I will tell you that it's not fair to always point out how bad J'Marcus Webb is and completely ignore the play of the guys on the other side.
Keep Reading

Chicago Bears: Like this team?