Ohio State Basketball: Early Matchups That Could Make or Break Buckeyes' Season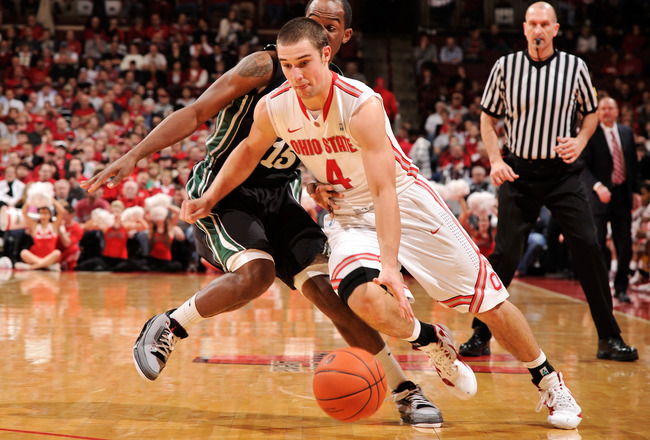 Jamie Sabau/Getty Images
There are plenty of college basketball fans that don't really tune in until the conference seasons get under way.
After all, that's when football season is winding to a close and the battle for positioning in the NCAA tournament really starts to heat up.
However, if you are an Ohio State basketball fan, doing that would be a mistake for the 2012-13 season (of course, with no bowl game, the football season will end a bit earlier for Buckeye fans). There are a handful of early nonconference games that will have a lasting impact on the season as a whole.
I'm not saying Thad Matta and company will be spending March at home if they lose these games, but Ohio State has bigger plans than just a Big Dance participation ribbon. These nonconference showdowns loom large in terms of seeding and, perhaps most importantly, momentum heading into the conference slate.
Here are four nonconference games that will truly matter.
Marquette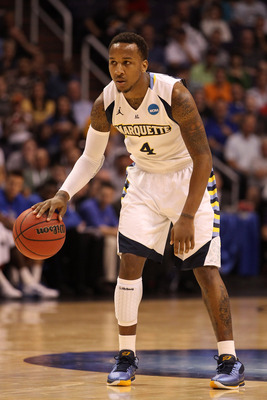 Christian Petersen/Getty Images
This won't exactly be the typical small-conference cupcake that usually occupies the first slot on the Buckeyes' schedule.
In fact, there really won't be anything typical about this showdown at all. That's because Ohio State and Marquette are playing in the Carrier Classic aboard the USS Yorktown.
That's right. Ohio State's first game is on a boat.
While the Golden Eagles will be anything but a pushover for the Buckeyes, they may not be as imposing as usual. Marquette lost last season's Big East Player of the Year in Jae Crowder and its leading scorer, Darius Johnson-Odom.
However, Ohio State lost a lot as well (Jared Sullinger and William Buford), which is one of the reasons that this game is so important for the season as a whole.
If the Buckeyes can find a way to get a victory over a perennial Big East contender to start the campaign, it will instill a substantial amount of confidence in the young players that head coach Thad Matta will be counting on to contribute.
Additionally, the Ohio State schedule is not easy and includes showdowns with Duke, Michigan, Michigan State, Kansas and Indiana. There will probably be some losses down the road, so it is imperative that the Scarlet and Gray grab a marquee win to start the season.
After all, 1-0 sounds a lot better than 0-1.
Washington/Seton Hall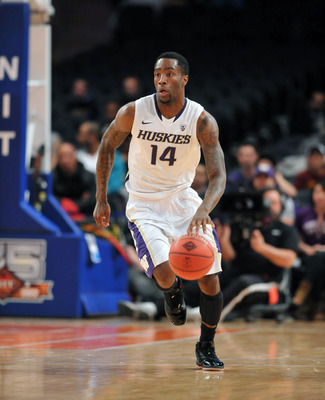 Jason Szenes/Getty Images
This will be the Buckeyes' fourth game of the season, and the opponent will ultimately be determined by how the rest of the Basketball Hall of Fame Tip-Off plays out.
Whether it is Seton Hall or Washington, this is a game that Ohio State has to win.
If it is Seton Hall, the Pirates did not make the tournament last season, which has to be considered a disappointment for almost any power-conference team. Furthermore, Seton Hall lost its leading scorer in Jordan Theodore.
If the Buckeyes don't gradually pull away from Seton Hall, it would be surprising.
Washington would be more challenging for the Scarlet and Gray. The Huskies were (controversially) left out of the NCAA tournament in the 2011-12 season and made an impressive run to the NIT semifinals.
In fact, Washington almost pulled off upsets over Duke and Marquette last year and will be looking to finish off a marquee win this time around against the Bucks.
Games against other power-conference teams that aren't exactly considered a squad's "equals" are contests that elite teams like Ohio State need to build an impressive resume. Wins against the Washingtons of the world are given more credence than those over the Northern Kentuckys.
But the Buckeyes probably wouldn't get much benefit of the doubt if they lost.
At Duke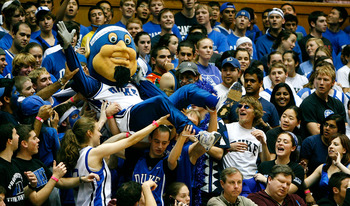 Kevin C. Cox/Getty Images
Clearly, a loss at Cameron Indoor Stadium would not hurt the Ohio State Buckeyes much in the polls, but it is still a very important game.
That is because we are talking about college kids who will undoubtedly be circling this game on the calendar. If Ohio State was to go into Duke and lose, especially big, it would likely have an impact on the team's psyche for a while.
However, a win would do wonders for that psyche.
Crucial conference road games down the line wouldn't look so daunting to young players such as LaQuinton Ross, Amir Williams, Shannon Scott and Sam Thompson if they find a way to win in Cameron.
There is a real possibility that both teams will be ranked in the top five, so it will also mark an opportunity for the Buckeyes to let the country know they are still contenders even without Jared Sullinger.
Something tells me the Cameron Crazies wouldn't be too thrilled with a 22-point loss to the Buckeyes two seasons in a row.
Kansas
Jamie Squire/Getty Images
A win here might mean more to beleaguered Buckeye fans than the actual team.
Every time Ohio State laced it up against Kansas last year, bad news seemed to follow. In the regular-season matchup, Jared Sullinger couldn't play due to injury, and health concerns and a loss were the eventual results.
Then there was the gut-wrenching defeat in the Final Four in a contest that saw Thad Matta and company leading by double digits for the majority of the first half before losing.
Of course, a regular-season victory in 2012 over Kansas wouldn't exactly eliminate the bitter taste left in the mouth of Buckeye fans, but it certainly wouldn't hurt either.
There's no Thomas Robinson or Tyshawn Taylor donning the Jayhawk blue this time around, so if Ohio State is ever going to shed the Kansas monkey from its back, this December home game is a good time to do it.
Keep Reading

Ohio State Basketball: Like this team?