Chicago Bears: Winners and Losers from Win over Jacksonville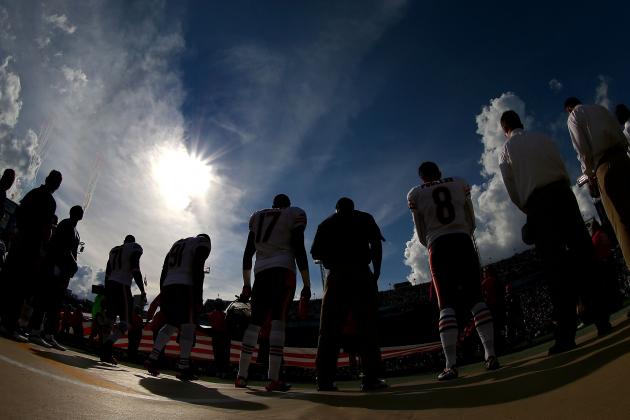 Mike Ehrmann/Getty Images

The Chicago Bears were coming off a Monday night victory over the Dallas Cowboys this weekend, and were looking to extend their winning streak to three games and move into the bye week at 4-1 overall. The Bears were expected to win this game, favored by 6 and a half points in the spread; however, what happened in Jacksonville on Sunday was something much more significant.
Records were set and broken and multiple players made their cases to be next in line to receive the Defensive Player of the Month Award that cornerback Tim Jennings received in the month of September.
Players and coaches alike looked like they were having fun, and the fans even got to see Armando Allen, a player who was signed to the practice squad this season, get into the game and even score his first NFL touchdown.
There was a lot of fun in the sun down in Jacksonville on Sunday, all coming together for a whopping 41-3 victory for the Bears over the Jaguars. As is the case with any game, there were both winners and losers for the Bears, who now enter their bye week with a share of first place in the NFC North.
Begin Slideshow

»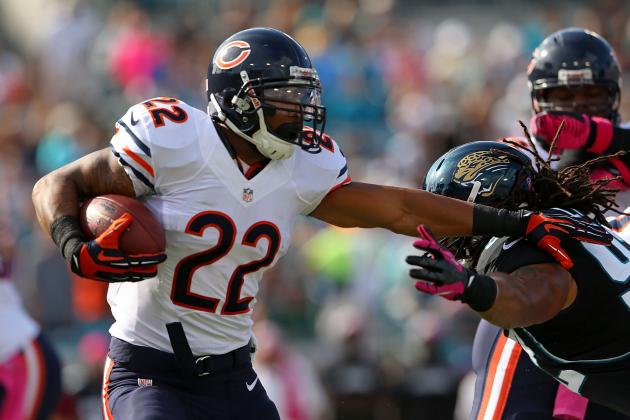 Mike Ehrmann/Getty Images

To say that Matt Forte had a big game on Sunday would be a gross understatement.
Forte ran the ball 22 times for 107 yards, and caught 2 passes for 20 yards in the Bears' victory in Jacksonville, showing why he deserved the deal that he got this offseason and why he is still the leading rusher on this team.
Forte came back from missing week 3 with an ankle injury on Monday against the Dallas Cowboys, however, his ankle still seemed to be bothering him. After just one run, Forte had to come out and get his ankle looked at before going back in.
Sunday was a whole different story for Forte, who came ready to play against the Jaguars and can now rest his ankle for a while, not having to play again until October 22nd. If Forte's game on Sunday was any indication of what a healthy Forte can do this season, then it will be exciting to see what he can do against Detroit when the Bears play again.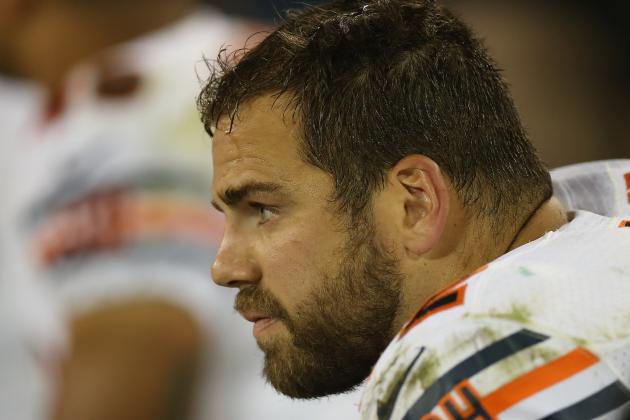 Jonathan Daniel/Getty Images

Gabe Carimi did not play well at all Sunday, adding another chapter to the offensive line woes this season for the Chicago Bears.
In the game where J'Marcus Webb actually played like he was supposed to, Carimi was called for two false start penalties back to back, and was responsible for giving up the only sack of the game on Jay Cutler.
Carimi, a former first round draft pick out of the University of Wisconsin, was brought in to help the Bears in an area where they have struggled for years, yet so far this season he has not done a very good job.
Mike Tice may not be in charge of just the offensive line anymore, but he still won't stand for mediocrity and laziness on his line, which is exactly what Carimi showed on Sunday. Hopefully this game will be a wake up call for Carimi, and he will start improving like the rest of the line.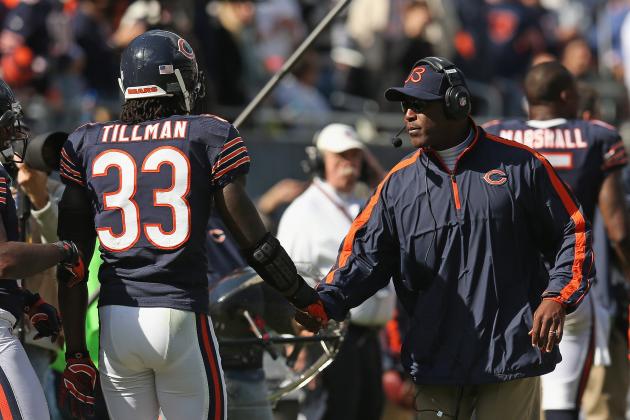 Jonathan Daniel/Getty Images

Charles Tillman got his second interception return for a touchdown in as many games on Sunday, and added to the Bears' overall league leading 17 takeaways through the first five games of the season.
For the first few games this season, it seemed like the name Charles Tillman was never mentioned, because the play of the other defensive backs, such as Major Wright and Tim Jennings, had been so good. Tillman, however, was not about to be shown up.
With his interception and touchdown on Sunday, Tillman tied Mike Brown with the most defensive touchdowns all time for the Bears, which is no small task considering that the Bears have always been known for a strong and solid defense that specializes in takeaways.
Tillman solidified his spot in the record books on Sunday, and once again helped put the game away for the Chicago Bears when they needed it most, showing why he is still one of the best players in the league at his position.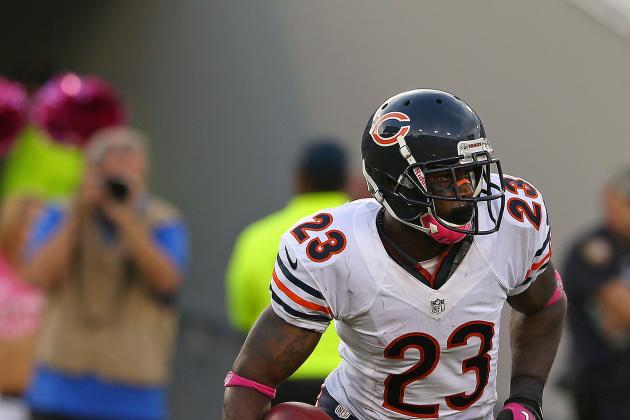 Mike Ehrmann/Getty Images

Devin Hester did a really superb job catching the ball this weekend, snagging up 49 yards through the air on two catches. So why is he coming out of this game as a loser instead of a winner? The answer is simple, Hester once again failed to do anything in the return game and instead of building of off the monster start he had to his career.
Hester had four returns, which means he had four opportunities to score a touchdown and make a statement, or even just gain a chunk of yards and help contribute to his team's victory. Instead, he gained eight yards total on his returns, giving him a whopping average of two yards per return. Two yards!
Hester has got to start returning punts better and help out his team, because the special teams unit is nowhere near where it used to be; which is a shame considering that when Hester was a rookie, they had the best in the league.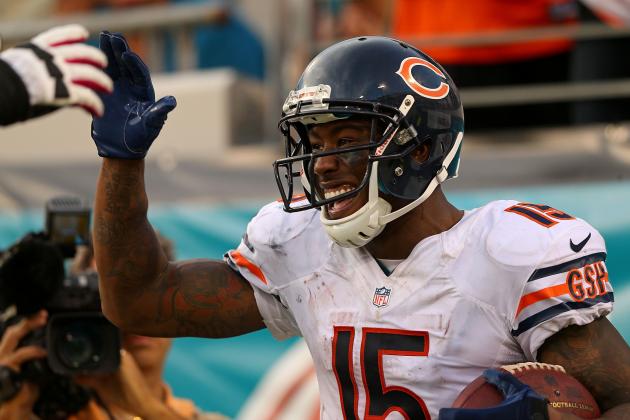 Mike Ehrmann/Getty Images

Chicago Bears fans have waited a long time for such talent and depth in the wide receiver position, and this season there is one receiver who stands out above all the rest.
Brandon Marshall has done and said all the right things this season, and he is perhaps one of the biggest reasons that this offense has finally taken off and why the Bears now sit atop the NFC North.
Marshall had another stand out game on Sunday, catching 12 passes for 144 yards and a touchdown against the Jacksonville Jaguars. Those numbers pretty much speak for themselves as to why Marshall walks away from this game as a winner.
As for the attitude that Marshall has had with other teams, it is seemingly non-existent in Chicago, where Marshall plays football with his best friend for a living and always has the love and support of his teammates. Marshall has made a home in Chicago, and if things continue to go the way they have so far this season, all signs point to him being there for a long time to come.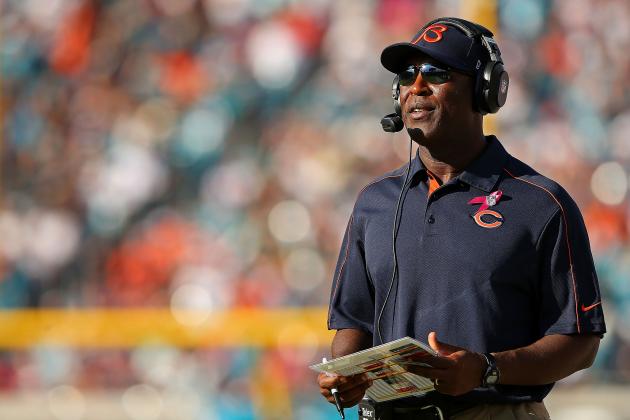 Mike Ehrmann/Getty Images

On Sunday, the Chicago Bears accumulated 12 penalties for 80 yards, a statistic that Lovie Smith and the coaching staff cannot be happy with.
From false starts to holding on punt and kick returns, the Bears seemed sloppy at times against Jacksonville, something that is unacceptable at the professional level of play. Did the Chicago Bears play a great game? Yes. And they got a huge win as well. However, when you rack up 80 yards on dumb penalties and don't address it in practice, it's bound to happen time and time again.
The fixes are easy: better communication on the offensive line about the snap count and better blocking and hustle on special teams. Hopefully, the Bears can right the ship and cut down on penalty yards, something that can come in handy when playing later on in the season and into the postseason.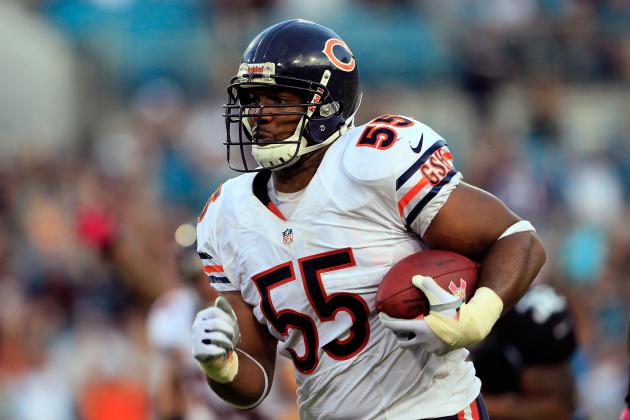 Sam Greenwood/Getty Images

Just like Charles Tillman did, Lance Briggs made a statement in Sunday's win over the Jaguars, and he did it in the same fashion as Tillman did too. Briggs also returned an interception for a touchdown, his second one in as many games, just like Tillman.
However, where Tillman made a statement about being overshadowed by Jennings and proving he was still a premiere defensive back, Briggs quietly came out of the shadows to have one of the best seasons of his career.
All offseason, the talk in the linebacking core was about Brian Urlacher, and how his knee would hold up after getting two surgeries on it this past summer and sitting out all preseason. Briggs was hardly mentioned at all leading up to this season, and now he's reminding everyone what he is capable of and how good this defense can be when all the parts are working together.
Briggs is a key piece to the dominant defense in Chicago this year, and he continues to give teams a reason to believe in monsters, and that is why he leaves Jacksonville as a winner.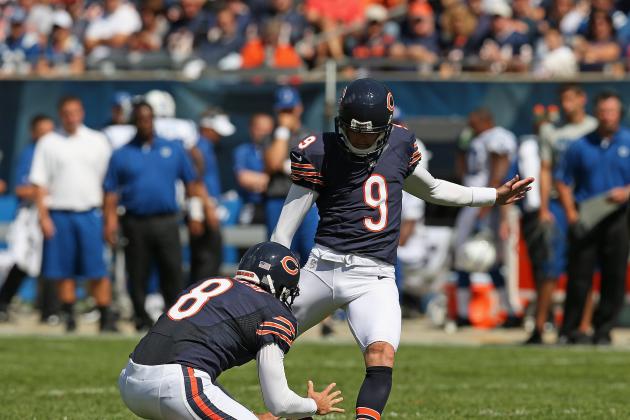 Jonathan Daniel/Getty Images

Robbie Gould has always been a reliable kicker for the Chicago Bears, and on Sunday he reinforced that notion.
Gould gave the Bears an early 3-0 lead, and when Jacksonville tied the game, Gould hit another field goal from beyond 30 yards to give the Bears the lead once again, starting what would eventually be a 38 point scoring spree involving both the the offense and the defense.
Gould can be relied on to get points when Chicago needs it most, and when he comes in Bears fans know that they're going to see three more points go up on the board. Gould has been good as gold this season, going 8-8 and not missing a single field goal so far.
When a team has a kicker that they know will get the job done, it takes a tremendous amount of pressure off of the offense to score a touchdown every time they have the ball. On days like today, it's nice to know that your team has a kicker who will keep your team afloat while the offense gets warmed up, and boy did they warm up today. Gould has been perfect all season and continued that today, which is why he walks away a winner.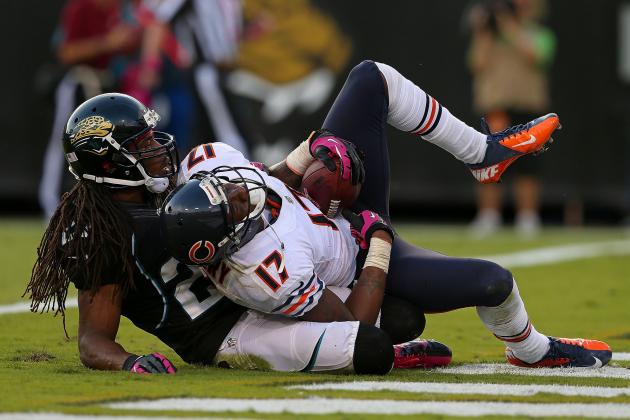 Mike Ehrmann/Getty Images

Alshon Jeffery had the game of his life today, catching two passes for twenty yards and getting a touchdown that really put the Bears ahead for good, so why does he end up as a loser this week?
Jeffery injured his hand on the touchdown catch he had on Sunday, which knocked him out of the game for good. Even as he came down in the end zone Jeffery looked to be in pain, which can be seen in the picture above where Jeffery won't even touch the ball with his right hand.
When he emerged from the locker room later in the game, Jeffery had what appeared to be a big brown bandage on his entire right hand and wrist, which didn't look good for Bears fans.
Jeffery has been a key part to this offense all season, and will be for years to come. Hopefully his injury wasn't too serious, and he is able to return to the team very soon, and remain a staple of this new Chicago Bears offense.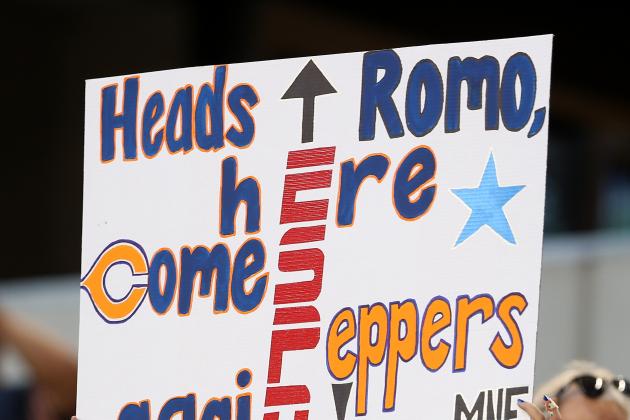 Ronald Martinez/Getty Images

The picture for this slide may be from last week, but it fits in perfectly with the theme of today, so it earns a spot in the winners column for Sunday.
Chicago fans finally have something to be just a little cocky about, and with good reason.
Today the Green Bay Packers lost to the Indianapolis Colts, dropping their overall record to 2-3, and more importantly it means that going into their bye week the Chicago Bears are two games up on the Packers.
After getting beaten by the Packers on Thursday Night Football back in Week 2, the Bears looked to be disheveled, and the Packers looked to be in charge of the NFC North once again. And yet, here we stand, just three weeks later, with the Packers owning a losing record and the Bears sitting comfortably in first place beside the Minnesota Vikings.
Every aspect of this team is something to brag about, from the league leading 17 takeaways by the defense to the new look and high powered offense lead by Jay Cutler to the perfect season kicker Robbie Gould is having so far. Bears fans can finally celebrate, and forget about the dismay, destruction and degrading they had to endure through last season, finishing the season 1-5 and missing the playoffs.
Bears fans: Enjoy it. Live it up, celebrate and have a good time. While they may not be undefeated and the season may only be five games in, your beloved Chicago Bears are finally something that you can brag about, even to Packers fans. This team is something special, and it's going to be a fun season seeing them in action each and every week.