Michigan State Basketball: 4 Ways Tom Izzo and the Spartans Can Win a Title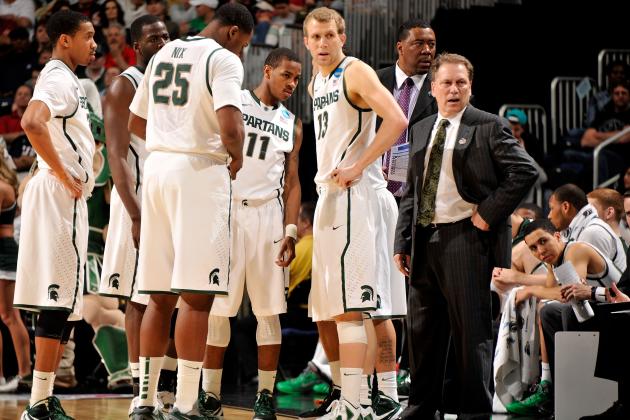 Jamie Sabau/Getty Images
Coach Tom Izzo hopes to capture greatness with one of his more talented squads
Michigan State has been one of the most consistent college basketball programs over Coach Tom Izzo's tenure, winning a national championship in the 1999-2000 and participating in the NCAA tournament for 14 consecutive seasons.
After advancing to the Sweet 16 in last year's NCAA tournament, Michigan State finished last season ranked No. 7 in the country in the USA Today Coaches Poll. This season, the Spartans return four of their top sx scorers from 2011-2012 (with the exception of Brandon Wood and Draymond Green, their leading scorer) and welcome the nation's No. 9 recruiting class, led by 5-star shooting guard Gary Harris.
With one of his most talented squads in recent memory, what will Tom Izzo and his Spartans have to do to win this year's national championship?
Begin Slideshow

»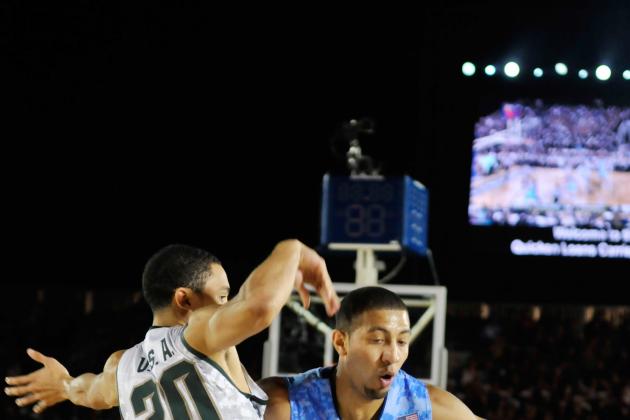 U.S. Navy/Getty Images
The Spartans started off last season with losses to North Carolina and Duke consecutively
For the second straight season, Michigan State will start the year with two very difficult non-conference games. Last season, its first two games were losses to perennial ACC powerhouses Duke and North Carolina.
This season, the Spartans will open against the UConn Huskies followed by a trip to the Georgia Dome to challenge Bill Self's Kansas Jayhawks.
While it is not vital for the Spartans to win both of these games (they lost their first two last season and finished No. 7), it will be beneficial to their goal to win a national championship to establish themselves as a power across all conferences. What better way to do that then to beat some of the better teams from the Big East and the Big 12?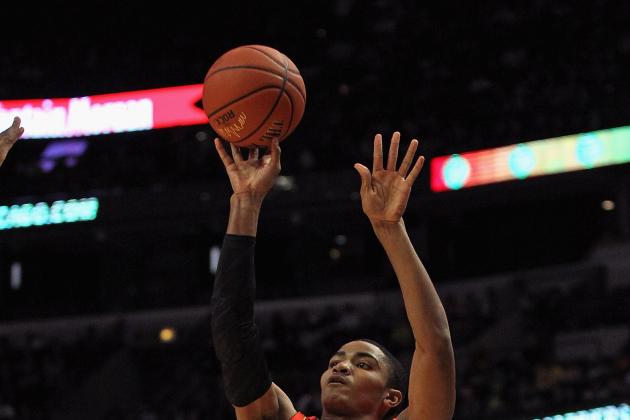 Jonathan Daniel/Getty Images
SG Garry Harris can be one of the nation's most dynamic freshmen this season
Tom Izzo brought in a stellar recruiting class for this season, including four players in the ESPN Top 100 rankings.
In the upcoming season, Izzo will need to incorporate these freshmen to help replace the 16.2 points per game and 10.2 rebounds per game that they lost from Draymond Green. The addition of forwards Denzel Valentine and Matt Costello will help ease the rebounding deficiencies from the loss of Green, while Harris should fill up the box scores with points.
With the loss of their team leader last season, one of the most important things the Spartans can establish is depth.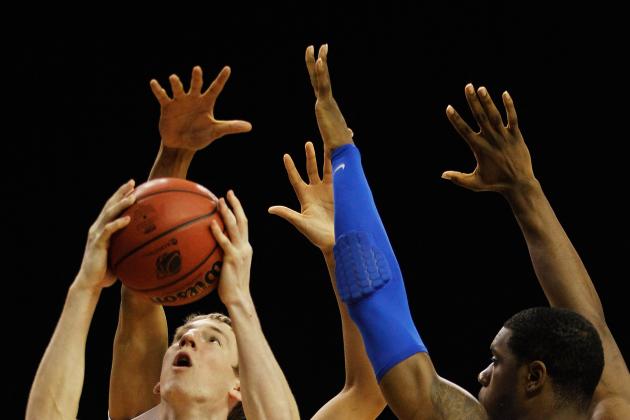 Streeter Lecka/Getty Images
Cody Zeller will lead an elite Indiana team this season, one of six Big Ten teams ranked in many preseason Top 25 polls
The Big Ten is the nation's most competitive conference this season from top to bottom. It features the preseason No. 1 favorite Indiana, followed by three other Top-10 worthy teams: Michigan, Ohio State and Michigan State.
Winning the Big Ten would do wonders for Michigan State's title chances. First, it would almost ensure a No. 1 seeding in the NCAA tournament and would give Michigan State an easier path through the early rounds. Second, it would give the team much-needed confidence after graduating its best player, Draymond Green. Third, it would give them momentum heading into the tournament.
While winning the Big Ten championship would ensure nothing (you can never be sure about the results of the NCAA tournament), the confidence, momentum and seeding would make their road much easier.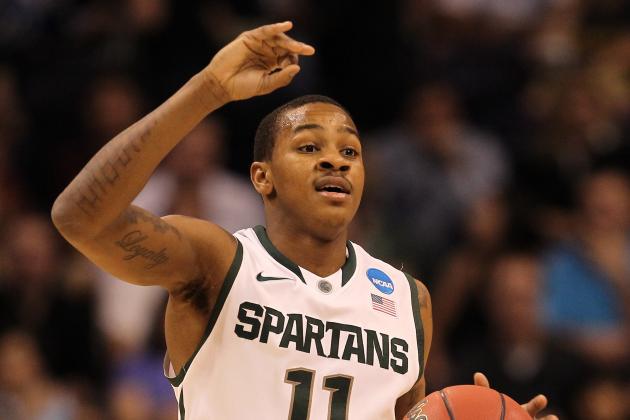 Jamie Squire/Getty Images
An injury to junior point guard Keith Appling would be debilitating to the Spartans
On a team with only one senior, leadership will be very important. A few players who will be looked to for leadership are point guard Keith Appling, forward Adreian Payne and the sole senior, center Derrick Nix.
This goes for most college teams, but an injury to any of these players would be difficult for the Spartans to overcome. It is never a promising proposition to thrust inexperienced freshmen and sophomores into unfamiliar roles or give them more responsibility midseason, and with the lack of upperclassmen leadership on this team, it is especially important for the Spartans to stay healthy.