Wisconsin Football: Grading All 22 Starters from the Illinois Game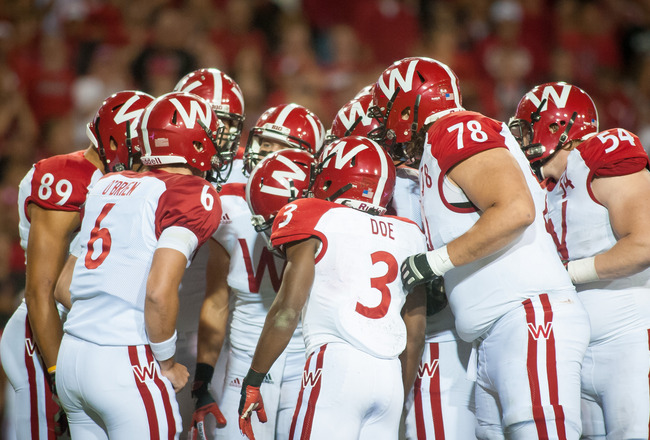 Eric Francis/Getty Images
It took Wisconsin three quarters to boot up the offense, but at the final whistle, the Badgers walked away with a 31-14 victory over the Illinois Fighting Illini.
Just as against Nebraska, Saturday's game was a tale of two halves—Wisconsin outscored Illinois 24-7 in the final 30 minutes.
After a 46-yard field goal from Kyle French midway through the third quarter, Wisconsin piled on three touchdowns in the fourth and made a rather close game look lopsided as a result.
While some expected the Wisconsin Badgers to take care of business a little more handily, the win is important, as Illinois is one of the three teams Wisconsin must play in the Big Ten's Leaders Division that is eligible for postseason play.
Here are the grades.
Quarterback: Joel Stave
Tom Lynn/Getty Images
Joel Stave's only miscue was a costly one, an interception early in the second quarter that led to Illinois' first touchdown.
To be fair, he was out of the game for the previous three plays in favor of Curt Phillips, who Bret Bielema planned prior to kickoff to insert into the game on the Badgers' third offensive series (via Tom Lea, ESPNWisconsin.com).
But the freshman didn't allow the mistake to linger in his head and bounced back nicely, finishing 16-of-25 for 254 yards and two touchdowns to go along with his interception, benefiting from lengthy touchdown passes to James White and Jared Abbrederis.
Stave struggled early on in the game, failing to complete much of anything downfield. The second half was a different story, which was refreshing for Badger fans to see, considering what happened in the second half last week against Nebraska.
The starting job should be his once again next week at Purdue.
Grade: B-
Running Back: Montee Ball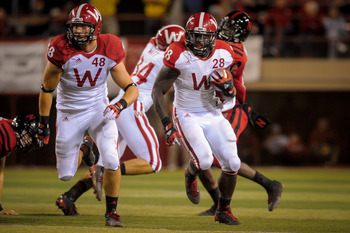 Eric Francis/Getty Images
That's more like it, Montee Ball.
The 2011 Heisman finalist saw his workload decrease and his production increase Saturday afternoon after Bret Bielema opted to spread out the carries among his three talented running backs (via Madison.com).
Well, it didn't appear to be working early on along with almost every aspect of the offense, but the end result was positive. Ball carried the rock 19 times as opposed to his 30-plus carry games earlier in the season, and he racked up 116 yards and two touchdowns.
Thirty-nine of those yards came on the Badgers' final scoring drive, capped off by a 19-yard touchdown run. It was by far the best performance of the season to date for Ball, who pushed his touchdown total to eight on the season.
Grade: B+
Fullback: Derek Watt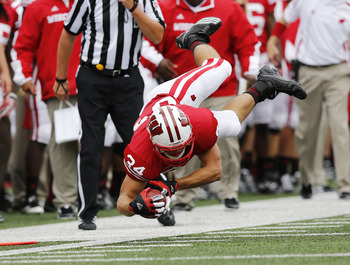 Tom Lynn/Getty Images
Rather than hand out a grade to each tight end, we'll give fullback Derek Watt his due diligence this week.
He was instrumental in Wisconsin's improved running attack, helping pave the way for Ball and Co. and leading them through the holes he and the offensive line created.
Not only that, but Watt was the third-leading receiver for Wisconsin, catching two passes for 35 yards. The freshman continues to improve after replacing Bradie Ewing, who is now in the NFL.
If Watt can continue to build on this performance and be a viable pass-catching fullback out of the backfield, it will add another dimension to a Wisconsin offense beginning to find its mojo.
Grade: B+
Wide Receivers: Jared Abbrederis, Jordan Fredrick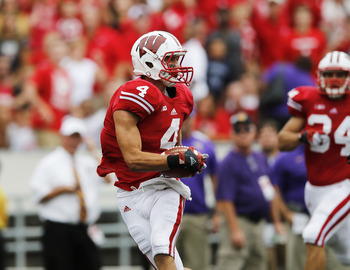 Tom Lynn/Getty Images
Abbrederis
Jared Abbrederis was at it again against Illinois on Saturday, putting together his third straight 100-yard receiving performance by catching seven passes for 117 yards. He also replaced Kenzel Doe as punt returner after Doe muffed two punts.
The result was a 26-yard return from Abbrederis. Go figure.
The junior standout continued his trend of big plays, setting up his touchdown and then hauling in a 59-yard touchdown pass from Stave with 11 minutes and 40 seconds remaining to put the Badgers ahead 24-7, essentially sealing the victory.
Even with Abbrederis being the only threat in the passing game, he somehow finds a way to get open against defenses whose sole focus is on him while throwing their No. 1 corner at him time and time again.
Grade: A+
Fredrick
Fredrick may still be the No. 2 receiver, but he better watch his back, because Chase Hammond is starting to make some noise.
More noise than Fredrick, in fact. Once again, the freshman wasn't much of a factor, only catching one pass for six yards. Hammond, meanwhile, had two receptions for 11 yards.
It's not much, but the 6'5" sophomore may continue getting more looks thanks to his size and Fredrick's quiet performances this season.
Grade: D
Tight End: Jacob Pedersen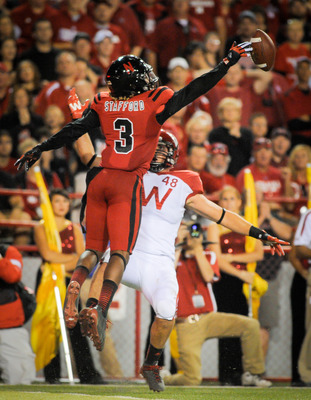 Eric Francis/Getty Images
Speaking of quiet performances, Jacob Pedersen shares the woes of Jordan Fredrick in terms of his statistics through six games.
He did have one nice 16-yard reception, but that's the problem—he only had one.
Granted, it was a step up from his forgettable performance against Nebraska, but Matt Canada appears to have put an end to the great success of the tight end at Wisconsin. Perhaps Pedersen's role will increase if defenses begin to zone in more on Abbrederis.
Otherwise, Pedersen will have to be counted on mainly to contribute as a blocker. In that regard, we also saw improvement from last week.
Grade: C
Offensive Line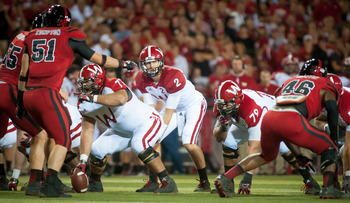 Eric Francis/Getty Images
Slowly but surely, the Wisconsin offensive line is starting to put it together.
The Badgers averaged over five yards a carry (5.2) for just the second time all season, and the unit only had two penalties, holding calls on both Travis Frederick and Ryan Groy.
The blocking was much better in the second half based on the way Wisconsin was able to move the football, and the protection of Joel Stave was much better, as the freshman wasn't sacked one time throughout the game.
Once again, Wisconsin struggled on third down (2-of-10), and it was holding the Badgers back from breaking open the game until late.
The improved rushing attack could have partially been a product of spreading the carries, but the big uglies up front certainly performed better than against Nebraska, and therefore get a better grade.
Grade: B
Defensive Ends: David Gilbert, Tyler Dippel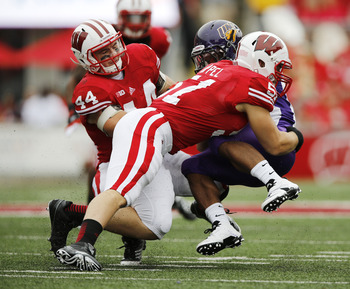 Tom Lynn/Getty Images
Gilbert
The Badgers did a lot of rotating at defensive end, as injuries have dealt a pretty big blow. However, Brendan Kelly and Pat Muldoon saw some action, so limiting Gilbert and Tyler Dippel was likely a product of trying to keep everyone healthy.
Gilbert didn't have a career day by any means, and he only recorded three tackles, but Nathan Scheelhaase is a dual-threat quarterback just like Taylor Martinez, and Gilbert helped contain the QB much better this week.
Grade: B
Dippel
Like Gilbert, Dippel didn't record many tackles (2), but one of them was a sack of Scheelhaase that resulted in an eight-yard loss. He was one of four Badgers to record a sack in the game.
Again, it's hard to judge just how effective Dippel was since Wisconsin used several players at defensive end, but a sack is always good. The Illinois running game was subpar, so he gets a plus-grade as well.
Grade: B+
Defensive Tackles: Beau Allen, Ethan Hemer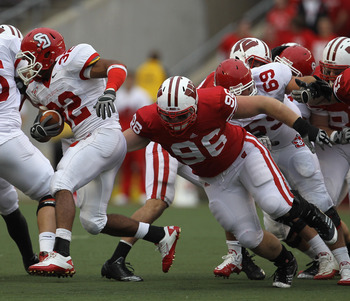 Jonathan Daniel/Getty Images
Allen
Beau Allen got in on the sack party (mind out of the gutters, people) and brought down Scheelhaase for a three-yard loss, forcing a fumble recovered by the Illinois quarterback. He was essential in plugging the middle and stifling Illinois' running game.
For Allen, it was a nice bounce-back performance after failing to do much of anything against the Blackshirts.
Grade: A
Hemer
It was maybe the best showing for the Wisconsin defensive tackles this season, as Hemer also sacked the Illinois triggerman for his only tackle of the day.
Yes, Illinois is lowly, but the push up front was much improved from a week ago, and Hemer was a big part of that.
Grade: A-
Linebackers: Chris Borland, Mike Taylor, Ethan Armstrong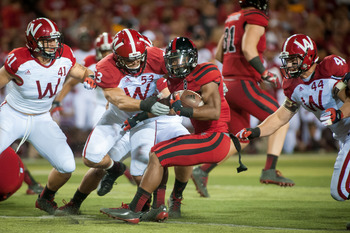 Eric Francis/Getty Images
Borland
For a game that was low scoring up until the final quarter, there was a lot of pressure on Borland and the Wisconsin defense to keep Illinois at bay while the Badgers waited for their offense to wake up.
He even created a turnover when tackling tailback Ryan Lankford, but after Brendan Kelly recovered the ball, he fumbled it right back to Illinois.
The only blemish for Borland was an offside penalty, but it didn't end up hurting Wisconsin in the long run. It was another dominant performance for the junior middle linebacker.
Grade: A
Taylor
It's either going to be Borland or Mike Taylor leading Wisconsin in tackles on a weekly basis. This time, Taylor took home the honor, recording 12 tackles against the Fighting Illini.
A few of those tackles resulted in a loss, although neither of them were a sack of the quarterback. Taylor didn't manage to get any hits on Scheelhaase when he dropped back to pass, but helped to contain him and had to be on high alert all game long of the QB tucking it and running.
Grade: A-
Armstrong
This week, Armstrong was able to make his presence known and made it a trifecta of Wisconsin linebackers reaching double-digit tackles (10).
Along with Borland and Marcus Cromartie, he was one of three Badgers to break up a pass on the day, so Armstrong also had a positive impact in defending the pass. It showed, as Illinois struggled to move the ball all day long.
Grade: A-
Cornerbacks: Devin Smith, Marcus Cromartie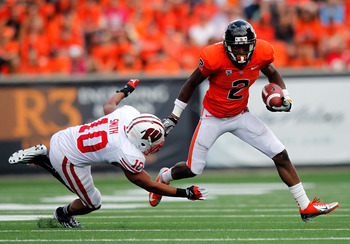 Jonathan Ferrey/Getty Images
Smith
The Badgers defense is finally off the schnide.
Devin Smith got Wisconsin its first interception of the season when he picked off Scheelhaase. It couldn't have come at a better time, as Illinois was driving in Wisconsin territory with a seven-point lead in the second quarter.
Earlier on the possession, Smith conceded a large gain, so he was able to redeem himself with the interception that led to Wisconsin's first score. He didn't break up any passes, but he had four tackles and swung momentum early in the game.
Grade: B+
Cromartie
Cromartie may not have been the guy to pick off Scheelhaase, but he did deflect a pass and recorded four tackles of his own.
He didn't get beat for any big plays like Smith on a few different occasions. Even though Illinois marched down the field for a touchdown late in the game, the Badgers were in their prevent defense.
It didn't prevent much, but it didn't matter.
Grade: B+
Safeties: Dezmen Southward, Michael Caputo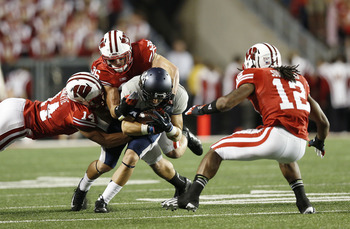 Tom Lynn/Getty Images
Southward
While it didn't happen right away, Dezmen Southward was finally reunited with Shelton Johnson late in the first quarter against Illinois.
Southward was holding the fort down in the secondary with Johnson out with a broken forearm, playing with three different partners at safety. His defining play came when he helped out with a tackle in the backfield.
There weren't any big plays over the top, so Southward gets some credit for limiting the big gains.
Grade: B
Caputo
According to Bret Bielema, redshirt freshman Michael Caputo had trouble adjusting to the speed of the game (via Madison.com), and his start was short lived as he was yanked and replaced by Johnson.
Caputo got the starting nod after Michael Trotter got burned multiple times at Nebraska, but the freshman wasn't up to the task in the eyes of Bielema, and Johnson was forced into duty.
Playing with a cast, Johnson made four tackles, but he had to exit the game at one point and was in pain throughout the game.
Grade: F
Keep Reading

Wisconsin Badgers Football: Like this team?