Florida State Football: Winners and Losers from the Week 6 Game vs. NC State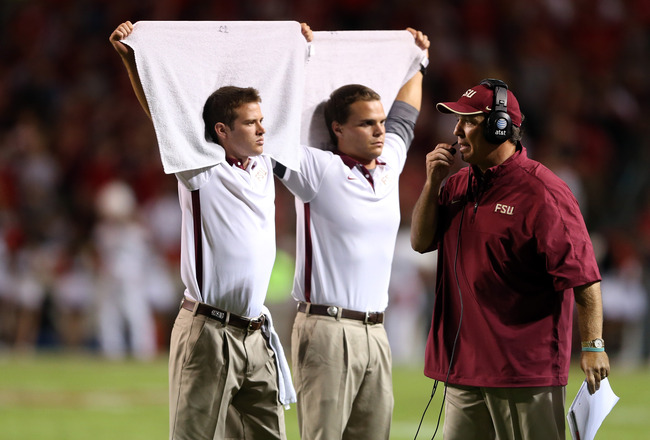 You can't hide the truth—FSU's shortcoming is its own fault.
Streeter Lecka/Getty Images
Do your research. Stick with your gut. And do not be easily swayed.
If I had done any of these things this weekend, I would've gone back to my earlier prediction and would have picked Florida State to lose. So I apologize, dear audience, for inspiring false hope.
The Seminoles had all the warning signs in front of them. Raleigh has been Kryptonite to the Seminoles since even before the Lost Decade. NC State had nothing to lose—that is when the Wolfpack was most hungry. They desired revenge for a 34-0 embarrassment in Tallahassee. It was the perfect storm.
Yet somehow, we weren't ready for it. Jimbo Fisher played for the lead, continuing to use Chris Thompson when E.J. Manuel should have been passing. Russell Wilson didn't quarterback this Wolfpack.
There are no excuses. Only explanations. So what happened?
Winner: Anything NC State Related

In a tale of two halves, the Seminoles lost when it mattered.

North Carolina State is not known for much. The men's basketball program has won two national championships, but it pales in comparison to the success of Duke and UNC. The state of North Carolina has never had a team win a national championship at the FBS level.
NC State's victory against the Seminoles proved that despite its two losses (one ACC), the Wolfpack remain a valid program that now has a chance at an ACC Championship. It was the school's greatest football victory since a similar upset of the then-No. 2 ranked Seminoles in 1998.
NCSU has never made many waves in the ACC (though it almost won the Atlantic Division two years ago), but with a win against the Seminoles, the Wolfpack have momentum. With an off week to prepare for back-to-back road games, the Wolfpack will likely not win the Atlantic Division, but can certainly challenge Clemson for the second-best division record.
No matter what happens to the Wolfpack now, they've proven to be the upset team of the ACC. It is a great week for a Wolfpack community whose team played out its hearts for a banner win.
Loser: Florida State's Ahead of the Curve Expectations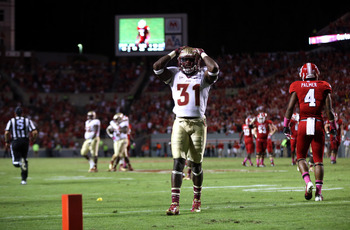 E.J. Manuel stands in disbelief as FSU loses 17-16.
Streeter Lecka/Getty Images
Saturday night proved do not fall for the hype for hype's sake.
Coming into this season, Seminoles fans knew that Florida State would likely win that elusive ACC Championship Game and make the Orange Bowl. I myself predicted a 12-2 record for Florida State.
As moans that words cannot understand came out of every Tallahassee apartment, the reality set in. Florida State is no longer mediocre, but the Seminoles are trapped in a predictable pattern.
It seems that the Seminoles are always one year behind their annual prognostication.
Think about it—they've been just behind the expectation curve every year of the Jimbo Fisher era.
Anyone who saw the 2010 edition of Florida State knows the team's record was slightly deceptive. Yes, the Seminoles finally turned the tables on the Hurricanes and Gators, but they were blown out by Oklahoma, lost a homecoming game to an inferior UNC team, had to nail a 55-yard field goal to beat Clemson, and "blew out" Boston College at home by a measly five points.
And they didn't even win the ACC Atlantic on their own. The Seminoles sat at 8-3 going against a crumbling Gators team. It took a Maryland upset over NC State for the Seminoles to even win the Atlantic Division. Virginia Tech then beat FSU; the same Hokies team that got upset at home by FCS James Madison!!!
The Seminoles could have easily gone 4-4 in the ACC and 7-5 overall in 2010.
But the false sense of hope a 10-4 finish made people think the Seminoles were talented, not just lucky.
In 2011, injuries plagued the Seminoles. Injuries or not, losses to Wake Forest and Virginia were inexcusable. The Seminoles could have easily finished 10-2 and won the ACC Championship. But the team wasn't ready.
It makes little sense that Seminole fans should have expected a national championship from a team that hasn't even won an ACC Championship. So this year, the Seminoles will likely have to settle for the Orange Bowl (not too bad of a consolation prize).
So 2010 was a recovery from Bowden's forgettable last season. 2011 was becoming competitive in big games. 2012 was becoming relevant in big games and winning the ACC. Based on this logic, the Seminoles should play for the national championship in 2013.
I hope.
Winner: Tom O'Brien Football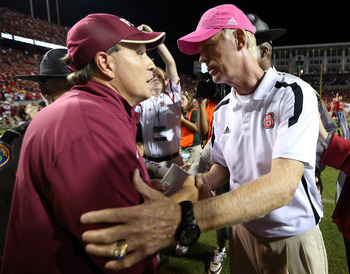 Tom O'Brien's illustrious career overshadowed Jimbo's talent.
Streeter Lecka/Getty Images
Tom O'Brien has never had the talent pool near the likes of Florida State.
But even when his teams lose, there is the O'Brien trademark: His teams play to their maximum ability.
What else should one expect out of a Navy football player?
The well-traveled O'Brien had his all-time signature win on Saturday. For a coach who started off with three losing seasons in Raleigh and kicked star QB Russell Wilson off the Wolfpack, O'Brien's commitment to hard work and discipline paid off.
NC State drastically reduced the penalties that cost its last game versus Miami. In that game, the Wolfpack had six turnovers and 14 penalties. In Raleigh, the team had only four penalties and one turnover.
In addition, the team completely outlasted the Seminoles in the trenches, going 3-of-4 on fourth-down attempts. This man molds winners.
Loser: Jimbo Fisher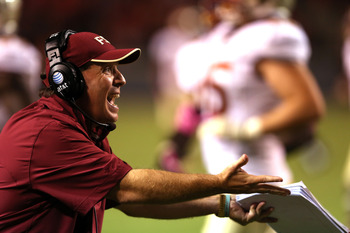 Jimbo Fisher needed crunch-time gumption on Saturday.
Streeter Lecka/Getty Images
Jimbo Fisher and his staff remain among the best in college football.
Even a superb staff sometimes makes the wrong calls. And sometimes, playing to protect a lead will cost your team a game.
The offensive line looked porous on Saturday. Combine that with NC State's viscous third-down defense (second best in the ACC) and O-line coach Rick Trickett should blush. FSU quarterback E.J. Manuel was sacked four times in Raleigh.
Ultimate accountability lies with Jimbo Fisher. Even though James Coley is the 'Noles offensive coordinator, everyone knows that Jimbo hired Coley and Trickett. Most fans are also aware Fisher still calls the plays on offense. There were hints of this as early as the USF game. Come on, guys.
Why, then, did Fisher keep Chris Thompson running late in the fourth quarter? Hasn't E.J. Manuel progressed enough to give the ball to him as a first—not last-minute—option?
I will not blame Jimbo for using all of FSU's timeouts: While he should have saved one of them for late in the game, he made the right choice challenging for Kelvin Benjamin's reception. Had it held up, the Seminoles would have likely scored and won the game.
Nevertheless, Fisher needed to rely on Manuel to get the team down the field. After all, two-minute drills aren't designed for the running back.
Winner: Mike Glennon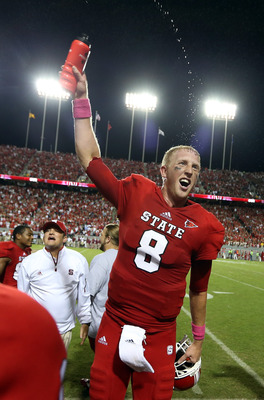 Mike Glennon celebrates NC State's season-changing win.
Streeter Lecka/Getty Images
Mike Glennon made sure the Seminoles remembered him.
Last year, the veteran quarterback led the Wolfpack out of Tallahassee, whimpering from a humiliating 34-0 shutout. This time he threw for two touchdowns and 259 yards.
To put Glennon's contribution in perspective, NC State had 325 total yards (a compliment to FSU's superb defensive line). Glennon's passing contributed roughly to 80 percent of that total.
Glennon also reduced his turnovers from last week's loss to Miami (two interceptions to one vs. FSU).
But Mike's greatest contribution had to be all those fourth-down conversions that allowed NCSU to light up the scoreboard in the fourth.
Loser: E.J. Manuel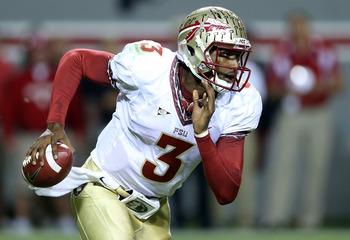 E.J. Manuel has likely lost his last chance for a national title.
Streeter Lecka/Getty Images
E.J. Manuel has been efficient this year, but would have been hard-pressed to throw a pick at a worse time.
Manuel's interception around the NC State 30-yard line changed the trajectory of the game. Instead of scoring a field goal or touchdown to extend its lead and knock time off of the clock going into the fourth, Manuel gave NC State the spark it needed to cook up an upset.
It didn't help than the offensive line (yes, guys, you are losers this week) let cornerback David Amerson flatten Manuel every other down.
Manuel did play heroically, so he is by no means a "loser." Having a rough game happens, and though he couldn't get the Seminoles down the field, I was surprised that he nearly moved the Seminoles into field-goal range so quickly. His Hail Mary attempt was so beautifully accurate as well. It's sad, to say the least, that it was deflected.
Winners: Bryan Underwood/Niklas Sade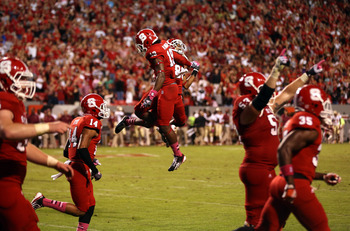 Bryan Underwood has been NC State's MVP all season long.
Streeter Lecka/Getty Images
Bryan Underwood (as stated earlier) has been the playmaker for NC State all year. He has taken anything that QB Mike Glennon has passed him and scored with it.
Underwood was relatively quiet in this game until NC State was faced with a 4th-and-goal with about a minute left. Underwood got the ball and held on to it even after a late hit.
But the extra point was up to kicker Niklas Sade. Had Sade missed this semi-pressure kick (the Wolfpack could have won in overtime), the game would have likely gone into overtime.
Kudos to both men for an outstanding performance.
Winner: Chris Thompson (1st Half)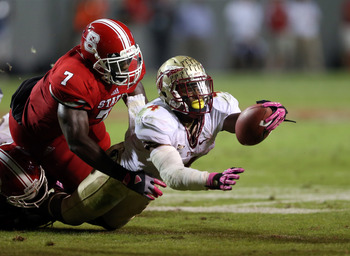 Chris Thompson was a thorn in the NC State defense.
Streeter Lecka/Getty Images
Though Chris Thompson didn't get anywhere near the end zone to escape the upset and was non-existent in the second half, but much of FSU's squandered 16-0 lead has to go to the rushing demon. Even with a subpar second half, Thompson still accumulated 141 yards on 25 carries.
I'll spare you the insult to your intelligence by not wasting the next slide saying Chris Thompson was not stellar in the second half. Of course, when your opponent knows you are going to run...
Winner: Juston Burris

Earl Wolff might lead the defense, but Juston Burris made plays.

This freshman defensive back was the culprit of the Manuel pick. That play alone makes him a winner.
Earl Wolff, NC State's defensive leader and senior safety, must be proud.
Winner: Dustin Hopkins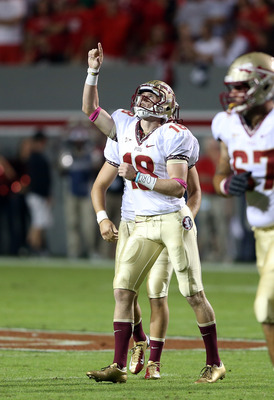 Dustin Hopkins nailed a 49-yard field goal on Saturday.
Streeter Lecka/Getty Images
I have razzed Dustin Hopkins before, calling him a kicker who can't perform under pressure.
I even said if Florida State lost a game, it would come off a missed Hopkins kick.
Hopkins never had the chance to be the hero as the Seminoles never entered his field-goal range.
Nevertheless, while on the road, Hopkins broke the 0-0 tie and gave the Seminoles an early lead off a 49-yard field goal.
He also had field goal kicks of 45 and 20 yards, respectively, to make up for an anemic offensive performance.
Bravo, sir! Bravo!
Winner: Mike Rose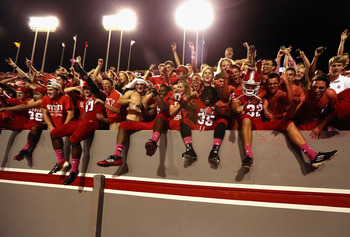 Like Juston Burris, Mike Rose was an NCSU difference-maker.
Streeter Lecka/Getty Images
A defensive end has my nomination for most awesome play of the game.
Unfortunately for Seminoles fans, it wasn't Bjoern Werner. Defensive end Mike Rose blocked freshman punter Cason Beatty's kick to NC State, putting the ball on a shorter field. The result was a Mike Glennon touchdown that narrowed the score to 16-10.
Glennon might make awesome fourth-down passes, but blocking a punt is a rare opportunity.
Rose seized his, and—obviously—NC State seized theirs.
Keep Reading

Florida State Football: Like this team?