Notre Dame Football: Grading All 22 Starters from the Miami Game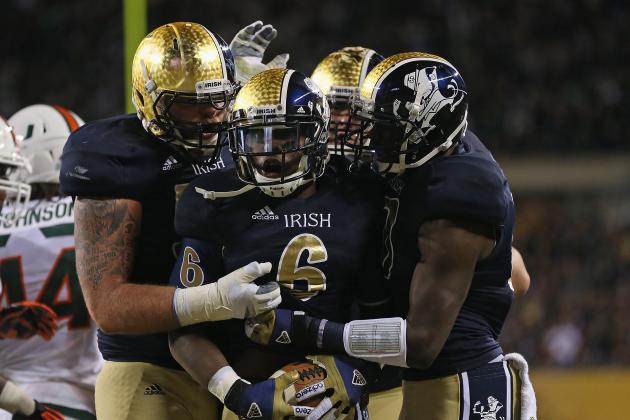 Jonathan Daniel/Getty Images

Listen up, players. The weekly report cards are in, and the marks look fabulous after your outstanding performance against old rival Miami.
The 41-3 victory was a true team effort, as the Hurricanes were overwhelmed by a tougher, faster, more experienced team at Chicago's Soldier Field on Saturday evening. That effort impressed the pollsters, pushing the Notre Dame Fighting Irish into the seventh slot in both the AP and Coaches' Polls.
Now, let's take a look at those grades.
Begin Slideshow

»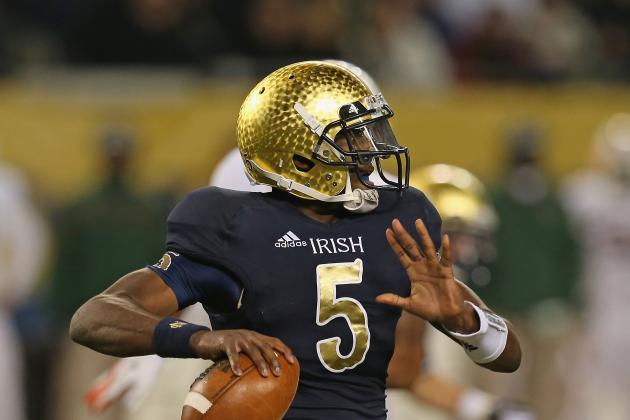 Jonathan Daniel/Getty Images

After throwing two interceptions and being benched against Michigan, Everett Golson recovered nicely against Miami.
The redshirt freshman completed 17 of 22 pass attempts for 186 yards, while carrying the ball six times for 51 yards. While Golson didn't account for any points, he didn't turn the ball over, which should be equally celebrated.
Grade: A
Jonathan Daniel/Getty Images

Like Golson, Cierre Wood was benched for a majority of the Michigan game that may have stemmed from a disagreement with the offensive coaching staff in Notre Dame's new zone-blocking scheme.
However, Wood and the staff seemingly made amends during the two weeks leading up to the Miami game, as Wood accumulated 118 rushing yards on 18 carries to go along with two touchdowns.
Grade: A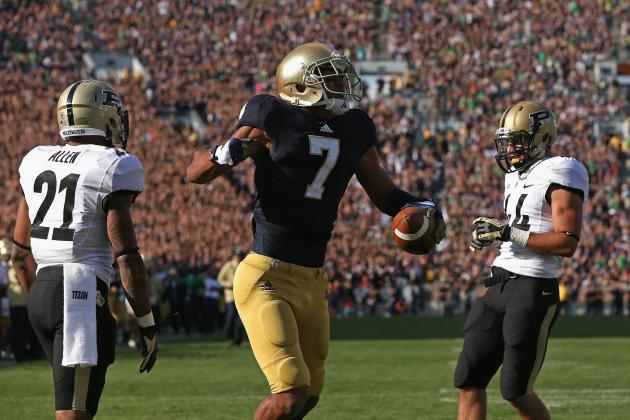 Jonathan Daniel/Getty Images

T.J. Jones continued to grow into his role as the Irish's leading receiver against Miami.
The junior was quarterback Everett Golson's favorite target against a weak Hurricanes secondary, snagging four receptions for 45 yards.
Grade: A-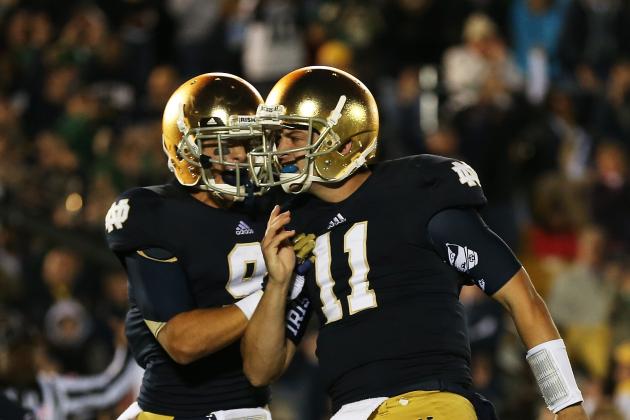 Jonathan Daniel/Getty Images

After four games in which he was a constant in the passing game, Robby Toma had a relatively quiet evening at Soldier Field.
Manti Te'o's best friend caught only two passes for 22 yards.
Grade: B-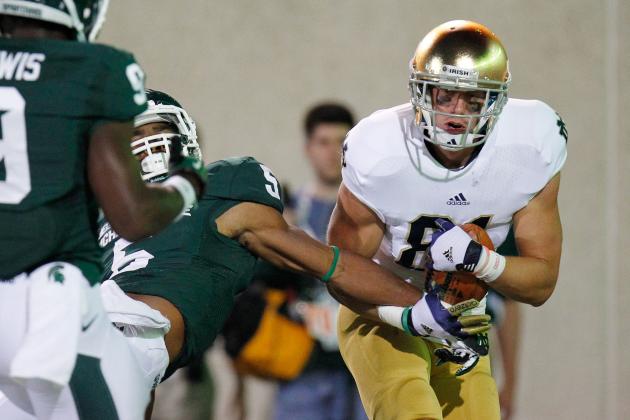 Gregory Shamus/Getty Images

John Goodman has the mental ability to be a great player, but the physical side simply hasn't caught up during his five seasons at Notre Dame.
Goodman caught just one 13-yard pass against Miami and was outperformed by redshirt freshman DaVaris Daniels, who appears primed to nab Goodman's starting spot.
Grade: C+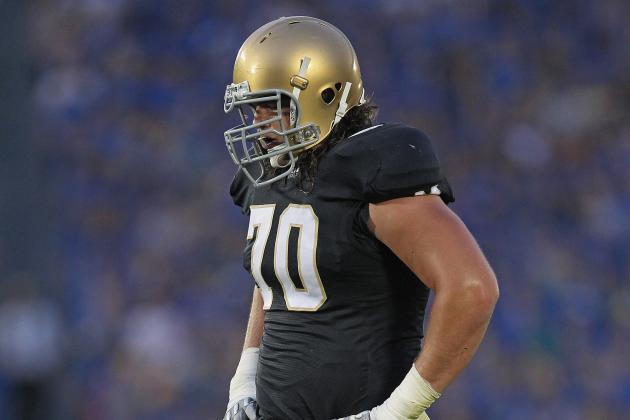 Jonathan Daniel/Getty Images

Zack Martin continued his excellent protection of Everett Golson's blind side on Saturday, effectively shutting down Miami's pass rush off the left side.
Grade: A
Jonathan Daniel/Getty Images

Christian Lombard, a first-year starter at right tackle, hasn't been nearly as effective as fans envisioned him to be. Opposing defensive lines have thoroughly beat him through the season's first five weeks.
Against Miami, Lombard showed steady improvement, though doing so against a weak Miami defense may not be a celebratory accomplishment.
Grade: B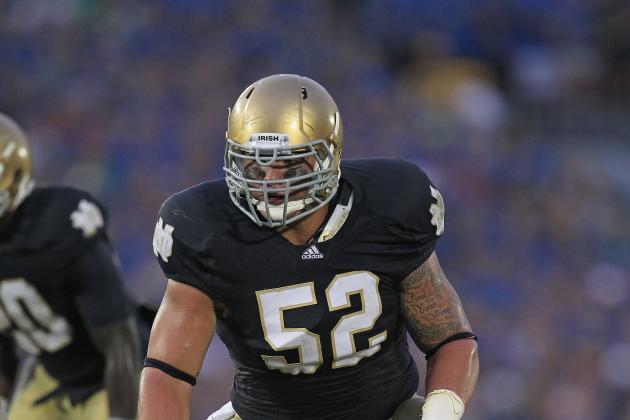 Jonathan Daniel/Getty Images

It's no secret that the success of the Irish offensive line begins with fifth-year senior center Braxston Cave.
After his unit had struggled to establish the running game through the season's first four games, Cave was able to set the tone early, effectively paving the way for 379 rushing yards on the evening.
Grade: A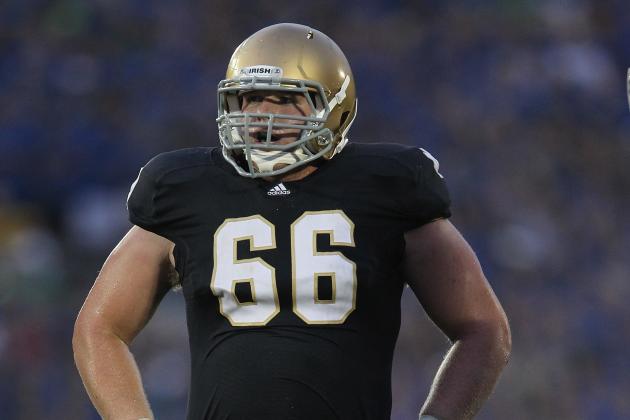 Jonathan Daniel/Getty Images

Another veteran presence along the offensive line, Chris Watt continued his solid play at the left guard spot against Miami.
He and left tackle Zack Martin have combined to form a solid left side of the Irish offensive line.
Grade: A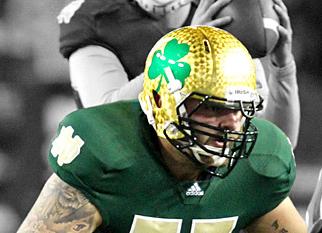 http://a.espncdn.com/contests/allstate/2012/img/bio_pic_Golic.jpg
Mike Golic, Jr. has been the weak link along the Irish offensive line this season, and that notion didn't change against Miami.
The fifth-year senior continues to be a step slow against faster, more athletic defensive lines.
Grade: C+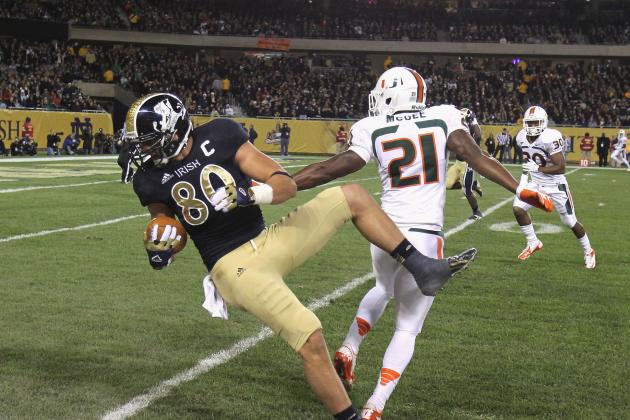 Jonathan Daniel/Getty Images

Tyler Eifert's final statistics against Miami don't jump off the page—Eifert had two receptions for 31 yards—but his performance as a run-blocker shouldn't go unnoticed.
When lined up wide as a receiver, Miami's defense did an excellent job of keying in on Eifert.
Grade: A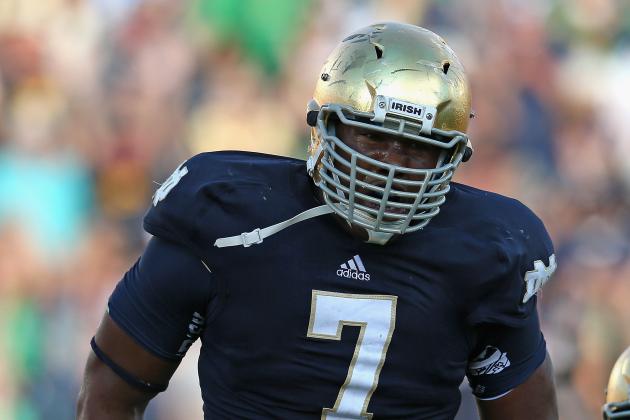 Jonathan Daniel/Getty Images

Stephon Tuitt didn't record a sack, but he was certainly disruptive against a Miami rushing attack that totaled just 84 yards against the Irish.
Grade: A-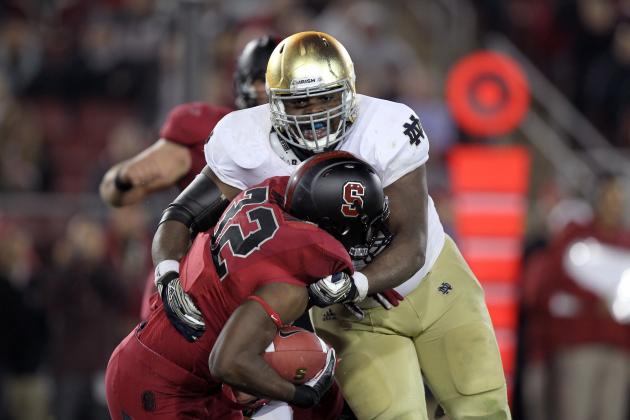 Ezra Shaw/Getty Images

Notre Dame's ability to shut down opposing rushing attacks this season begins with the big guy in the middle, Louis Nix III.
Nix was, once again, a formidable force up the middle against the Hurricanes.
Grade: A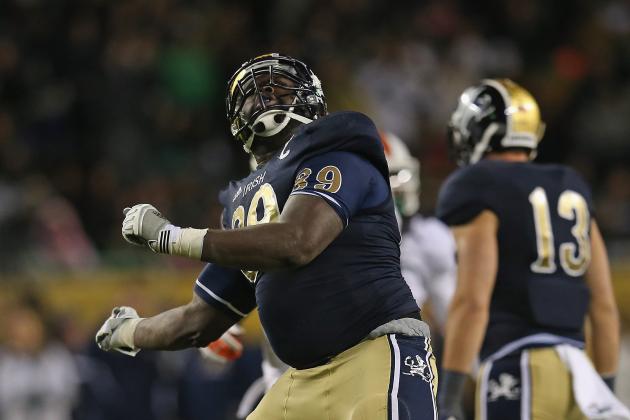 Jonathan Daniel/Getty Images

Kapron Lewis-Moore hadn't quite lived up to expectations thus far, but he silenced his doubters against Miami.
Matched up against former prep phenom Seantrel Henderson, Lewis-Moore displayed excellent footwork and technique against the larger lineman, finding his way into the backfield consistently.
Grade: A-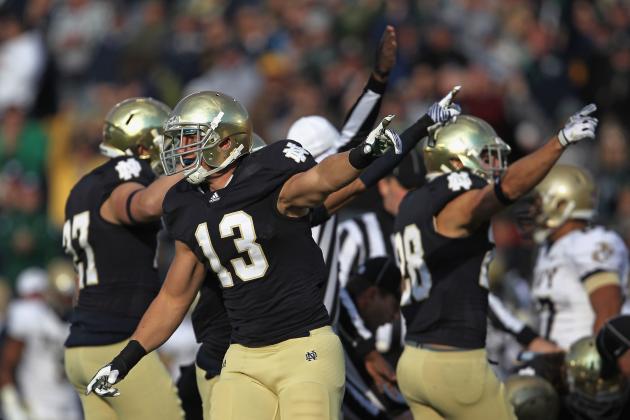 Jonathan Daniel/Getty Images

In a position group chock-full of talent, Danny Spond's efforts often go unnoticed. That wasn't so against Miami, as Spond was in the right places at the right times.
His role as a run-stopper will be crucial down the stretch.
Grade: A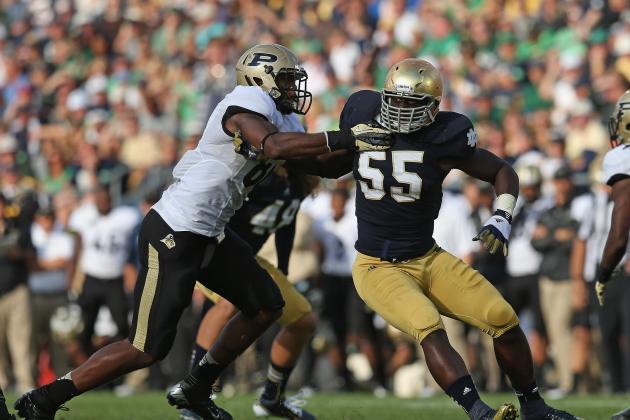 Jonathan Daniel/Getty Images

Prince Shembo has become one of the nation's elite pass-rushers, and for good reason. Shembo has lived in opposing backfields this season, but he wasn't quite as successful against Miami as he had been in weeks gone by.
That was due in part to Miami quarterback Stephen Morris possessing tremendous mobility.
Grade: B+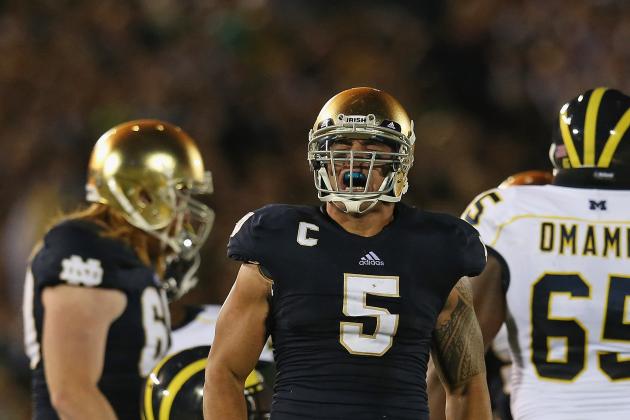 Jonathan Daniel/Getty Images

Manti Te'o's Heisman Trophy candidacy may have taken a bit of a blow on Saturday, as Te'o failed to nab an interception or fumble. However, Te'o gave the Irish yet another quality 60 minutes.
Grade: A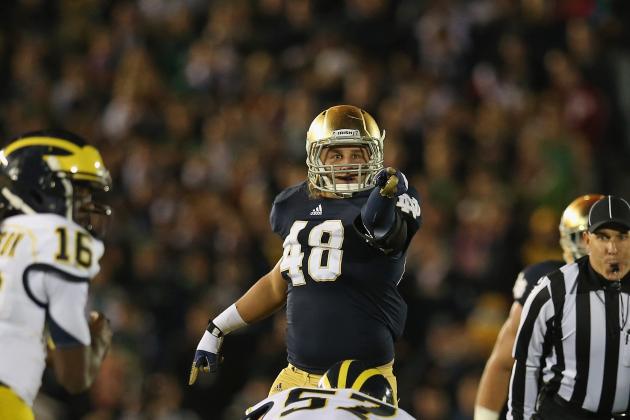 Jonathan Daniel/Getty Images

Dan Fox has been a markedly improved player in 2012, and that was evident on Saturday evening.
Fox, who came under fire for his struggles in pass coverage a season ago, was active against Miami's underneath passing game.
Grade: A-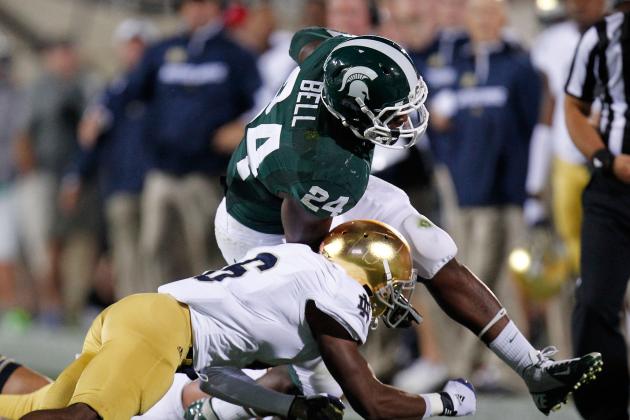 Gregory Shamus/Getty Images

KeiVarae Russell was picked on early and often, as Miami's Phillip Dorsett was wide open during the Hurricanes' first possession. Luckily for the Irish, Dorsett dropped two sure touchdown passes.
Grade: C+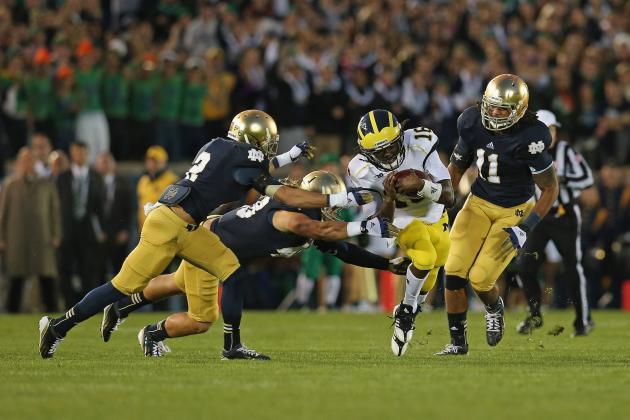 Jonathan Daniel/Getty Images

Bennett Jackson has been solid in his first season as a starter at cornerback, but he was burned a few times in coverage against Miami's speedy receivers.
Grade: B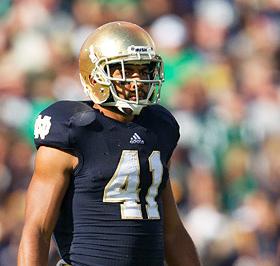 http://espn.go.com/photo/2012/0920/ncf_a_farley_ps_400.jpg
Since assuming the starting role at strong safety after Jamoris Slaughter went down with a season-ending injury to his Achilles' heel, Matthias Farley has been outstanding.
Farley provided excellent help over the top against Miami's passing attack.
Grade: B+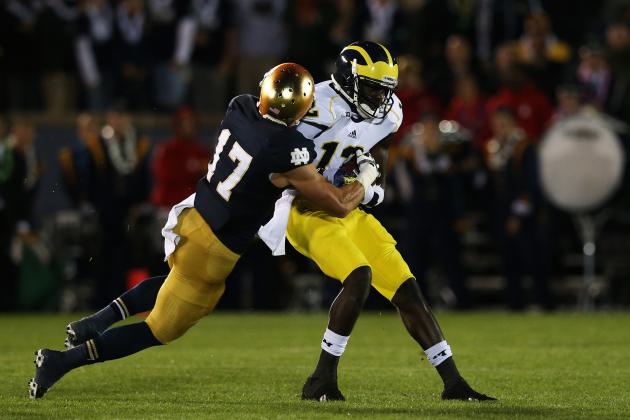 Jonathan Daniel/Getty Images

Zeke Motta will be the saving grace of a talented, but inexperienced Irish secondary this season, and that was the case against Miami.
Motta has been the director of traffic in the secondary, but he simply can't do four jobs at once.
Grade: A