Texas Football: Grading All 22 Starters from the West Virginia Game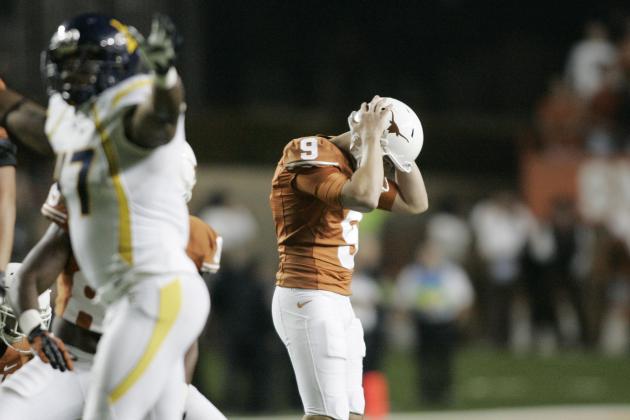 Tim Heitman-US PRESSWIRE

It was close, but no cigar for the Texas Longhorns as they came up just short in a 48-45 loss to the West Virginia Mountaineers and their Heisman front-runner Geno Smith.
The loss dropped Texas four spots to No. 15 in the AP poll, and the 48 points allowed has drawn even more criticism on a defense that was supposed to be loaded with NFL talent. But while the defense certainly deserves its share of the blame for Texas' first loss of the season, there are many more questions to be answered this week heading into the Red River Rivalry game with Oklahoma.
Both coordinators Bryan Harsin and Manny Diaz were outsmarted in the second half. Texas got almost one-dimensional on the offensive end as the game wore on. And even the return of Penn State transfer and former All-Big 10 kicker Anthony Fera could not alleviate the team's woes in the kicking game, missing a 41-yarder in the fourth that would end up being the difference in the game.
But for all the bad, there is still a lot to love about this Texas team, whether it be David Ash's continued improvement or freshman running back Johnathan Gray's rapid ascension over the past two weeks.
For a more in-depth look at what went and what went right for the 'Horns, read on for the grades and analysis for all 22 Longhorn starters.
Begin Slideshow

»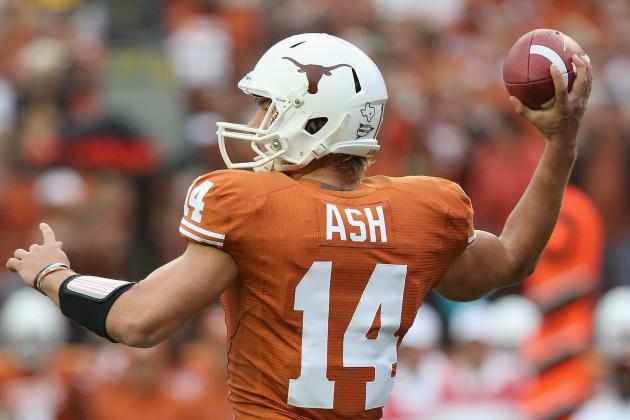 Ronald Martinez/Getty Images

Grade: B+
In a matchup against the Heisman Trophy front-runner, the sophomore quarterback had another nice game and did enough for Texas to get the win as he continues to improve.
Over the summer, if you had told a college football expert that West Virginia put up 48 on Texas, they probably would have assumed that it was a blowout due to Texas' shortcomings at quarterback. Well, this game was not David Ash's fault in any way as he went completed 22 of his 29 passes, leading his team to 45 points.
Ash did not turn the ball over and never panicked as West Virginia marched up and down the field on Texas' formerly stout defense. In truth, Ash did not get enough chances to win the game with his arm, and was effective on Texas' final drive of the game.
He may not have put up extraordinary numbers and may have missed on some of his throws, but this team was not designed for Ash to have to win a shootout. The sophomore signal-caller was more than adequate and continues to have a surprisingly good season for the 'Horns.
Never thought I would say this, but Ash could end up being a four-year starter for this Texas program if he keeps playing like this. He is a legitimately good quarterback and has the confidence to boot.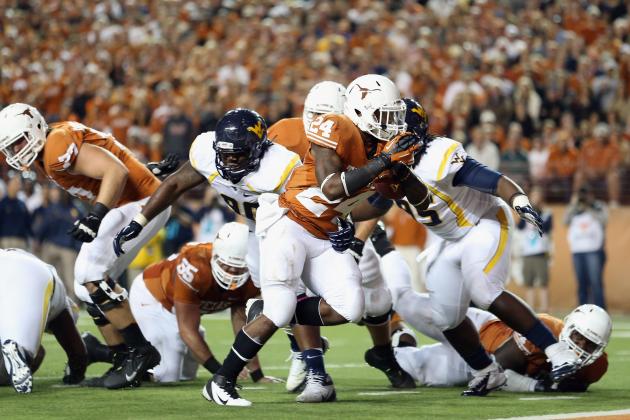 Ronald Martinez/Getty Images

Grade: B+
Joe Bergeron never really got going like one would have hoped, but it is hard to criticize anybody that scores four touchdowns, especially when he earned all four of them on the goal line.
For the second week in a row, Bergeron was held in check after pretty much doing whatever he wanted against the non-conference opponents. Bergeron gained an unimpressive 49 yards on 17 carries, good for a meager 2.6 average, but his contribution to the score column was immeasurable.
Four times on Saturday Bergeron was able to punch the ball into the end zone from within the five-yard line, making it nine times that he has reached pay dirt already this season.
Having a big bruising back like Bergeron that has a nose for the end zone is quite the weapon for this team as it takes pressure off of David Ash to have to make throws deep in the red zone. You would like to see Bergeron softening up the defense in between the 20s a bit more, but you cannot complain about four touchdowns.
Despite a strong performance against the Mountaineers, Bergeron's status as the starter could be in jeopardy if Johnathan Gray continues to produce like he has been. The freshman phenom rattled off a career-high 87 yards at 6.2 yards per rush.
Just something to keep an eye on.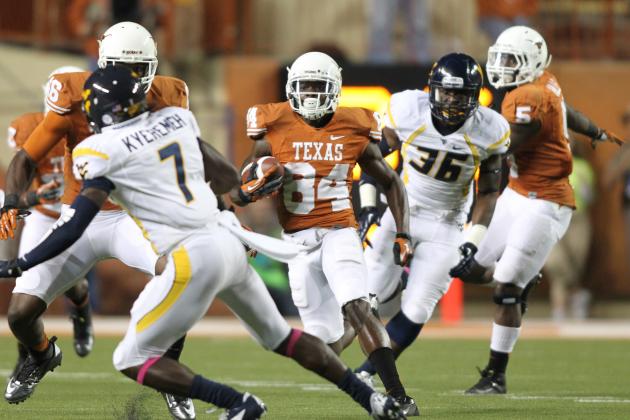 Tim Heitman-US PRESSWIRE

Shipley: A
Against a secondary that gave up 581 passing yards the previous week, sophomore wideout Jaxon Shipley was the only Texas receiver that was able to find any real downfield success against West Virginia.
Shipley was fairly successful throughout the night as a possession receiver, deftly patrolling the middle of the field to finish the night with 58 yards on five receptions.
Shipley probably should have been put to more use in the offensive game plan because his route-running prowess makes him the toughest cover of all the Texas receivers. He is also the most versatile offensive weapon on the team with his ability to both run and throw the ball from the wide receiver position.
Expect Shipley to be featured a bit more against Oklahoma.
Davis: D
Coming into this game averaging over 15 yards per catch, Mike Davis' performance on Saturday left much to be desired and was reminiscent of his down 2011 season.
Davis, who has been Texas' big play guy all season, had serious potential to put up 200 yards on the porous West Virginia secondary. Instead, he was nowhere to be found and was not playing with the same effort that he had displayed through Texas' first four games.
Davis has been a key cog in David Ash's development, and his lack of production in Saturday's game is really disconcerting as it becomes painfully obvious that Texas has to score a lot of points to win this season.
He simply must play better.
Goodwin: B-
A second-quarter injury hampered speedster Marquise Goodwin's impact on Saturday's game, but the senior was effective when he was on the field.
Goodwin looked like he was about to really get it going in the second quarter following a 48-yard kickoff return, only to be knocked out of the game on the ensuing play. Goodwin returned to action in the second half with a 37-yard return, and then caught David Ash's only touchdown during desperation time.
Goodwin did turn the ball over when he got hurt, but I'm not sure how alert (read: conscious) he was when that took place. His speed and versatility were sorely missed when Texas had trouble moving the ball in the second half, and I would expect him to be more involved against OU.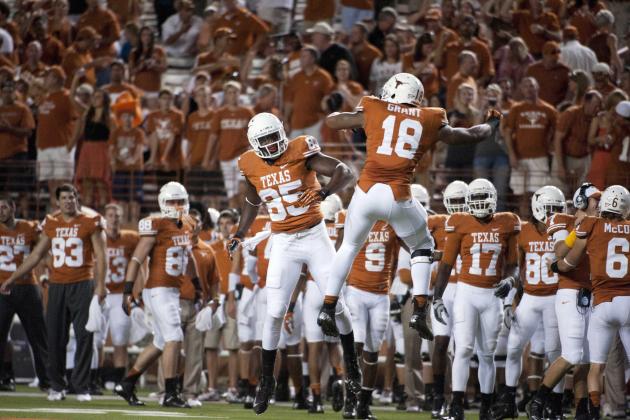 Brendan Maloney-US PRESSWIRE

Grade: A
Redshirt freshman M.J. McFarland made his first start as a Longhorn against West Virginia, leaving a potentially huge night on the field in the loss.
In the second quarter, with the defense asserting its will and the crowd rocking, McFarland and fellow tight end D.J. Grant each had long receptions on successive plays that seemed to expose a serious hole in the WVU coverage.
Then, for whatever reason, McFarland and Grant were left completely out of the game plan in the second half and the tight end position did not record a reception for the rest of the game.
McFarland, a big target at 6'6", is Texas' best receiving tight end and gave us a small glimpse of that on Saturday. He gets an A for taking advantage of the small opportunity he got.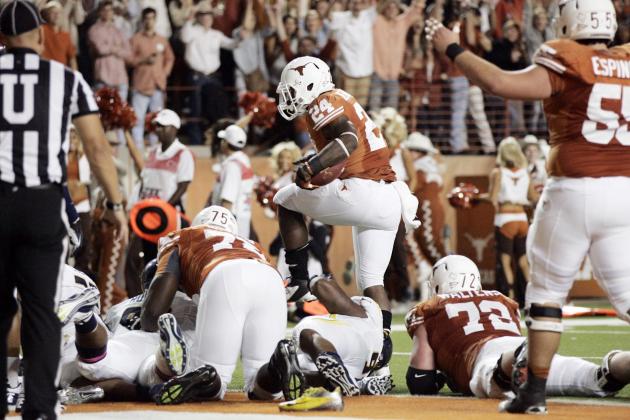 Tim Heitman-US PRESSWIRE

Grade: C+
For the second week in a row, the Texas offensive line was good, but not great after dominating throughout non-conference play.
The line kept David Ash clean for most of the game and gave their young quarterback enough time to throw for most of the night. They left something to be desired in their run-blocking at times, but they did generate enough push for Joe Bergeron to score four touchdowns.
Center Dom Espinosa is going to take a lot of heat for the erratic snap that knocked Texas out of touchdown range in the fourth, but Anthony Fera should have made that 41-yard field goal. And the defense should be able to keep opponents from scoring 48 points.
This group is definitely good enough to get the job done, especially when they bring in Luke Poehlmann for the Wild and goal-line sets. And when a freshman like Johnathan Gray runs the ball like he has been, you have to give the line their due.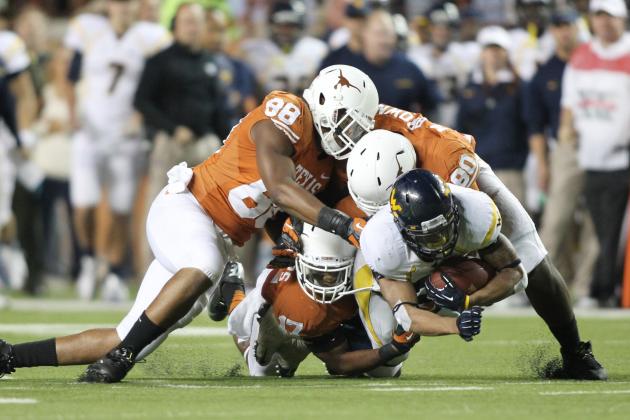 Tim Heitman-US PRESSWIRE

Whaley: A-
In his first season playing defensive tackle, junior tackle Chris Whaley continues to make plays from inside and has finally found a place to call home on this Texas team.
Whaley did a little bit of everything against the Mountaineers. He racked up seven tackles, including 1.5 for a loss, and a quarterback hurry while also recovering a late Geno Smith fumble that should have given his team at least three points.
Whaley's grade would be an A were it not for the 207 rushing yards gained by Andrew Buie, though the linebackers are more at fault for his breakout. Texas was incredibly successful generating a pass rush with only four lineman, and Whaley is a big reason for that success.
Jackson: B-
It was a good sign to see Desmond Jackson back in the starting lineup after leaving the Oklahoma State game due to injury. His strong play was just an added bonus.
Jackson did not have quite the game that Whaley did on the inside, though he was still able to register a sack of Geno Smith. The performances turned in by Ashton Dorsey and freshman Malcom Brown also allowed Texas to take it slow with Jackson, well known as the strongest man on the team.
Jackson got to Geno Smith, which was this line's primary objective in this game. His grade also suffers slightly as a result of Buie's big night.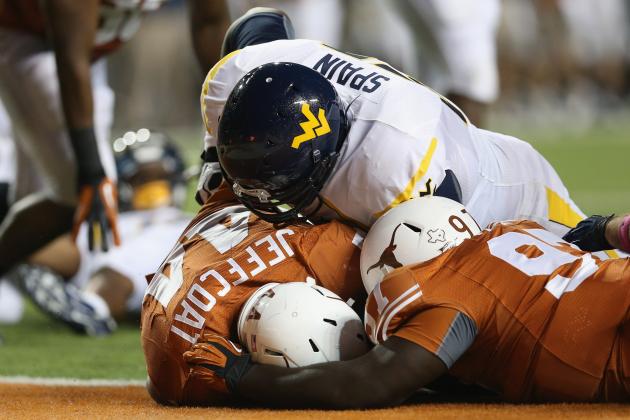 Ronald Martinez/Getty Images

Okafor: A+
What a game by senior bookend Alex Okafor, whose constant presence in the West Virginia backfield kept his team in the game for much of the night.
Okafor did it all on Saturday. The big power rusher made the two biggest plays of the night on defense in forcing two Geno Smith fumbles. The first led to a Jackson Jeffcoat recovery for a touchdown, and the second should have at least given Texas the lead late in the fourth. Okafor also hurried Smith three times and blocked a West Virginia field goal attempt in the first half.
Smith and the rest of the Mountaineer squad ought to be glad that they have seen the last of Okafor after the performance he put on. He and Jeffcoat are among the few defensive bright spots from this game.
Jeffcoat: B+
Jackson Jeffcoat did not have quite the game his pass-rushing partner Alex Okafor did, but the junior also turned in a very good game for the Longhorns from the defensive end position.
Jeffcoat had both a sack and hurry of WVU quarterback Geno Smith, but his biggest contribution came thanks to the effort of Okafor on the opposite side. Okafor bulled his way into the West Virginia backfield to knock the football loose from Smith and Jeffcoat fell on it in the end zone to get all momentum on Texas' side.
Jeffcoat, along with Okafor, has been great all season, and the way these two feed off of each other is really something special. It is a shame that the rest of this defense cannot step up to the level these two are playing at because they have been nothing short of phenomenal through five games.
Consider yourself warned, Landry Jones.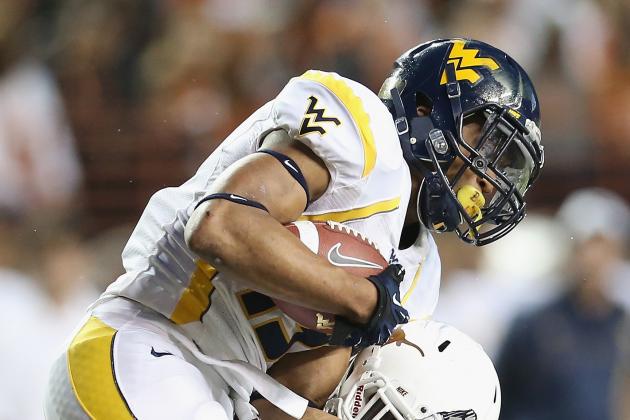 Ronald Martinez/Getty Images

Edmond: C
Sophomore Steve Edmond continues to play well and improve on a weekly basis for this Longhorn team, but he cannot continue to carry this unit in the absence of stalwart Jordan Hicks.
Edmond made some nice plays throughout the game, picking up a tackle for a loss and laying a nice hit on Geno Smith in the first half. Unfortunately, he just could not do anything about Andrew Buie and that West Virginia rushing attack.
Edmond has handled the added responsibility placed on him while Jordan Hicks recovers from a hip pointer, but he cannot make an impact like Hicks can. He is getting better every week, but he is not getting much help from his teammates in the linebacking corps and the entire defense is suffering for it.
Thompson: C+
Having finally grown tired of Demarco Cobbs' lack of improvement thus far, the coaches gave sophomore Kendall Thompson a shot to see if he could stop the bleeding. The results have left fans wondering why he did not get his shot sooner.
Thompson had six tackles, including one for a loss and half a sack, along with a quarterback hurry. The only problem with Thompson's performance was that he, along with the rest of the team, just could not stop Andrew Buie.
Texas just cannot stop the run. And while they may have found something promising in Thompson's performance, the fact is that they were still being run on even when in run-stopping formations.
The worst part here is that Oklahoma can run the ball, and they have better runners than Andrew Buie. These guys need to figure it out or else Texas is going to get embarrassed for the second year in a row.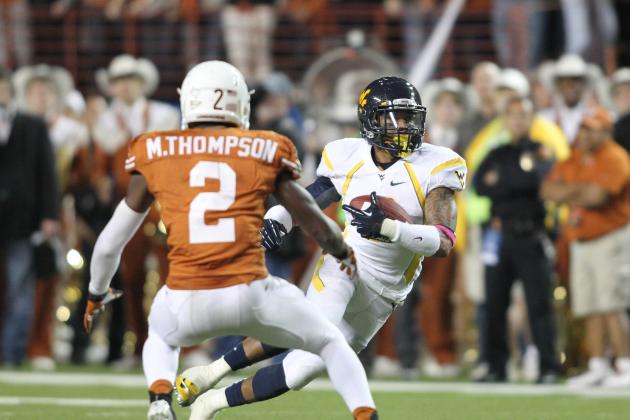 Tim Heitman-US PRESSWIRE

Byndom: B
He definitely surrendered some catches and touchdowns to Stedman Bailey, but Carrington Byndom really did have his best game in coverage of the season.
Yes, Stedman Bailey did put up 75 yards and score three touchdowns, but Byndom made him earn everything he got. Bailey's per catch average in this game was 9.4, over six yards less per catch than he was averaging heading into this matchup.
As for Bailey's three touchdowns, the only time Byndom got beat was when he was supposed to have inside help from Adrian Phillips. The other two, Byndom was covering about as well as one can cover; Smith just made great throws.
So Byndom gets a solid grade for his effort in covering the very talented Bailey, as well as his blocked punt in the second quarter. He got better as last season wore on as well, so this game could mean he is starting to hit his stride.
Diggs: C
On Saturday, sophomore corner Quandre Diggs had the unenviable charge of covering Tavon Austin, who is probably the best receiver in the Big 12, for most of the night. All things considered, he did an okay job on the probably All-Big 12 wideout.
Austin had ten receptions for 102 yards and a touchdown for the Mountaineers, with the touchdown coming after he blew past Diggs. Other than that, Diggs did a pretty decent job as Austin's other nine receptions went for only 62 yards and held Austin below his per-catch average.
These corners, on the whole, did a pretty good job against one of the most complete passing attacks in the country. Geno Smith was held below 300 yards, and neither Austin nor Bailey ever got behind this Longhorn secondary.
This loss does not fall on these two, though they both had chances to make plays and did not.
Thompson: B+
Out of everyone on the defensive side of the ball for the Longhorns, sophomore Mykkele Thompson played with the most toughness and made plays all over the field.
This stat speaks volumes on how pitiful the Texas front seven were in stopping the run, but Thompson was second on the team with nine tackles while playing like a hybrid corner/safety. This was mainly because Thompson was one the few Longhorns that was consistently wrapping up and was not afraid to take a lick from Andrew Buie in the open field.
Adrian Phillips continues to struggle at safety, so it is a safe bet that Thompson could find himself stepping in after Jordan Hicks returns and stabilizes this defense. Great game from the sophomore.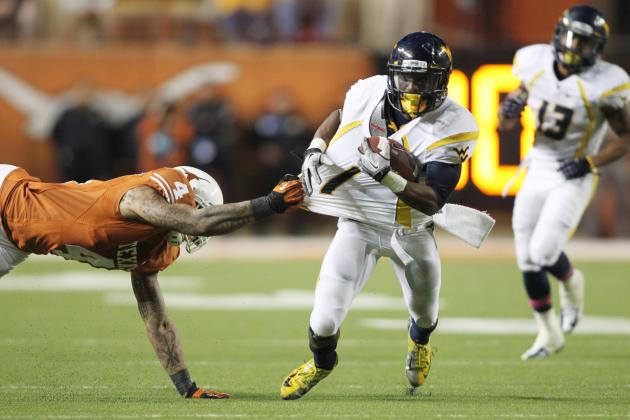 Tim Heitman-US PRESSWIRE

Vaccaro: B+
Same as always, senior safety Kenny Vaccaro turned in another solid performance for the Longhorns as a do-it-all player in the secondary.
With Jordan Hicks out and his replacements being woefully inadequate, Texas has used the nickel as their base package with Vaccaro playing closer to the line of scrimmage and Mykkele Thompson patrolling from the traditional safety spot. Vaccaro certainly looked like a linebacker last night in racking up 11 tackles for the Longhorns.
Vaccaro was also charged with helping Quandre Diggs with Tavon Austin, making some very nice open-field tackles on the elusive receiver during crunch time in the fourth quarter. Austin got the best of him a couple of times, but Vaccaro did a pretty good job considering he is not really a cover guy.
They have done a pretty decent job, but Vaccaro and Thompson are going to break if they have to keep tackling running backs that are going full-speed in the open field. This team desperately needs someone to step up.
Phillips: D
The coaches finally decided they had had enough of Demarco Cobbs' ineffectual play at linebacker, so maybe it is about time they make the same decision with the junior Phillips.
For whatever reason, Phillips just cannot make a one-on-one tackle on defense or on special teams. Of his nine tackles on Saturday, only one was a solo stop.Phillips also left his teammate Carrington Byndom out to dry on Stedman Bailey's third touchdown of the game when he was supposed to provide inside help.
With the way Mykkele Thompson has been playing, it should be a pretty simple decision to bench Phillips before he gives up any more big plays from the safety spot.