5 Players Who Must Step Up for the Oakland A's to Shock the Tigers Back Home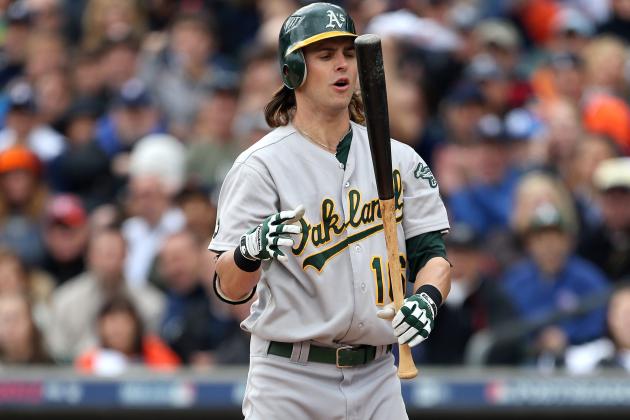 Leon Halip/Getty Images
Josh Reddick must support the efforts of Yoenis Cespedes if this team is to be successful.
After a terrible offensive showing by the Oakland Athletics, it's easy to say everyone in the lineup needs to step up. While that may be true, certain players must do more in order for the A's to once again come from behind to shock the baseball world.
It's been done before.
In fact, the last time the A's were in a "backs-against-the-wall"-type position with three to play was on October 1. The outcome: a three-game sweep of the Texas Rangers to take the AL West crown.
The Tigers lineup is not as daunting as Texas'. Even the pitching is comparable, after Justin Verlander.
Oakland's pitching has been great. But the team (and fans, for that matter) can't rely on only Yoenis Cespedes to get the job done offensively. Others have to support the efforts.
If the A's want to keep the miracle that is 2012 alive, these guys must contribute more.
Begin Slideshow

»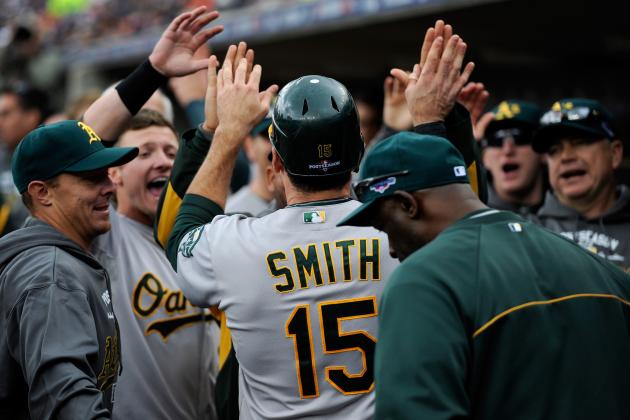 Jason Miller/Getty Images
Smith returns to the dugout after scoring a run, the only one so far for him.
Seth Smith is the A's designated hitter, meaning, the man is paid solely to hit.
So far in the 2012 MLB postseason, he's 0-for-5, with no runs produced and two strikeouts. This includes two at-bats in which runners were on.
He gains some leeway as the No. 7 hitter, but what good are Yoenis Cespedes, Brandon Moss or Josh Reddick on base if Smith can't hit them in, let alone move them over.
Smith did get hit by a pitch and score a run, but that is it.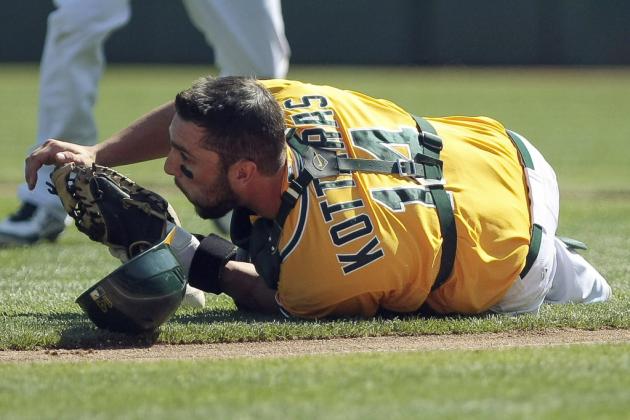 Kelley L Cox-US PRESSWIRE
Kottaras behind the plate looks for a wild pitch.
George Kottaras and Derek Norris have each been given a shot in the lineup.
Both failed.
The two catchers are a combined 0-for-7 with four strikeouts. Four of the seven at-bats were with runners on.
Norris is a rookie, and he went against Justin Verlander. Still, a combined 0-for is terrible.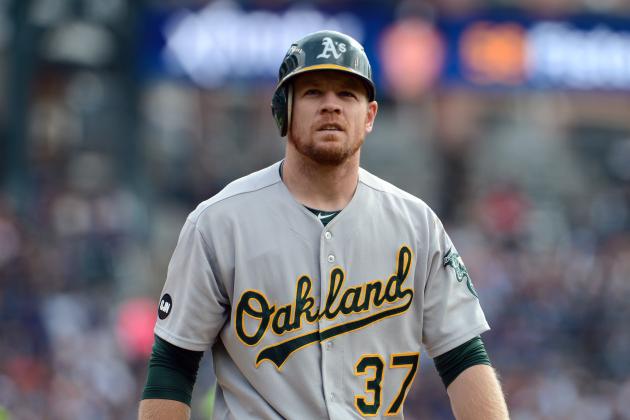 Jason Miller/Getty Images
Brandon Moss tries to figure out where he went wrong after an at-bat.
Brandon Moss is yet another guy who is batting 1-for-7 (.143). He also has four strikeouts.
There's no time left to see if his lack of hitting will continue, and Chris Carter is a viable option on the bench. This is not to say Carter should replace Moss for sure, but a move should be deeply considered.
On the other side of the ball, Moss needs to tighten up his defensive play.
He's been a part of two debatable events that both had huge effects on the outcome of the game.
In Game 1, he charged the ball when many felt he should have gone directly to first base. Pitcher Jarrod Parker got there first, and because Moss was nowhere near the bag, no out was recorded, and a run was scored.
In Game 2, Moss could not make a decision whether to throw home or tag a runner. He tagged the closer runner coming toward him, and a run was scored.
Again, both are debatable. It's easy to say what he should have done when neither you nor I are on the field with less than a second to make the decision.
But now, he has practical experience to help guide decisions that require quick thinking.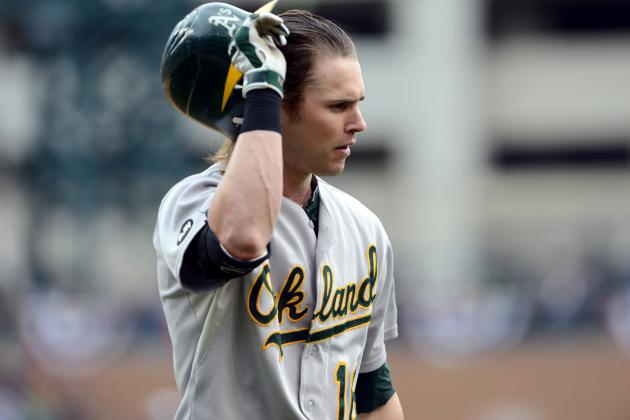 Jason Miller/Getty Images
Josh Reddick struck out six times in seven attempts.
Josh Reddick must get out of his own head and start hitting the baseball.
During the regular season, Reddick led the team in home runs, doubles, runs scored and RBI. He is a large reason the A's are in the postseason.
In two games, he has just one hit.
Sure, it's a home run. But a .143 average is awful. That's 1-for-7; moreover, he's struck out in the other six at-bats.
Four of the at-bats were with runners on. The home run was a solo shot.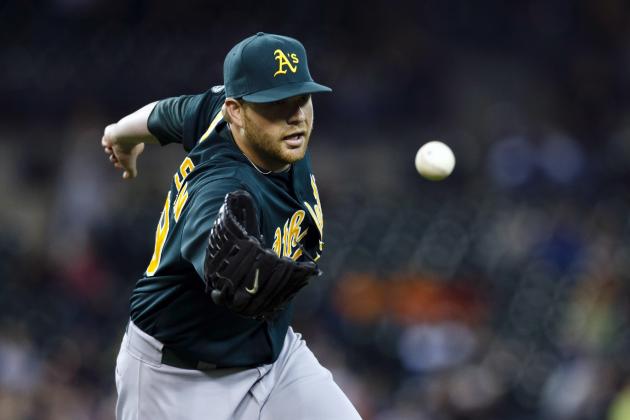 Rick Osentoski-US PRESSWIRE
Brett Anderson flips the ball to first base.
Game 3 hinges on Brett Anderson.
Anderson was supposed to be injured, yet he's taking a roster spot with the hope that he is at 100 percent.
Down 0-2 in the series with their backs against the wall, Anderson and the A's cannot afford to mess around in Game 3.
Not only does Anderson have to be healthy, he must pitch as well as he did before he went on the disabled list with an oblique injury. During the regular season, he was 4-2 with a 2.57 ERA. He allowed one home run, struck out 25 and walked seven.
In this situation, he actually has to be even better.
If Anderson comes back, proves he's healthy and shuts down the Tigers offense, the A's will make the statement that they're not backing down, their confidence is not shaken and there's plenty of baseball left to play.