USC Trojans Football: Winners and Losers from the Week 6 Game vs. Utah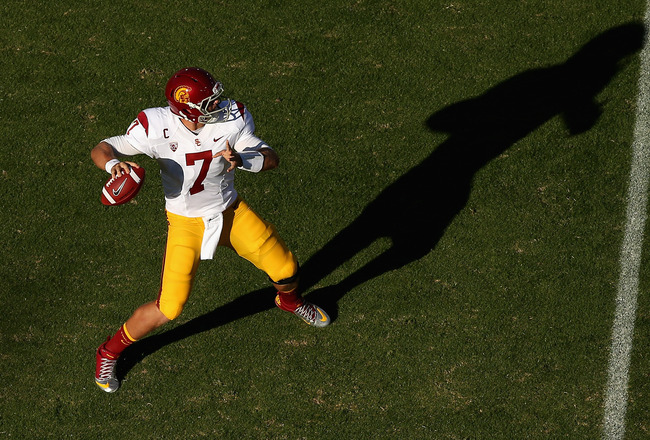 Ezra Shaw/Getty Images
As a work of art, USC's 38-28 win over Utah on Thursday wouldn't even qualify for the chalk variety found on the beer-stained sidewalks of Venice beach.
But man, it was necessary.
Despite a sloppy start to a game which found the Trojans down 14-0 before they even realized the whistle had been blown, USC rallied around their beleaguered quarterback and found a way to win a game they had every opportunity to lose.
Now the Trojans will look ahead to a Washington Huskies team that will be trying to wipe away the stink of a bad loss to the high-flying Oregon Ducks and whose coach, Steve Sarkisian, would love nothing more than to do so against the men of Troy.
Before we turn our attention to what lies ahead, let's look back at what was.
This slideshow will look at some of the winners and losers from last week's game.
And while we are doing so, pay particular attention to the "losers" who need to remove themselves from that roster for the Trojans to finally turn in that "complete game" that they have been looking for all year.
One that needs to happen in Washington this Saturday.
Loser: Andre Heidari (Kicker)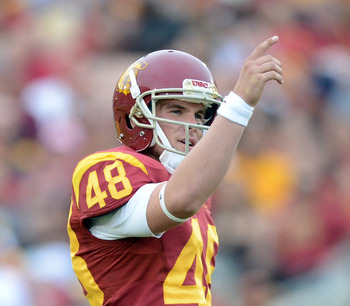 Harry How/Getty Images
It is with some trepidation that I include Trojan kicker Andre Heidari to this short list of losers, as it should be recognized that he is returning from knee surgery and is probably not close to his full health.
Nonetheless, the results are what they are, and in this game, Heidari missed two field goals that were not only within his range, but were also very much needed.
It should also be noted that backup quarterback Cody Kessler replaced regular holder Matt Barkley for this game. Despite a contention that Kessler's hold on one of the attempts may have caused Heidari's kick to sail wide, this was not revealed in the review of the film.
That Heidari is still not at full strength is borne out by the fact that Craig McMahon replaced him for five of the Trojans' kickoffs, but since this is a single-game grade, Heidari finds himself on the loser list for this week.
Loser: Khaled Holmes (Center)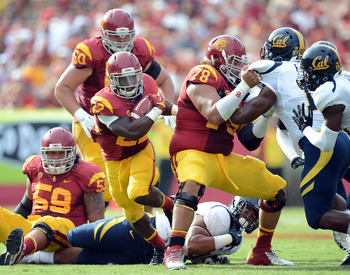 Harry How/Getty Images
It is with even more reservations that this list finds center Khaled Holmes on the loser side of the ledger.
Returning valiantly from a lower leg injury, Holmes, the glue of the offensive line, found himself overwhelmed on the first two Trojan series where bad snaps put USC in an immediate 14-0 hole.
It is evident that between his apprehension over his leg and the formidable task of trying to stop Utah defensive tackle Star Lotulelei from wreaking havoc in the Trojan backfield, Holmes had significant problems finding his bearing to start the game.
Further, a holding penalty on Holmes, which negated a nice run by Curtis McNeal on the play during which McNeal was hurt, didn't help his cause either.
Still, after those missteps early on, Holmes acquitted himself very nicely for the remainder of the game, and it is very unlikely he will find himself on a list of this nature going forward.
Loser: Lane Kiffin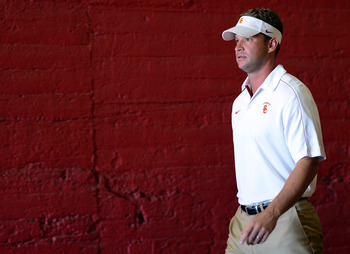 Harry How/Getty Images
Look, any road victory in a tough Pac-12 conference is beneficial, but at some point, Lane Kiffin has to get his team to turn in a complete effort.
On the surface, USC's offense didn't look bad with 432 total yards against Utah, but upon further review, the Trojans were only able to muster 129 net yards on the ground, although it should be noted that running back Curtis McNeal left the game with an injury after the first series.
However, although offensive balance is something that Kiffin should strive for, it is not the reason why he finds himself labeled a "loser" in this list.
What is inexcusable, and what Kiffin needs to find some answers for, is the fact that his team is entirely too undisciplined.
With a ridiculous 14 penalties for 100 yards, the Trojans continue to dig themselves into holes that they may soon not be able to climb out of.
Granted, Utah is a tough place to play and the fans were loud, but this team is too talented to keep shooting themselves in the foot. Kiffin needs to address this immediately.
Winner: D.J. Morgan (Tailback)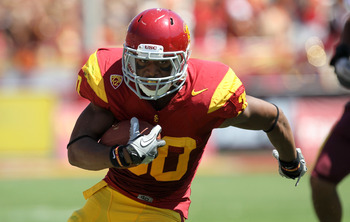 Stephen Dunn/Getty Images
When tailback D.J. Morgan went down with a knee injury earlier in the year, it marked another disappointing chapter for the speedy tailback since he arrived at USC.
In addition to the unfortunate injuries, Morgan has also had ball security issues, and the combination of the two presented a challenge to young D.J. in trying to find his way back onto the field for the Cardinal and Gold.
That was erased on Thursday when the aforementioned injury to Curtis McNeal provided an opportunity for Morgan to get back into the running back rotation.
And to his credit, Morgan did not let that chance slip by against Utah when he did a fine job spelling Silas Redd and going for 46 yards on nine tough carries.
Running hard and holding on to the ball, Morgan has worked his way back into his coaches' thought processes, and for that, Morgan is definitely a winner this week.
Winner: Matt Barkley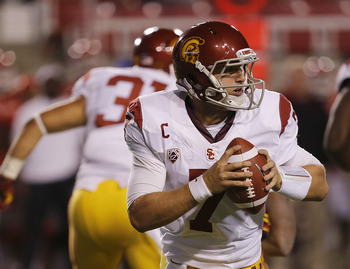 George Frey/Getty Images
Let's make one thing perfectly clear: Matt Barkley is a winner regardless of what he accomplishes on the field.
Having said that, if there was ever a preseason Heisman Trophy favorite who needed a good performance this week, No. 7 was that player.
Mission accomplished.
Barkley went for 303 yards and three touchdowns against Utah, and while he may not have emerged as the favorite for Mr. Heisman's stiff-arming little fella, he has reentered the conversation.
Matt Barkley a winner?
Yes, as always.
Winner: The Trojan Defense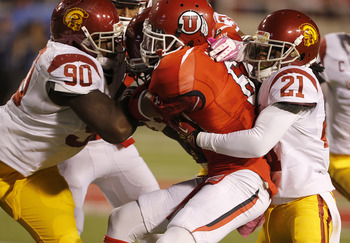 George Frey/Getty Images
Once again, the unit that the least was expected from in 2012 is the side of the ball that delivered most.
Take away the 14-point gift that USC's offense bestowed upon the Utes, and what is left is that Monte Kiffin's boys only gave up two touchdowns on Thursday.
Overall, in addition to those 14 points, the Trojans defense gave up a paltry 309 total yards and was stout once again against the run, giving up 105 on the ground.
Although the defense was finally quiet sackwise, they have exerted their will all season long, and Thursday was no exception.
Keep Reading

USC Football: Like this team?