How Green Bay Can Protect Aaron Rodgers vs. Ferocious Texans Front 7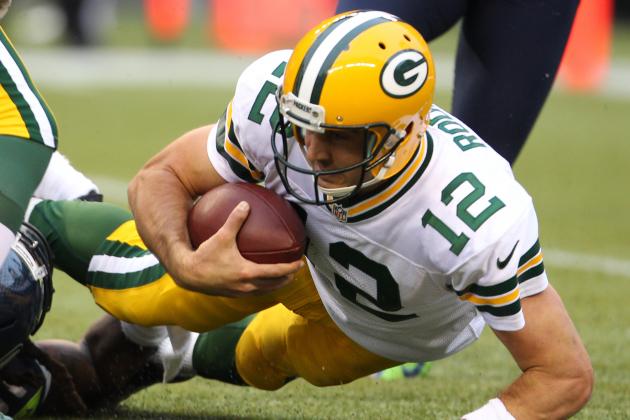 Kevin Casey/Getty Images

It's bad enough that the 2-3 Green Bay Packers blew an 18-point lead to the Indianapolis Colts yesterday in a shocking 30-27 loss in Indianapolis, but the undefeated 4-0 Houston Texans will be Green Bay's next opponent next Sunday night in Houston.
The Texans still have to play tonight versus the New York Jets in New Jersey, but to many observers, Houston is the best team in the NFL.
Why? For one reason, the Texans had the top-ranked defense in the NFL heading into this weekend. One of the Houston defense's big attributes is their pass rush, which has accumulated 13 sacks heading into Monday night's game, which includes 7.5 sacks by former Wisconsin Badger J.J. Watt.
That should definitely concern the Packers, as the team has allowed an NFL-high 21 sacks so far in 2012, and is on pace for 67 sacks allowed this season, which would break the team record of 62 allowed in 1990.
The 1990 Green Bay team finished 6-10, plus saw their starting quarterback, Don Majkowski, go down with a season-ending shoulder injury later that season.
The 2012 Packers are heading for the same type of record. Last year's NFL MVP, Aaron Rodgers, can't expect to stay healthy this season, not if he is sacked over four times a game on average.
Rodgers is fortunate to have had the success he has had this season, based on the pass-blocking he has received. Rodgers has thrown 10 touchdown passes, compared to four interceptions, for 1,307 yards, and has a quarterback rating of 97.0.
So, how can the Packers protect Rodgers against the fierce pass rush of the Texans next Sunday night? I'll list five ways the Packers can keep Rodgers upright and healthy.
Begin Slideshow

»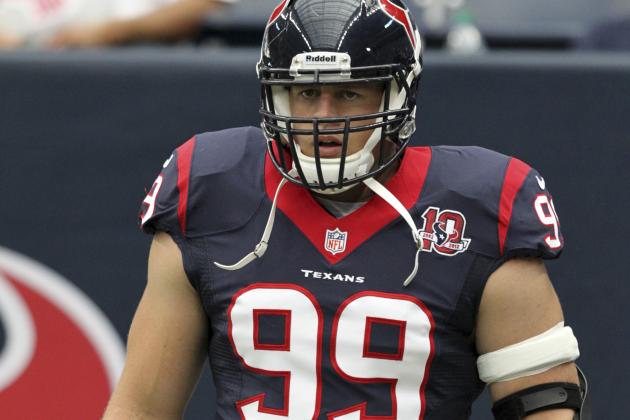 Bob Levey/Getty Images

J.J. Watt is the top candidate in the NFL right now to become the 2012 NFL Defensive Player of the Year, because of his 7.5 sacks in just four games.
Watt has a relentless motor and he never stops putting out supreme effort.
Watt plays left defensive end in the Texans' 3-4 defensive scheme, so the right side of Green Bay's offensive line, namely right guard Josh Sitton and right tackle Bryan Bulaga, have to be on their toes and be ready for some severe pass pressure by Watt as he pursues quarterback Aaron Rodgers.
I expect the Packers to utilize a tight end on the right side of the line to help contain Watt, plus use a running back to chip Watt when the tight end is not being used to protect Rodgers.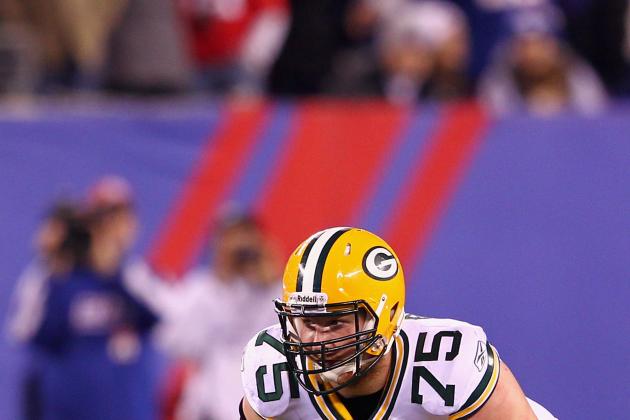 Al Bello/Getty Images

Right now, the Packers' offensive line has had communication issues, which have severely affected Aaron Rodgers' ability to pass.
Two cases in point. The line gave up eight sacks to the Seattle Seahawks in the first half of that game two weeks ago, and then allowed five sacks in the second half of the game yesterday against the Colts.
Why? Two reasons. Former offensive coordinator Joe Philbin (head coach of the Miami Dolphins) is gone, and one of his primary duties was to help coach the offensive line. Also, veteran center Jeff Saturday is trying to replace long-time center Scott Wells, who left via free agency.
To make matters worse, the Texans bring pressure from all angles. Watt brings pressure from the left defensive end position, but so does Antonio Smith from the right defensive end spot. Smith had 6.5 sacks in 2011 and has two so far this season.
The left side of the Packers' offensive line, left guard T.J. Lang and left tackle Marshall Newhouse, must be aware of Smith.
Then there is left outside linebacker Brooks Reed, who has one sack so far in 2012, but also had six sacks in 2011, his rookie year. Watt and Reed bring a deadly combination from the left side of the defense in rushing the passer.
Likewise, on the right side, the Houston defense has Smith and right outside linebacker Connor Barwin bringing pass pressure. Barwin doesn't have a sack so far in 2012, but he had 11.5 last season.
Saturday must be able to get his line blocking calls right and also help in double teaming players like Watt. Saturday must also be aware of pass pressure inside from players like left inside linebacker Brian Cushing, who had four sacks in 2011.
Bottom line, the Packers have to figure out a way to get their communication signals right. Otherwise it will be a long night for Rodgers next Sunday.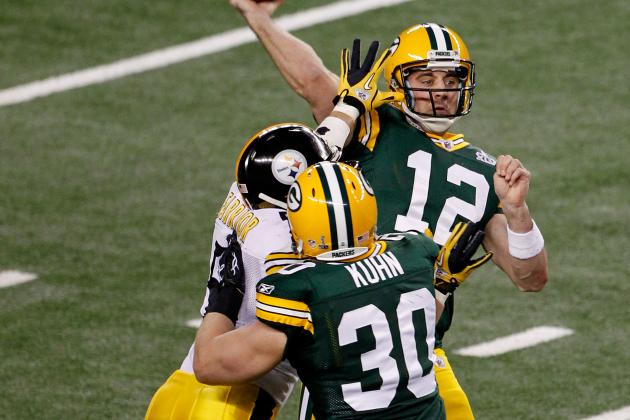 Joe Robbins/Getty Images

When the Packers played the Pittsburgh Steelers in Super Bowl XLV, Green Bay was faced with a similar dilemma regarding a fierce pass rush from an opponent, just like with the Texans next Sunday night.
That's why it is so important for the running backs to be able to do a number of things correctly in terms of blocking.
For one, they need to be able to chip the outside pass-rushers and help out the offensive tackles from time to time.
The backs also have to be able to pass block from a blitz pickup standpoint.
Running back Cedric Benson might not be able to play because of a foot injury suffered against the Colts yesterday. Second-year running back Alex Green took over for Benson, but pass-blocking is not his strong suit, although he is getting better.
Brandon Saine is probably the best blocking running back that the Packers have, along with fullback John Kuhn.
Running back James Starks should also be available next week, and he held up pretty good in pass-blocking in Super Bowl XLV. However, Starks has also been prone to missing assignments.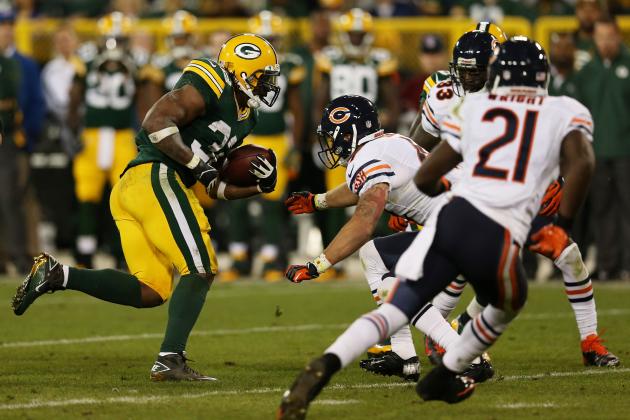 Jonathan Daniel/Getty Images

Another way backs can help relieve pass pressure from teams like the Texans, is to run draw plays and screen passes effectively.
Green had his best run of the season yesterday on a 41-yard draw play. That was the longest run by the Packers since last December.
A good running game in general would definitely help against the Texans.
Green also excels in catching screen passes and swing passes. Green's role might be increased next week if Benson is unable to play.
If the Packers can run those types of plays well, then Houston won't be able to pin their ears back and just rush the passer.
Brandon Saine has also done a nice job in the past on screen plays, as has James Starks.
The screen play used to be a staple of the Packers' West Coast offense, but the chemistry seems lacking so far in 2012.
That needs to change against Houston.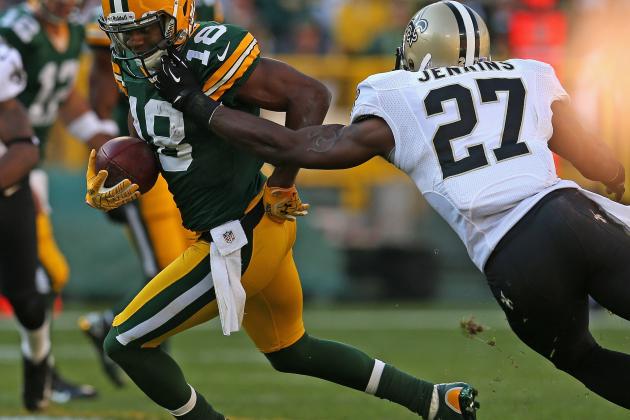 Jonathan Daniel/Getty Images

Randall Cobb caught a quick slant pattern from Aaron Rodgers yesterday and he turned that into a 31-yard touchdown pass.
That is what the Packers must do against the fierce pass rush of the Texans. Rodgers must utilize some quick three-step drop backs and look for slant patterns by his wide receivers.
The Green Bay wide receivers started out the 2012 season slow in terms of YAC (yards after the catch), but that has improved the last two games. That must continue against Houston.
The Packers will definitely miss Greg Jennings, who will most likely miss the Houston game due to a groin injury. Jennings runs the slant pattern very effectively.
But Cobb has done a nice job so far in 2012 running slant patterns, plus I would expect Jordy Nelson and James Jones to get their opportunities as well.
Veteran Donald Driver used to run slant patterns quite often, but he has become almost a non-factor in the passing game.
Bottom line, expect to see the slant pattern used regularly against the Texans.