Oregon Football: 10 Things We Learned from the Ducks' Win vs. Washington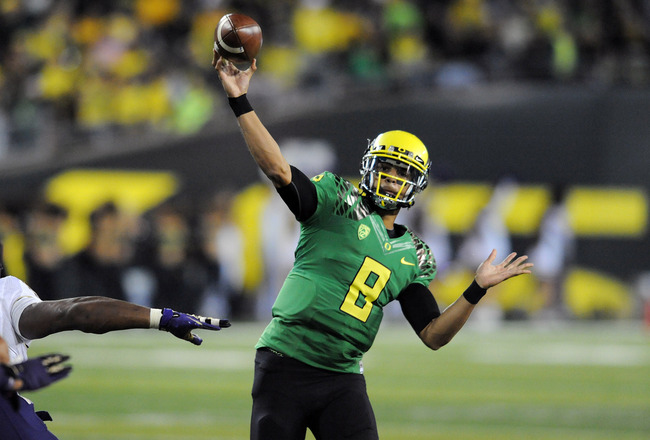 Steve Dykes/Getty Images
The Oregon Ducks hammered the upset-minded Washington Huskies 52-21 Saturday night to improve to 6-0.
The win helped the Ducks avoid an upset on a day in which three teams ranked in the Top 5 suffered their first loss. With its dominating performance, Oregon made a strong case for why it should be the top-ranked team in the country.
Here is a look at 10 things we learned about the Ducks on Saturday.
1. Ducks' Pass Defense Is Outstanding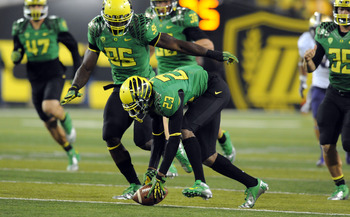 Steve Dykes/Getty Images
Oregon's defense is outstanding in general, but its pass defense is especially great. The Ducks held Keith Price and the Huskies to 145 yards in the air, an average of only 4.7 yards per pass play.
Oregon covered Washington's deep routes so well that Price frequently had to throw underneath to his check-down receivers.
With a potent offense, Oregon can frustrate you into making long passes to try to respond quickly to its scores. But if you throw deep against the Ducks, you will not have much success.
2. Best Running Attack in the Nation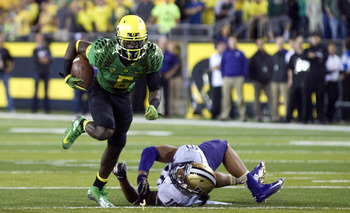 Steve Dykes/Getty Images
Forget the triple option of Georgia Tech and Navy, the best running attack in college football belongs to Oregon. The Ducks are averaging more than 300 yards a game on the ground. Even more impressive, Oregon averaged nearly six yards a carry Saturday night.
The Ducks' running attack was relentless against a solid Washington defensive line. The Ducks simply made things look easy on the ground Saturday night.
3. Oregon Has Picked Up the Pace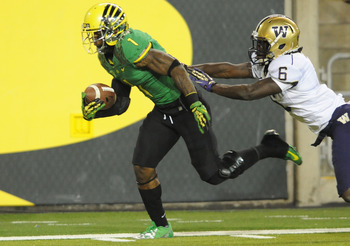 Steve Dykes/Getty Images
It is always exciting to watch Oregon runs its hurry-up offense. The Ducks execute everything in it so well and so quickly that it is nearly impossible to stop.
This year, though, the Ducks may be running their offense faster than ever. Often the Ducks are at the line snapping the ball before the defense has a chance to properly align itself.
The speed of the Oregon offense puts extreme pressure and stress on the opposing defense and causes many mistakes.
4. Marcus Mariota Is Special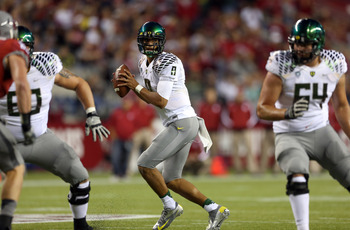 Otto Greule Jr/Getty Images
Oregon quarterback Marcus Mariota is a special player. The freshman seems to have a great grasp of the offense, and his speed and elusiveness when he gets outside the pocket is a skill that simply can't be taught.
Mariota seems destined to have a long and productive career at Oregon. Look for him to be a strong contender for the Heisman over the next two to three seasons.
5. Nick Aliotti Is an Unbelievable Defensive Coordinator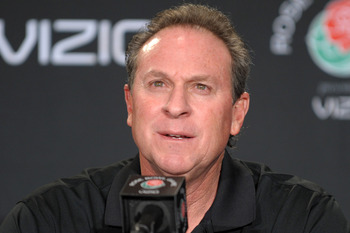 Kirby Lee-US PRESSWIRE
While much of the talk about Oregon has been about their speed and the chaos that Chip Kelly likes to create on offense, Nick Aliotti is finally starting to get recognition for being one of the top defensive coordinators in the country.
This is not simply a team that scores tons of points and hopes its defense can stop the other team. Instead, this is a team that scores lots of points and boasts one of the top defenses in the country.
Aliotti is not the nation's best defensive coordinator, but he is certainly among them.
6. It's Not All About De'Anthony Thomas in the Backfield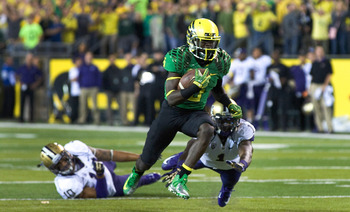 Steve Dykes/Getty Images
Sure, the Black Mamba, De'Anthony Thomas, is the main guy in the backfield for Oregon, but he is not a one-man wrecking crew like many would have you believe.
Could he be? Sure, he could, but he does not need to be because of Kenjon Barner, Byron Marshall and Marcus Mariota. All three also have the ability to run extremely well.
Together, they form a four-man wrecking crew that has proved nearly impossible to stop so far this season.
7. Chip Kelly Is Relentless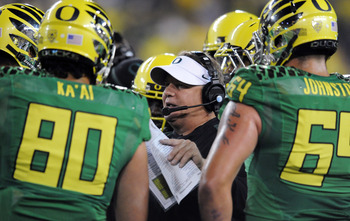 Steve Dykes/Getty Images
It is hard to say it was shocking to see Marcus Mariota throwing deep with 30 seconds left in the first half on Saturday night. The Ducks were winning by 28 at the time, and most teams would generally take a knee and go to halftime.
But over the years, college football fans have learned to expect the unexpected with Kelly on the sideline.
He does whatever he wants. Throw deep when you have the lead, go for it on fourth down on your own side of the field, go for a two-point conversion in the first quarter, whatever it is, Kelly loves to do it.
And Saturday he once again showed us how relentless he is.
Is he trying to humiliate his opponents? No. But he is trying to make sure that they have absolutely no prayer of coming back and shocking the Ducks.
8. Oregon May Be the Best Team in the Country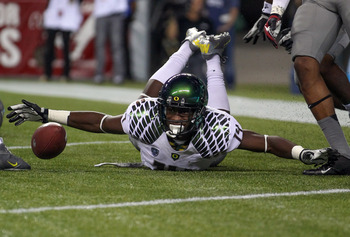 Otto Greule Jr/Getty Images
Alabama is extremely strong down, but its offense is not as explosive as Oregon's.
The Ducks can run, they can pass, and they can run some more. With all their speed and the frantic pace at which Chip Kelly runs his offense, few teams that can match up with them.
Throw in a top-five defense, and Oregon is going to make a strong run at the national championship.
9. Oregon Will Face Little Opposition in the Pac-12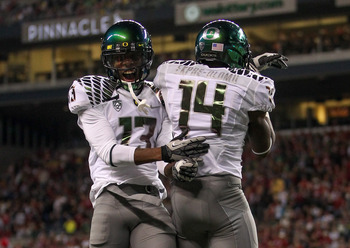 Otto Greule Jr/Getty Images
Chip Kelly has built this team to compete with the best, and while the Pac-12 is full of solid teams, they are not the proverbial cream of the crop. This team was built to contend with the powers of the SEC. It was built to take on Nick Saban and the dominant Alabama Crimson Tide.
With that being said, it is hard to see the Ducks running into much opposition during the regular season. They do still have to travel to USC and play host to Stanford. But are either of those teams good enough to compete with Oregon, let alone beat the Ducks? Maybe USC, but certainly not Stanford or anyone else on Oregon's schedule.
10. Oregon and Alabama Would Make an Unbelievable Title Fight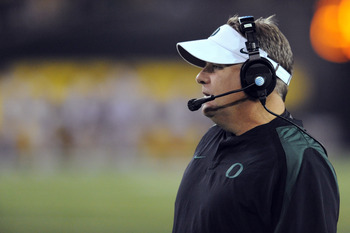 Steve Dykes/Getty Images
The speed of Oregon versus the strength of Alabama.
Chip Kelly with a month to prepare an offensive attack that could dominate the Crimson Tide defense.
Nick Saban with a month to prepare a defensive scheme to shut down the dominant Oregon offense.
What a battle it would be. Let's hope we're lucky enough to see it.
Keep Reading

Oregon Ducks Football: Like this team?