Chelsea vs. Norwich City: 8 Things We Learned from Decisive Chelsea Win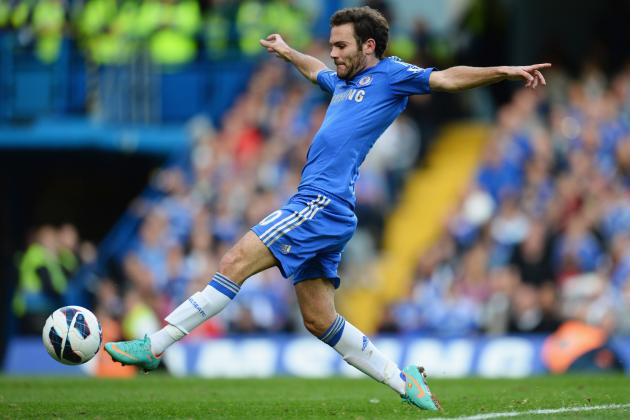 Mike Hewitt/Getty Images

Chelsea's march toward the Premier League title continued at Stamford Bridge with a decisive 4-1 thrashing of a clearly overmatched Norwich City side.
Surprisingly, it was the Canaries who opened the scoring through Grant Holt in the 11th minute, but that lead did not last for long. Within three minutes, Fernando Torres equalized, and there was no looking back from there.
Enjoying almost 70 percent of the possession, Chelsea completely obliterated their opponents, and cracking goals from Frank Lampard, Eden Hazard and Branislav Ivanovic were impressive but not unexpected.
Let's look at eight things we learned from a virtual practice match.
Begin Slideshow

»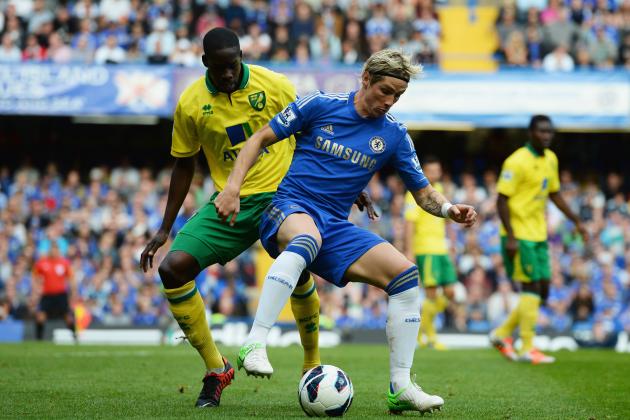 Mike Hewitt/Getty Images

Norwich's defence has been altogether awful this season, but, as someone who does not watch them play often, Leon Barnett is clearly the weakest link of them all.
Again and again, he was the man who let Chelsea run through the Canaries' defence, and his exceptionally poor positioning and technical skill could have given away three penalties by my count.
He was directly at fault for Fernando Torres' first goal and another chance that the Spaniard should have converted. In the first case, Barnett was simply beaten in the air because of awful positioning, and in the second, he went to sleep and allowed a simple ball over the top to release Torres.
No amount of work on the training ground can make a Premier League player out of someone who doesn't have it in him.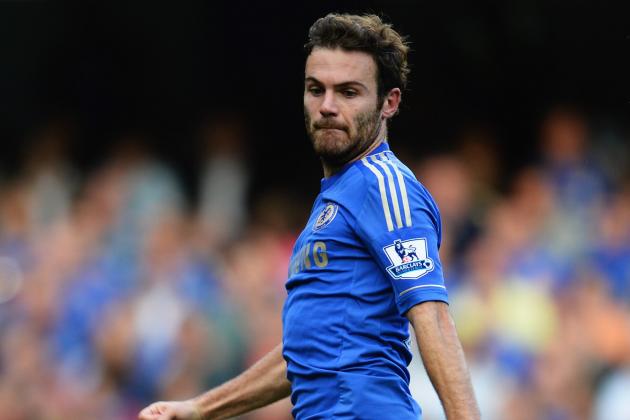 Mike Hewitt/Getty Images

As one match commentator said today, Eden Hazard, Juan Mata and Oscar all want to be Chelsea's No. 10, but Mata is the one who actually wears it on his back.
He showed against Norwich that he is truly worthy of his number.
Despite usually playing in wide positions, Mata was involved in nearly every quality attack that Chelsea put together and often drifted inside to act as the main creator.
Eden Hazard's goal illustrates this perfectly. Mata orchestrated a counterattack all by himself and distributed the ball to Hazard at the perfect time with all the skill of a true trequartista.
He is a unique weapon to have on the wing, and Roberto Di Matteo will not give that up easily.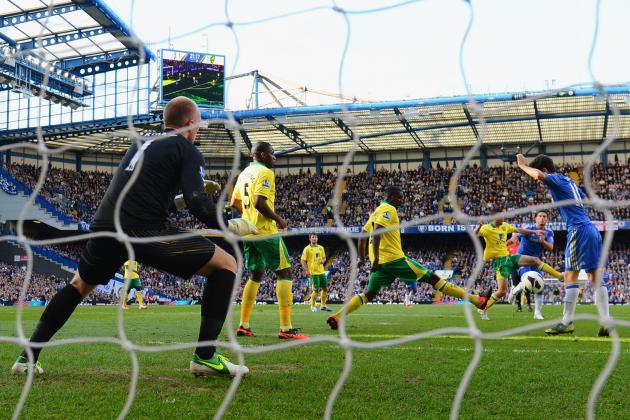 Mike Hewitt/Getty Images

I think a good volleyed goal is one of the sweetest things in football, and the two that Chelsea scored were real pieces of beauty.
The first, from Frank Lampard, was a vintage finish from the midfielder. One bounce brought the ball directly into the path of his right foot, which sent a rocket into the ground and into the bottom left corner of the goal.
Branislav Ivanovic got the second, and it was a great way for Chelsea to close out the match. Seeing a little lofted cutback, he cranked his leg around the ball, and John Ruddy could only get the lightest of touches to the missile that was approaching him.
Needless to say, the fans were entertained.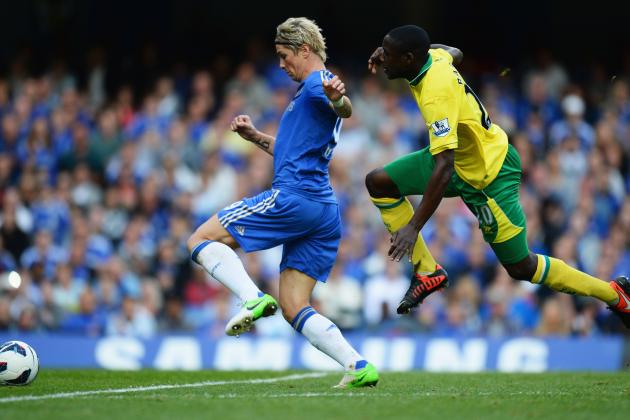 Mike Hewitt/Getty Images

I'm not one of those people who look to bash Fernando Torres for every wrong move he makes or every shot that goes off target. Just because he was awful when he came to Stamford Bridge doesn't mean that he must suddenly be more than human.
And congratulations to him for adding to his tally this season with a tidy header in the first half. But even the casual observer of Torres can tell that he is not what he was in his heyday at Liverpool.
Just look when he gets one-on-one with the goalkeeper. What I saw last week against Arsenal and again versus Norwich was lack of decisiveness and a surprising dawdling on the ball that cost him multiple goals.
Torres is certainly a great striker, but his journey to peak form is still ongoing.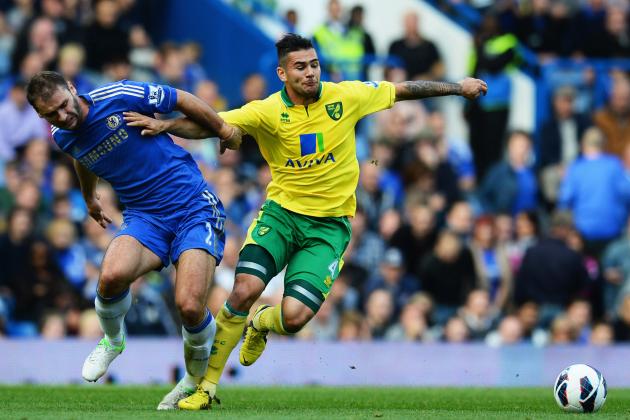 Mike Hewitt/Getty Images

There is usually a certain look about players who are in the process of getting relegated to the Championship.
One can discern a certain lack of will and helplessness about their play at times, and they look as if they are totally devoid of belief in their own ability.
I apologize to any Norwich fan who might be reading this, but the Canaries definitely have that appearances about them. While I acknowledge that Chelsea are simply a much better side, the Blues were not pressed or harassed in any way, as lesser sides are wont to do against superior opposition.
When they went behind behind one goal, and then two, it looked as if Norwich had recognized that they had no chance of coming back and decided to let Chelsea have possession. Why not at least take the risk unless you are so sure that you have no chance of getting a result?
Mike Hewitt/Getty Images

After starting Chelsea's last two games on the bench, Frank Lampard made a strong case that he should return to the lineup as an automatic starter again.
While perhaps not as directly important to the attack as Juan Mata, Lampard effectively pulled the strings from a more recessed position and could be found anywhere on the pitch, ready to distribute the ball to someone else.
He was so willing to keep play moving that he did his best Steven Gerrard impression, firing long cross-field balls to either side and choosing his moments to get forward and have a go.
For Lampard, a wonderful volleyed goal was merely the validation of a performance that drew a standing ovation from the Stamford Bridge faithful.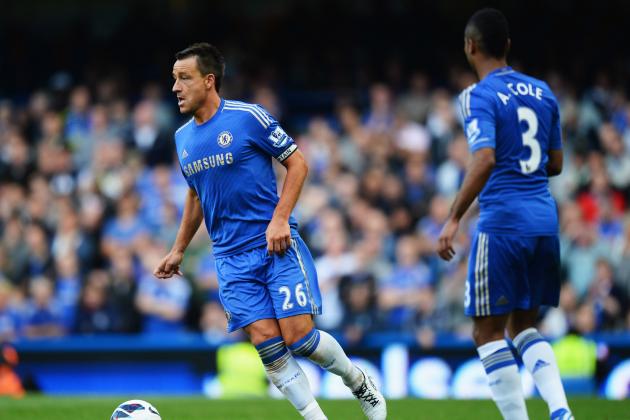 Mike Hewitt/Getty Images

It would be quite difficult for a team to have more major distractions in a shorter period of time than Chelsea.
If having their captain banned for racism (a ruling that was appealed) was not enough, Ashley Cole had to issue a profanity-laden rant on Twitter toward the FA about said banning this week.
When the John Terry scandal was unfolding last week as Chelsea faced Arsenal, the result was the same as it was this week: a thorough, composed, complete performance that netted a deserved three points.
Again, both Terry and Cole were fabulous for the Blues, proving once again that Roberto Di Matteo can rely on his most polished veterans in any situation.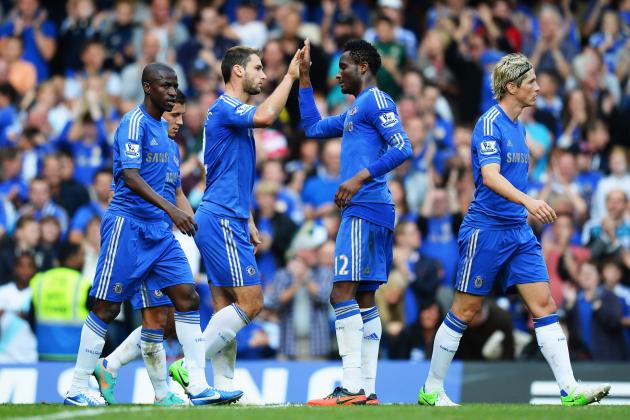 Mike Hewitt/Getty Images

Roberto Di Matteo has tried a few different tactical paths this season but started down this current one against Reading a few weeks ago.
What distinguishes this setup from the others the manager has tinkered with is that all of Chelsea's creative talent is on the pitch at once.
I must admit that I doubted the viability of this system early on, as having three facilitators like Eden Hazard, Juan Mata and Oscar on the pitch at the same time has the potential to nullify the talents of each. There is only one ball, after all.
But the three have gotten better with every game they've played together and have shown the ability to dovetail sumptuously with each other and Fernando Torres. When one man runs out of ideas, another two are on hand to pick up the slack.
The result is the most potent attack in the Premier League, and one which, when everyone is on form, almost no one can cope with for 90 minutes.