New York Giants vs. Cleveland Browns: Live Score, Video and Analysis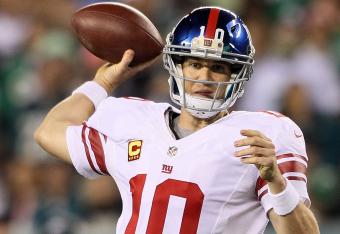 Alex Trautwig/Getty Images
It's already Week 5 of the NFL season.
The New York Giants will be looking to rebound off a tough loss from the previous week against the Philadelphia Eagles.
The Giants could have been 3-1, but Lawrence Tynes came up a little short attempting to kick a game-winning 54-yard field goal. It would have won the game for the Giants, but the Eagles held on to win 19-17.
So now, the 2-2 Giants head into MetLife Stadium to play the 0-4 Cleveland Browns.
During the week, the focus was on Giants defensive end Osi Umenyiora and Browns rookie running back Trent Richardson.
Richardson felt that he could run on the Giants defense, while Umenyiora has dared the rookie to come and try.
Last week in his on-going feud with LeSean McCoy, the veteran defensive lineman looked foolish playing against the star Eagles back.
How will Umenyiora and the defense do against Richardson?
Will the Giants rebound in Week 5 against Cleveland?
Find out in this live blog. Check back for live coverage and up-to-the-minute score updates.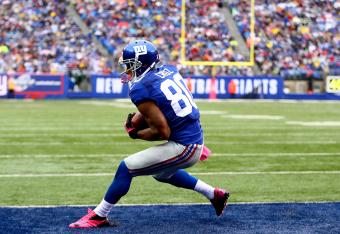 Final stat numbers for the Giants:
Eli Manning 25-for-27, 329 yards, 3 touchdowns, 1 interception
Ahmad Bradshaw, 30 carries, 200 yards, 1 touchdown, 4 catches, 29 yards
Rueben Randle, 6 catches, 82 yards
Victor Cruz, 5 catches, 50 yards, 3 touchdowns
That will do it from the game at MetLife Stadium.
The Giants improve to 3-2 and will face the San Francisco 49ers next Sunday.
Thanks to everyone for following along with the live blog.
Take care. Enjoy the rest of your football Sunday!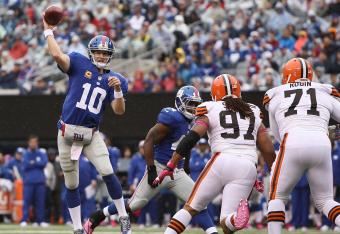 The clock has hit all zeroes and the Giants have come away with the victory.
Final Score.
Giants 41, Browns 27
Manning takes a knee.
Manning takes a second knee and that should be it.
1st and 10, 1:48
Bradshaw carries for another first down.
Bradshaw gets to 200 yards exactly on the game
Two minute warning in the game.
1st and 10, 3:16
Bradshaw runs for another 11 yards and slides to the turf, staying in bounds.
3rd and 1, 3:34
Bradshaw fights through for another first down for the Giants
Bradshaw is at the 175 yard mark rushing today.
Dawson onside kicks it, but is immediately picked up by Will Hill.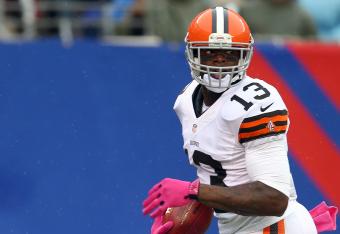 1st and 10, 3:56
Weeden drives the field and throws a 20-yard touchdown pass to Josh Gordon
It's the second touchdown catch for Gordon today
Giants 41, Browns 27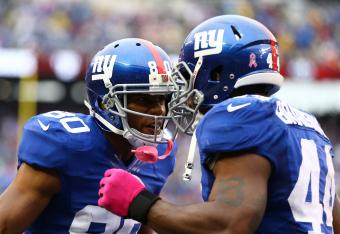 The Browns were up at one point 14-0 in the first quarter.
The Giants since then have out-scored Cleveland 41-6.
Just amazing by the Giants today, who are on their way to 3-2.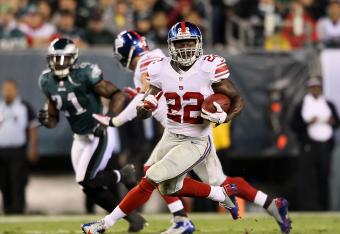 1t and 10, 5:41
David Wilson gets his first carry, and his first NFL touchdown with a 40-yard rush into the end-zone.
Wilson was UNTOUCHED going into the end-zone.
This kid has amazing speed.
Giants 41, Browns 20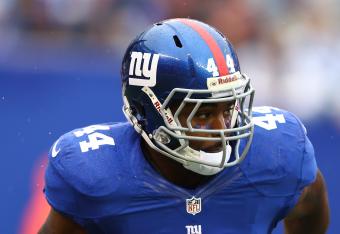 2nd and 8, 8:22
Bradshaw carries it to the 50-yard line for 28 yards and another Giants first down.
Bradshaw is at over 161 yards, a career high. Great day for Bradshaw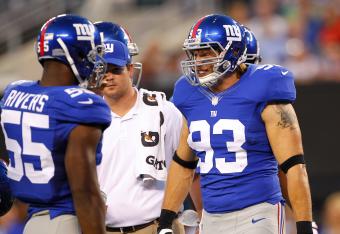 3rd and goal, 9:05
Weeden's pass towards the end zone is INTERCEPTED by Chase Blackburn and the Giants cause another big turnover
3rd and goal, 9:19
Weeden gets his pass batted back to him, throws it to the end zone, which is an illegal forward pass.
Five yard penalty and replay third down
I wonder if the replacement refs would have ruled that a touchdown?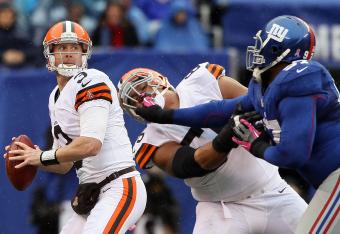 4th and 3, 10:56
Cleveland is going for it and not taking the 3 points, pretty strange call by Pat Shurmur.
Weeden completes the pass to Richardson for a 10-yard pass to the Giants 10 yard line
3rd and 13, 11:29
False start on the Browns, now making it 3rd and 18
The have been called for a ton of penalties today.
3rd and 8
Manning throws deep to Victor Cruz, who has the ball knocked away and the ball is intercepted by Usama Young.
Pass interference should have been called on Sheldon Brown for interfering with Cruz on the play.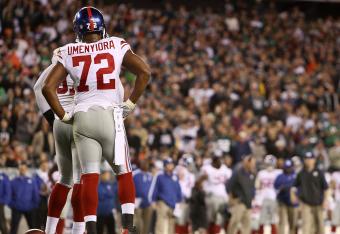 3rd and 6, 15:00
Weeden nearly fumbles as Osi Umenyiora knocks the ball down as Weeden starts his hand forward.
A nice stand for the Giants defense forcing Cleveland to punt
2nd and 6, 0:04
Weeden's pass to Watson is incomplete and that will be the final play of the third quarter
Giants 34, Browns 20
15 more minutes to go
Giants running back Andre Brown officially out for the game with a concussion.
3rd and 3
Manning's pass to Randle was incomplete
Skrine gets away with a pass interference call that should have kept the Giants drive going.
The Giants missed on third down and Steve Weatherford was going to punt.
Cleveland gets called for offsides, and the Giants keep the ball and get a first down.
What a bad penalty by the Browns.
2nd and 10, 2:31
Manning tries to throw deep to the sideline to Hixon, but it's just out of his reach
1st and 10
Manning throws a screen to Bradshaw for a first down and gets it to the 30-yard line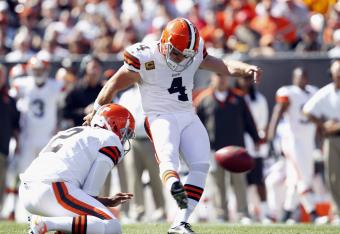 3rd and 4, 4:02
Weeden throws a dump off to Watson, but Corey Webster makes a nice stop to prevent a first down
Phil Dawson knocks down a 40-yard field goal for the Browns
Giants 34, Browns 20
This article is
What is the duplicate article?
Why is this article offensive?
Where is this article plagiarized from?
Why is this article poorly edited?

New York Giants: Like this team?